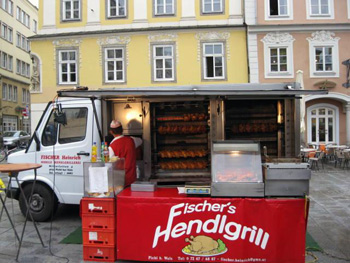 by Larry Zaletel
A people's culture is defined not only by their traditions and values but also by their food and drink. Food brings people together especially when they gather around the dinner table.
Traveling across the globe, there is a variety of good food from various different nationalities and sampling food of different countries can be very rewarding. Although the food may be prepared differently in Europe, have an open mind and enjoy new flavors and sample the scrumptious delicacies.
Austria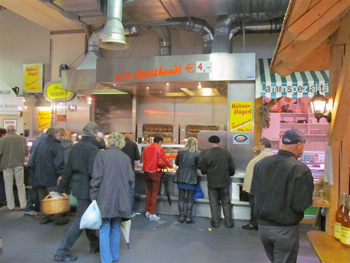 Some of my personal favorite ethnic eats are in Austria. In Wels a small town in the Northwestern section of the country there is a local market which is very similar to the Westside Market in Cleveland, Ohio. A new building was recently constructed to house the vendors. On the outside of the market vendors sell various fresh fruits and vegetables etc. Nothing there is prepackaged. Inside the building the vendors provide various types of fresh food including meat, poultry, eggs, cheese and even schnapps (whiskey). My favorite vendor has barbecue roast chicken on a spit and as of late a new item lightly breaded chicken wings which go well with a stein (a traditional German beer tankard) of beer. Priced by the kilogram (2.2 pounds) US $3.00-$5.00.
Not too far from Wels is the small village of Marchtrenk, Austria. On Saturday morning, market day in the square, a white Mercedes truck (long before food trucks became popular in the United States) provides barbeque chicken to the many people lined up waiting to order. The truck is a mobile rotisserie converted to hold two rows of rotisserie chicken gently rotating. Each bank holds five rotisserie spits of chicken. Priced by the kilogram US $5:00.
Croatia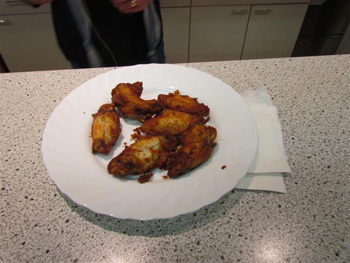 There are other taste treats to learn about and experience. Crossing from Slovenia into Croatia passing through village after village the signs for roast pork (svinjina) and lamb (jagnjetina grilled lamb both roasted on spit) began to appear. The local Gostionas (Restaurants, Bars) were preparing their grills for roasting. As luck would have it, we always seemed to miss many of these establishments. It might have been sheer luck and or just bad timing. We were either too early or too late for lunch or there was not a Gostiona located in the area where we were.
However luck was on our side one morning just a little before noon as we headed toward Zagreb our way to Slovenia. At the outskirts of a small village we came to an intersection in the road. I stopped to determine which direction to proceed as there were no road signs. My wife said, "Look to your left." I glanced to the left and there on the spit were two suckling pigs roasting to perfection. I looked at my wife and said, "Lunch time." The A-Frame sign in front of the Gostiona listed Odojak (suckling pig in Croatian).
Finally the timing was right. We sat outside under a covered porch after purchasing a kilogram of roast pork which included salad, bread and beer. Everything was tasty. My wife sampled the pork and I began to enjoy the additional treat of the lightly tanned hard crunchy pork skin that brought back a lot of fond memories. We washed everything down with Ozujsko beer and I believe that the beer in Europe is delicious whether you enjoy it in Austria, Slovenia, Croatia or Germany. It doesn't matter it all tastes good. They have been brewing beer for 300-400 years and they have got it together US $15:00.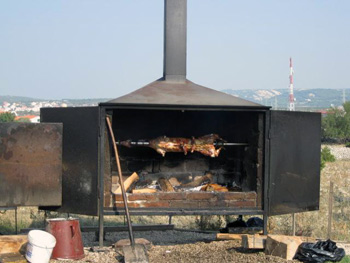 Having been in the former Yugoslavia a few times we learned over the years on what to look for when it comes to roast pork and lamb. Normally vendors and restaurateurs post signs advertising their wares along the road. Driving through Split on the Jadranska Magistrala along the coast toward Dubrovnik about lunch time we just could not find an establishment that had roast lamb or pork. Either we missed the signs or there just weren't any. Finally we stopped at a local restaurant and we were given directions on where to find janjetina. Down the road and up the side of a sparsely covered mountain, we traveled higher and higher on the narrow pebbled road turning this way and that as the road curved back and forth along the side of the mountain, my cousin sitting in the back seat hanging firmly on to the hand strap fixed to the car roof. We drove on and on for over an hour. Finally we found it. The war had taken its toll. It was a bombed out building and on the side of the building a faded wooden sign advertised jagnjetina. My cousin started laughing hysterically!!! Someone was having a good laugh on us. Consequently we did not have roast pork or jagnjetina this day.
Bosnia & Herzegovina (BIH)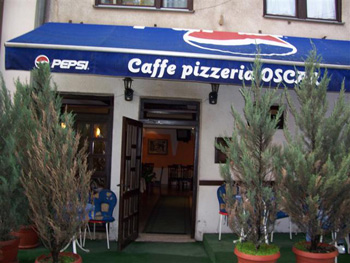 On another occasion we were traveling by bus from Sarajevo to Mostar we stopped in the town of Jablanica to view the local historical sights. We learned from the locals just on the outskirts about one kilometer south of Jablanica was the restaurant Zdrava Voda (Health Water). There on six roasting spits was lamb grilling on an open fire continuously throughout the day enough to quell the hunger for both the tourist traveling between Sarajevo and Mostar and the local population. The price was US $15.00 which included potatoes, salad, and bread. Jablanica is known for this mouth watering delicacy and that there are over 8 restaurants in the vicinity that serve it. www.zdravavoda.co.ba
We learned from a local butcher in Medjugorje that the Restaurant Udovice located in Sretnice, 88203 Krusevo has Roast Lamb. It is located about 7-10 kilometers from Medjugorje and about 9 kilometers from Mostar. www.udovice.ba. The restaurant has two barbeque pits with seven spits for roasting Janjetina outside in the front of the establishment. Price US $15.00 which included potatoes, salad, and bread.
In Sarajevo the restaurant Cevabdzinica Zeljo, on street Kundurdziluk 18, in the Bascarsija seems to be the favorite place for locals to enjoy a "healthy" meal of cevapcici with onions, sour cream and yogurt. Cevapcici is beef minced meat in a roll served with pita bread and priced under US $7.00. Other versions of this delicacy are made with ground lamb, veal, and pork.
Pizza is almost as much of a staple in the former Yugoslavia as it is in the United States. I noticed how popular it was when first visiting Slovenia. I was surprised that pizza appeared to be more readily available than local food.
Pizza is not made the same way as in the United States. The crust is somewhat thinner and the toppings and combinations are different although very tasty. Seafood including squid, shrimp is used and also sweet corn. Sausage is very popular and there are many different varieties. Each country has its own types of sausage therefore the assortment of tastes are endless. One of our favorites in Sarajevo was the restaurant café Pizzeria Oscar that provides pizza and spaghetti, price US $15.00-$25.00.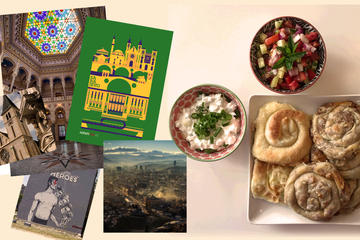 Sarajevo Cultural Walking Tour with Local Food Tasting
If You Go:
How to get there
There are no direct flights from the United States to Austria, Croatia, and Bosnia & Hercegovina. However air travelers can go to Frankfurt, Munich, Paris, or London for connecting airlines. Driving through Croatia from Rijeka toward Dubrovnik and points south is about a 3-4 hour drive. At present the new autobahn completed in 2005 ends at Ravca south of Split. Construction is ongoing and continuation of the highway to southernmost Dalmatia and Dubrovnik is scheduled to be complete sometime in the near future.
Where to stay
A Gostilna (Gasthaus in German) is a modest country inn serving home cooked meals. There is no hard and fast rule but many gostilna's have sleeping arrangements and usually include breakfast in the morning. If there is a picture of a bed hanging out in front of the establishment then they have sleeping accommodations.
Besides hotels and Gostilna's there are many bed & breakfast (sobes) that are common in Europe. There are signs along the roadsides advertising them. The local tourist bureaus usually have list of sobes with prices and further information. They are highly recommended as a delightful way to meet the people and make new friends. We have been very fortunate to find some very charming sobes in our travels. We are thus able to meet the people, get acquainted with those from other cultures and learn about them and their way of life.
Usually the price can be negotiated. Prices average about $45-$80 per night and they are much cheaper than hotels and normally include breakfast. We have stayed in sobes in Germany, Austria, Slovenia and Croatia and have revisited them on several occasions.
The Gostilna Pri Belokranjcu, Kandijska cesta 63, 8000 Novo Mesto, Slovenia is situated almost in the center of town across the street from the Renault factory and is close to two shopping malls. This family bed and breakfast has 28 rooms with double beds. The owners Branko and Mojca Vrbetic offers daily menus with home made bread and a local wine called Cvicek. Refrigerators and laundry services for extended guests are available. Slovenian, Serbian/Croatian, Russian, German, Italian and English are spoken. Tel 386 7 30 28 444, Price $60-$80 per night. Very good home cooked food. www.pribelokranjcu-vp.si
Boutique 36, price 67 Euro, . 71000 Sarajevo, Bosnia-Hercegovina, Safvet bega Basagica 36, www.hb36.ba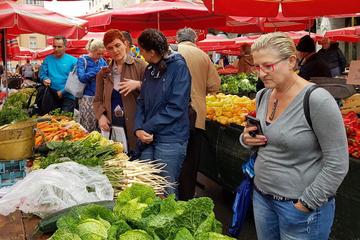 Zagreb Food & Wine Journey: Farmer's market – Brunch – Boutique winery
Where to eat
Gostilna and Restaurant Ansenik, 4275 Begunje, Slovenia, Telephone 386 4 530 70 30, www.avsenik.com. This is a genteel family establishment that includes very good homemade Slovenian food, international cuisine, venison, fish and other seafood dishes. Additionally they offer both vegetarian and grilled dishes. Prices are moderate. There is a children's playground, conference area, and dance-floor. There is music on Wednesdays and Fridays evenings in the multi purpose hall which seats 220 persons. Hours: Daily 10:00 AM-11:00 PM, Sunday: 10:00AM-9 PM, Monday: Closed.
Pizzeria & Spaghettarija Don Bobi, Kandijska Cesta 14, 8000 Novo Mesto, Slovenia. Tel 386 7 338 24 00, email don.bobi@siol.net. Extensive menu and moderately priced $8-$18. Complete with indoor and outdoor dining. This is one of our favorites. Very good pasta and pizza.
Gostilna Ancka, Delavska 18, 4208 Sencur, Slovenia is about a five minute ride from the Joze Pucnik Airport. Tel 386 4 251 52 00. They offer homemade Slovenian dishes, venison, freshwater fish, and vegetarian dishes. It is complete with indoor and outdoor dining that includes a huge terrace. It is a very nicely decorated restaurant with a friendly staff with over 35 years of experience. The food is freshly prepared and their style of ribs is very good. Prices are moderate.
Barhana, Dulagina Cikma 8, www.barhana.ba, in the Bascarsija, Sarajevo, Bosnia-Hercegovina. We visited it on a cold drizzly night and its good wholesome food of lamb Goulash and the local drink of Rakija (plum brandy) which took the chill out of our bones. Prices are moderate. 033 447 727.
Konoba Mediterano is located across from the Cathedral, Dubrovnik, Croatia. Types of food include risotto, pasta, seafood, and other Croatian favorites. Prices, moderate plus.
About the author:
Larry is a freelance travel writer, an avid and dedicated traveler, and recurring visitor to Europe, the Caribbean and Hawaii. He writes about the various people that he has met and places that he has visited during my travels. Larry is a regular contributor to Travel Thru History.
All photographs by Larry Zaletel:
Whole Chickens sold from a Truck, Marchtrenk, Austria
Chicken Stand at the market in Marchtrenk, Austria
Chicken Wings Marchtrenk, Austria
Lamb on a Spit, Pag, Croatia
Pizzeria Oscar in Sarajevo, Bosnia
Lamb on a Spit, Jablanica, Bosnia