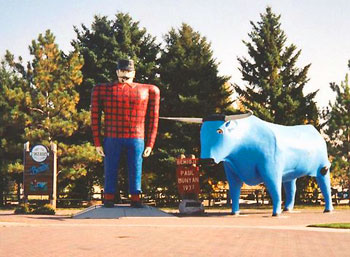 Bemidji, Minnesota
by Norman A. Rubin
The story of Paul Bunyan, together with Babe the Blue Ox richly rooted in history and tradition, is now considered to be one of America's greatest folk tales; and so be it. This legendary superman and woodsman, hero of the early logging days, was born in Bemidji, Minnesota. The actual site of his birth is marked today by giant statues of Paul Bunyan and his Blue Ox, Babe, standing on the shoreline of Lake Bemidji.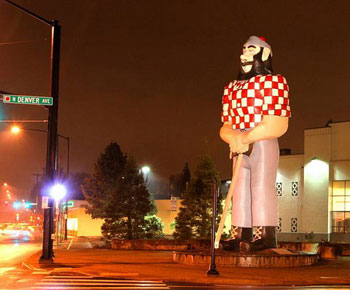 A 'tall tale' is one that exaggerates, and the Paul Bunyan tales are among the tallest. Paul was the imaginary hero of the strong men who felled trees, the lumberjacks of the North Woods of America. Tales told how he used whole pine trees to comb his grizzled hair and dark beard. The griddle for his pancakes was as large as Lake Bemidji (Minnesota), which resembles Paul's giant footprint; lumberjacks greased it by skating over it with strips of bacon strapped to their feet. And it took two acres of brush fire to heat the griddle..
Paul Bunyan liked to work with big men, mainly lumberjacks. The most famous of them all were his seven axe men. They were all called with the same name of Elmer, so when he called they all came running. Each of these men was over six feet tall sitting down and weighed over 300 pounds – believe it or not. No grindstone was large enough to grind the axes so they sharpened them by holding them against large stones rolling down hill.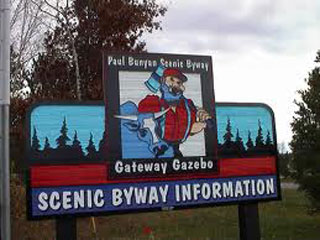 Babe the Blue Ox was Paul's best friend. According to legends Babe was found during the winter of the Blue snow, the year that it was blue with cold. He was measured forty-two ax handles and plug of tobacco between the horns; he lived in harmony with his mate Bessie, the Yaller cow. Legend has it that Babe together with Paul Bunyan had footprints were so large that they created Minnesota's ten thousand lakes. Babe when thirsty could even drink a river dry.
The wild and humors legends of Paul Bunyan and Babe the Blue Ox may have begun with tales told around the hot stoves of lumber camps of the Northern woods in the 1800s. Some of the legends, myths and stories appeared in the newspapers as early at the 1900s; at a later date those tales have been published in different books and in varied languages. The legends of Paul Bunyan and Babe the Blue Ox continue to be presented in films, books, cartoons and other media forms.
If You Go:
Bemidji , Minnesota, home to the legend of Paul Bunyan and Babe the Blue Ox, is a charming and progressive city, the first city on the Mississippi River. Bemidji takes its name for an Ojibwe Indian word meaning "lake with cross waters" – referring to the crossing of the Mississippi River with Lake Bemidji. You can visit the statues of these two large than life legendary characters (constructed 1937) on the shores of the lake during your visit to Northern Minnesota.
Along with a visit to the site of statues of Paul Bunyan and the Babe the Blue Ox There's plenty to do and see in and around the area of Bemidji.. Hunting, fishing, boating, snowmobiling, birding and skiing are just a few of the past times you and your family will enjoy when you visit this area of Northern Minnesota. With over 400 lakes in a 25-mile radius, the Bemidji Area also has some of the best outdoor recreation opportunities in Minnesota and the Upper Midwest. Tourist accommodations include 15 motels with a total of 561 rooms. Of special significance are Lake Bemidji and Lake Bemidji State Park for nature adventures.
For information on tourist facilities contact:
Bemidji Tourist Information Center
Bemidji Chamber of Commerce
300 Bemidji Ave. Bemidji, MN 56601
For inquiries call 218-444-3541 or 800-458-2223 or e-mail chamber@paulbunyan.net.
Another popular pastime is the Paul Bunyan Trail, one of the most popular trails in the state. Today, at 210 miles, the Paul Bunyan (Bemidji to International Falls) Trails form one of the longest and one of the most scenic. It is easy to understand the appeal of the Paul Bunyan Trail. Its 100 miles wind around the shores of 21 lakes and over 9 rivers or streams. Very little of the trail crosses open fields or immediately borders highways; most of the route snakes through gently rolling landscape covered in stately pine forests and populated by an abundance of diverse flora and fauna. Towns with good lodging and amenities are situated at comfortable 8-10 mile intervals, with state parks at both the north and south ends of the trail. The Paul Bunyan Trail intersects with several planned or proposed connecting trail routes, including a network of over 1,200 miles of snowmobile trails. For route information and maps contact Paul Bunyan Trail – Minnesota Department of Natural Resources 'paulbunyantrail.com'.
You can travel by car around Paul Bunyan Scenic Highway to the lakes and lands that helped give life to the Great Northwoods, and to the Legend of Paul Bunyan.- The Paul Bunyan National Scenic Byway is located on 54 miles of county roads in north Crow Wing County and into Pine River in Cass County. It is and area of breathtaking scenic beauty around lakes and streams, natural forests with nature's wonders, historic and many more tourist attractions. It is an excellent place for a stopover for a night even for a week where you can enjoy comfortable lodging, fine restaurants. Boating, fishing, golf and swimming, even strolling around the lakes and forest are the many activities along the highway.
For further information contact:
Paul Bunyan Scenic Byway
P.O.Box 401
Pequot Lakes, MN 56472
Email info@paulbunyanscenicbyway.org.
Varied activities await you at the world of Paul Bunyan. From state parks to sporting events, you will find the activity that meets your needs, indoors or outdoors – try one of the state's many trails to hike, bike, snowmobile or ski, rent a canoe, golf, bowl, dine on excellent cuisine, stroll in leisure , fish or just sail away on the beautiful lakes.
Minnesota Tourism
♦ www.tourminnesota.org – Minnesota Office of Tourism
♦ www.exploreminnesota.com – for information on destinations, lodging/camping, events, helpful links and sites and other activities and attractions in the state.
Notes:
1) Many believe that the tales of Paul Bunyan were first told by French Canadian loggers, who called him Paul Bonjean, moniker as "Bonyenne". His name through the years was anglicized and the stories and legends were eventually modified and added upon from storyteller to storyteller.
2) The earliest published versions of the myth of Paul Bunyan can be traced back to James MacGilvray, an itinerant newspaper reporter who wrote the first Paul Bunyan article for the Oscoda Press in 1906 and an expanded version of the same article for the Detroit News. He is alleged to have collected stories from lumberjacks, combined them with his own embellishments, and in July 24, 1910 he published the first of the legends of Paul Bunyan with the printing of 'The Round River Drive'.
About the author:
Norman A. Rubin is a former correspondent for the Continental News Service (USA), now retired – busy writing articles and stories for Net sites and magazines worldwide. Google the author's name for a review of his written work.
All photos are by Norman A. Rubin.