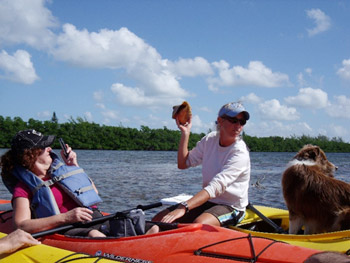 by Roy A. Barnes
The Florida Keys are made up of some 1,700 islands. From Miami to Key West, this archipelago stretches over 150 miles alone. It's here where I found some unique saltwater kayaking opportunities stretching from Cow Key to Key Largo.
Kayaking through the Cow Key Channel
The two hour, 1.5 mile roundtrip through the Cow Key Channel beginning at US Highway MM (mile marker) 4.1 (just outside of Key West) with Lazy Dog Kayak Guides involved a steady current that's heavily influenced by the two high and low tides coming from both the Gulf of Mexico and Atlantic Ocean each day. The firm breeze helped to counter the muggy conditions. Bethany and her four-legged companion Tucker (a.k.a. "Mr. T") served as our guides.
Through her guidance as we kayaked through open waters 2-10 foot deep, a natural mangrove creek and one "hurricane hole" (a pond surrounded by mangroves that offer more protection from hurricanes), I got an up close and personal view of primary Red Mangrove trees, whose prop roots filter out about 95 per cent of the saltwater while the trees' leaves sacrifice themselves to filter out the rest of the salt so the trees can have "potable" water. Their death means decomposition in the channel, which creates the soil ingredients to build up the small islands.
In my 12 foot Perception model, I heard the soundtrack of Osprey, Great Blue and White Heron as I paddled through the waters, ranging in depth of two to ten feet. Bethany often stopped alongside the mangrove growth to educate our group about the plant and animal life thriving here, letting us hold them, like the prickly-feeling Florida Spiny Sea Star, and the Sea Cucumber, which has the feel of its vegetable counterpart. She was excited when she came across a government-protected Queen Conch, a large creepy-looking snail that would make the subject of a good horror film.
Venturing to the Key with "No Name"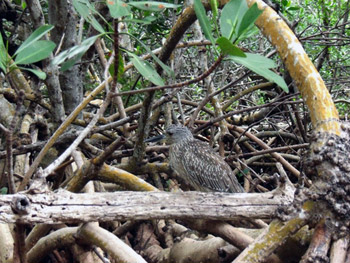 Just four miles off of US 1 at MM 30, I found a more isolated, off the beaten path world, where I kayaked roundtrip over a couple of hours in waters 1-18 feet in depth from Big Pine Key to the No Name Key (where the 1961 Bay of Pigs invasion was staged). The winds whistled through the palms on a mostly cloudy morning and afternoon, helping to keep the heat and mugginess in check. Our guide from Big Pine Kayak Adventures was Bill Keogh. He's kayaked 800-plus of the Florida Keys.
Like Bethany at Cow Key, Keogh's four-footed friend joined, a friendly mixed breed named Scupper, who quickly won my fondness. As we set off from Big Pine Key, the scent of sulfur permeated my nostrils because of the decomposing seagrass which this key catches from Florida Bay. Getting to No Name Key meant crossing the Bogie Channel's choppy waters (about a 1/3 mile long) in a 12 foot Vapor that weighed 50 pounds.
When I looked down into the more shallow waters, I caught the sight of flat Turtle Grass, round Manatee Grass, and soft-looking Shoal Grass waving back and forth. Being out in this wide channel heightened my sense of isolation from the hustle and bustle only a few miles away. My eyes took in the sight of a kettle of turkey vultures heading south for winter. Arriving at the No Name Key, we paddled into a deep mangrove forest via a very narrow creek, so narrow that I dismantled my paddle into halves, using one along with low-hanging branches to navigate hundreds of feet. But awaiting my camera was a camouflaged Yellow-Crowned Night Heron bouncing around from tree to tree as well as a variety of crabs climbing the densely-packed branches.
Breakfast and pelting rain in Boot Key Harbor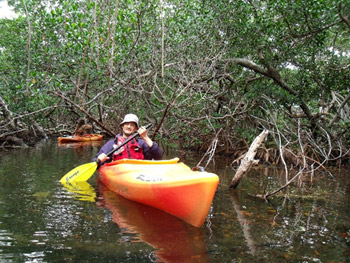 "Kayak Dave" said this about how one paddles a kayak, "It's like sex, so long as you're having fun, it doesn't matter how you do it!" He admonished me to turn my body more instead of my elbow during my three mile roundtrip to and from Boot Key (where Radio Marti broadcasts to Cuba take place) as light to moderate rain pelted me from above the first half of my journey. Thunder and lightning thankfully weren't part of the storm. We started out at Sombrero Beach on Marathon's Vaca Key, facing the Atlantic. This Key is named for "the cow of the sea," the manatee. Vaca is Spanish for cow.
En route to Boot Key via Boot Key Harbor my eyes caught sight of million dollar homes sharing the shorelines with red mangrove forests. The snowy egrets were plentiful, but very camera shy when approaching them for a close up shot. My 12.5 foot, 44 pound Cobra Navigator was much more prone to capsize as I navigated through this Key's creek. The tree branches created such an obstacle that leaning into them wrongly could result in capsizing. "No-see-ums" (biting midges) terrorized my eyes inside the still waters, but I was covered up otherwise, avoiding further torture. I at least caught my first glimpse of a yellowish nurse shark as it swam at the bottom of the creek.
The longest 1.5 miles in the Key Largo area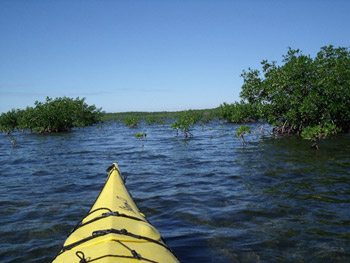 I'd never forget the challenges I faced over 1.5 miles using a sea kayak the first time. One of the realities of this sport is that weather plays a pivotal role on one's experience. I set off from Key Largo into Garden Cove in a Current Designs 17 foot, 52 pound sit-in model. The 25 knot winds immediately caused me to drift about in the rough waters either because my foot pedal adjustments (foot pedals move the rudder) made on shore didn't lock in and/or I didn't keep my feet fully on them.
It came at a time when I needed to cross an area shared by motorboats; and thus, fear almost got the better of me. But thankfully, my guide Todd of Florida Bay Outfitters and another really skilled kayaker came back to "rescue" me, getting on both sides of my vessel to readjust the foot pedals. I made my way southward down North Sound Creek, which separates Key Largo from Rattlesnake Key. It was here where I'd see the beginnings of another red mangrove island, as numerous red mangrove trees were scattered about like an archipelago obstacle course.
For as the gusts of winds blew this way and that in the creek (which were less strong), I found myself getting stuck against the trees, which meant that Todd had to fall back from the rest of the group to bail me out. I'll admit that the wind is something that I found hard to deal with even as sunny skies above at least kept me dry. Nonetheless, as we ventured back to Key Largo across the cove, the guide had to tow me in the headwinds part of the way. Still, I had to still paddle my kayak, trying to emulate the strong motions he did in leading me safely, even as the swells hit my boat, splashing salt water on my jacket, face, and mouth. I found shelter against some mangroves while waiting for him to come back with others.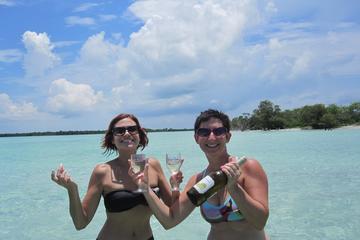 Florida Keys Private Snorkel n' Sandbar Party for Small Group
If You Go:
♦ Lazy Dog Kayak Guides: www.lazydog.com
♦ Big Pine Kayak Adventures: www.keyskayaktours.com
♦Kayak Dave's Adventures South Florida Kayak Tours: www.kayaktoursflorida.com
♦Florida Bay Outfitters: www.kayakfloridakeys.com
♦Florida Keys Tourism Council: www.fla-keys.com
(Tours and equipment used are subject to change.)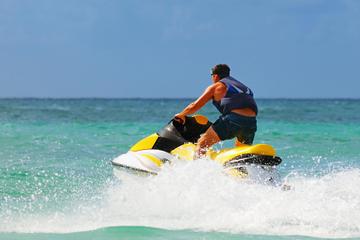 Key West Full-Day Power Adventure: Sailing and Water Sports
About the author:
Roy writes from southeastern Wyoming, and is a frequent contributor to Travel thru History.
Disclosure: The writer attended a press trip sponsored by Florida Keys Tourism Council but what he wrote were his impressions that were not vetted by the sponsor.
All photos by Roy A. Barnes and may not be used without permission.