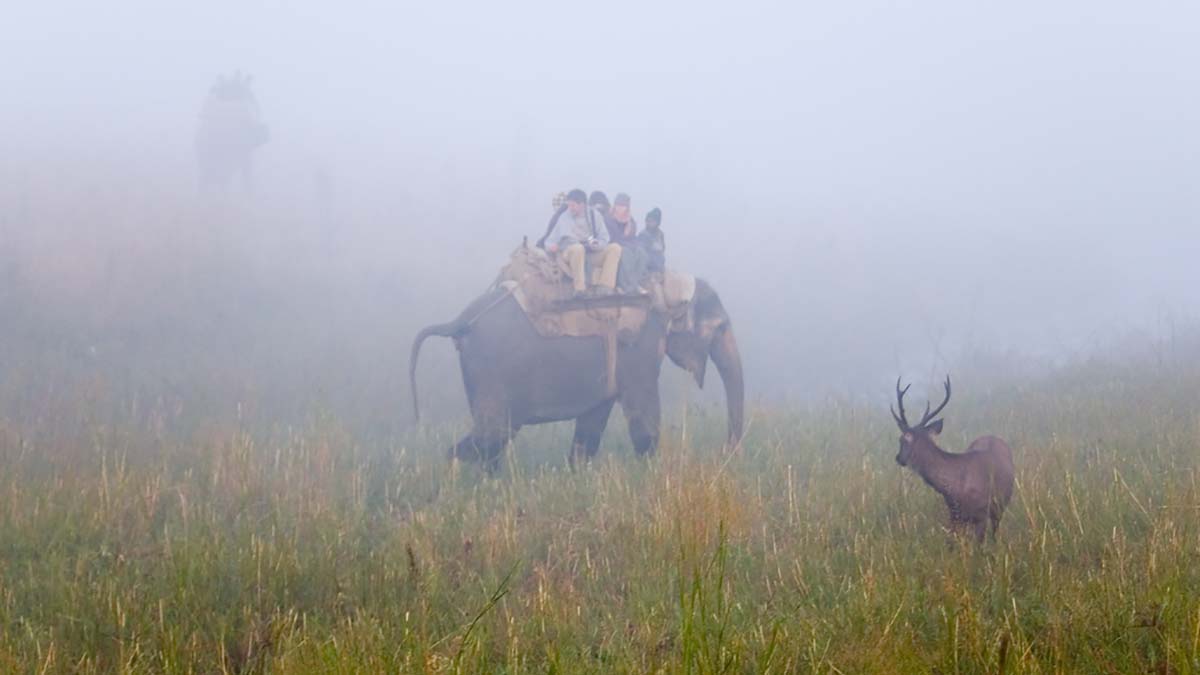 Jim Corbett National Park, Uttarakhand, India
by Shweta Bhardwaj 
A trip to Jim Corbett National Park in the Nainital district of Uttarakhand, India, changed me. I learned to identify the sounds of birds around me and every day when I got up in the mornings, I could distinguish the sounds of an Eagle from a Parrot, a Pigeon from a Myna and a Bulbul from a Crow- almost all the birds chirping in the area. To my surprise I also started noticing the presence of fauna and flora around me!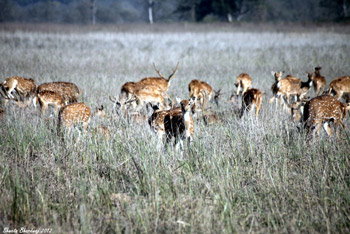 Initially established as Hailey National Park in 1936 to protect the Bengal Tiger, Corbett forest and jungle are home to many different other species of fauna. A heaven for bird enthusiasts. It is also one of the best bird watching area in India. Surrounded with different habitat types: mountains, saal trees, grassland, it has a splendid landscape and a diverse wildlife. In 1956 this national park was renamed after Colonel Jim Corbett, who is considered the 'missionary of wildlife conservation in India'. This oldest national park in India has following major zones: Bijrani, Dhikala, Durga Devi, Jhirna and Sitabani. This park was the first to come under the Project Tiger initiative in India.
We reached our resort in the afternoon and planned on having a walk inside the forest in the buffer zone but we weren't brave enough to venture out alone, and waited for the Naturalist that the resort provided. As I walked on the dead leaf bed of the Teak plants spread all around me, and looked at the foot prints of the elephants and pug marks of the tiger I realized that I was actually walking in the woods. The crisp sound of large dry teak leaves in the otherwise silent forest made me feel edgy for a while. As I walked on the same path where a tiger had passed hours ago I worried that perhaps the beast might be sitting nearby, watching.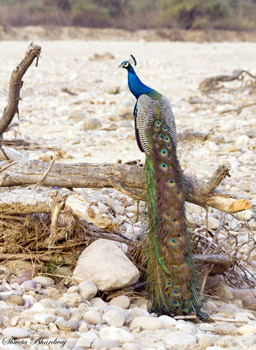 This was the magical influence of my jungle trip where I learned to spot different species of flora and fauna, very rare, yet particular to different zones and seasons. It was one of the highlights of my trip. The experience of observing nature from so close left a mark on me. I became more conscious of natural life around me.
Like any other jungle safaris, this was a unique trip. Sighting a tuskar (a mast elephant) gorgeous peacocks, finding tiger spoor marks, seeing Long Hornbills, all these made me realize how mysterious and beautiful nature is. What I realized at Jim Corbett is that Jungle Safari is not just about spotting a tiger, it is also about experiencing and discovering the jungle itself. Its air, rough scenic beauty, sounds, taste and not to forget the 'fearful feel'!! Yes! Walking in the woods, not knowing what will come from behind or what will pounce, what you can capture in your camera or spot with your binocular, all this gives you a different kind of thrill.
While on the Safari Walk we spotted an elephant herd across a dry river. To give them their space and quiet we had to softly move back into the forest on our side of the river bed, so that we did not disturb them. Once we walked on the same path where a tiger had walked a few hours or may be a days earlier. We saw fresh tiger pug (spoor) marks early in the morning and our guide told us that the tiger had recently been there and had walked towards a particular direction. Our guide was able to tell us what the tiger ate last when it passed through that particular area by finding a dear nail, small bones or animal hair particle in a dried tiger faecal matter. Identifying the foul smell in that area (called the smell of tiger kill), looking at pug marks, listening to tiger roar or a sambhar or monkey call are all tell-tale signs of a tiger presence nearby.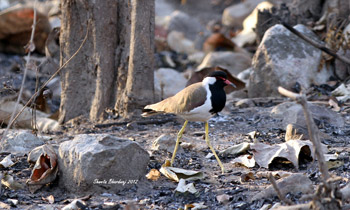 Our naturalist, who led our walk, was an expert and made sure that we returned back to the resort on time before dark. We took a two and a half hour walk in the jungle that day. The elephant herd that I mentioned in the above paragraph was spotted during this walk only. They were unaware of us and were busy grazing in the trees. Watching them from so close was worth taking that walk. The resort that we stayed at was inside the buffer zone and daily past midnight we could hear calls and tiger roars, as if the tiger wanted to remind us that it was nearby. Very diligently, all tourist activities are generally stopped after 6:30 pm as the animals, especially the flesh eating animals become active after dark. The retreat's fences were also solar electric so that tigers or any other wild animal do not venture inside the resort or other human habitation nearby. Spotting huge tiger pug marks (sometimes male and sometime female) early in the morning was our favourite daily activity during our stay there and was proof enough that this beautiful beast did come near during the night.
This was a three day stay in the buffer zone area of the park, and each day it was a different adventure. Day One began at Sitabani.
Sitabani like other four zones (namely Durga Devi, Bijrani, Dhikala, & Jhirna) is a major zone of the Jim Corbett National Park. It was the drive to Sitabani that triggered my interest in birds and for the first time, I took notice of the tiny creatures chirping and hopping all around and on trees.
On our way to and fro from Sitabani I captured many birds in my camera: a purple Sun Bird, ducks, woodpeckers, sandpipers and peacocks and hence started the affair with bird watching at Jim Corbett. The entire 40 kilometer stretch from Ramnagar to Sitabani had lots of trees on both sides and a river stream. It is a 'tarai area' (hilly area) as well so it was quite scenic.
The next day we left on a Jeep safari to Durga Devi and a later canter safari to Dhikala. Here we saw barking deer, spotted deer, Golden Mahseer (Indian salmon), various birds like Yellow Red Great Barbet, amazing views and not to forget Tiger pug marks — lots of them! By this time we had learned to identify them whether it was a male or a female. Lots of fresh elephant foot marks as well. Durga Devi safari zone was more moist and has deciduous flora. One time during the day the sun rays came filtered from tall trees as if it is being sieved through the leaves giving different colours to the rays. This was an amazing trick of nature and the most memorable one for me. I can still see sun rays trickling through the huge trees when I close my eyes. During this safari we managed to see a few of very rare species of birds and then in the afternoon we took the canter ride to Dhikala. Here the grassland like habitat was totally different from where we had been in the morning.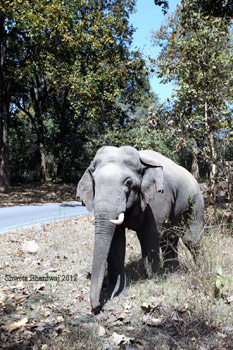 We spotted lots of deer, sambhars, elephants in herds at both Durgadevi and Dhikala but the highlight of this day was something else that we encountered at the highway. A one toothed mast Tuskar on the road very near to Dhikala zone. Taking picture of this huge mast elephant while it charged at the vehicles (including ours) was one wildlife experience that I won't forget. I actually got terrified as it came very near to our jeep while charging. With a heartbeat pacing at the speed of a bullet train, I started shouting loud, not knowing what would happen next. The driver was prudent enough to move the jeep away on time. Otherwise the person sitting at the back (for that matter our entire jeep) would have surely been subjected to elephant's anger.
We realized the fatigue only when we reached the resort back in the evening. After a tasty dinner we again fell on our beds, only to be awake at 3: 30 am again the next morning. Today we were going to Jhirna on Jeep safari. The highlight of this day for me was taking pictures of the ever beautiful peacocks from very close, on a dry river bed.
Later we sat inside a cemented 'machaan' like small enclosure which was situated right on top of the hill from where you could see the other side of the jungle bordering the river stream. We sat there patiently with our guide with the intention of spotting a Tiger. We spent at least an hour there but all we could hear was the tiger growls. The roar suggested that there were two of them walking towards the thick jungle uphill. The jungle, loud with the sound of the wind, chirping of birds, sound of other animals like monkeys and deer would immediately become silent every time there was a tiger growl. I could sense the tension in the area.
The view from where we sat and waited for the tiger was beautiful, with sun rays falling on the stream. Although during this trip we could not spot any tiger we were lucky enough to enjoy and discover more about the habitat of the jungle. A habitat, which in spite of being sometimes rugged and cruel with its own set of rules, tells that man is still an outsider when it comes to the animal world, "the dense forest."
If You Go:
♦ India's oldest tiger reserve, Jim Corbett National Park is situated in the state of Uttarakhand, Northern India.
♦ Ramnagar is the closest town to this park and is well connected via road to New Delhi. One can take a taxi or drive down for approximately six hours from Delhi.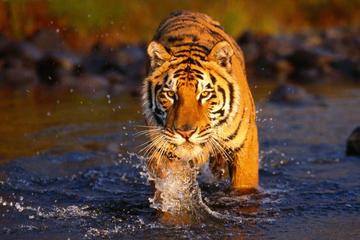 Private Golden Triangle Tour with Ranthambore Tiger Reserve from Delhi
About the author:
Shweta is an HR professional and a blogger, currently working as a freelance travel writer. She loves to write about places that she visits, people that she meets and everyday things that touch her. She has a travel blog at www.travel-lanes.blogspot.in.
Photo credits:
Sambar Deer in Jim Corbet National Park by Pediddle under the Creative Commons Attribution 3.0 License.
All other photos are by Shweta Bhardwaj:
Pack of Deer at Dhikala
One of the beautiful peacock that were there on the dry river bed at Jhirna
Kingfisher on a dry river bed
A bird
A one-toothed mast Tuskar spotted on the road very near to Dhikala zone