Disney World is a top destination that draws in visitors from all around the world. Planning a big trip to Disney, however, gets harder the further away you are. If you have never been to the area, for example, you might not know of the other great theme parks in the area, and you might feel like your best option is to book a hotel right in Disney World itself.
There is so much to do in Orlando, and there are so many ways that you can save and stretch your budget out further. One of the best ways to get the most out of your experience is to do what the locals do and stay where the locals stay.
The locals don't go for the Disney-owned and operated hotels. They go for the affordable resorts just a few minutes away. Many resorts offer great amenities like pools, waterslides, a spa, on-site dining, and more, and even offer free shuttle services to Disney World, Universal Studios, and several other top destinations in the area.
These 10 Disney area hotels are popular with the locals, and they should be at the top of your list when booking for your vacation.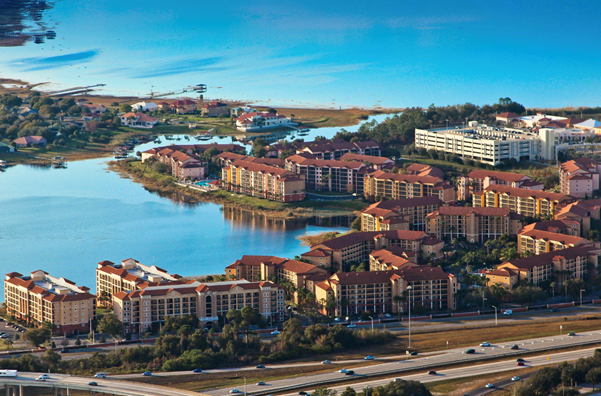 1. Westgate Lakes Resort & Spa
This resort is next to Big Sand Lake and just five miles from Walt Disney World Resort and four miles from Universal Orlando.
There are rooms to suit everyone, from simple studios all the way to large 4-bedroom villas that contain their own kitchens. Eat-in one of the five restaurants, swim in one of the many pools and even book a day pass to go to the on-site waterpark. There are so many great things to see and do at this resort, making it a top favorite amongst locals who are in the area to visit Disney World.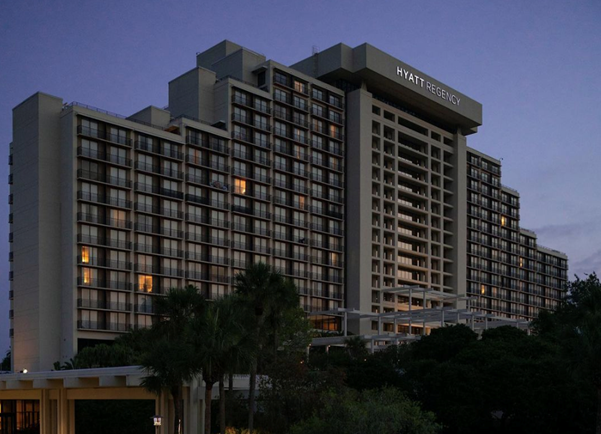 2. Hyatt Regency Grand Cypress
The Hyatt Regency Grand Cypress is an excellent chain that offers clean and comfortable accommodations near all the action of Orlando.
The Hyatt Regency is a popular chain in Orlando as it offers exceptional service and accommodations for a great price. Here you will be able to enjoy chic décor, great services, excellent pools, and more within a reasonable distance of Disney World. It is perfect for travelers of all types, as it offers something for everyone.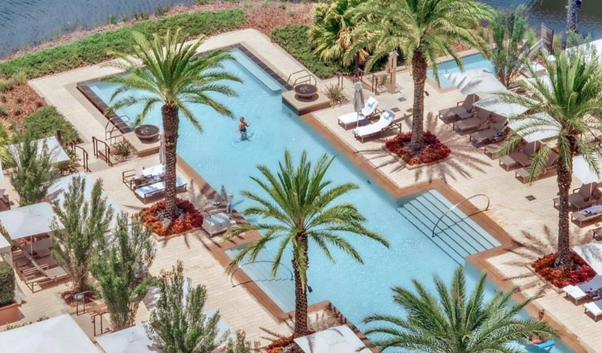 3. Four Seasons Resort
Four Seasons Resort is just three miles from Walt Disney World Resort and is a short distance away from Disney Springs.
This is a massive resort that comes with everything you need to enjoy a luxurious stay. While it may not be an option that many locals can choose for themselves on a regular basis, it is still a favorite for its stunning grounds and amazing rooms. Rooms come with marble bathrooms and even soaking tubs. Suites come with their own private terraces.
All guests have access to the many pools, restaurants, and bars that operate on the property. There is a 13,000-foot spa and even a golf course. The pools have a lazy river and water slides.
It is everything you need to make your Disney trip absolutely magical.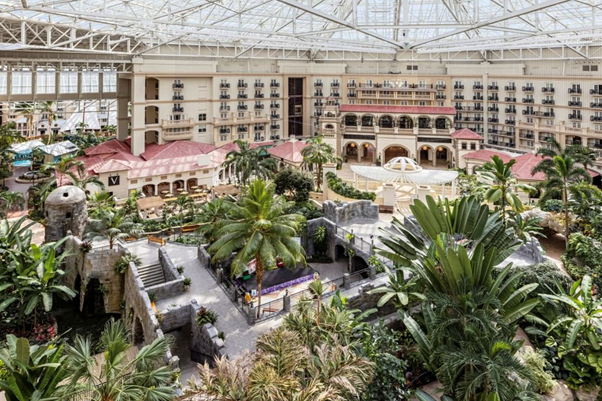 4. Gaylord Palms
This stunning hotel and resort offer beautiful facilities, including a glass atrium garden, beautiful pools, and a golf course just 3.2 miles from Walt Disney World Resort.
This resort comes complete with everything you could hope for in a beautiful resort. The rooms come with marble baths, flat-screen TVs, and minifridges. You will be able to even upgrade and get living rooms and kitchenettes in your space.
There are three restaurants on the property, 2 bars, and a café. If you are a sports fan, then catch your team on a massive 37-foot screen in the sports bar.
There is an adults-only pool, a water park, a spa, a games room, and more. You can even feed baby alligators.
Enjoy all this with shuttle services to the parks included in your resort fee.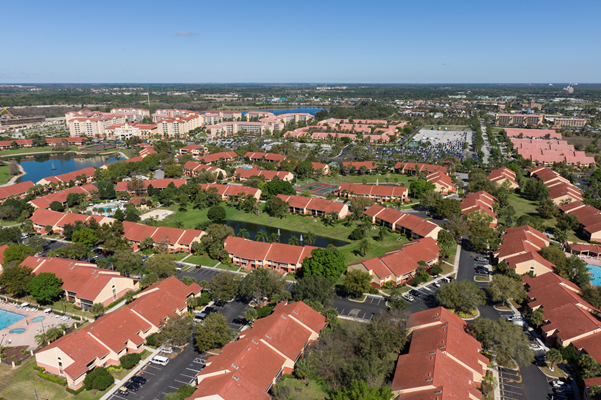 5. Westgate Vacation Villas and Town Center Resort
Westgate Vacation Villas and Town Center Resort offers a home-away-from-home experience and amazing facilities, including a waterpark.
Westgate has a few Disney resorts in Florida, and between the Westgate Lakes Resort and Spa and these two sister resorts, you are spoiled for choice. This option is particularly of interest for larger families who want to settle in on a long vacation to the area rather than burn through in a few days. Book a villa, and you will get a private villa that comes complete with a kitchen, living room, dining room, and laundry machines so you can settle into your home-away-from-home vacation.
You will have a waterpark, pools, restaurants, spas, and more available to you at these resorts and still be a short distance away from the hottest attractions in Orlando. You will be just 3.5 miles from Walt Disney World Resort. If you want to see, Universal Orlando know that you will be 14.9 miles away.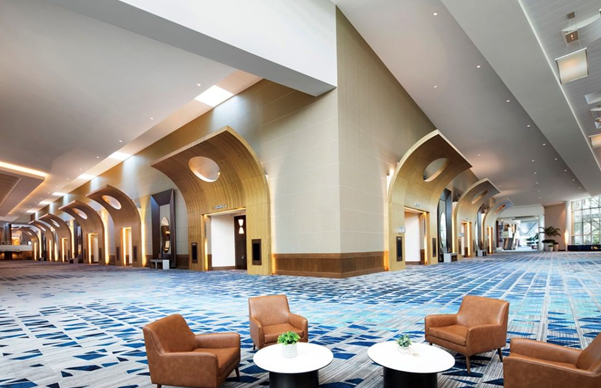 6. Hyatt Regency Orlando
The Hyatt Regency Orlando is connected to the Orange County Convention center by three walkways and is just four miles from Universal Orlando Resort, and is 13 minutes from Walt Disney World.
 This hotel will be of particular interest to convention center goers, as not only does it offer easy connections to the Orange County Convention Center, it can get you to Walt Disney World Resort in just 13 minutes for as little as $1. As a convention center goer, you can save by opting for a half-day resort rate so you can kick back and enjoy some thrills at Walt Disney World at a great rate.
The rooms are laid-back and have the modern amenities like Wi-Fi and a flat-screen TV. The hotel comes with a steak restaurant and two different bars. You will have access to the two outdoor pools and can book a spa treatment or two. If you are looking to mix business with pleasure, this is the place.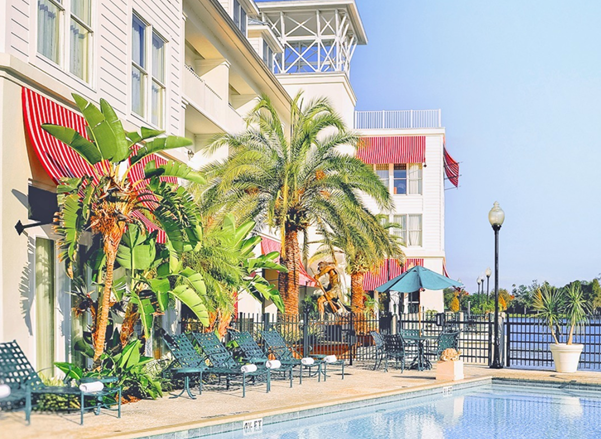 7. Bohemian Hotel Celebration
This hotel is relatively unknown and a true local favorite as it is a short 0.5 miles from Celebration Golf Club and seven miles away from Walt Disney World Resort.
This hotel overlooks Lake Rianhard and is a short distance away from Celebration Golf Club and Walt Disney World Resort. The rooms are colorful and filled with custom artwork and also feature all the classic and modern amenities you have come to expect from hotels today. This means free Wi-Fi, flat-screen televisions, coffeemakers, and high-quality Bose radios.
There are many great amenities and activities in the hotel space as well, with an art gallery, a bar and grill, and a 5000-square-feet of event place that are occasionally open to the public.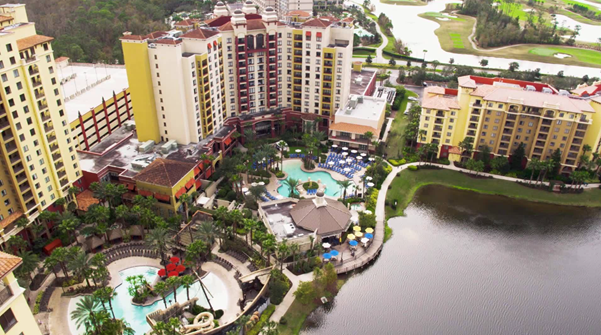 8. Wyndham Bonnet Creek Resort
Wyndham Bonnet Creek Resort offers excellent value for money and balances an affordable price with high-quality rooms and amenities.
This resort often takes people by surprise. It is overall not the flashiest or most obvious resort to consider, but due to its affordable rates and what you get included, this is easily one of the local favorites. The location is great, the room rates are decent, and what you get for your money tends to exceed expectations. The upscale accommodations may not be particularly awe-inspiring, but what you lose in stylish décor you make for in savings. If you don't care what your hotel or resort looks like, and are instead considering what option gives you the most value, then this could be a good choice.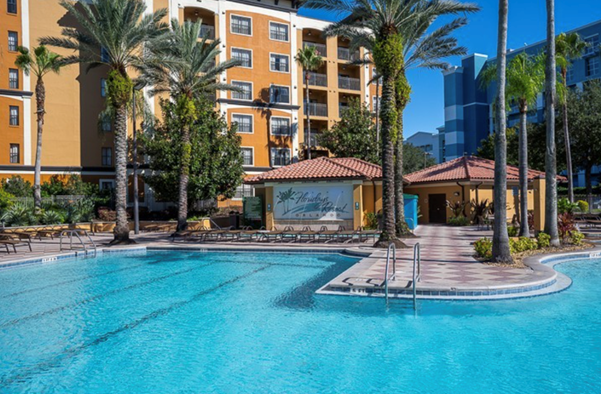 9. Floridays Resort Orlando
Floridays Resort Orlando is a local favorite for its great price and better amenities that make it a top choice for those going to Disney World.
If you want a resort that seems to keep on giving, don't look further than Floridays. It is one of the cheaper options around, but that does not mean it skimps out on anything. It is one of the best value-for-money resorts in the area and offers amazing things to do right on site. You can enjoy swimming, a full events program, on-site restaurants, and more.
It is here where you can find some of the best rates on villas, so if you are interested in making your own meals to save on your trip, then this could be a great resort to pick.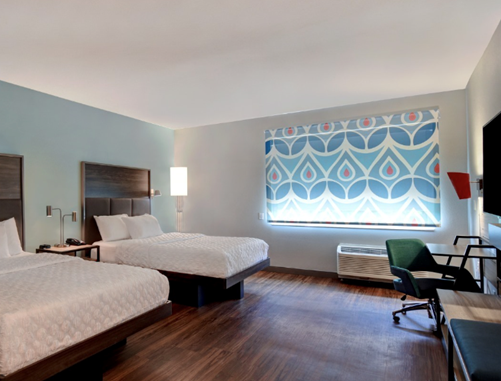 10. Tru by Hilton
This budget version of Hilton is ideal for those that want a great deal without being far from top hot spots like SeaWorld Orlando and Walt Disney World Resort.
You will be able to enjoy clean, affordable accommodation right around the corner from many top destinations in Orlando at Tru by Orlando. You will be a short mile from SeaWorld Orlando, 2 miles from the Orange County Convention Center, and just 5 miles from the infamous Walt Disney World Resort and all the amazing things you can do there.
You will find this hotel off Road 528 and be able to enjoy simple but essential amenities like an outdoor pool, a convenience store, and the option to have breakfast at the hotel.