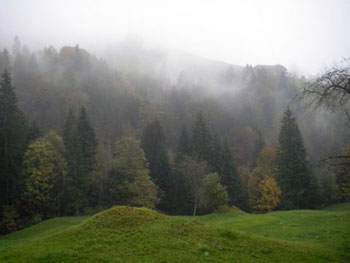 Luzern, Switzerland
by Roy A. Barnes
The city of Luzern is just a 45 minute train ride from Zurich, one that I found more than worth the effort when experiencing much enchantment and stunning views of the waters and mountainous regions surrounding it. I learned of medieval legends that I honestly believe cast a spell on me one rainy, snowy and chilly Sunday as I ventured to Mt. Pilatus. Additionally, I explored a UNESCO Biosphere site where another magical fairy tale is set within the Canton of Luzern.
Mt. Pilatus' Dragons Versus the Ghost of Pontius Pilate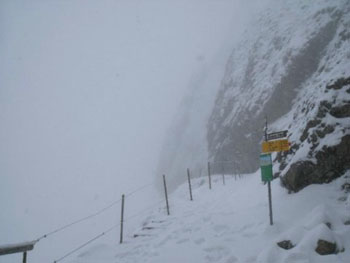 I've daydreamed about one day being able to scale a European mountaintop so I could sing that quintessential European classic pop song "Una Paloma Blanca." It was in my grasp, but the Mt. Pilatus' dragons and ghost of Pontius Pilate would not hear of it. Instead, they had a more memorable adventure in store for me. You see, I planned my day to go to the top of Mt. Pilatus via The Golden Round Trip. Mt. Pilatus is one of the Swiss Alps gateways that helped usher in Switzerland as a tourist hotspot in the late 19th century. I expected to do a good amount of hiking, but steady rainfall in the lower elevations of Luzern and reports of snow up the mountain before I even left Luzern appeared to hamper my day.
I started my Golden Round Trip from Luzern with a free (thanks to my Swiss Pass) 100 minute boat ride on Lake Luzern to Alpnachstad, the base of the 6,995 foot high Mt. Pilatus. I wasn't feeling ideal, as my stomach was a bit queasy and my sinuses were clogging up, but nonetheless, I told myself I'd tough it out. Even though the fog gave way somewhat, the steady drizzle continued amidst the deep valleys that were cut by glaciers in times past. The boat bounced around from one town to another along multi-finger-like Lake Luzern, which has the look of a dragon's outline.
Dragons and the Luzern area have had a long mythical love affair, going back to medieval times. In 1421, a Farmer Stempflin is purported to have seen a dragon up close and personal, making him faint, but upon awaking, he found a dragon stone, which healed him and his family. In 1499, a dragon was reported washing up in the Reuss River, which runs through Luzern. And another story from long ago, though its not known exactly when, had a cooper reportedly falling off Mt. Pilatus in wintertime, but he awoke all snug and warm in a dragon's cave, and was cared for by the dragons until springtime, when the weather warmed up. It's said that one can still hear the flapping of a dragons' wings and see their shadows at fateful times when on the mountain.
The dragons have allegedly survived even as the ghost of Pontius Pilate hasn't. Some seven centuries ago, locals were banned from scaling the mountain because of the fierce weather around Lake Oberalp, blamed on the ghost of Pontius Pilate haunting the place. That is, until the town rose up in 1685 to take on the ghostly figure (appearing with gray hair and dressed in purple annually on Good Friday) by "stoning" the lake. Nontheless, the weather I was experiencing made me wonder if Pilate's ghost was doing an encore.
The Dragon's "Touch" on the Ascent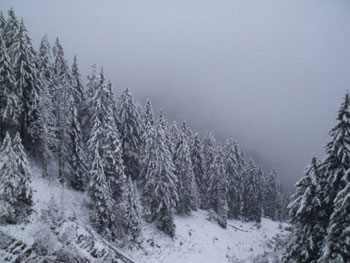 My second leg of the "Golden Round Trip" proceeded on the world's steepest cogwheel railway from Alpnachstad, where us passengers experienced gradients as high as 48 per cent at speeds of about six to seven miles per hour. Going up, we were surrounded by thick evergreen forests being hammered by rain, then light snow, and then heavier snow as the visibility decreased. But I began to notice something on my ascent: I wasn't feeling queasy anymore and my sinuses were clearing up as the 33 minute ride (that's half price with a Swiss Pass) proceeded through several tunnels barely wide enough for the cog way carriages. The driver masterfully had to navigate the heavier snow amidst sudden jerks and stops. He laughed even though I was anxious (because there are three braking systems to prevent catastrophe).
At the top, it was snowing hard and very cold. Despite the many paths and other activities being closed down, I was able to take on the below freezing temperature and wind chill and walk through a series of tunnels in the mountain called the Drachenwag. The tunnels kept me from getting wetter, but not colder. But alas, I felt such a high even though the openings in the tunnels showed little as the snow-covered mountains became whiter. Still, my venture upwards to the dragon's mythical homeland made me feel better, along with some delicious hot vegetable soup and some green tea-flavored Swiss cola called Rivella in one of the area's diners. Though my half hour descent downward saw the cable cars' windows doused with snowflakes and raindrops en route to Kriens (which has bus service back to Luzern), I came away from the "Golden Round Trip" a believer: in dragons and their healing powers!
The Land of Enchanted Plums in the Entlebuch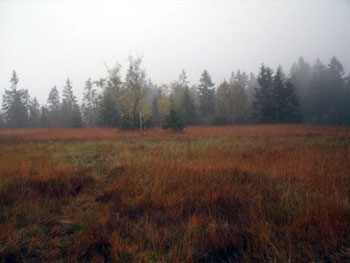 The Entlebuch resides west of Luzern, about 35 minutes by train at the stop called Schupfheim. It's made up of eight villages and spans some 154 square miles and contains many of the Alps' rolling foothills: roughly one per cent of the total land area of Switzerland. One fourth of this area is now protected moors (highland marshlands), which exuded a pleasantly eerie feeling amidst the fog, making me wonder if any monsters were lurking there.
The first settlers here came in the 11th century, but for the last two centuries, one passed-down fairy tale has captivated the locals involving a plum-like fruit called the Zyberli. It's featured in a five year old-plus German book Zyberli-Gschicht. As a big fan of children's stories, I got to visit this land, where, according to the story, little people known as the Bargmandli used to pan for gold for their valley masters (Talherrens), and in return for making the latter rich, they would receive the Zyberli fruit. But this would end as the egotistical Talherrans chopped all the fruit trees down so they could build bigger thrones for themselves, making the little people leave, leaving the Talherrans without more gold.
I started out on the three mile circular trail in the town of Romoos at the Hotel Kreuz, and soon came upon a newly planted Zyberli tree on a lawn. My path then took me outside the town center to the Forest Gate, where I would then embark on long and winding dirt roads that were wet with dead leaves from a steady drizzle, which I navigated with my walking pole, opening and closing many gates.
Little feet symbols were plastered along the trail to make sure I didn't get lost, leading me to such places as the school for the Bargmandli, where actual kids convene to get lessons on acting responsible in the forest amidst beautiful and peaceful surroundings that include a natural babbling brook soundtrack.
More Enchanted Findings at Fluhi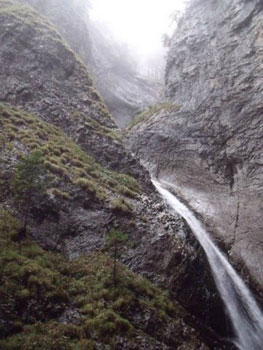 The town of Fluhi is on the other side of the Entlebuch, and provided me a great opportunity to see more breathtaking fall scenery in the Pre-Alps (foothills), ending at Cheesiloch, a canyon with a 130-plus foot drop. Prior to the path leading directly to the canyon, a 45 minute hike from town begins that has winding roads, cows who love being photographed (kept apart by a "fence" made of just one rope), and rolling meadows. The last 30 minutes to the canyon would be one of my most challenging hikes I've ever taken, and once again, my walking pole saved the day, for the narrow pathway was sharp and rocky, and drenched with wet maple leaves. Nature's soundtrack included hearing the pleasant babbling of the Rotbach stream as I proceeded deeper into the dense evergreen forest with deep drops to the canyon below.
When I arrived at the canyon falls, the noise was quite loud as the water crashed to the bottom to a pool-like area before going further downstream. This is water which some off the beaten path travelers bathe in when it's not too cold. The Entlebuch is still pretty "virgin" as far as tourism is concerned, even though rail lines go right through the area from Luzern to Bern. I'm glad I got off the beaten path, and took time to smell the roses here.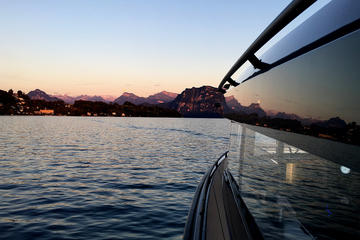 Brunch Cruise Around Lucerne: Luzern on Lake Lucerne Vierwaldstättersee
If You Go:
To see the Entlebuch via Romoos, it takes about 40 minutes from Luzern via public transportation. From Luzern, take a train en route to Wolhusen (first stop towards Bern about 15-20 minutes away), and then the yellow "Post" bus will take you to Romoos in less than 20 minutes. Fluhi is reachable a little further down the same above-mentioned line at Schupfheim's train station (about 35 minutes), and then by taking a Post bus to the town, which takes ten minutes.
Swiss Tourism: www.myswitzerland.com
Swiss Pass, Swiss Rail Travel: traintickets.myswitzerland.com
City of Luzern www.luzern.com
Mt. Pilatus: www.pilatus.ch
The Entlebuch: www.entlebuch.ch
About the author:
Roy A. Barnes is a frequent contributor to Travel Thru History, writing from southeastern Wyoming.
Disclosure: Mr. Barnes attended a press trip sponsored by Switzerland Tourism but what he wrote were his own impressions without any scrutiny of the press trip sponsor.
All photos are by Roy A. Barnes:
1. Zyberliland Trail
2. Drachenweg of Mt.Pilatus
3. Going up the Cogwheel Railway
4. Entlebuch Moors
5. Chessiloch Falls