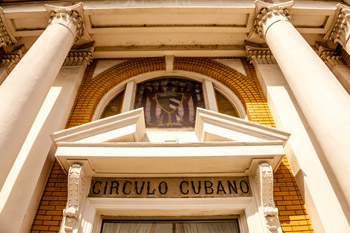 by Karen Pacheco 
On Avenida Republica de Cuba, we stand before a yellow brick, neo-classical building reading the historical marker about El Circulo Cubano (the Cuban Club). This structure, built in 1917, contained a theater, pharmacy, library, ballroom and cantina, and is listed on the National Register of Historical Places. We enter and ask the receptionist if we can look around. From her baffled reaction, we surmise she doesn't get this request often. After a briefing on what's viewable and what's off limits, our exploration begins.
We're not in Cuba. We're in Ybor (pronounced EE-bor) an historic, multi-cultural neighbourhood of Tampa, Florida, former flourishing cigar centre of the world. From boom to bust, Ybor has reinvented itself in response to economic and political waves. While it's not the rich environment it once was during the late 1890's to 1929; this community has evolved into a delightful mix of culture, cuisine and history. To sample that, we begin by walking the avenidas to explore some historic structures built during Ybor's golden era.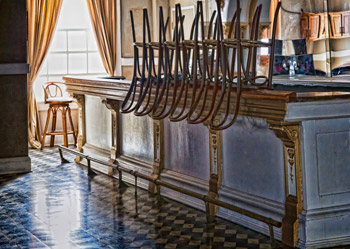 In the Cuban Club we climb tiled stairs, woven with ornate wrought-iron railing to the second floor lobby. An expansive area with inviting overstuffed chairs nestle in one corner; plaques honouring past leaders dot the walls. Sunlight splashes through aged curtains lighting the white with gold trim bar. Cane chairs are stacked on the bar's carved wooden ledge; mirrors behind, fogged and cracked with age.
Fortuitously, we run into Jesus (pronounced Hey-SUS) Cuban-American caretaker at the Circula Cubano. He shows us an entanglement of knob-and-tube wiring; its replacement on his to do list. Pleased by our interest in the building, he offers a tour. We learn that Jesus' family was among approximately 500,000 Cubans who immigrated to Florida between 1959 and 1980, motivated by politics and economics.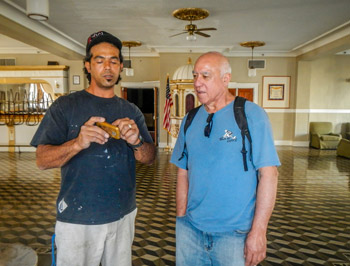 Our eager guide escorts us to the two-level 450-seat theater, ballroom, cantina and salon. Glenn Miller and Tommy Dorsey's big bands once played in the grand ballroom here. Now it's primarily a wedding reception venue; not what it once was, but still alive and thriving.
A population that grew from 800 in 1880, to 16,000 in 1900, fueled development of mutual aid societies like El Circulo Cubano. Risk-taking entrepreneurs Ignacio Haya, a Spanish cigar manufacturer from New York, and Don Vincente Martinez-Ybor, a Spanish immigrant to Cuba, brought the cigar industry.
Martinez-Ybor acquired forty acres northeast of downtown Tampa in 1885 for its proximity to a port and railway, and its favourable climate. In 1929, there were two hundred cigar factories (Martinez-Ybor's and others) producing over 500 million cigars annually. Ybor gained the indisputable title 'cigar capital of the world'. Martinez-Ybor's original three-storey factory on 9th Avenue built in 1886, continued to operate as a cigar plant until after World War II. It then transitioned from galleries and studios, to marketplaces and a restaurant. The Church of Scientology acquired it in 2010. Its striking red brick exterior dominates the beginning of Ybor's street trolley route and the historic district that evolved around it.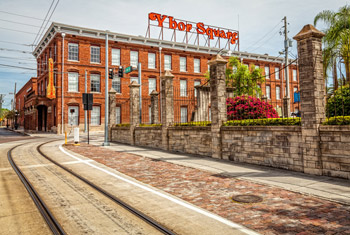 Besides a Cuban social club, Ybor has several others: Italian, Spanish and German. These mutual aid societies provided educational, social and medical services for their ethnic group. Two of them had hospitals; some had boxing and dancing lessons. Tabaqueros (tobacco workers) paid weekly dues for each family member for these services. Social clubs enriched Latinas' lives during those years.
We stroll towards La Septima (7th Avenue) Ybor's commercial centre. Here we visit the Italian Club whose mission is similar to that of others–honour culture and "… maintain the historical facility as a functioning memorial to the working class immigrants." We're welcomed to browse the building. Today, wine vendors host a convention in the ballroom. Renting out rooms and historical preservation grants help to keep these once thriving clubs afloat.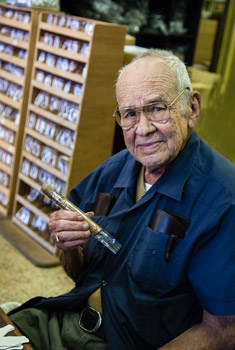 Continuing along La Septima we amble past storefronts noting a variety of cigars offered: doble robustos, torpedos, Churchills and even orange, coffee and strawberry flavoured. We stop to watch some cigar makers rolling by hand using a cutting board, Chavata (knife) and shaping tools. About one hundred years ago, factories were filled with more than a thousand cigar workers (tabaqueros). The final steps were completed by the highly skilled and well paid torcedores. Lectors read to them to lighten the tedium of the task. Most made decent wages as they were paid by piecework. And, yes, a few women were among these workers.
Our walk continues along La Septima. Patrons at outside tables, listen to toe taping Latina music, sip a Café Cubano (espresso, sweetened with demarara sugar) and puff on their cigars. The acrid smoke invades our non-smokers' nostrils; we won't be sampling. For those partaking, it's seems a leisurely, relaxed indulgence.
All this walking wakens our appetite. Lunch is at the oldest restaurant in Florida, the Columbia Restaurant, founded in 1905, the cigar industry's zenith. This one-of-a-kind eatery consumes a whole city block, contains fifteen dining rooms and a lavish bar worth the visit to see. Patrons line up, some coming on bus tours to enjoy this gem of culinary history. The menu offers a variety of Spanish, Cuban, Italian, and fusion selections: Spanish bean soup, Cuban black bean soup and the award-winning '1905 salad' Columbia's original, along with a mixto (Cuban sandwich) a multi-cultural mix of ham, roast pork, Swiss cheese and mustard on Cuban bread. A pitcher of Sangria or Mojitos goes well with most menu items. Flamenco dancers perform nightly.
Cuban sandwiches are still made with Cuban bread baked at La Segunda Centrale nearby. This bakery also continues as a family owned and operated business, celebrating its 100-year anniversary this year. The guava turnovers are highly recommended.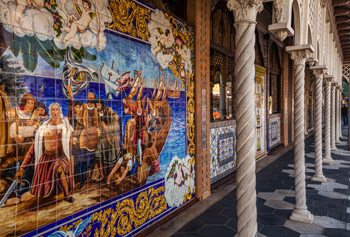 Another historic building where one can feast is Carne, located in the former El Centro Espanol (Spanish Social Club). A red-bricked edifice with white stones accenting arched windows, hosts this restaurant. Cast iron balconies and a simple, but formidable Moorish-style archway, add to its unique French Renaissance Revival architecture. Now it's home to shops, businesses and Carne, the restaurant where previously we enjoyed the early bird prime rib dinner and Finlandia Martinis. Both meal and beverage were bargains, generously portioned and palette pleasing.
Our Ybor sampling of culture, history, and cuisine comes to an end–minds and stomachs sate. This unique village illustrates survival, tenacity and cultural pride. Viva Ybor!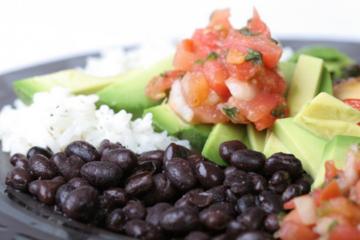 Historic Ybor City Food Tour
If You Go:
♦ The TECO line streetcar system from downtown Tampa to Ybor takes under fifteen minutes
♦ If you are in Tampa either departing on or returning from a cruise, it's a rewarding day trip to Ybor
♦ A pleasant diversion from the beach scene, about a forty-minute drive from Gulf beaches to Ybor
♦ Take a break from Disney Orlando and go to Ybor (1 hr. 15 mins. 82 miles along I-4 West)
♦ History and photographs from Ybor's past
♦ Columbia Restaurant (reservations recommended)
♦ Carne Chop House
♦ La Segunda Centrale Bakery
About the author:
Karen's interest in the visual arts began with media studies at SFU. Her passion for travel photography was sealed when given a Pentax SP 1000 prior to a year's trip to Europe, Middle East and Africa (1975-1976). Her career as an educator ended with an assignment in Shenzhen, China, allowing for Asian travel opportunities. Since then, she has devoted her time to photography and freelance writing. Recent travels include the Canadian Maritimes, Hawaii, western USA National Parks and the southeast United States. Karen is a member of the Delta Photo Club, B.C. Association of Travel Writers and CAPA (Canadian Association for Photographic Art). Several of her images have won awards. Her work can be viewed at: northohana.zenfolio.com
All photos by Karen Pacheco:
El Circulo Cubano façade
El Circulo Cubano bar
Jesus with author's husband (El Circulo Cubano)
Entrance to Ybor, historic red brick cigar factory
Cigar roller
Columbia Restaurant
El Centro Espaniol