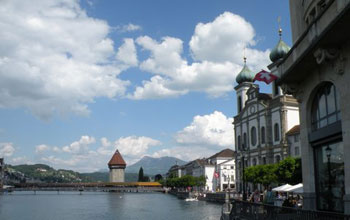 by Tom Koppel
At the inviting Swiss hamlet of Andeer, the upper Rhine, only 10 metres wide, cascades in waterfalls and rapids through a rocky gorge. Outside a cheese shop, a sign bears verses of folksy doggerel. Freely translated, it reads " Milk, cheese, curds and cream, help our people get up steam." The message is hardly surprising in a country known for its dairy products, but the language is unusual. It is Romansh, an ancient Latinate tongue now spoken by less than 1% of the Swiss population.
Nearby is tiny Zillis, noted for its 12th century Romanesque church. 153 painted wooden panels adorn the ceiling, each portraying supernatural creatures or scenes from the lives of Christ or Saint Martin. Zillis, too, was once a mainly Romansh-speaking settlement; an organization dedicated to preserving that heritage has its office just steps away from the church. With subsidies for its teaching and publication of school books, Romansh remains one of Switzerland's four official languages and is still the primary school language for thousands of children in the sprawling southeastern canton of Graubuenden.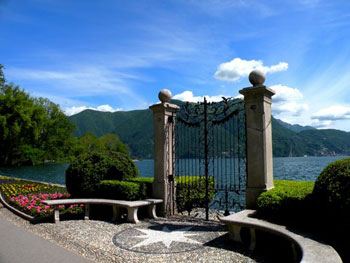 My wife Annie and I are enjoying an eye-opening Alpine sojourn as guests of dear old friends, Margit and Andres, health care professionals who live in Graubuenden but have stayed with us in Canada several times. When not having to work, they drive us around, and we make side trips on our own by train. We had expected beautiful mountain scenery, postcard-perfect towns and a prosperous land of clean efficiency, where the predominant German and French-speaking populations get along. But we had never imagined the full diversity of the rich Swiss cultural tapestry, the quirky and endearing coexistence of the traditional and modern, and the way history is cherished and kept alive.
In the vibrant, Italian-speaking southern canton of Ticino, we visit sultry, almost Mediterranean Lugano, on lovely Lake Lugano. Palm trees thrive and the Italian Renaissance architecture is entirely different from the more Germanic Swiss north. Cave-like grotto restaurants serve such traditional fare as liver, tripe and horse steaks. In the countryside, we see countless small backyard vineyards. At nearby Bellinzona, Julie, our personal guide, says that her brother-in-law is typical. He grows his own grapes, makes wine and has it distilled into about 30 litres of powerful grappa a year. Born in the US, Julie thinks Ticino offers the best of worlds, combining the zest and flair of Italian culture with Swiss order, competence and reliability.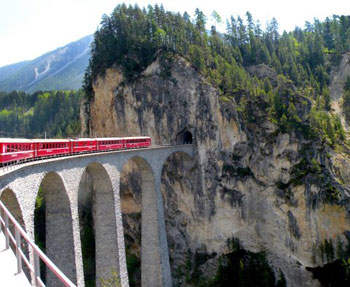 She takes us to three impressive 13th to 15th century castles that dominate Bellinzona, built by the dukes of Milan to command a strategic river valley and to tax trade along the passes leading northward. Montebello castle, high on a slope, hosts an annual medieval festival, with jousting, period costumes, and roast pig eaten without cutlery from wooden bowls.
Another day, we ride the narrow-gauge Bernina Express train over the Alps, past glaciers and through tunnels blasted over 100 years ago. Some spiral like corkscrews deep within the rock and emerge to cross tongue-bitingly high viaducts. A marvel of Swiss engineering.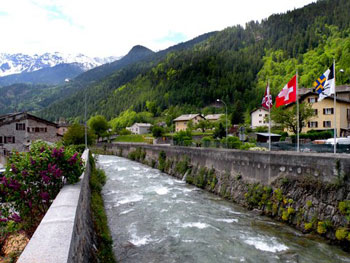 Our destination is Poschiavo, an enchanting village in another isolated Italian-speaking region that is part of Graubuenden itself. We stay at the historic Albrici hotel, built in the 17th century and run for 150 years by the same family. The 10 bedrooms feature antique furniture but no phones, TV or other electronics. We dine outside on the cobblestone piazza, which is bracketed by two ancient churches. The owner recommends some regional main dishes. I enjoy flavourful buckwheat noodles in a creamy sauce, garnished with a skewer of endive and slices of salami. Annie savours the tasty spinach dumplings (gnocchi) with melted cheese, similarly garnished.
Lingering over our wine, we absorb Italian village life on a warm evening. Fashionably dressed families stroll through the piazza, to see and be seen. They pause at the central fountain for the children to splash and carouse. Across the way, patrons sip drinks or espresso at a cafe. Suddenly, both church towers, plus a third just up the street, burst into a concert of pealing bells. The moment is romantic and sublime.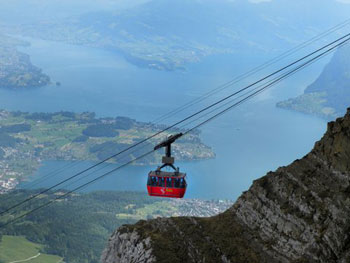 Even the larger central Swiss cities offer an intriguing mix of old and new. In Zurich, our hotel abuts the beautifully maintained old town. Its narrow streets are lined with medieval towers and intersect at ornate fountains featuring sculptures. We indulge in sweets at an elegant 19th century pastry shop but also take the funicular up to see the renowned technical institute just above, where Albert Einstein got his doctorate. In Lucerne, we walk the massive old city walls and cross the landmark 14th century covered bridge. But we also ride a spectacular cog railway (the world's steepest) up 2,132 metre Mt. Pilatus, where an ultra-modern hotel adjoins a much older one, and watch a paraglider lift off and drift away on the thermals.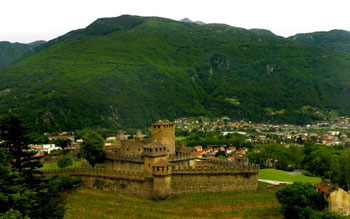 Even within the Swiss-German majority population, we discover, there are minority subcultures. Our friend Andres turns out to be a Walser, the proud member of an alpine tribe that numbers about 20,000 in Switzerland and has sizable communities in neighbouring Italy, Liechtenstein and Austria as well. They trace their history back to the south-central canton of Wallis and an outward migration that began in the 13th century. Historians debate whether the cause was overpopulation, or feudal politics, or possibly the plague. Those who moved northeastward into Graubuenden and beyond were attracted by empty high-elevation lands to settle and privileges offered to them by feudal lords in exchange for doing military service, notably patrolling and controlling the crucial mountain passes.
Unlike the mainly Romansh-speaking lowlanders in the valleys, who were serfs leading restricted lives, the tough Walsers were true pioneers, free to move, establish independent high-elevation villages, till the uplands and raise animals, and worship and marry as they pleased. (Most Romansh speakers have remained Roman Catholic to this day, while the Germanic Walsers became overwhelmingly Protestant during the Reformation.) And the Walsers still live their own unique way.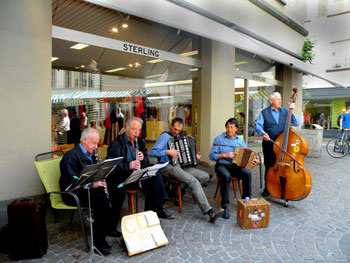 Andres regales us with stories of his upbringing in the 1960s and 1970s on a subsistence farm high in the Praettigau Valley, just east of Graubuenden's charming capital city of Chur, where he now works. Like his neighbours, his family had only a few cows, which he helped to feed and milk in winter; in summer they were moved up to higher grazing pastures. A few men from the hamlet tended everyone's cows, milking them collectively and making cheese every day. The cheese was brought down in autumn and divided up, a festive event that remains an annual celebration. Each family also had a vegetable garden and perhaps a pig, chickens and rabbits. Yet they eked out a livelihood. Andres hiked, or sledded in winter, down to school in the larger village below. He and Margit drive us up switchback roads to a scenic Walser village, Tenna, with a population of around 100 overlooking the Safien valley. There is a two-room school, a cheese-making shop, and a church dating to 1524. The gravestones record only a handful of family names, generation after generation. Houses have huge stacks of firewood and tiny outbuildings that are actually ovens for baking bread. Cows and sheep graze nearby; in May, they have not yet been moved to higher slopes. The weather is sunny and warm, perfect for lunch on an outdoor hotel terrace. We try the barley soup, grilled mushrooms on bread, and local hard cider. Andres greets an elderly couple, who immediately recognize his dialect. You must be from Praettigau, they say, and they are too. They even knew his late parents, but have retired to this distant, yet also Walser, village.
It is a highly traditional place, but so modern as well. Just above the hotel, the village has installed the world's first solar powered ski lift, with photovoltaic panels strung out up the slope. In the snow-free season, excess power is sold to the national energy grid.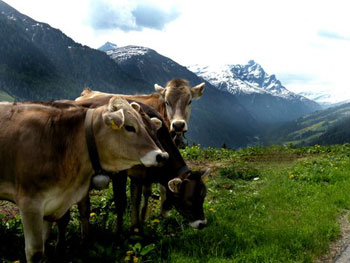 Another evening, Margit and Andres take us to a concert at a pub high in the Praettigau valley, where Andres grew up, in a village with stunning Alpine architecture where one of his sisters now lives. He is the only one of five siblings who has left the valley, although he has not moved very far. Between songs, the band tells jokes in Walser German. Andres laughs along, but Margit, who was raised in Germany and is totally familiar with mainstream Swiss German, can hardly make out a word. But if we were expecting Tirolean um-pa-pa tunes, we were mistaken. The popular local trio—they have performed 1000 times over 20 years—treats us to to an eclectic display of world music: klezmer, gypsy, tango, blues, Celtic, on a bevy of instruments. Andres' sister tells us that she is leaving in the morning for a cycling trip in Ireland. Everyone is from the valley, but they all seem well educated and most speak remarkably good English. This is 21st century Switzerland. They may be locals, but they are by no means yokels.
Switzerland Travel Tips
All photographs are by Annie Palovcik
1. Lucerne
2. Lugano
3. Bernia Express
4. Poschiavo
5. Mt. Pilatus
6. Bellinzona
7. Chur
8. Tenna
About the author:
Tom Koppel is a veteran Canadian author, journalist and travel writer. His latest popular book on history, science and travel is Mystery Islands: Discovering the Ancient Pacific
. Koppel provides a personal tour of that vast ocean and presents the latest findings in archaeology, genetics and carbon dating. Mystery Islands is now available at www.uspbookcentre.com and soon on Amazon.