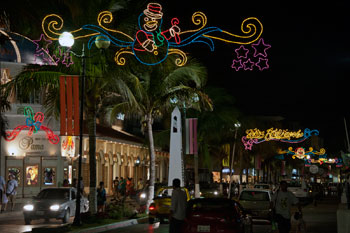 Yucatan, Mexico
by Jett & Kathryn Britnell 
Celebrating Christmas in the tropics promised to be a grand family adventure this year with no snow, no tree, no turkey, no stuffing and zero stress. During the traditional season of gift giving, Cozumel was the present we gave to ourselves!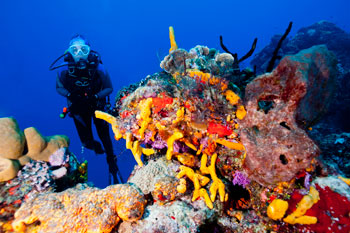 "That was one of the best dives I've ever done," Kathryn proclaimed after surfacing at Cozumel's Tormentos Reef. Comprised of coral pinnacles towering approximately 20 to 30 feet high and interspersed with wide, sandy areas. The colorful coral heads are adorned with purple and orange sponges, brain and whip corals. Tormentos is a veritable ocean garden where the reef's maze of twisting tunnels, overhangs and barrel sponges provide shelter for marine life. Teeming with shoals of bream fish, French grunts and yellow snappers, I lost count on the number of blue tangs, pork fish, trigger fish, black durgon, file fish, big eyed jacks and parrot fish we saw. Lurking within the ledges, nooks and crannies were Caribbean king crabs, spiny lobster, giant hermit crabs, juvenile spotted drums, spotted moray eels and delicate-looking arrow crabs. Grey and French angelfish seemed unwary of the divers in their midst as were the barracuda seen hovering over the patch reef on the hunt for their next meal.
Beneath a jagged coral overhang, we encountered a seven-foot nurse shark resting motionless on the sandy seafloor. After taking a few pictures, we left the shark behind only to come upon a green moray eel swimming out in the open that was clearly being escorted by an enormous black grouper. Normally a solitary fish, this grouper was clearly hunting with the eel. Marine biologists who have studied this remarkable behavior in other parts of the world estimate both fish were five times more successful at catching prey cooperatively than separately.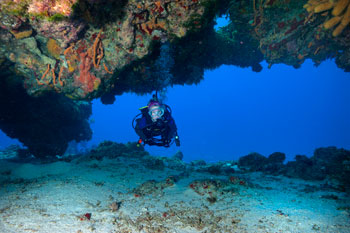 While our dive at Tormentos Reef was quite literally off the scale, we equally enjoyed our dives at other well known Cozumel dive sites. Interestingly, we seemed to be seeing more large animals on every dive than I could recall ever seeing here over two previous trips. Nurse sharks, sea turtles, Southern stingrays all seemed to be in greater abundance. Our decision to bring our family to Cozumel for Christmas and New Years felt entirely right. This year, the gifts were indeed under the sea.
Nestled just 12 miles off the Yucatan Peninsula's coastline. Cozumel is Mexico's largest island. Measuring roughly 28 miles long by 10 miles wide, it is a predominately jungle-covered, limestone and scrub plateau. It's main waterfront town, San Miguel, was a sleepy little fishing community until 1961 when famed undersea explorer, Jacques Cousteau shot a television documentary here and proclaimed the islands fringing reefs to be one of the most beautiful scuba diving areas on the planet. Since that time, Cozumel has established an underwater marine park system to protect the delicate balance of its impressive long stretch of coral reefs & lavish assortment of tropical fish. The sea life is absolutely amazing and depending on the season, underwater visibility ranges between 100 to 200 feet. Modern day scuba divers still rate Cozumel's mighty Palancar Reef system as being one of the top five diving destinations and tales of hidden undersea treasure from old Spanish galleons still arise during après dive discussions while downing a few cold cervezas.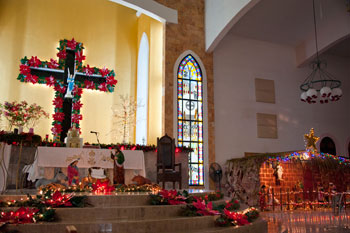 San Miguel's quaint downtown zócalo (Plaza del Sol) extends for about eight blocks along the waterfront and for several blocks back from the water. The tiny municipality exudes a casual relaxed ambiance with excellent shopping, superb night life, an exceptional number of fine dining restaurants, more than 200 gift shops, souvenir stalls and jewelry outlets that sell everything from T-shirts to fine silver jewelry, pottery, wood carvings, leather goods and tourist kitsch. While prices tend to be fixed when cruise ships are in port, bartering is relished by shopkeepers on the side streets located as little as ½ block in from the water. In fact, the potential for striking a great bargain increases the further you stroll back from the waterfront.
On Christmas Eve our trip got off to a festive start with a delicious dinner at Pepe's Grill, followed by bananas flambé for desert, which is simply to die for! After some shopping at some waterfront shops we attended Midnight Mass, which the Mexicans call "la Misa Del Gallo" or "the rooster's mass," at the beautiful Cathedral of Corpus Christi. One does not need to be religious to appreciate familiar Christmas carols or a church service performed entirely in Spanish. Curiously, we noticed several church patrons were carrying and hugging a baby Jesus doll. We soon learned the building of the "El Nacimiento" or "Nativity scene" is a seasonal tradition here. During the holiday season, most Mexican families construct a Nativity scene in their home. At midnight on Christmas Eve, a figure of baby Jesus is placed in the nacimientos to commemorate the Lord's birth.
According to Mayan legend, Cozumel was the home of Ixchel, Goddess of Fertility and wife of Itzamha, the supreme Lord and Sun God. At least once during their lifetime, Mayan woman were expected to make a 12-mile crossing between the Yucatan mainland and Cozumel in a dugout canoe in order to worship and pay tribute to Ixchel. It was believed that in return Ixchel would grant her loyal servants the promise of good marriages, healthy children and would send her favourite bird as a symbol of gratitude and good fortune. This explains why the ancient Mayans revered Cozumel as a sacred shrine and named this tiny island, "Ah-Cuzimil-Peten", or "Island of the Swallows." Today, at many scattered sites around the island archeologists are still unearthing small dolls that were presented as a sacrifice during fertility rituals.
Palancar Reef, the second largest barrier reef in the world, is Cozumel's claim to diving fame. Its reefs form part of the Belizean Barier Reef that extends southward from Isla Mujeres, a tiny Mexican island north of Cancun, to the Bay of Honduras in Belize. Palancar's reef system is comprised of a three and a half mile long stretch of patch reefs, sand channels, impressive drop-offs and towering housed-sized coral buttresses, the peaks of which rise to within 60 to 100 feet of the surface. The walls of these monolithic edifices are honeycombed with tunnels, ballroom-sized caverns, passageways, and swim throughs. Peer over the edge of Palancar's abyssal drop-off and you will be gazing at the Undersea Temple of the Mayan Gods, the 3,000-foot deep ocean trench that separates Cozumel from the Yucatan Peninsula.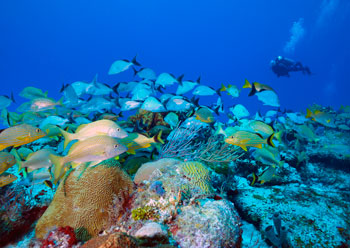 Another notable feature that sets Cozumel's waters apart from other Caribbean dive destinations is the Yucatan current offers endless opportunities for drift diving. These continually flowing ocean currents are often less than half a knot and tend to flow in a south to north direction. Sometimes the current can be fairly strong, attaining velocities of two knots or more. Essentially, the dive plan for drift diving is simple. The dive tender drops you in the water and follows your bubble trail, standing by to pluck you from the water when you surface.
Shafts of sunlight shimmer through the openings in the cave ceilings and winding archways at Palancar Gardens Reef giving the interior a cathedral-like atmosphere. The picturesque Garden's presents divers with a varied reef terrain of towering rock spires, cliffs and numerous swim-throughs that are decorated with orange elephant ear sponge, gorgonian corals and lots of the usual tropical fish. Sea turtles are pretty much a sure thing on every Palancar dive. It would seem the Mayan Goddess, Ixchel, also rewards divers who are willing to make a pilgrimage to her fabulous undersea temple.
While spending Christmas in the tropics may not be everyone's cup of tea, our entire family thoroughly enjoyed our Yuletide tropical adventure. Perhaps the Goddess Ixchel weaved her magic in other ways during our stay as after attending Christmas Mass, both our Über cool teenage boys actually thanked us for taking them to Midnight Mass. That's the wonderful thing about dive travel, it provides one with unique experiences you will never forget. As the Mexicans say on New Years Day, "Prospero Año y Felicidad." A prosperous year and happiness!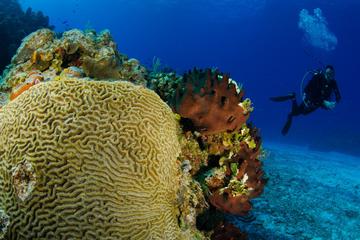 3-Hour Certified Scuba Diving Tour with Two Tanks in Cozumel
If You Go:
Cozumel Quick Facts
♦ Diving Season: Year round
♦ Language: Spanish and certain Mayan dialects. English is spoken throughout tourist areas
♦ Currency: Mexican peso with U.S. dollars and major credit cards accepted by most establishments.
♦ Time Zone: Central Standard Time Zone
♦ Estimated Population: 90,000
♦ Water: Tap water in Mexico is generally not potable, and it is safest to drink purified bottled water. Even locals do not drink the tap water. Bottled water is widely available.
♦ Climate: Subtropical, average temperature is about 80° F with the warmest weather in July and August. The coolest months are December and January where temperatures hover in the 70's. Ocean temperatures average 80° F year-round, dropping one or two degrees in winter.
♦ Time Zone: Central Time Zone. Cozumel does not observe daylight savings time.
♦ Accommodations: Cozumel offers many choices for places to stay. All inclusive hotel packages are now popular and a fantastic option for families. Prices for hotels vary greatly so consult with a dive travel agent or surf the net to find something that suits your budget and satisfies your specific needs.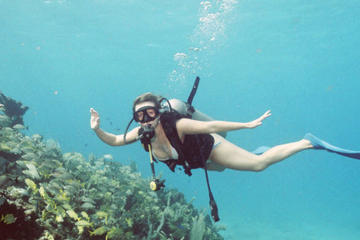 Cozumel Diving Day Trip from Cancun
About the authors:
Jett and Kathryn Britnell are award wining internationally published diving photo journalists.
Web: www.jettbritnell.com
Blog: jettbritnell.blogspot.ca
Matador Network Ambassadors
500px
Ocean Artists Society (Photographer)
BC Association of Travel Writers
Professional Photographers of Canada
Photos by Jett and Kathryn Britnell.