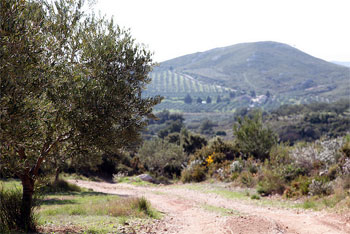 by Jewel Fraser
When Catherine Cordelle told me she had found an artist's residency in Provence that was willing to have me for a couple weeks, I was thrilled. I had read Peter Mayle's 'A Year in Provence
' some years before and was enthralled by the prospect of experiencing the lifestyle he had written so amusingly and evocatively about.
As a Caribbean writer, now making her way in the world (before going to France, I was to first present a short story at an international writer's conference in Wales, UK), it seemed the ideal time to experience the continent after years of parsing French at school and dreaming about one day visiting the land of champagne, Moliere, and the Mona Lisa.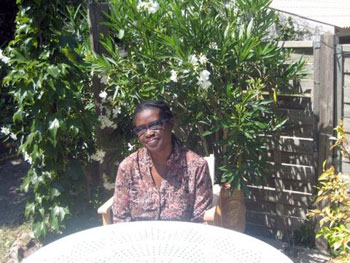 One week didn't seem like a lot of time, my host at the residency pointed out, after circumstances required I cut my stay by a week. But it turned out to be one of the most productive for my writing in a long time. The residency, located just outside Aureille, provided plenty of uninterrupted time for reading, thinking, and writing, all of which I did copiously.
My first day at the residency was spent sleeping during the morning, since I had passed the night in Marseille's airport lounge; then going for groceries in the afternoon at a small French supermarket where I was able to practice my limited French. The owners of the supermarket were gracious and friendly. It was a delight to find the equivalent of one week's groceries came up to 63 euros, just as promised when I googled to find out how much I would have to spend. I had been hoping to focus on seafood during my trip but was somewhat turned off by the locally cooked prawns, packaged with heads and tentacles still on. My host informed me the French just screw off the heads before dipping the prawns in sauce and eating. Not to my Caribbean tastes since we routinely gut and shell all our seafood.
I spent my second day working on a short story, the concept for which I had been nursing for a while. The entire day, off and on, was spent working on this, and by the evening I was pleased to have finished the first draft. As I lay in bed that night, I contemplated how best to revise and improve my story. Falling asleep, however, did not follow naturally. My hosts keep no locks on their doors, since apparently in Aureille crime is practically unheard of. Unlocked doors always appear like an invitation to trouble for me and I braced the handle of my bedroom door with a chair and kept one of the lights burning to allow me a little peace of mind and some sleep.
The next morning it was time to visit the doctor to have a blood sample taken. An English doctor who lived in Provence provided me with this service. On my way to the conference in Wales the week before, after a ten-hour flight from Trinidad, I had developed a pulmonary embolism that had required a week's hospitalization in the UK and ongoing treatment with Warfarin. It was necessary to monitor the state of my blood every so often to ensure it remained at the right consistency. Interestingly, the cost for a non-EU national was only 22 euros for the doctor's visit and 7 euros for the blood test. I mentally blessed the heavily subsidized medical system in France that keeps prices this low. Another artist at the residency, Jill, from Michigan, USA, told me that when she fell ill in Germany the doctor's visit alone cost 40 euros.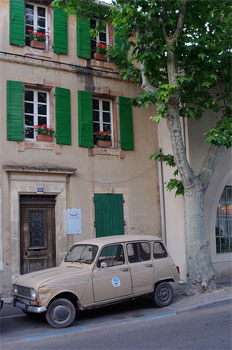 That evening the hosts held a dinner for the artists around the pool. They wanted to hear my story that I had unfortunately been unable to present at the conference in Wales, having fallen ill. The warm approval on everyone's faces and their requests to hear the story I was currently working on at the residency even though it was unpolished told me that perhaps I do have something to offer as a writer.
My last day in Provence was spent in Mausanne where I had a Salad Fontaine consisting of duck meat, apple julienne, lettuce, potatoes au gratin and mushrooms, served with a quarter litre of rosé presented in a small flask along with the wine glass. The cost was 16,50 euros. Not bad I thought and the meal did taste good. Later that afternoon I bought two pastries at a price of 2 euros each and ate them with some coffee at the same café where I had had lunch. The waiters were charming and polite at all times. I never felt odd, though the only black person sitting there eating.
After getting off the bus that took me back into Aureille, I began the half hour walk back to the residency. I stopped after about 12 minutes to inquire of a man offloading articles from his car for directions to the residency. He was helpful and I continued on my way. About three minutes later, a young woman named Leticia came along in her car and asked if I was going to the residency. I was intrigued. How did she know? No, she told me, she was not from the residency. Yes, she was an artist herself "un peu". She told me the residency was a little difficult to find. After dropping me off, she turned around and went back onto the main road. I was left to wonder at the kindness, and whether the man I had asked directions of had alerted her to my situation.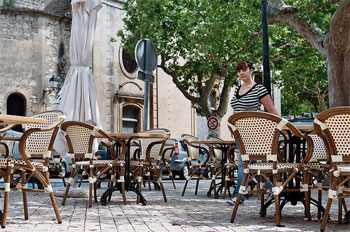 The following morning it was time to leave the residency. As I disposed of the garbage from my apartment, Angela, a Northern Irish artist who was also staying at the residency, was standing outside drinking her morning coffee. She asked me for my last name and thanked me for having shared my short story with the other artists on Saturday evening. "I will look out for your name," she told me.
As I made the trip back to Paris, then London, before heading home to Trinidad, I was already making plans to visit France in the next two years for another writer's residency. During my week at the residency I had written and revised a short story, completed a humorous essay about the hazards of driving in Trinidad and Tobago, and emailed a query to a travel magazine as to whether they would like a short feature on my experience with pulmonary embolism. For one week, that was plenty of writing I would say.
If You Go:
Ateliers Fourwinds is an artists' residency and a member of Res Artist, the international organization of Fine Arts centers and residencies. It is located in Aureille, Provence, in the south of France and is surrounded by olive groves and vineyards. It also bottles its own wine for sale. To get there from London, you can take a Eurostar train to Paris, then a TGV train to Marseille. From there, you can catch a bus for about 10 euro to the airport in Marignane, where someone from Ateliers will meet you.
About the author:
Jewel Fraser is a freelance writer and copy editor who lives and works in Trinidad. In 2010, she completed a graduate certificate in creative writing with Humber College, Canada. At this year's national creative arts festival in Barbados, she won two silver medals and a bronze for three short stories.
Photo credits:
Photographs from Flikr Commons: credits to Patrice Fender, Philippe F, Richard Price and Larenjordre.