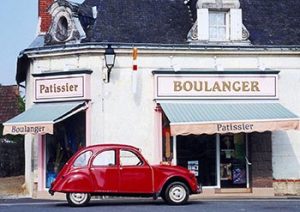 By Karoline Cullen
The croissants are still warm from the oven. Chuckling at our swooning appetites, the bakery madam wishes us a good breakfast. Tempted to devour them on the spot, we resist and revel in their buttery aroma filling our French 2CV car.
Fetching croissants every morning is but one of the delights we discover while renting a French country house in the heart of the Loire Valley, midway between Angers and Saumur. This rose covered, white stone house tucked by a stand of poplar trees is our holiday base. We're but fifteen kilometres from the Loire River and within a 50-kilometre radius, vineyards, villages, and classic chateaux beckon.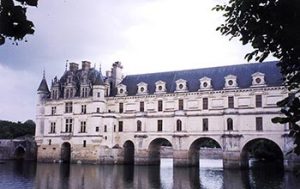 Chenonceau, with its arched gallery stretching across the Cher River, is considered the loveliest in the valley. Known as the Chateau of the Ladies, it has a decidedly feminine air and reflects the influence of the women who have lived here. Unlike many chateaux that have mandatory guided tours, Chenonceau allows visitors to wander freely. With brochure at hand, we marvel at enormous Flemish tapestries, sculpted ceilings, medieval paintings, and intricately decorated furniture. The library is intimate and cosy while some rooms have elaborate fireplaces that could swallow us whole. Strikingly unusual are the black walls and ceiling decorated with silver symbols of mourning in the bedroom of widowed
Louise of Lorraine. Diane de Poitier, Henry II's mistress, built the bridge across the river. After he died, his wife Catherine de Medici ousted Diane, reclaimed the chateau and ruled France from there. She added the famed gallery on top of Diane's bridge. In WWI, the gallery was a hospital and in WWII, the gallery's southern door provided access to France's Free Zone. Diane and Catherine each added a formal garden at the entrance but these, while attractive, are small compared to the gardens at Chateau Villandry.
The buildings at Villandry date from the 1500s but the renowned gardens were created in complete harmony with the Renaissance styling of the chateau in the early 1900s. Three garden tiers: water, ornamental, and kitchen, are precise, orderly sections stretching almost as far as we can see from where we stand on the Belvedere lookout. Cloistered in lime trees, the peaceful water garden has a sunken, Louis XV mirror shaped lake complete with swans. Intricately patterned, the ornamental gardens are vibrant blocks of red, yellow and lavender, which represent themes of love, religion, and music. The potager or kitchen garden is a showy mix of fruits and vegetables based on 16th century geometric designs. Each of the nine squares has an individual colour scheme and is framed with knee-high espaliered apple trees. Combinations such as purple eggplants and cabbage with cauliflower and lacy carrot tops provide contrasts in colours and shapes. I can easily imagine 16th century monks quietly pruning and tending. Alongside the potager is a large herb garden and running our fingers through the rosemary bushes perfumes them with the tantalizing scent of their essential oils. All this garden browsing stimulates our appetites and we're off in pursuit of lunch.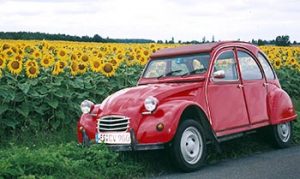 In France, the delectable possibilities for lunch are legion. We relax at a café on the riverbank, another on a hilltop in the midst of grapevines, and at one in a troglodyte house tucked into the limestone cliffs. Classic picnics of cheeses, breads, and wines are taken in a chateau's park, beside a vibrant field of sunflowers, and on a Loire sandbar. At our farmhouse, we grill selections made for us by the helpful butcher in Azay le Rideau and pair them with a bottle of our favourite local red, St. Nicholas de Bourgeuil. On our outings, we search out the vintners recommended by locals and buy, as we find their wines so inexpensive. Each village has a sign listing its numerous winemakers; it is more than a lifetime's challenge to visit them all. Fortified with food and drink, an afternoon nap is foregone in favour of a history lesson in nearby Chinon.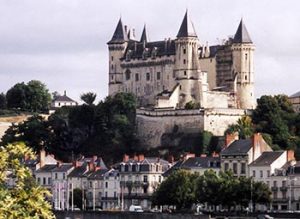 The ramparts of a fortress-like chateau crown Chinon, which sits prettily along the Vienne River. Most of the chateau is in ruins but the still intact tower keep looms high on the hill. Rue Voltaire is a well-preserved medieval street, lined with buildings half-timbered or of white stone. Cats lounge on carved windowsills, looking with indifference at the house where Richard the Lionheart lay in state in 1199 or at the intersection where Joan of Arc dismounted in 1429. History galore.
Within a matter of days, we're happily immersed in living the French country life. We've learned the poplar trees by our house are grown as a crop, their bark used for wooden Camembert boxes. Furthermore, the bakery madam knows our daily breakfast order by heart.
Tours is an excellent starting point for exploring the Loire Valley. It is approximately 2 hours by train from Paris. From Tours to the south-east is Chenonceau; to the south-west are Villandry and Chinon.
If you go
www.chenonceau.com
www.chateauvillandry.com
www.chinon.com
Karoline Cullen always travels with camera and pen at hand. Her works have been published in numerous newspapers, magazines, and on-line and she is a member in good standing of the British Columbia Association of Travel Writers. www.cullenphotos.ca
Photos by Karoline and Gary Cullen, Cullen Photos:
2cv at the bakery
Chenonceau
Catherine de Medici's garden
Chateau overlooking town
2cv and a field of sunflowers