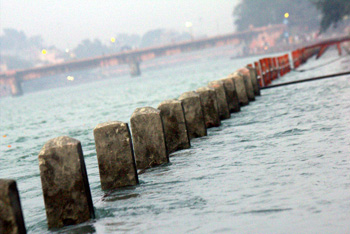 by Shweta Bhardwaj
The River Ganges or Ganga as it is sacredly called in Hindi is considered to be the life line of India. For centuries it has been revered as mother goddess. This powerful river, after it starts from its source at Gaumukh, flows into the rest of India, nurturing every part of land that it touches. Haridwar is an important pilgrimage city in Uttarakhand. Being one of the oldest living cities in India, it is mentioned in the ancient Hindu scriptures. In Sanskrit 'Hari' means lord Vishnu and 'dwar' means gate. Hence, gateway to lord's abode. (As it is the entry point to the four main centres of Hindu pilgrimage, viz. Badrinath, Kedarnath, Gangotri & Yamnotri)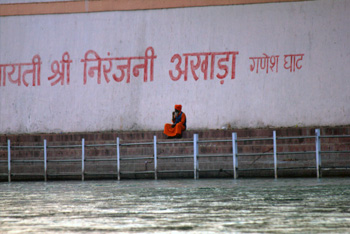 It is also the city where the strong and mighty river Ganga (after emerging from the mountains) touches the plains and runs in a calmer flow. Lots of people come here to find their inner peace. Some stay for longer period in various Ashrams (spiritual monastery) and follow Yoga and study ancient Hindu scriptures. Some like me, prefer staying for 2-3 days and soak in whatever that this place offers. Every time I visit Haridwar, I prefer to simply sit quietly at the Ghats (a series of steps leading down to the holy river water) in the mornings and evenings. Sitting there and dipping your feet in the cold river water compels you to sort of meditate and turn over in your mind. Believe me it is a feeling that forces you to yearn for calm & peace. The touch of cold river water, gentle breeze and Sadhus meditating, helps to take you to the state of tranquil & quiet. Early mornings have a serene calmness about this city with prayer chants being sung almost everywhere you look.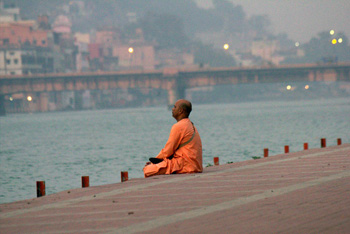 Haridwar has been a centre of attraction for learning various arts, science & rituals for many ages. Home to multiple small temples scattered all over the city, Haridwar is famous for its evening 'Ganga Aarti' (ritual of worshiping river Ganga) that happens daily around 6:00 pm at the main Ghat called 'Har ki Pauri'. If you are there, then you must head towards 'Har ki Pauri' (footsteps of God) in the evening and attend the 'Ganga Aarti'. It is a prayer that is sung to River Ganges every evening as per Hindu rituals.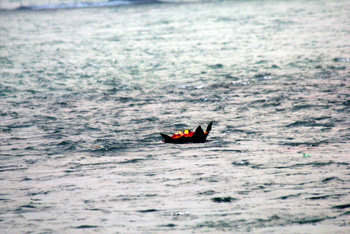 Watching Aarti here is an indescribable experience that one can understand only if one experiences the same. It is a beautiful spectacle of sound, light and prayer recitals that definitely compels you to ponder thoughts like – God and you! Supreme almighty's impression/presence in things around you! As soon as the aarti starts, the lamps, recitals and the entire atmosphere takes you to a more spiritual level. After it finishes, people present their offerings of flowers and diyas (lamps) into the river and within minutes the Ghats lit with tiny diyas floating into to river.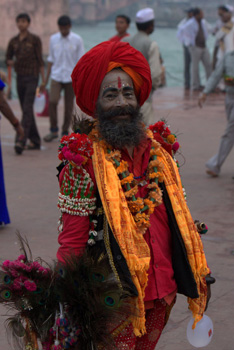 I had heard a lot about these rituals from my father earlier. So, during one such visit with the family at Haridwar, I was ready with my camera and reached the famous Ghat on time. There were lot of people around, tourists (who could be distinctly identified holding their camera), locals who come daily to attend the aarti, Sadhus and Pundits. While waiting for the Aarti to start, I noticed a funny looking man dressed in bright red and orange clothes, holding peacock feathers in his hands. He was walking aimlessly yet smiling at every person. He wore a vibrant coloured pagri (head gear) on his head, wore kajal (kohl) in his eyes and long tika (mark) on his forehead and stood out differently to the rest of the crowd. I requested him for a picture and he gave a broad smile, gestured with a stately pose for my camera and then went away.
In Haridwar if you look around you will find a lot of Sadhus and holy men, dressed in dhoti kurta giving the impression that they have abandoned their families to achieve spiritual pursuits. Once the Aarti was over it was already dark but the movement of people, vendors and Sadhus continued as usual. We also started walking towards our hotel room.
Haridwar is one city that will definitely strum your mind's strings on spirituality and would leave such an impression that you may want to come back again for sure.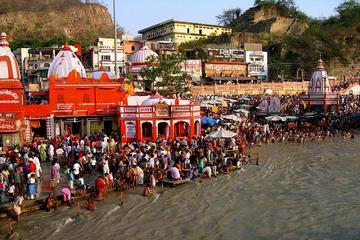 A Spiritual Trip to Haridwar- Rishikesh By Train and Private Car
If You Go:
♦ Haridwar is on NH 45 and is well connected to all major cities of India. One can reach Haridwar from New Delhi directly via Bus, car or Railway. By road it is approx 209 km.
♦ One can find lots of affordable hotels to stay on websites like Trip Advisor and Expedia.
♦ Haridwar is a religious place, so avoid non-vegetarian food and drinking alcoholic beverages here.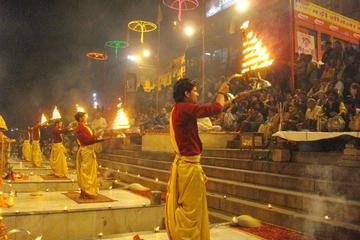 3-Night Spirituality and Kama Sutra Tour from Varanasi to New Delhi
About the author:
Shweta is an HR professional and a blogger, currently working as a freelance travel writer. She loves to write about places that she visits, people that she meets and every day things that touch her. She has a travel blog at www.travel-lanes.blogspot.ca
All photos by Shweta Bhardwaj:
Early morning at one of the Ghats at River Ganges
View of a Sadhu sitting at a Ghat across the river
A person meditating near the steps in the evening
Offering of flowers and diyas
My camera's favourite subject at Har ki Pauri