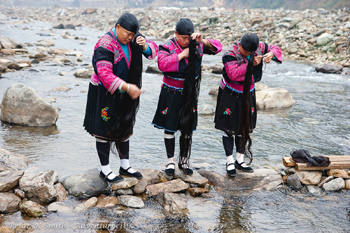 Huang Luo, China
by Brian K. Smith 
A ten hour trip in a sleeper bus with a cot too short, overtop of a thin metal floor that barely protected me from the rear axle was truly the highway to hell. After bouncing around in the freezing darkness on what felt like a 4×4 road, not a super highway, I arrived in Guilin in the early morning of December 24th. The economy bus ride had seemed like an eternity as I drifted back and forth from consciousness to nightmares all night.
Shortly after my arrival, my friend Yanhua, a Red Yao minority girl, met me to give me a day tour of Guilin. Her village, Huang Luo, was three hours away by local bus. Two weeks earlier I had met her at the entrance gate to the Longsheng Rice Terraces while on a tour with my guide. She has a university degree in English from the Guilin University and speaks very clearly. Her accent is slightly British and demeanor is happy and light hearted. By late morning the sky had turned to a dark sooty colour, and large, cold raindrops slammed into the pavement.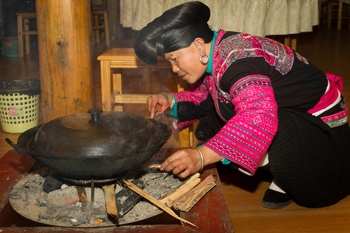 We retreated out of the icy downpour into a restaurant just in time for a traditional Chinese lunch of fresh stir-fried meat and vegetable dishes. The afternoon turned out to be a bit foggy, with filtered sun coming through the surrounding glossy wet Karst Mountains. As we walked around the lakes and canals towards the Li river, it seemed like a dreamscape. There was an ethereal glow over the city with the moist warm afternoon air.
As night time cloaked the city in darkness the buildings came alive with dazzling neon light displays. The most incredible thing I have ever seen was the Waterfall Hotel. For 15 minutes the twenty story building became a huge cascading monster waterfall. The spectacular show was breathtaking – I stood there wondering… how do they do that?
Christmas morning was grey, but without rain. Yanhua had given me a choice of going to her friends sisters wedding or back to her Red Yao village of Huang Luo to meet her family. I wanted to see what village life was like – I had been to enough weddings – as participant and observer! Three hours later we arrived at Yanhua family's hotel. Her mother, Pan Luifeng, in full hand knitted traditional dress, greeted us as we stepped off the bus. Yanhua changed into the Red Yao woven clothing that young and single girls wear. Shortly after we arrived the three of us headed across a swinging cable bridge to take some photographs and video at the riverside. I immediately felt I had know this family for a long time. They laughed and sang songs together while my camera clicked away. The village name, Huang Lou, actually means Long Hair. Yanhua's mother holds the Guinness world record for the longest hair. It is very black and shinny, and wrapped around her head in a traditional bonnet style.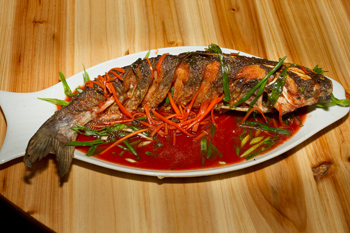 In the afternoon Yanhua and I took a bus trip up the narrow terraced valley to Dazhai Village. From there we hike for two hours up smooth stone steps to the "Thousand Layers to Heaven" viewpoint. The terraces truly did disappear up into the etherial fog. It was so quiet on the side of the mountain – only our heavy breathing from climbing thousands of steps could be heard. We were treated to a little sun, but the clouds thickened on our return and a cool light mist fell on our shoulders. This was Christmas Day – what a special way to spend it no matter the weather was!
Shortly after arriving back at the family hotel we sat down (parents, grandparents, uncles, aunts and brother) to an amazing traditional 12 plate feast. The steaming bowls had an assortment of duck, fish, pork, beef, sautéed vegetables and rice that Yanhua's brother, Pan Baoliang, had prepared. The dishes were rich in flavour and prepared to perfection. To compliment it we were served sweet potato wine, yam wine, rice liquor and beer. Interestedly, all alcoholic beverages are made by the women in the village, not the men! Grandpa sat beside me and kept filling my rice bowl with whatever liquor was closest to us.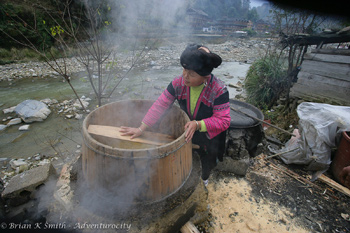 Grandma sat across from me with a glint in her eye. It was that kind of glint that means "I think you are the right man for my granddaughter!" At the start of the dinner I stood up thanked everyone for making me feel so welcomed on my special day of the year to spend with family. Yanhua's mother returned the thanks by saying I am part of the family and always welcomed!
We laughed and ate and drank through the evening. This wonderful Red Yao family wanted to make sure I did not miss my Christmas celebration. Even though I could not speak their dialect, it was easy to understand the joy and happiness that made the dinner so cozy and special on a cold winter night. Later on in their evening, Yanhua and Pan Luifeng and I watch the movie " A Christmas Story " on their computer while huddled together in front of glowing charcoal embers in a heating pot on the floor.
In all my years of travel this was the most special of all Christmas dinners. There are times were travel makes you wish you could ignore the return ticket home and just stay put for a comfortable while. This was one of those times!
If You Go:
Travel Recommendations: International flights from North America to Beijing. Then domestic flight to Guilin: 3 hours Also HST (train) from Beijing West train station to Guilin: 10h 40m Guilin (Bus station) to Huang Lou: 3 hours
About the author:
Brian K. Smith has traveled to 41 countries and in the last 8 years has traveled to China 8 times. He is co-founder of Adventurocity. Brian is a Master of Photographic Arts with Professional Photographers of Canada and also a National Judge of photography. He is a member British Columbia Association of Travel Writers and an Association Member of MSF Canada. In September 2015 Brian was invited to attend and participate in the Pingyao International Photography Exhibition in mainland China.
All photos are by Brian K. Smith MPA:
Washing hair in the river
Pan Luifeng preparing dinner
Rice Terrace on the way to heaven
Red Yao Chili Fish
Pan Luifeng making Yam Wine