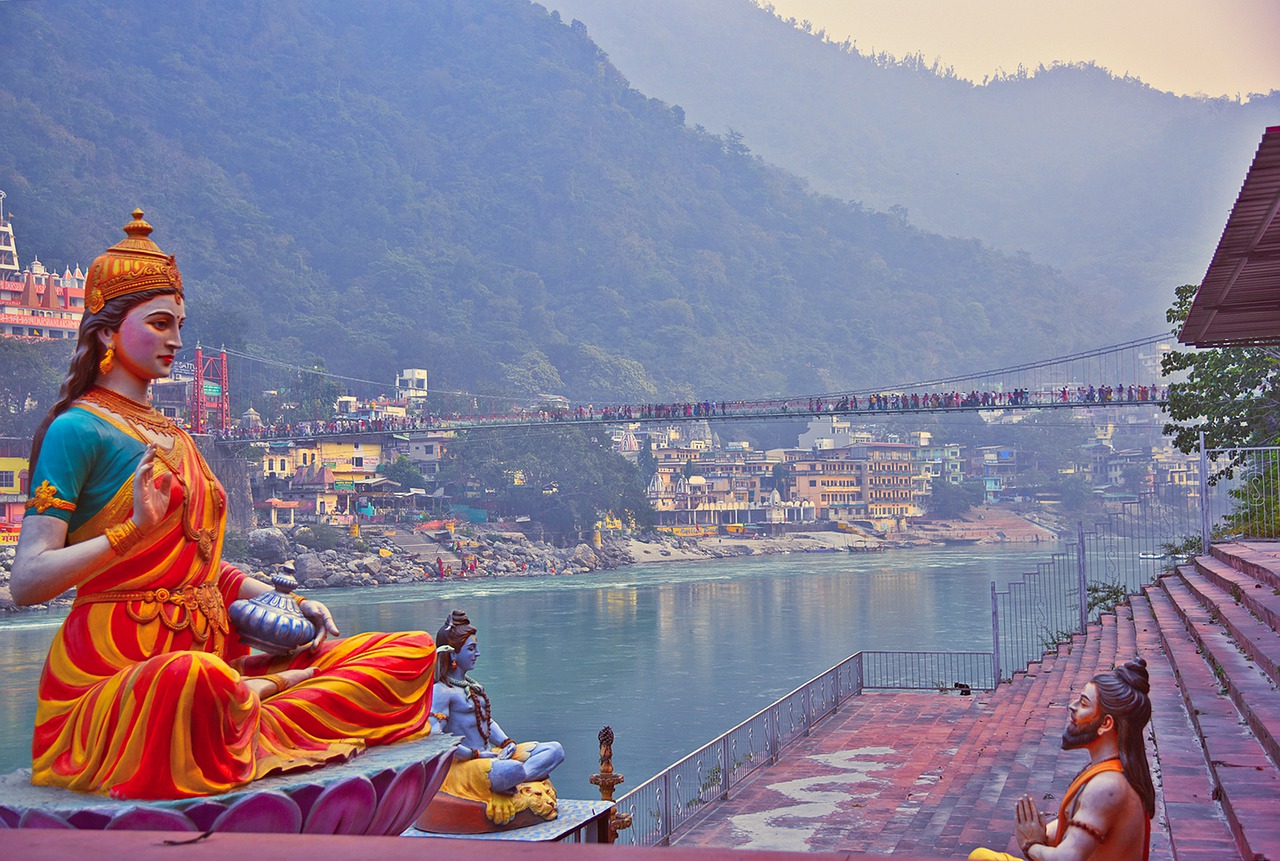 by Shweta Bharadwaj
I recently made a trip to Rishikesh – the yoga capital of the world. It is located in the foothills of Himalayas in the northern part of India. A town in Dehradun district, it is surrounded by the Shivalik Range. After a very long time I could manage this trip away from the hustle bustle of city and we were lucky to find a comfortable hotel in the 'Tapovan' area. The choice of finding an accommodation in 'Tapovan' was that it was near to the river bank and was only 1.5 km from the Lakshman Jhula.
Since this place is as famous for adventure sports as it is for religious and spiritual reasons. We saw lot of shops, almost in every nook and corner offering river rafting, bungee jumping, trekking and boat rides etc.
Coming from the polluted life of the cities our bodies could easily feel the difference in the environment here. The difference was due to the cleaner air and water that our body was taking in, starting the moment we reached there. During my stay of three days at this place I ate a lot more than the usual and walked up and down the hills feeling invigorated with no sign of tiredness at all. I wanted to explore as much as I could. Interestingly the 2-3 km stretch that we walked in the evenings we did not see a single medical store. Something fanciful for city dwellers!
Looking at the various café, hostels, meditation retreats and ashrams I could easily conclude that people here just eat, trek, meditate, either learn yoga or teach yoga and just chill. Like locals we also preferred taking long walks to wherever we wanted to go and tried various café & food joints. Cuisine savoured was delightful, whatever we ate it felt as if food paired together with air and water created a kind of verve in me during my stay.
Getting to the riverbank, which is famously called 'Ganges Nim Beach', before the sunrise was an experience in itself. It was after a very long time I felt that I connected to that one supreme power who we sometimes refer to as God. (at least that's what I thought) I mean sitting there on the rocks for some time you could feel your senses acknowledging and responding to the vibes around.
As per Hindu mythology River Ganges is the purest and the supreme river in India. It is said that if you take a dip in Ganges you are free from all your sins thus far. Well! to be free of my sins I could only sprinkle some water on my head and could sit for a while on one of the rocks by dipping only my feet in the water for some time. Yes! The water felt cold for a city dweller like me 🙂 Plus, I was more interested in sitting quietly for some time while trying to connect with nature- making my prayers and absorbing in the powerful play of energy that was happening in that area at that time.
You would always feel a powerful serenity a sense of peacefulness near a furiously flowing river Ganges.
I went to the beach for two consecutive mornings. During this time I noticed a sadhu who wore only a cotton cloth, orange in colour more like a lungi (skirt like garment worn by men in south India mostly) and bathed in the holy river Ganges while doing his rituals of pooja (worship) and recitations. He seemed like a Sanyaasi (practioner of meditation) who after bathing disappeared into the hills. Observing him I couldn't help but realize that there must be many like him in these mountains who must have left their comfortable homes and are practicing meditation and yoga to achieve moksha in these mountains.
There I was covering my head with the shawl all this while (as the wind was chilling and I was freezing to the bones) and wondering what kind of a life this person might have had. In the evening we went to 'Lakshman Jhula'. It is a suspension bridge across the river Ganges that connects two villages. It's a pedestrian bridge where motorbikes were also allowed earlier.
'Lakshman Jhula' is one of the iconic landmarks of Rishikesh and was built in 1927-29. It is said that Lakshmana (younger brother of lord Rama) crossed the Ganges on jute ropes where the bridge stands today. L'll shaky but fun! One gets a good view of river Ganges while walking on the bridge.
At one of that ghats (flight of steps leading down to the river) we witnessed the evening Ganga Aarti (a Hindu ritual of worship in which songs are sung in praise of goddess Ganges and light is offered as well) and sat for at least an hour. That powerful sound of the river flowing next to you puts you in a deep quietude. It forces you to introspect on the supremacies of nature.
After the aarti we headed towards the German bakery and café. It was a perfect place to sit and have a quiet view of Lakshman Jhula with river Ganges flowing beneath it. If you are in Rishikesh you must visit this place for two reasons: one mouth-watering bakery items secondly, if you are a book lover then there is a book shop next to this bakery.
Yes, adjacent to this bakery is a bookshop which has a huge collection of books on Hindu scriptures, Yoga, astrology etc. One can spend an entire day here and I bet you will come out of the bookshop with at least one book in your hand. That is irrespective of the fact whether your interest lies in all these scriptures or not.
The ambience of the bakery is good and peaceful. They have their own baked cookies – a must have treat in case you visit.
We finished our trip with a dinner at a garden restaurant and pizzeria with a beautiful view to the river.
---
If You Go:
Rishikesh is roughly 225 KM from Delhi on road. The drive from/to Delhi lasts around 5 to 6 hours, depending on traffic conditions.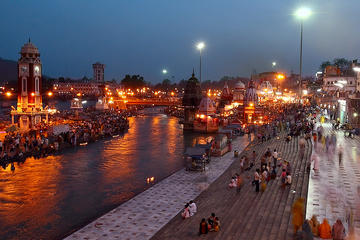 Spiritual Haridwar And Rishikesh – A 3 Day 2 Night Visit From Delhi By Private Transfers
About the author:
Shweta is an HR professional from India who loves to write about places that she visits, people that she meets and everyday things that touch her.