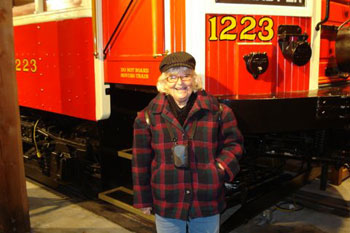 British Columbia, Canada
by W. Ruth Kozak
Warm Christmas cheer greeted me and made it a pleasant winter's outing when I visited the Burnaby Heritage Museum. From the blazing coloured lights to the Victorian Christmas decorations I was quickly transported into the spirit of the holiday season.
The Village represents a heritage community along the old B.C. Electric Interurban Railway Line. A visit to the little heritage shops is always interesting and the docents will eagerly give you some background history. I particularly enjoy visiting the 1920's General Store which for me is somewhat of a trip down memory lane to my early childhood on the prairies. Inside the Way Sang Yuen Wat Kee Chinese herbalist shop, red paper lanterns are strung up for the holiday season. In the print shop, the docent is giving a group of school children a demonstration of old printing presses. In the Interurban Tram barn you can visit one of the restored trams. They ran until the late '50s, and I can recall riding the tram home from high school, barrelling down First Avenue with the floorboard clattering, on its route to New Westminster.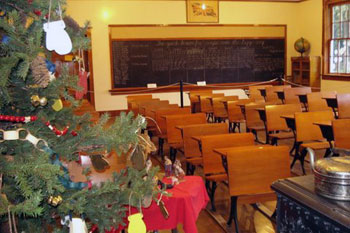 There are various ongoing events throughout the season including a theatre where you can watch old silent films, a blacksmith demonstration, carolers, a Christmas scavenger hunt, rug hooking demonstrations, children's crafts and even a visit from Father Christmas. When you arrive at the ticket office, they'll give you the day's scheduled events and the location of where you can see them.
The 1911 home of bachelor Tom Irvine features the kinds of simple Christmas decorations of the past. Inside the old school room, a docent representing a turn-of-the-century teacher lectured a group of visiting school children exactly as if they were students of that era. What a surprise when she made them all line up and show their hands to make sure they were clean, just like they used to do in old school rooms!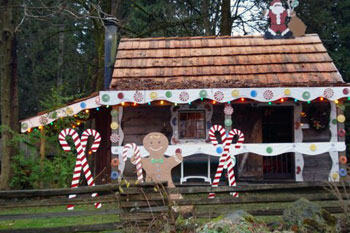 At the Elworth house it's Christmas eve at the 1922 home of the Bateman family. It gives you a real sense of stepping back into the past. There's also a replica of a log house decorated to resemble a gingerbread house, straight out of Hansel and Gretel (there's no witch inside, though). Traditional Christmas decorations including a tree decorated with handmade ornaments are displayed in the Jesse Love farm house (circa 1893). And there's a group of mannequin carolers in period costume in the living room ready to sing in a caroling diorama. In one of the bedrooms the bed is covered with a hand-made quilt demonstration the quilting skills of women in those days.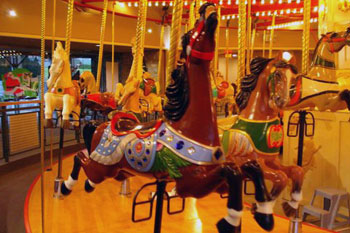 A ride on the vintage C.W. Parker Carousel is a must no matter what age you are. This is my one of my favourite activities at the Museum. The carousel originally operated at the PNE for many years and I remember riding it when I was a youngster. It was later restored, with each pony or sled carefully painted and repaired by donations from various people or organizations. Ride on the beautiful prancing horses, accompanied by the tunes of an original Wurlitzer organ. Great fun! At the gift shop next door you can buy those last minute trinkets to fill the Christmas stockings.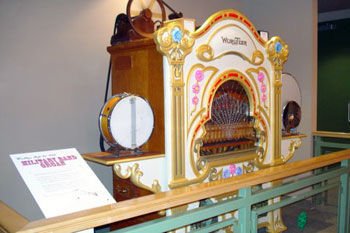 There's lots to see at the Heritage Village, with hirty-two displays as well as the scheduled events. The afternoon I visited, a musical duo from Guatemala was playing "Feliz Navidad" and other seasonal songs inside the little church. After my tour I refreshed myself at the ice cream parlour with some lemon cake and a hot cup of cocoa. They also provide full meal service.
This is the Museum's 40th Anniversary so if you're in the vicinity, be sure to stop in to spend a pleasant afternoon or evening enjoying a heritage Christmas. Bring the kids, or come by yourself and relive some of your childhood!
If You Go:
Burnaby Village Museum & Carousel
6501 Deer Lake Avenue,
Burnaby, B.C.
Burnaby Village Heritage Christmas to January 2, 2011
Times: 12 noon to 8 pm Daily
(Closed December 24 & 25)
Tickets: Free gate admission to celebrate the Heritage Museum's 40th Anniversary
Carousel Ride (any age) $2.25 per ride
About the author:
W. Ruth Kozak always enjoys a trip down memory lane. She tries to visit the Burnaby Heritage Museum a couple of times a year, especially at Christmas. Ruth write historical fiction as well as travel and memoirs and instructs various writing classes in Vancouver. Visit www.ruthkozak.com
All photographs are by W. Ruth Kozak.