Where Personal and Frontier History Merge
by Roy A. Barnes
The venues that travelers deem as either a neat place to visit or a waste of time and money are often spots where the dramas, the highs, and lows of another's past may have played out, leaving embedded memories. Such is the case for the venue of Casper, Wyoming, where I came of age in the late 1970s and early 1980s.
Casper is often overshadowed by the better known places in the northwest and southeast corners of the state such as Yellowstone National Park, Jackson Hole and Cheyenne Frontier Days. As a child, I found myself in the role as a tourist to Casper a few times a year, as I headed some 180 miles north from Cheyenne to visit my grandparents during vacation breaks and long weekends. That is, until Fate, in the guise of my father's promotion within his company, would bring my family to the Casper area.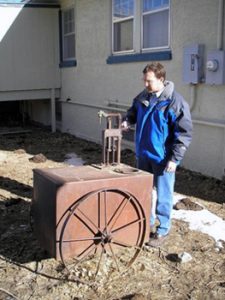 It was here, in the heart of Wyoming, where I spent the last years of my childhood and the brunt of my teenage years. Casper is the only other place I've called home. My passion for writing has its roots here. My desire to cross oceans to interact with peoples of different lands and cultures was planted here, though it would be years before those dreams would blossom. My loyalties to the New York Yankees came to fruition in Casper when one October night in 1977, I watched Reggie Jackson smack three consecutive pitches off of three different Dodger hurlers over the Yankee Stadium fence from the comfort and safety of my home on South Lincoln, thanks to my parents' oversized, unpredictable black and white TV set.
Whenever I visit the city now, I walk around my old tree-drenched neighborhood. Strangely, I felt as if I never lived there, despite the fact that memories of my six years as a Casper resident have sometimes flooded my senses as I wandered in the deep valleys of north central Spain, or get drenched with precipitation in the midst of Panama's tropical rainforest. The title of Thomas Wolfe's 1940 novel, "You Can't Go Home Again", rings true for me, too, although I return to craft fresh travel articles about a place I once called home.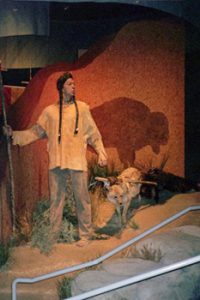 In another era gone by, Casper was paramount to settling the Western Frontier. The Oregon, California, Mormon, Pony Express, Bridger, and Bozeman Trails all went through this locale, making it a stop along the pathway to the dreams of many people who were seeking a better life, adventure, and even fortune. These accounts can be relived at the National Historic Trails Interpretive Center. One of its gallery exhibits, called Inscription Wall, is a sandstone wall engraved with the names and musings of pioneers and go-getters who passed through the area during the nineteenth century. One can also find out about the lives of Native Americans via the center's exhibits, including audio-visual presentations. The entrance to the complex actually resembles the curved top of a covered wagon.
Casper came into existence upon Brigham Young's arrival in 1847. He wanted to establish an Upper Crossing point over the North Platte River en route to the Mormon's new homeland in Utah, using ferries. In 1862, the US Army established a fort close by for manning telegraph stations, named Platte Bridge Station. In July 1865, Lt. Caspar Collins of the 11th Ohio Volunteer Cavalry fought heroically against the Lakota and Cheyenne during the Battle of the Platte Bridge, but was killed. The fort's name was changed to Fort Caspar to honor him. Two years later, the fort was disbanded. For reasons unexplained, the letter "e" found its way into the spelling of Casper after the town was founded in 1888.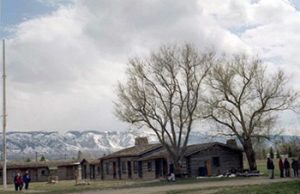 The Fort Caspar Museum and Historical Site can be explored. The fort's buildings were reconstructed on the original foundation sites in 1936. Fort Caspar's exhibits and buildings focus on Wyoming life in the 1860's. For me, this is one tourist haven that will always have a special place in my heart because my late grandmother would take me here each summer and let me explore the buildings and grounds. I posed for some snapshots, sitting on an old wagon or standing next to an exhibit while sporting a replica Union Cavalry hat that my grandmother had just bought me.
In 1890, the same year that Wyoming became the nation's forty-forth state, oil was discovered just north of Casper in the Salt Creek fields. Since then, the city has experienced several boom and bust periods over this natural resource. Roughly 45 miles north of Casper, you can re-live the history of the Salt Creek area at the Salt Creek Oil Museum, in Midwest, Wyoming. Tens of thousands of oil-related and Americana artifacts are featured, thanks to the enduring 60 year dream that finally came true for one local resident, Pauline Schultz.
Casper is currently Wyoming's second largest city with a population of around 50,000 residents, and proudly rises 5,123 feet above sea level. It's nicknamed "Wyoming's Mile High City", even though a mile is 5,280 feet above sea level!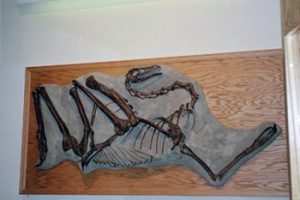 My old neighborhood even serves up a couple of places to put on your to-do list when visiting Casper. Those wanting to experience the history of the Casper area since the beginning of time can visit the Tate Geological Museum, which showcases more than 3,000 specimens of dinosaur fossils, minerals, and jade that have been discovered in and around Casper. The museum is located on the grounds of Casper College. Several blocks north of the museum is Casper's premiere art venue called the Nicolaysen Art Museum and Discovery Center. It showcases contemporary Western Art of the Northern Rockies, High Plains, and of Native Americans. The museum includes an interactive learning center and new exhibits find their way here on a regular basis.
In downtown Casper at South Center Street (part Casper's "Main Street" that runs north-south), The Wonder Bar is a great place to relax after a hard day's sightseeing. It was opened in 1934 after the repeal of Prohibition. Horses are allowed to come into the bar as long as they are potty-trained! Celebrities like Ernest Hemingway have been patrons to this establishment.
The cities and regions we visit are where others actually live, breathe, fall in and out of love, experience the great highs, the in-betweens, and devastating lows of being human. The history that gets the most publicity is mostly of the kind that generates the biggest effects politically and economically, especially in an age of sensationalized media. But in seemingly ordinary places like Casper, Wyoming, history has been and is still being made that will play a role in making up those more noted aspects of human endeavour.
If You Go:
Fort Casper Museum and Historical Site: 4001 Fort Caspar Road, Casper, WY 82604. 307-235-8462. Admission Charge.
National Historic Trails Interpretive Center: 1501 N. Poplar Street, Casper, WY 82601. 307-261-7700. Admission Charge.
Nicolaysen Art Museum & Discovery Center: 400 E. Collins Drive, Casper, WY 82601. 307-235-5247. Admission Charge.
Salt Creek Oil Museum: Roughly 45 miles north of downtown Casper at 531 Peake Street, Midwest, WY 82643. 307-437-6513. Donations appreciated.
Tate Geological Museum: Casper College, 125 College Drive, Casper, WY 82601. 307-268-2447. Free admission.
The Wonder Bar: 256 S. Center Street. 307-234-4110.
GETTING THERE:
Three major airlines serve Natrona County International Airport (airport code is CPR, and is located twelve miles west of Casper): United Airlines from Denver: 1-800-UNITED-1 or www.united.com Delta Airlines from Salt Lake City: 1-800-221-1212 or www.delta.com and Northwest Airlines from Minneapolis: 1-800-225-2525 or www.nwa.com. By auto, Interstate 25 is the main route for getting to Casper.
ACCOMMODATIONS:
When I'm in Casper, I stay at the Parkway Plaza Hotel and Convention Centre. They offer free internet access and comfortable beds. It's just a short walk or drive away from downtown: 123 W. "E" St., Casper, WY 82601. 307-235-1777. Reservations: 800-270-7829.
About the author:
Roy A. Barnes was a part of Casper's history, as he lived there from 1977-1983. He now writes from southeastern Wyoming, about 180 miles away from Casper. Besides Travel Through History, his travel articles have appeared at Transitions Abroad, Cyber Oasis, Tampa Bay Parent Guide, Central Florida Lifestyle, The Traveler, Live Life Travel, and others.
Photo credits:
First Casper CB&Q, BN station by Bruce Fingerhood from Springfield, Oregon, US / CC BY
All other photos are by Roy A. Barnes.