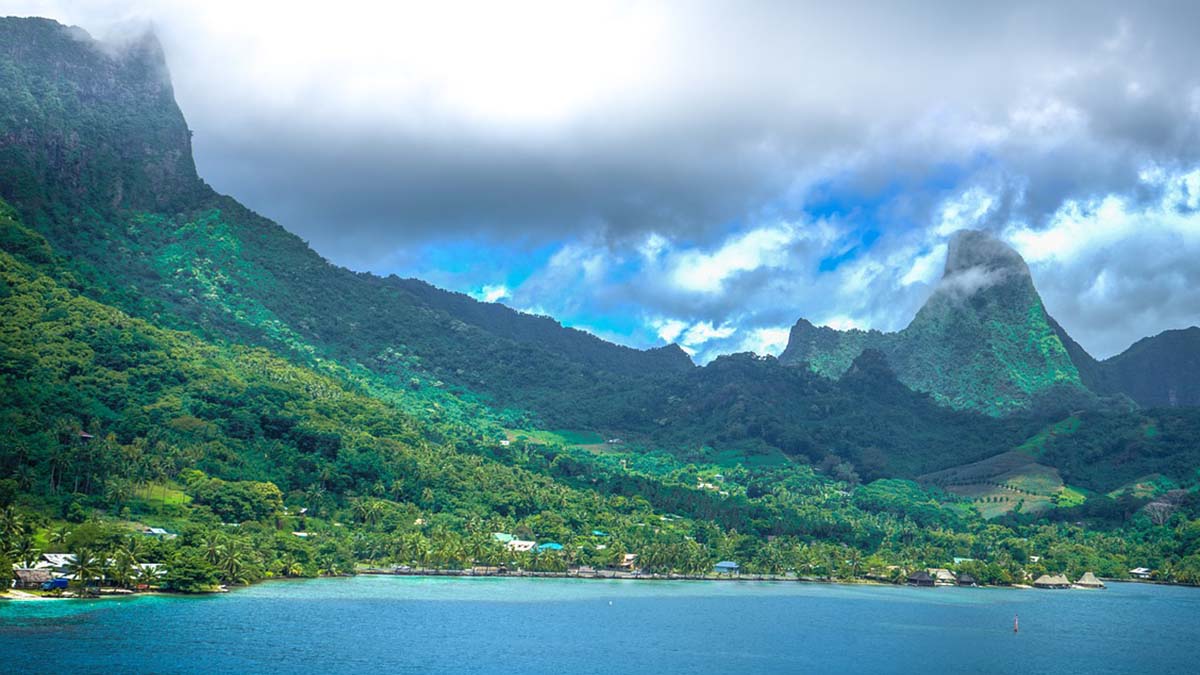 by Tom Koppel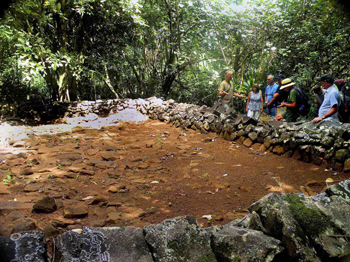 "This place has the feeling of power," says archaeologist Mark Eddowes at a rectangular terrace enclosed by stone walls. We are on a wooded hillside overlooking the bay where Captain James Cook arrived at the island of Moorea in 1774. Eddowes has been excavating and restoring ancient sites like these, called marae, for many years. They were open-air temples that honoured gods and ancestors, where chiefs and priests once presided over rites to ensure a good harvest or a successful military campaign. These involved the sacrifice of valued animals and often humans as well.
Our small group has joined Eddowes to view several marae. One features a platform from which arrows were shot. Success in archery was a way of demonstrating mana, or power. A family marae contained the jaw bones of defeated enemies. Another commemorated the chieftainship of a man who had usurped the position of his rival. All are vestiges of a dynamic but brutal society that dominated the South Pacific for centuries. That world disappeared rapidly with the arrival of Western explorers, Christian missionaries, and the epidemics that came in their wake, which decimated the local populations and had a catastrophic impact on the culture.
My wife Annie and I are taking a week-long cruise on the Paul Gauguin, sailing westward from Tahiti through the Society Islands of French Polynesia. The ship is luxurious but intimate, carrying 332 passengers in spacious cabins. The food is great, as is the entertainment. We greet sunrise with cocktails of freshly squeezed vegetable juice, or coffee and croissants. At sunset, we dance to rock and reggae around the pool, while sipping cocktails of harder stuff.
The itinerary includes some of the Pacific's most fabled islands, with sheltered lagoons that are perfect for water sports. At each there are shore excursions that afford insight into the region's rich history and natural domain.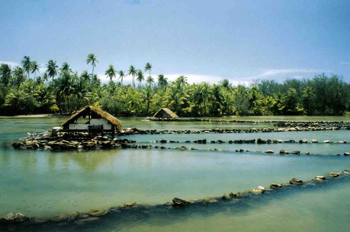 At Huahine, the tides surge through a narrow channel. Ancient islanders built stone walls in the shallows. These funnelled the lagoon fishes into small enclosures, where they were easily netted. The fish traps were restored in the 1970s. We watch local men reap a bountiful harvest. Our guide recognizes one man who recently lost his job. He may be catching fish to sell, but more likely it is for his family.
At Tahaa, we snorkel through splendid pastel corals. We visit a farm that raises black pearls and another where vanilla beans are grown. Along with tourism, these provide modest employment.
At Bora Bora, we don helmets with air hoses and descend to walk along the sandy sea floor. Feeding bread to colourful fishes that swirl around our faces, we stroke the soft skin of sting rays as they swoop past and kneel for close views of undulating living corals.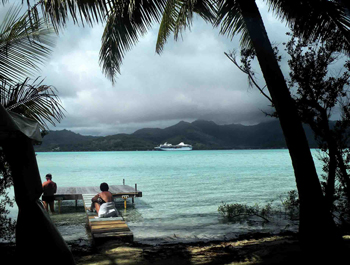 A week in the South Pacific is too short, so we follow the cruise with visits to two more islands. At Raiatea, we stay at the beautifully landscaped Raiatea Lodge. Our bed is sprinkled with hibiscus blossoms. The balcony looks out to sea. Renting a car gives us a closer look at island life than short outings from the cruise ship. The town of Uturoa bustles with shops, restaurants and traffic. Elsewhere, the pace is laid back, in tune with island time.
On Sunday morning, we attend a church service to hear the lovely a capella singing. The hymn books are entirely in Polynesian; not a word of French is spoken in the sermon. Yet French influence is evident. Along rural roads, people wait for the daily van that delivers long, freshly baked baguettes. Heavy subsidies from France are evident in the perfectly paved roads, new cars, clinics, and fully stocked grocery stores.
The vast seaside marae complex of Taputapuatea is unique. This was the spiritual centre of ancient Polynesia, home to the cult of Oro, the god of war and fertility. According to legend, it is also the place from which the greatest canoe voyages of exploration and colonization departed 800 to 1000 years ago. Navigating only by the stars, prevailing swells and flight of birds, these large twin-hulled craft discovered both Hawaii far to the north, and New Zealand in the distant southwest.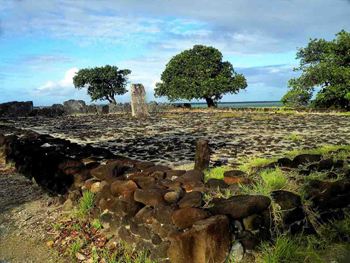 The warrior's marae has a tall central stone. Only men who measured up were deemed suitable for combat. The larger main marae features a long wall of flat stones and carved totem-like wooden planks representing animal or human figures. Archaeologists have found human bones, likely from sacrifices to that fierce god. The story goes that Oro was frequently copulating with the goddess of the land and was weakened thereby, so he needed to be fed with male vibrancy. Warriors were sent out each year to snatch a number of unlucky young men. With the arrival of Christianity, the marae were abandoned.
But Taputapuatea continues to be revered, especially by those who have re-kindled the tradition of distant canoe voyaging by building modern "replica" canoes and learning to navigate them without instruments. In the mid-1990s, canoes from across the Pacific rendezvoused here for ceremonies celebrating the unity of the Polynesian people, language and culture. Along the high wall of stones are recent offerings: flowers, shell necklaces, pottery and stones brought from distant archipelagos.
Our final destination is Raivavae in the remote Austral Islands, on the edge of the tropics an hour by plane south of Tahiti. There are three flights a week, each also stopping at larger Tubuai, where Raivavae's children attend boarding school after the age of twelve. The contrast to the Society Islands could not be greater. Whereas Tahiti has 178,000 inhabitants, and Raiatea 12,000, only 900 live on Raivavae.
It is lush and lovely, a high volcanic island surrounded by a barrier reef. The reef encloses a calm turquoise lagoon and is studded with tiny islands, called motus. They are cartoon-perfect pieces of paradise straight from Survivor.
We stay at Raivavae's largest pension, the Tama Inn, run by Eleonore White, who was born here, and her American husband Dennis. Our sleeping cabin, one of five simple units, is perched above a white sand beach that we usually have to ourselves. Guests gather at a large table for wonderful meals of fresh fruit, vegetables and seafood. Raivavae does not have a single bar or restaurant, not even a taxi.
Olivier Tatu, a young Swiss, notices us at the tiny airport while seeing off his pregnant wife. One of the island's two Protestant ministers, she is flying to her native Tahiti to see a doctor. Olivier met her when he came as a volunteer for the Presbyterian church. Her absence gives him time to show us around. Compiling a book of island history, he is the perfect guide.
Our pension is clustered with the church, a tiny general store, elementary school and community hall. Olivier takes us to meet his neighbours.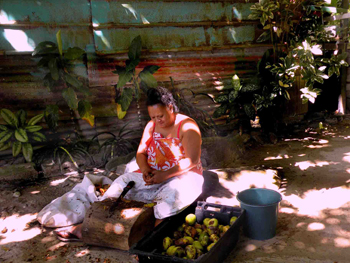 Hunched over a chopping block, a woman uses a machete to remove the green husks from chestnuts, while her son prepares to boil them. Smoke from an open fire, where breadfruits are roasting, fills the air. On a forested slope, huge pigs root around. Beyond a tin-roofed house sprawls an irrigated patch of taro. Coconuts, bananas and citrus fruits grow everywhere. After our stroll through several backyards, a man catches up to offer a plate of roasted breadfruit. Its smoky taste is delicious.
"This is one of the more traditional Polynesian islands," Olivier tells us, without mass tourism. "And people want to keep it that way." French is taught in school, but teens prefer their local Polynesian dialect; in Tahiti, they have gravitated to French. "Here, anyone can go out to the motus," for specialized fishing, or to grow crops like watermelons. In the Society Islands, choice waterfront is largely dominated by upscale resorts. "We still have lots of seafood in the lagoon," unlike Tahiti, where there has been overfishing. Olivier himself loves to fish for snapper. "And the soil is so rich. Food is not a problem."
To earn cash for electric bills or gasoline, they catch and sell fish through a co-op, or make crafts for markets on the larger islands. We visit Gilbert Tamaititahio, a young man taking English lessons from Olivier. He harvests colourful seashells on the motus, and, after drying and cleaning, turns them into ornamental necklaces. Others carve models of dugout canoes from local hardwoods, or weave hats from dried pandanus fronds.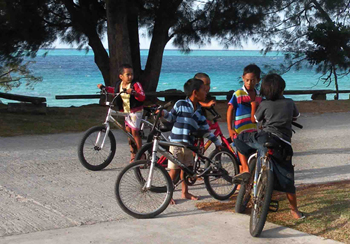 Island life centres on the seaside road. Bicycles are most of the traffic. For children, it's their playground. Several cars or trucks come by every hour. It may be the baker, delivering the baguettes. Or Laboudet Edmond, a retired French officer and market gardener, who sells cabbages from a trailer behind his motor scooter. And then the dogs go back to sleep in the road. Nobody passes without a cheerful greeting.
Olivier shows us an ancient stone tiki, a goddess figure. "Before they went out fishing, people said a prayer to the tiki and left offerings," Olivier says. "The tiki's power, or mana, was passed through its eyes, the door to the soul." He also takes us to several marae. As elsewhere, these were places of harsh judgement and human sacrifice. Eerie spots, they are still tabu (forbidden), and many people avoid them.
Our days on Raivavae drift by, slow and easy, with swims in the lagoon and sunset walks before dinner. The paintings of Paul Gauguin and the stories of James Michener present just this idyllic South Pacific life. Times have changed, but these days, Raivavae is as close as it gets.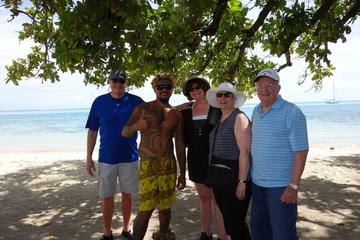 Full-Day Moorea Cultural Tour
If You Go:
♦ For details about the deluxe Paul Gauguin cruises through the Society Islands.
♦ For the lovely Raiatea Lodge
♦ For bookings at the laid-back Tama Inn on Raivavae
♦ For domestic flights between the islands of French Polynesia, see www.airtahiti.com
♦ For international flights to French Polynesia, from Los Angeles, see www.airtahitinui.com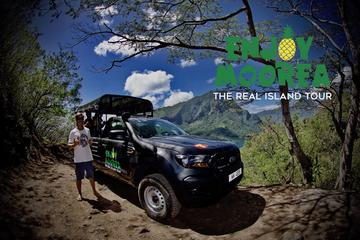 Enjoy Moorea Private day tour
Photographs:
Moorea, French Polynesia by Michelle Maria from Pixabay
All other photos are by Annie Palovcik.
About the author:
Tom Koppel is a veteran Canadian author, journalist and travel writer. His latest popular book on history, science and travel is Mystery Islands: Discovering the Ancient Pacific. Koppel provides a personal tour of that vast ocean and presents the latest findings in archaeology, genetics and carbon dating. For signed copies of Mystery Islands, just contact Tom: koppel@saltspring.com