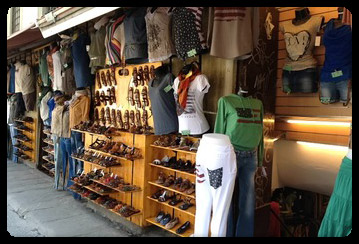 Florence, Italy
by Peppa Martin
Bands of Senegalese boys wander Florence selling fakes. From random perches around the city, they hawk all kinds of coveted trinkets — sunglasses with luxury brand logos up on the Piazzale Michelangelo, Mont Blanc pens near the Bargello, Tiffany bracelets along the Arno's bridges. Sometimes, they spread out their seductive goodies right under the official government-installed "Don't Buy Fakes" sign in the sprawling Piazza Della Repubblica.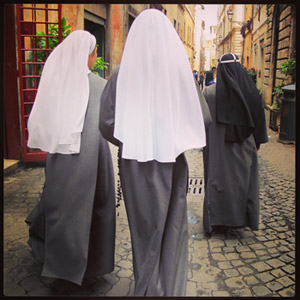 I am amused and entertained by the wooing of passersby that ensues, the waltz of gestures and pivots, the come-hither looks. Economic casualty aside, I presume the pride of owning an un-Burberry outweighs the pesky oppression of jail. Yesterday, I watched as they installed themselves in front of the Prada store, selling fake Prada bags. Some laugh, some applaud, I cringe.
When word of approaching polizia comes via cell phone relay from their cohort scouts, they quickly roll everything up in woven blankets, and with lightning speed disappear down narrow alleyways. I understand this is a tedious, daily war between the cat army and mouse rebels– complete with sorties, offensives, strategies, troops and embedded spies.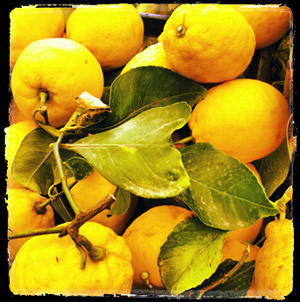 Rashid tells me he came from Marrakesh a couple of years ago. He is 25 and comes every day to the Palazzo Vecchio to surreptitiously sell cheap posters depicting iconic artworks hanging in Italian museums. With knitted brow and eyes cast to the clouds, he proceeds to say that on a good day he'll sell 10 or 20 at five euros each. He leans in closer and whispers to me, proudly, his biggest seller is Botticelli's 'Primavera'.
This, on most days, he sells right under sweet Venus's nose in front of the Uffizi Gallery where she hangs.
Today, that smart cookie Venus would have locked down her rights, copyrights, licenses, trademarks, proprietary website and endorsement contracts in perpetuity..
I pass legitimate kiosk vendors in the Piazza Della Signoria who sell miniature copies of Michelangelo's monolithic 'David', right in front of the monolithic fake David which was installed in the former spot of the real David which was moved indoors to the Accademia Gallery to protect it from weather and depraved nutjobs. Now the fake David gets vandalized by wallclimbers, counter-culturists and ignoramus graffiti-taggers.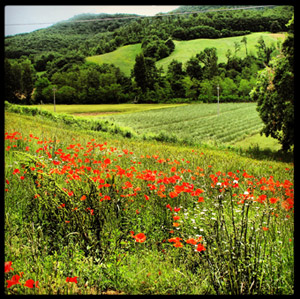 I learn the real David, though housed in a quiet museum, has been attacked a few times, recently by a hammer-wielding fanatic. It was repaired by marble restorers, so is it disqualified from being truly real?
Da Vinci was an illegitimate child — is he disqualified too? I'm told he was later referred to as a 'Native Son', in an effort to cloak the shame of his status in more respectable terms.
We are awash in fakes, copies, imitations, lies, faux this, ersatz that, imposters, replicas, reproductions and simulated, airbrushed, retouched bogus posturing phoneys.
From derivatives to lovers, the world is full of Great Pretenders.
It was Anna Maria Luisa di Medici who, upon her death in 1642 decreed that all Florentine art and artifacts be retained in Italy for the benefit of the public. Thus, with great foresight, she preserved the country's great works of art from sale abroad or theft by rival dynasties.
The real ones, mercifully, are still here — proof that authenticity does exist.
You can feel it too, because they emanate a near-imperceptible low-grade hum of exquisite grace.
And this, I accept, briefly satisfies the elusive quest for the real thing.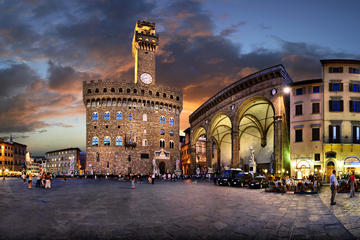 Florence Art and Street Food WalkingTour
If You Go:
Plan an easy day trip to 'Il Palagio', one of Tuscany's most famous 14th century castles, which has produced wine and olive oil for the past 300 years. Originally owned by the Visdomini family, it became a fortress in the 15th century of the Repubblica Fiorentina for two centuries. Later, the City of Florence gave the castle to the Miniati family, who own the property to this day.
The splendid gardens are thanks to the Grand Duke of Habsburg-Lorena, and features a Cypress of Lebanon planted by a Napoleonic official. One can visit the resplendent, self-contained chapel adorned with frescoes, and then traverse to the chilly, damp subterranean dungeon cum cellar that today is home to huge oak barrels aging the eponymous Chianti Classico wines.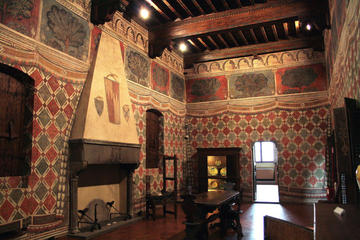 Private Tour: The Art of Living in Florence in the Renaissance with Exclusive Private Palace Visit
About the author:
Peppa is a full time professional photographer and gallerist, living in Vancouver BC. She runs her own business, "truth and beauty," a commercial studio and boutique gallery of contemporary photography. www.truthandbeauty.ca Peppa is interested in ideas, people, art, places, design, architecture and gardens; loves to cook, read, dance, and be with family and friends. Her (fab) four adult children are strewn around the globe on three continents. Follow Peppa on twitter @4truthandbeauty and at instagram.com/pepstagrams
All photos are by Peppa Martin and Terri Fogarty (San Florenzo Market scene)