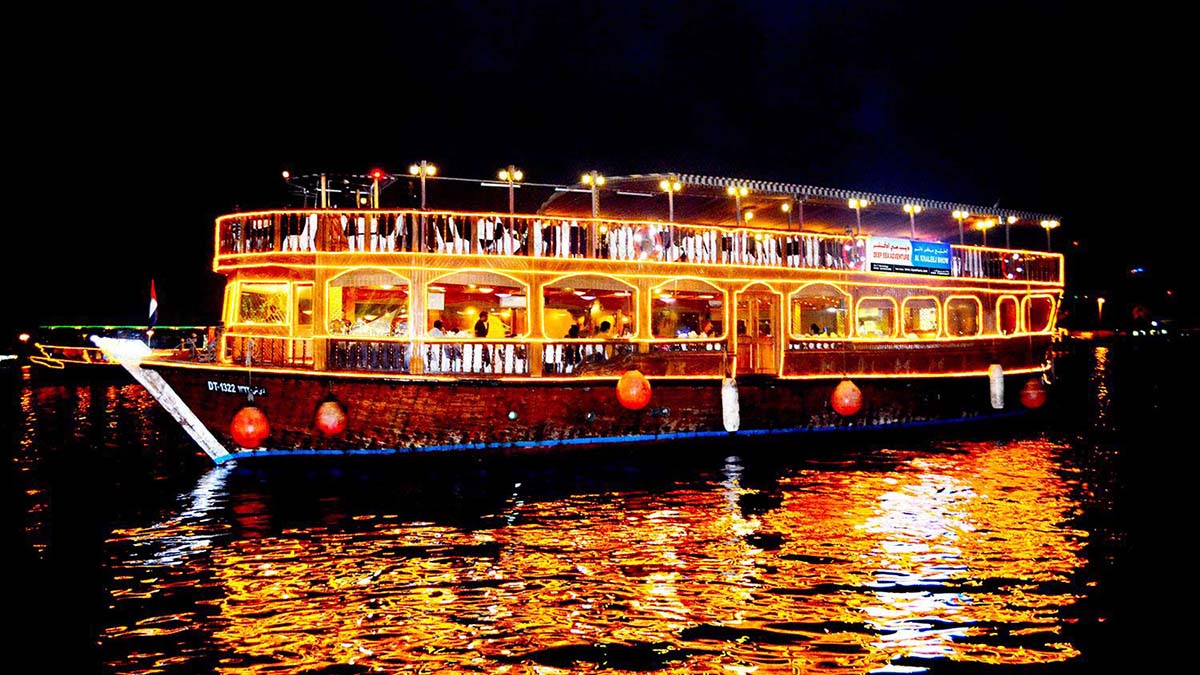 Dubai needs no introduction when it comes to travel hospitality, mind-blowing attractions and leisure experiences. Brimming with a fusion of eclectic experiences, this global emirate takes leisure holidays very seriously and has something in store for all genres of visitors. Synonymous with opulence, Dubai is a treasure trove of extraordinary and unparalleled experiences. Some of the attractions that you visit in Dubai are one-of-a-kind and cannot be found in any other city. If you have your Dubai visa sorted, here are the top 10 experiences that you should do while you are on a Dubai holiday.
Visit Burj Khalifa and Dubai Fountain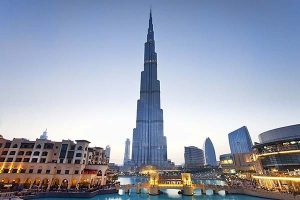 There is no way you can miss this majestic attraction. The tallest building in the world – Burj Khalifa and the world's largest performing fountains – Dubai Fountain, both are located adjacent to each other. These iconic landmarks and architectural marvels are absolute must-see attractions for a Dubai visitor. An evening tour of this arena lets you take in the stellar sights of illuminated Burj Khalifa and shimmering spectacle of Dubai Fountain. It is a sight worth every penny spent.
Explore the Arabian Desert on a Desert Safari Adventure
While Dubai city is known for its grandeur and ultra-modern city life, its outskirts are surrounded by the Arabian Desert. An excursion to the undulating dunes of Dubai on a Desert Safari offers a starkly contrasting perspective of the emirate. While you enjoy the beautiful vistas of the golden dunes, you can also gear up for a fun adventure time, right in the middle of the desert with dune bashing, sand boarding and quad biking. Later, enjoy a sundowner moment with traditional entertainment and Arabian BBQ dinner.
Shop at the Dubai Souks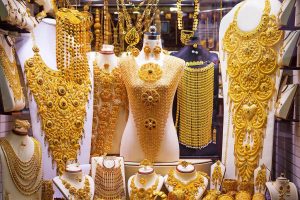 Before the advent of mega shopping malls and posh retail outlets in Dubai, the shopping scene in the city was dominated by Dubai Souks. These are still intact and a delight to visit and shop on the bargain. Numerous shops and bazaars lined in winding alleys of Old Dubai exude an ambiance filled with colourful sights, flavours and aroma. Some of the must-visit Dubai Souks in the city are Gold Souk, Textile Souk, Spice Souk and Perfume Souks.
Visit Al Bastakiya Quarters
The Old Dubai section of Dubai preserves the rustic heritage and humble lifestyle of Dubai's bygone era. The Al Bastakiya Quarters is one such attraction that offers a glimpse into Dubai's past and simple lifestyle. The monotone-hued structures and quaint winding alleys of Al Bastakiya reflect the culture and history of Dubai before it became a global city. Spending a couple of hours here and enjoying Arabian dates and coffee in courtyard-style cafes is a great way to explore Dubai's pastoral nostalgia.
Take a Dhow Cruise on Dubai Creek
Another great way to explore Dubai's old-style ambiance is with a Dhow Cruise Dubai Creek experience. The Dubai Creek meanders through Dubai city and offers a picturesque view of the city skyline. An evening Dhow cruise with dinner is an ideal option to enjoy the illuminated sights of Dubai city along with some good food, pleasant music and great company.
View the Scenic City Vistas from Dubai Frame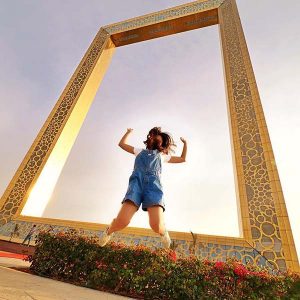 Dubai Frame, boasted as the biggest frame in the world, is a recent addition to Dubai's iconic and record-breaking landmarks. This incredible architectural wonder is strategically located such that you can view Old Dubai and the uber-modern Dubai's incredible panoramas from its top observatory bridge. Representing Dubai's past, present and future, Dubai Frame gives its visitors an insight into Dubai's rise from a simple fishing village in the desert to perhaps the most extraordinary metropolis in the world.
Sail on a Cruise at Dubai Marina
Dubai Marina is affluence exaggerated multi-fold. This stretch of Dubai illustrates Dubai's opulence through towering residential towers, extravagant dining and shopping arenas, and a man made water canal winding through the middle of it all. A dinner cruise on the Dubai Marina is an ideal way to enjoy a lavish fine-dining experience amid chic ambiances. It aptly represents Dubai's eloquent standard of living.
Visit the Magical Floral Attraction – Dubai Miracle Garden
Another record-breaking attraction one should visit while in Dubai is the Dubai Miracle Garden. Your jaw will drop at the sight of millions of flowers blooming in cheery hues right in the middle of a desert climate. The largest natural floral garden in the world is a perfect place to enjoy some quality time among picturesque sceneries with your near and dear ones.
Explore and Shop at the Dubai Mall
Attention all shopaholics! If you are in Dubai, do not miss the chance to wander and shop inside Dubai Mall. With over 1000 retail outlets of world-famous brands and products, Dubai Mall is every shopper's paradise. The Dubai Mall is also home to an assortment of entertainment and recreational venues like the Dubai Aquarium and Underwater Zoo, Dubai Dino and VR Park that you wouldn't realize how easily time flies inside Dubai Mall.
Discover the Wintry Wonderland at Ski Dubai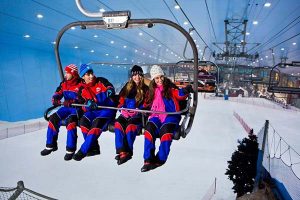 Chill out and witness a trace of winter within the desert city. Yes, it's possible at Ski Dubai! Located inside the Mall of the Emirates, Ski Dubai is a unique indoor ski resort built for a snow-filled fun experience. It is a great place to enjoy with family and friends, try out skating, chair lifts and watch cute little waddling penguins.
Conclusion
While these are the must-do things when in Dubai, you can check out several more in the city. The Emirate city of Dubai is truly a place of wonder and would not fail to awe you!
Dubai Tours Now Available:
Morning Desert Safari with Sandboarding & Camel Ride
Dubai Burj Khalifa Tickets: Level 124 & 125
Atlantis Aquaventure & Lost Chambers Aquarium Ticket
About the author:
Manav is a freelance blogger. He mostly writes about his traveling adventures. When not traveling, he enjoys playing cricket, chilling out with his friends, and spending time with his pet dog.
Photo credits:
Photographs supplied by Rayna Travelogue.