by Rusif Huseynov
At first sight, it looks as one of provinces of India. Same clothing, Indian faces, smell of curry… Yet each of them contains something unique, and one soon realizes it is a different country.
Welcome to Nepal!
Although I and my brother had planned our accommodation, places to go, routes long before, we were still very intrigued to face what might await us, to see what we had expected and had not expected. Having landed on Nepalese soil, we understood we were in a very different world.
Right at the Trubhavan Airport, we were greeted by a gilded Buddha statue and several posters depicting Mt. Everest. As well as by a number of taxi drivers. You may take a taxi everywhere only after bargaining and securing a lower price. Those, who will ever visit Nepal should keep in mind that bargain is quite normal in Nepal as in many countries of the Orient.
We settled in Thamel, a Kathmandu district that concentrates hotels (mostly budget hotels), small shops, travel agencies, restaurants, exchange booths, pubs. A popular tourist destination, Thamel is also a pre-base camp for mountaineers and offers everything from food and clothes to equipment. The amazing fact about Thamel is that almost all hotels are equipped with wi-fi network (the speed is not that good though) and are/have tourism agencies at the same time. Right at your hotel you can easily arrange bus tickets, mountain flight, raffling, trekking, etc.
Our two-bed modest room worth 10 dollars per night was quite comfortable and even included breakfast (!). Thus, I strictly encourage those, who do not seek luxury, to check Kathmandu hotels in advance and book low-cost rooms.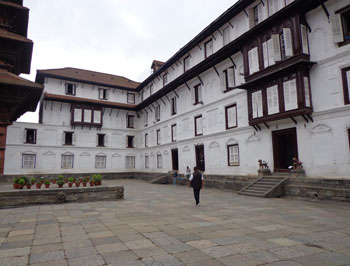 The next morning we decided to take a walk in Kathmandu. Durbar Square was our first and natural destination. The word Durbar Square may be equivalent to German Marktplatz. Several Nepalese cities have Durbar Squares, which are usually made up of royal and religious buildings. The Kathmandu Durbar Square, which is not free of charge for foreigners to enter, can present a variety of royal courts, temples and monuments (most of them belong to different historical periods), as well as numerous guides and street sellers, who would stalk you all the time and offer their goods and services. Tourists who have some understanding in history and religion, especially that of Indian subcontinent, can be very happy to explore every corner of the square. But even if you do not posses this kind of information, no worries at all. Dozens of guides are always ready to lead you by explaining the history and meaning of each edifice.
We entered a royal palace, which consists of a large central square and rectangular building around it. Thrones of the king and the queen are empty now. The Shah dynasty that reigned over Nepal since the 18th century lost its supreme rule in 2008 when the monarchy was abolished in the country. When leaving the palace which is symbolically guarded by a Gurkha soldier, I did not miss the chance to photo him and recall the old saying "If a man says he is not afraid of dying, he is either lying or is a Gurkha."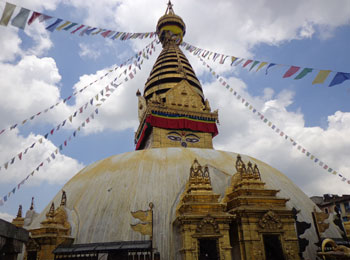 Although the Durbar Square contains a lot of historical buildings, it would take too long to explain each of them. But one should certainly visit the Kumari residence. Kumari is a living goddess mainly worshipped by Hindus. In Nepal Kumari is a pre-pubescent girl regularly determined as a result of interesting and complex selection process.
Later on we also walked from Thamel up to Swayambhunath across the city. Swayambhunath is an ancient religious complex atop a hill in the Kathmandu Valley. The Swayambhunath complex consists of a stupa, a variety of shrines and temples Also known as the Monkey Temple due to numerous holy monkeys inhabiting the temple, visitors are usually met and greeted by these little and funny creatures. Climbing the stairs leading to the top may be tiring, but it is certainly worth reaching the stupa. There is a large pair of eyes on each of the four sides of the main stupa which represent Wisdom and Compassion. Above each pair of eyes is another eye, the third eye.
Despite the noise created by lots of people, including monks, souvenir sellers, pilgrims, tourists, as well as by hundreds of doves, monkeys, and dogs, one will certainly find some peace on top, especially when seeing a nice panoramic view of the entire capital.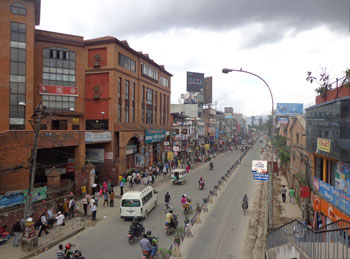 For people, who are eager to see Mt. Everest and some other peaks, I would highly recommend you to take a mountain flight operated by a bunch of domestic airlines in Nepal. As I mentioned above, even small hotels can arrange mountain flights, which can make your job more convenient. You will be taken very high, above the clouds, to the Roof of the World. Kind stewards will show and explain you every of a dozen Himalayan peaks. You can even get a chance to enter to the pilot`s cabin, where an indescribably wonderful and magnificent view will open in front of you. I am sure this mountain flight will be one of the most memorable moments you will recall with a pleasure the rest of your life. But Nepal is not only the Everest. Proud of their history, every Nepalese may tell you their country is the birthplace of Gautama Buddha. The founder of Buddhism was born in 6th century BC in Lumbini, a small town in the southern part of the country. Today Lumbini is a worshipping place, where many Buddhists from all over the world, not only from Nepal come to pay their tribute.
Interestingly, only 6% of the present population of Nepal is Buddhist. However, no religious conflict occurs here as followers of every faith and sect respectfully treat one another. Sometimes a foreign tourist can be surprised how the same building or shrine can serve as a temple of both Buddha and any Hindu deity.
I would encourage tourists to visit Pokhara, a city that lies west of Kathmandu. Called a tourist heaven and paragliding paradise, it is a nice, peaceful town, where one can visit an underground cave complex, climb up to World Peace Pagoda, ride a boat on Lake Fewa, and enjoy paragliding.
If you ever decide to go to Nepal, you will feel care and smile of local people, who will cordially greet you as an old acquaintance: Namaste!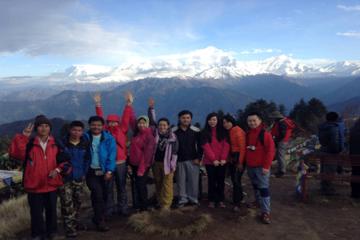 Annapurna Sunrise Trek from Kathmandu
If You Go:
Yeti Airlines
Blue Sky Paragliding, Nepal
White Water Nepal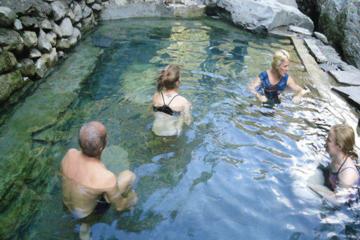 Natural Hot Spring Trek from Kathmandu
About the author:
Rusif Huseynov is in Baku, Azerbaijan. He is interested in world history and geography. He speaks Azerbaijani (mother tongue), Russian, English, Turkish and some German. Among his hobbies are collections of postcards and key chains from different countries. One of his dreams is to travel all over the world.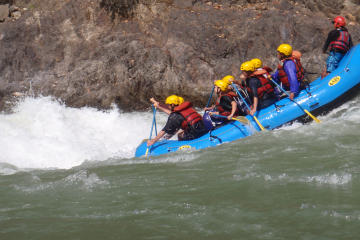 One Day Rafting Trip on the Trishuli River From Kathmandu
All photos by Rusif Huseynov and Vaqif Huseynov:
Statue of Buddha at Kathmmandu Airport
The Royal Palace
Swayambhunath Stupa
Kathmmandu