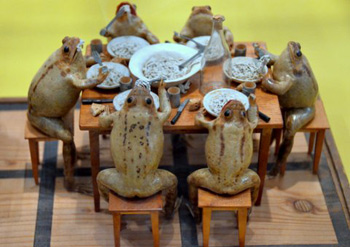 The Frog Museum, Estavayer-le-Lac, Switzerland
by Karin Leperi
Kermit the Frog from Sesame Street and Jeremy Fisher (a frog from the beloved Beatrix Potter book series) should best beware if they are ever in Switzerland. That is, unless these endearing childhood frog characters want to run the risk of being captured, gutted, and then stuffed with grains of sand – ultimately to be posed in humanesque-type poses doing very "unfroggy-like" things.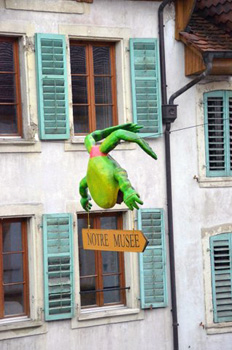 However, it's not quite as dire as it sounds for Kermit and Jeremy Fisher as they have nothing to fear these days: The Frog Museum in Estavayer-le-Lac is not looking for new acquisitions. The fact of the matter is that the museum's prized holdings were actually created in the 1850's by an eccentric Napoleonic guard officer. Francois Perrier, reputedly an officer and a gentleman, had a fascination for frogs and collected them while on walks through the countryside. He also had too much time on his hands: Perrier would take his collection of frogs home, extract the innards through their mouths, and then stuff the hollow skin with sand, all the while modeling and dressing the frog corpses in uncanny human dioramas of scenes from everyday life.
You can find the collection of all 108 stuffed frogs depicted in humanistic satirical scenes at the Frog Museum in Estavayer-le-Lac, a classic "stuck-in-medieval-times" town situated on the banks of Lake Neuchâtel. (It is also the largest lake within Switzerland's borders). Located in the Fribourg Region, the heart of French-speaking Switzerland, the museum has helped put the town on the map – at least for foreigners. Eccentric and off-the-beaten path are all words that can easily describe the "froggy" contents of this museum.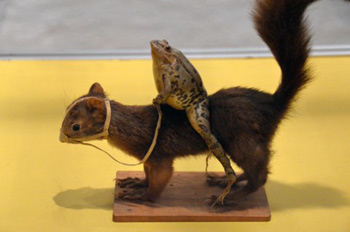 With that being said; nevertheless, there's something compelling about a Swiss medieval town noted for its obsession with stuffed frogs (they are actually a tannish-brown instead of green) composed of skin and sand. Behind glass and meticulously preserved, the vignettes are parodies of human life in the 19th century. The frogs do human things like playing cards and dominoes, shooting billiards, feasting at a long table, eating spaghetti at a smaller table, getting a haircut at the barbershop, sitting at a desk in an old-fashioned schoolroom…and then there's my favorite conundrum…a frog mounted on top of a squirrel, riding the furry rodent like a cavalry soldier might ride a horse.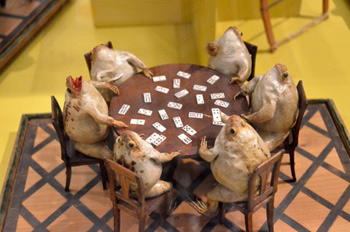 Whether you reel back cautiously from the ludicrously odd or openly admire Perrier's masterpiece of taxidermy and his tableau interpretations, one thing is for certain: It is an unusual tribute to anthropomorphic art and a social commentary on life in his times.
Though dissonant, the museum's artifacts also include a treasure trove of exhibits that document the history of the medieval town from the 15th century to the 1900s. Many of these were privately owned and then donated by local citizens to the museum for posterity. Somewhat more consistent with Perrier's military role, the museum also includes a collection of Swiss armaments and battle regalia as well as 200 lamps which were used by the Swiss railways.
Of course, there are other frogs hanging around Estavayer, too. And while not stuffed and most are neither green nor brown, they appear to be made of paper-Mache. Strung on wire high above the town, they statically engage in gymnastic endeavors and the sorts, all the while dressed in a sundry of quirky get-ups. You can see them throughout your walks in this quaint town. Just look above.

If You Go:
Price of admission is $5.00 Swiss Franc, or about $5.32 U.S. dollars. Be sure to check the website for when the Frog Museum is open, as it changes with the seasons.
The Frog Museum (Le Musée des grenouilles)
Rue du Musée 13
1470 Estavayer-le-Lac
Tel. +41 (0)26 664 80 65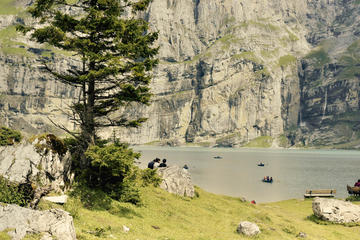 Fishing tour from Bern
About the author:
Karin Leperi is an award winning writer and photographer with bylines in over 75 publications that include print, broadcast, and internet media. A gypsy at heart who particularly enjoys bucket-list experiences, she has traveled to 80 countries and is still counting. Specialties include travel, culture, cuisine, nature, adventure and lifestyle. Her photo website is: www.travelprism.com
Photo credits:
All photographs are by Karin Leperi.