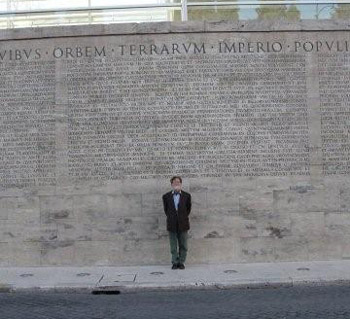 The Unforgettable Street Artist of Rome
by Paola Fonari
A lean, bearded man is trailing a shopping trolley along the sidewalk.
'Fausto!' I call.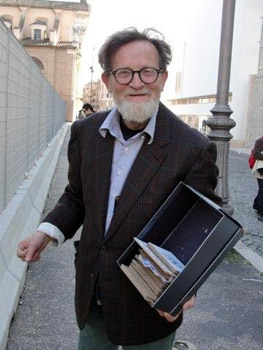 I have heard that Fausto delle Chiaie displays his work every day in Rome's Piazza Augusto Imperatore, between Emperor Augustus' Mausoleum and the Ara Pacis Museum, and I have come to seek him out. He turns and looks quizzically at me.
'Brussels, 1980,' I remind him.
'Of course! Paola!'
In the eighties, he was living with a friend of mine in the trendy commune of Saint-Gilles, once home to the art nouveau architect Victor Horta, and now a hub for artists in Brussels. The whole third floor of my friend's beautiful maison de maître was his studio. I remember the walls were covered with paintings of dark, macabre figures. He never sold any. And like his paintings, he seemed depressed back then. But today, under the bright afternoon sun, he seems delighted to see me.
He looks fit and well, and younger than his sixty-six years. 'This is where I am now,' he says, arms outstretched to his surroundings. 'I'm just about to set up.' He takes a shoe-box out of his shopping trolley. It's filled with cards, each with a few words scrawled on it in various languages. There is a low wall all along the sidewalk, supporting the railings surrounding the mausoleum.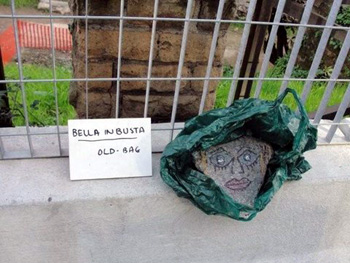 I amble with Fausto to one end. An outline of the lower half of a woman's body is chalked on the street. The upper part of the shape disappears under barriers which surround road works.
'This is where my show begins,' Fausto says, and places a card on the wall just near the chalked figure. 'Mezza nuda,' I read. 'Half naked.' We stroll along the wall, and every few metres he places another card on the wall.
'My exhibition is called 'Roma Oggi – Rome Today,' he tells me. 'Some people call it arte povera – poor art.'
When all his forty-five cards are in position he goes back to his shopping trolley, and near every card, he places objects. Simple, everyday bits and pieces. On the wall above the half naked woman he puts a high-heeled silver sandal. A map of Rome, crumpled and rolled into a ball, takes its place beside 'Two Thousand Years After'. 'That's how the map was when I found it,' he says. A faded picture of Christ's face is beside a 'Sold' sign. Below the face are the words '30 denari.' A snipped bicycle lock is labelled 'It was beautiful!' Beside a severely smashed toy car, the sign says 'Visit without rushing.' 'It's a warning,' he says. 'People go about their business in too much of a hurry, and it's dangerous.' Near a 'Tour Guide' sign, he places a tangled jumble of earphones and a twisted piece of wire holding up a white flag. 'You see them all the time in Rome,' he says, 'groups of tourists, just following their guides. They listen, but they don't see. And here, too, most people just rush past. But I can pick out the ones who are interested – the ones who understand. They take their time, they talk to me, they ask me questions. Like you.'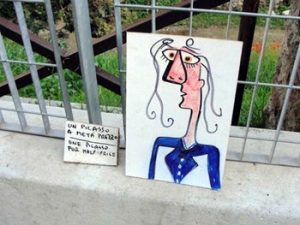 It occurs to me that were he a stranger, I would probably be one of those hurrying by, dismissing his Open Air Museum as rubbish, but I feel privileged to have the artist talking me through each work and what it means to him. Every piece is meticulously linked to its sign, to Rome, and is an essential part of his social commentary.
'This is my homage to René Magritte,' he says, stopping beside a large square piece of cardboard on which are the words 'Ceci n'est pas une émission de télévision' – this is not a television programme.
'Do you sell your work?' I ask.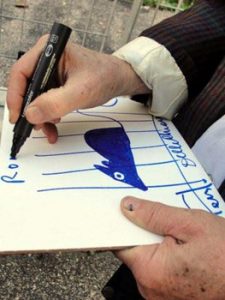 'No, I don't. If anyone likes a particular piece, I'll sign it for them. But it stays here. This is my studio now. People can make contributions if they wish. Look, this is one of my favourites.' It's called 'Doppelgänger'. It's a photo of himself, standing against the wall of the Aria Pacis Museum across the road. 'I'm part of my exhibition,' he says. 'Sometimes I go and stand over there for a while.' He crosses the road to demonstrate.
I stop to look at a large gold-embossed Bible. The sign beside it says 'Non metteteci la mano sopra – don't put your hand on it.' 'It's for the politicians, he says.
They're a bunch of liars. All of them.'
'Are you happy?'
'I'm lucky. Many artists think it's great if they put on a dozen exhibitions. I've been coming here every afternoon for the last twenty years. Three hundred and sixty-five times twenty. Just do the maths; that's a lot of exhibitions.'
I ask him about a sign that says 'Zoo.' It doesn't seem to belong with any particular object. 'There's a mouse that scuttles behind the railings at night,' he explains. 'He's not here now. But I'll draw him for you.' He takes a card and a felt tip pen from his trolley. His fingers dance across the page, and it's ready. 'I'll sign it. It's yours.'
Having spent an hour discovering Fausto's work, I head back to my bus, clutching my personal, original, signed mouse picture.
If You Go:
For more information (in Italian), see it.wikipedia.org
To see a photo of Fausto in his outdoor museum, see www.flickr.com
About the author:
Paola Fornari was born on an island in Lake Victoria, and was brought up in Tanzania. She has lived in almost a dozen countries over three continents, speaks five and a half languages, and describes herself as an "expatriate sin patria". Her articles have featured in publications as diverse as "The Buenos Aires Herald", "The Oldie", and "Practical Fishkeeping." Wherever she goes, she makes it her business to get involved in local activities, explore, and learn the language, thus making each new destination a real home. She currently resides in Belgium.