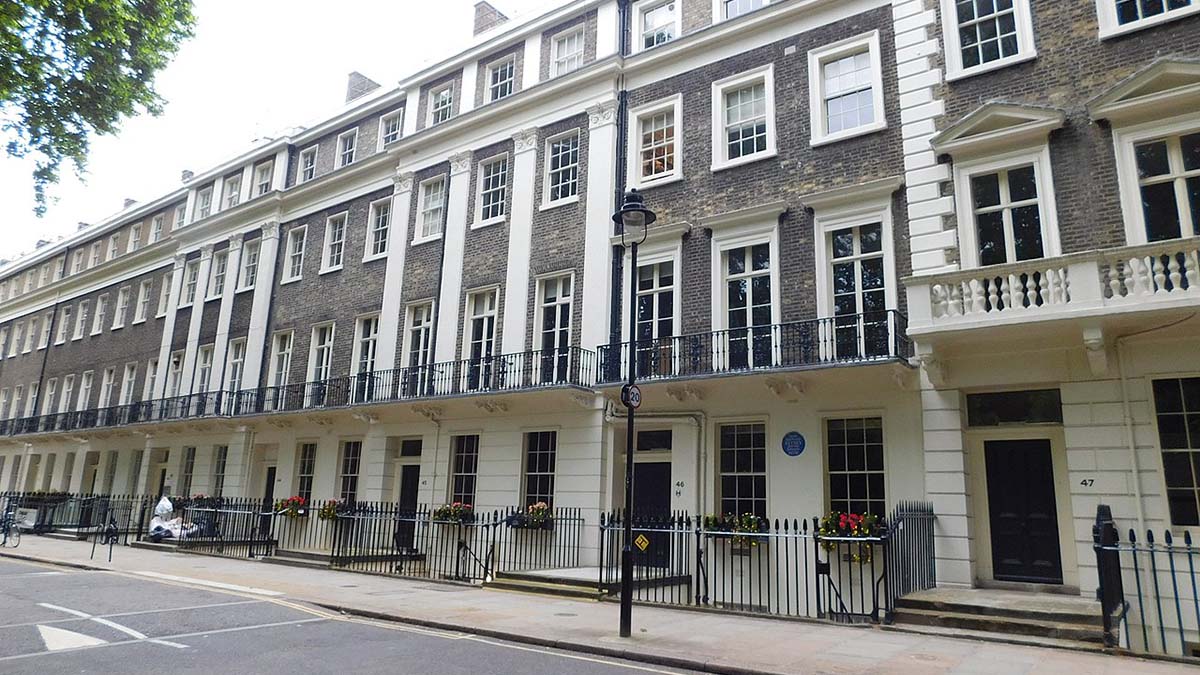 by Lynn Smith
For those people who have a passion for literature, history and London, a London guided walking tour will combine all these interests. There are several such tours available, led by knowledgeable guides, most of whom have been trained by the London Tourist Board. The tours are also reasonably priced.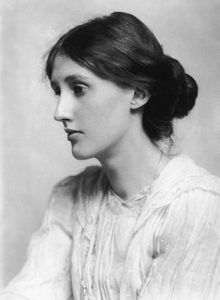 Several months ago, on a visit to London, I opted to take such a tour and chose the Bloomsbury walking tour as I have always been fascinated by Virginia Woolf and the Bloomsbury group.
I met the tour guide outside Russell Square Underground and we began the two hour walk from there. It was a beautiful summer's day which allowed us to see the green and pleasant squares at their best.
Bloomsbury is in the Borough of Camden and is bounded on the north by Euston Rd, Gray's Inn Rd on the east, Tottenham Court Rd on the west and High Holborn on the south side.
The area has a fascinating history. The name Bloomsbury is a corruption of "Blemonde" which was the name of Baron Blemonde, William the Conqueror's vassal who received the land from William in the 11th century.
In the 18th century, Bloomsbury was open country and was considered to be very healthy. In 1660 the Earl of Southampton built his house there and laid down an attractive square in front of the house. The borough took shape as more aristocrats discovered the area; the Duke of Montague built a stylish house on the site of what is now the British Museum and the great landowning family of the Russells, the Dukes of Bedford, Gordon and Brunswick all built their mansions in the area.
In the 19th century, Bloomsbury lost some of its glamour – trade and industry moved in and the area was no longer considered to be fashionable. The British Museum was erected on its present site in 1823 and London University began in 1827.
The arrival of the Bloomsbury Group in the early 20th century gave the area its reputation as an intellectual, artistic and somewhat Bohemian area – a reputation which is still considered relevant today.
Virginia Woolf (born Stephen, 1882 – 1941) was the third child of Sir Leslie Stephen and his wife Julia. Virginia's siblings were Vanessa, Thoby and Adrian. The family lived at 22 Hyde Park Gate, a large house always filled with children, friends and family.
The Stephen children grew up in a literary household – Sir Leslie was a journalist and had a well-stocked library, to which Virginia had unrestricted access.
When she was thirteen, Virginia's beloved mother died and this traumatic event caused her first mental breakdown; this was followed by another breakdown when her father died in 1904. After Sir Leslie's death the Stephen children decided to leave Hyde Park Gate (with its unhappy memories) and move to Gordon Square, in the heart of Bloomsbury, just north of the University of London.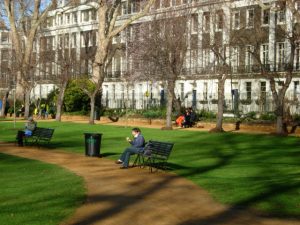 Gordon Square is on the corner of Gordon Rd and Tavistock Place. No. 46, the house the Stephen children moved into, in 1904, was a large, elegant building, fronted by the pretty garden square. The Stephens'uncles and aunts, however, frowned on the move as Gordon Square was not considered a desirable address.
Gordon Square soon became a meeting place for Thoby Stephen's Cambridge friends. Other visitors were Lytton Strachey, Clive Bell, Duncan Grant and later, Leonard Woolf. Virginia and Vanessa both took part in the lively discussions at these meetings, which could be described as the beginnings of the Bloomsbury Group.
After Thoby's death from typhoid in 1906 and Vanessa's marriage to Clive Bell shortly after, Virginia and Adrian left Gordon Square and rented a house at 29 Fitzroy Square.
Fitzroy Square
Although still in the Borough of Camden, Fitzroy Square is not strictly Bloomsbury but Fitzrovia, just further south of Tottenham Court Rd. The area was originally developed to provide houses for the aristocracy and many elegant mansions were erected, designed by Robert Adam. Building began in 1792 and was eventually finished in 1835.
In 1907, when the Stephens moved into 29 Fitzroy Square, the area consisted mainly of offices, workshops and lodging-houses. These unpretentious surroundings suited the brother and sister; they carried on with the Gordon Square intellectual get-togethers and the circle soon grew. An important addition to their gatherings was Lady Ottoline Morrell (1873-1938) – that eccentric and Bohemian patron of the arts, who lived in nearby Bedford Square.
The years at Fitzroy Square were eventful ones for Virginia – her two nephews (Vanessa's sons) were born in 1908 and 1910 and in 1909 she accepted Lytton Strachey's proposal of marriage but, by mutual consent, the engagement was cancelled almost immediately.
When the lease of 29 Fitzroy Square came to an end in 1911, Virginia and Adrian leased a four-storey house, No 38 Brunswick Square, which they shared with Maynard Keynes and Duncan Grant. While living in Brunswick Square, Virginia became engaged to Leonard Woolf and they were married on 10 Aug. 1912. The Woolfs went to live in Sussex where Virginia had taken a five-year lease on Asheham House. It was to be another twelve years before Virginia moved back to Bloomsbury.
The intervening years 1912 -1924
During the years that Virginia was living elsewhere, she published four books and had, unfortunately, another serious mental breakdown from which she was slow to recover. The Woolfs moved to Hogarth House in Richmond and in 1917 they bought a hand-press – and so began Hogarth Press; soon they were printing pamphlets, books and slim volumes of poetry, mainly the works of the Bloomsbury Group.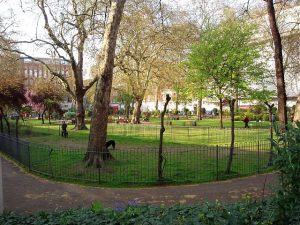 In January 1924 Virginia bought the lease of 52 Tavistock Square and the Woolfs, together with the Hogarth Press, moved into their new premises in March, where the Press was established in the basement. Tavistock Square was part of the Russell family, the Dukes of Bedford's estate and No 52 was a typical terraced house.
The years spent at Tavistock Square were Virginia's most productive and she became much sought after as a guest speaker at various prestigious universities.
Today, Tavistock Square is surrounded by a number of famous buildings, all of which are worth investigating. The Square was also the scene of the suicide bombings in 2005, in which 13 people were killed.
Mecklenburgh Square was Virginia Woolf's final Bloomsbury residence. Like Brunswick Square, Mecklenburgh Square was part of the grounds of the Foundling Hospital and was named after King George III's wife, Queen Charlotte of Mecklenburg.
The 2 acres of gardens are beautifully laid out, with lawns, trees and pathways. The gardens are only open to the public on two days a year. The rest of the year, the gardens are only open to resident key-holders.
No. 37 which the Woolfs leased, was once again, a large terrace house facing the square. They operated the Hogarth Press from No 37. The house was badly damaged during the bombing of London in 1940.
In 1941, Virginia, fearing another onslaught of her mental condition, committed suicide by drowning herself in the River Ouse.
A walk through Bloomsbury is certainly an experience not to be forgotten. There is so much of interest – graceful, elegant architecture, quiet, peaceful gardens and the all-pervading atmosphere of intelligentsia.
It is no wonder that the Bloomsbury Group put down roots here and kept returning to the area throughout their lives.
After my walking tour was over, I certainly felt that I'd come to know Virginia Woolf and her group on a much more personal level.
References: 1975. Lehmann, John. Virginia Woolf and her World. London: Thames and Hudson.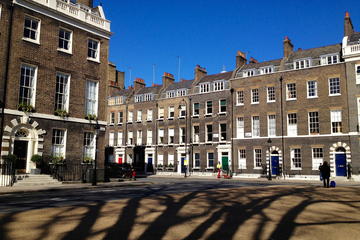 London Literary Walking Tour Of Bloomsbury
If You Go:
♦ Contact www.walklondon-uk.com or www.walks.com for information about the tours, what is on offer, where to meet, etc.
♦ Wear comfortable shoes, take an umbrella and something to drink if it is hot.
♦ Don't forget your camera and be prepared to walk for a good couple of hours, although the pace is not fast.
♦ The guides are knowledgeable and enjoy answering questions. Now is your opportunity to get answers to those questions you've always wanted to ask.
♦ Make the most of the tour and enjoy it.
Photo credits:
Gordon Square, London by Paul the Archivist / CC BY-SA
Virginia Woolf by George Charles Beresford / Public domain
Bloomsbury group blue plaque by Edwardx / CC BY-SA
Gordon Square park by Stephen McKay / Gordon Square, Bloomsbury
Tavistock Square by Ewan Munro from London, UK / CC BY-SA
About the author:
Lynn is a retired librarian who lives in Durban, South Africa. She lived in London for some time many years ago and has returned to visit several times in the past few years. Her last visits overseas were to Eastern Europe where she fell in love with Prague and Budapest. When not travelling, Lynn enjoys writing articles for the internet and does freelance editing and proof-reading. She is a keen gardener and shares her home with her six beloved cats.