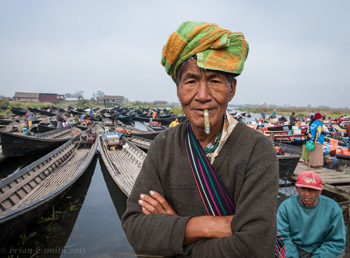 Burma (Myanmar)
by Brian K. Smith 
Having seen photos of this beautiful country for many years, it was impossible to resist any longer – I had to go to Burma. Many of my photographer friends spoke of this troubled country as a goldmine of spectacular images just waiting to be captured. I have to admit that in late 2007 I was nervous about travel there, as just getting a tourist visa to Myanmar was incredibly involved. Many guide books gave recommendations of how to help the local people by doing tours privately – not pre-booking. This avoided the situation of half the money for a tour ending up in corrupt government hands. Heeding their advice, I arrived in Yangon and privately negotiated a twenty day tour in a Volkswagen van with a driver that spoke very little English. I needed local Burmese money (Kyat) to pay for the driver, hotels, and food. As there were no public banks in Burma, illegal money exchanges took place in back alley basements in Yangon and every other city I traveled to.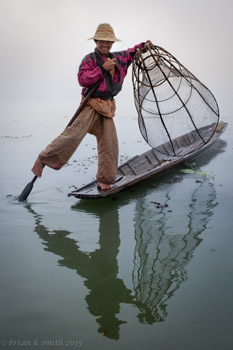 To help my travels go smoothly, I invited my hotel assistant manager as a guide for fourteen of those days. She met up with us in Kalaw, an old outpost from the days of being a British colony. With an overnight hike to stay with a traditional mountain village family, and visit to the Pindaya Caves, where there are thousands of Buddha's, our three day stay in Kalaw was very busy. Departing from the small town, it was less than a one day drive to Inle Lake, at a very relaxed pace. We had lots of time to stop and take in the beautiful breath taking scenery.
When we arrived at the main town of Nyuang Shwe, on the north end of the lake, we found a wonderful hotel and did some exploring on the first afternoon. Cascades of beautiful flowers covered the plaster and brick walls of the town and a cool fresh breeze from the lake flowed gently down the streets and alley ways. There are a total of five villages around the lake with a population of 70,000. Most of the people are Intha, with the remaining a mix of seven other ethnic groups, including the Karen People. Each village holds a market rotating through every five days.
The next day we headed out for a full day tour of the lake. In late December, the early morning air was cold to our exposed faces, as our boat raced up the channel towards the open water. Mounted in the back of our long cigar shaped boat was what looked like a V6 Chevy engine, with a long five meter shaft and a twelve inch propeller on the end. Although incredibly noisy – it seemed like the most common way for all transportation on the lake.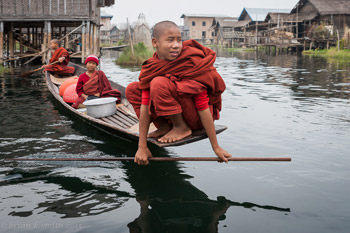 Fog obscured the sunlight, making it hard to understand where the boundaries of the dead calm lake met the surrounding shoreline. Our first stop along the way was to observe the local fisherman. The men stand at the back of their shallow skiffs and use one leg and foot to paddle the boat while balancing on the other. Setting their unique horn style fluted woven nets – they wait patiently for lake carp to fill them. It was fascinating to watch them – so incredibly agile. As we headed further down the lake, the grey wall of fog started to glow a beautiful golden color. The sun had risen above the mountains and was spreading its warmth across the lake. By late morning we had arrived at the far end of the lake where the market was being held in Palaung Village. Boats, similar to ours, lined the shore and spread out ten deep into the channel. To get to the shore we had to jump from one teetering boat to another, with the feeling at any moment they would capsize and throw us into the murky water.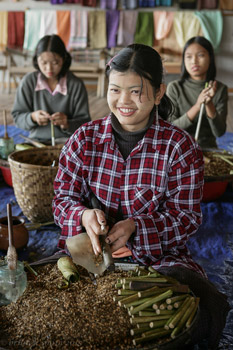 The market was a combination of local food and crafts. We stayed for lunch, eating a local gourmet treat from the lake. The popular fish dish, htamin gyin, is incredibly tasty. After finishing the first plate all too soon, I had to order another helping. With our appetites satisfied, we located our captain in the quagmire of boats and headed off towards the west side of the lake. We were searching for the high-light of the day long trip.
On the way we visited many small stilted villages, including Nampan. Access to traditional slat wood single room homes is only by boat. The lake can change in depth from four meters in the rainy season, to two meters in the dry season, making it necessary for construction on stilts. During our visit we saw production of crafts from weaving and jewelry to a small cheroot factory. I do not smoke any substance, but it was fascinating to watch the young girls make one after another of the perfectly shaped cigars.
Long Neck Women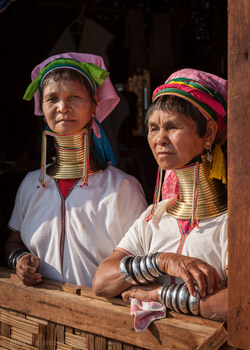 Mid-afternoon we approached a waterway full of small huts. Our captain pulled over to one of the stilted huts, suspended above the water and my guide indicated we had arrived. A little stunned from the intense mid-afternoon sun – I was not sure where we had arrived, until I lifted my head and saw the ladies above us. Looking out of a bamboo framed window, two Long Neck women waved at me. Not believing my eyes, I wondered for a brief moment if this was a dream? This was why I had traveled half way around the world! The women were friendly and proud of their brass rings that appeared to elongate their necks high above their shoulders. They were selling crafts and doing traditional weaving inside the hut. Full of smiles and agreeing to pose for photographs, it was the best outcome I could have hoped for.
The Long Neck Karen People of Inle Lake belong to the Padaung, Kayah. They are a sub group of the Karen. Brass neck rings are thought to be a sign of wealth and beauty. The weight of the rings actually pushes the collar bone down giving the appearance of a long neck. Years of wearing this adornment does weaken the neck muscles and eventually makes it a necessary 24 hour a day commitment for life.
There are very few opportunities to see these people in Burma as the military government has closed the area that these people live in due to conflicts between the ethnic minority and government forces. There are many different stories as to why these conflicts exist – as an international traveler I prefer to keep myself out of political conflicts and away from opinions. An opportunity to see these people is also possible in Thailand, but most tour companies stay away, as these are captive displaced people, who live in refugee camps.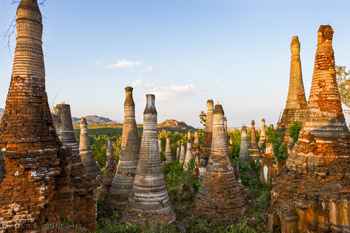 After our visit we had just enough time to visit an ancient site of stupas, dating back to 13th and 14th centuries, on the west side of the lake near Inndain Kone Village. The sun was setting as we reached the top of the hill to see the crumbling stupas bathed in warm evening light. This had been a day with as many rewards as I had hoped for in a whole trip. The air rapidly cooled, as we sat huddled in our boat, racing back in the dwindling twilight, towards the town where we had started from early that morning. As we headed up the canal in almost complete darkness the motor on our boat sputtered. Our speed dropped immediately and the captain steered towards the thick reed lined shore. We had run out of gas. Boats raced past us at full speed up the channel. I was relieved we were not a sitting duck out in the middle in the inky darkness. After 20 minutes the captain successfully signal to a passing boat for help. Throwing a rope to our rescuers, we were towed back home. Exhausted, but at the same time elated, I treated everyone to a beer at the local bar to celebrate a wonderful day of success!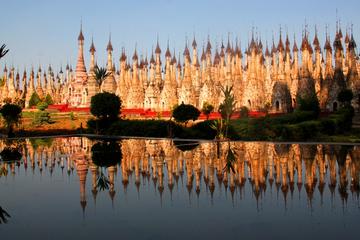 Private Inle Lake Excursion to Kakku Full Day
If You Go:
♦ Major carriers with departures from North America can supply one-stop flights to Yangon, the capital of Myanmar (Burma) – including Air China, China Eastern, Cathay Pacific, Dragonair, Air Canada, and many other airlines.
♦ In country arrangements can be made through many listed companies on the internet.
♦ For more information on private travel, contact Adventurocity.com or Brian K. Smith at 604-837-7576.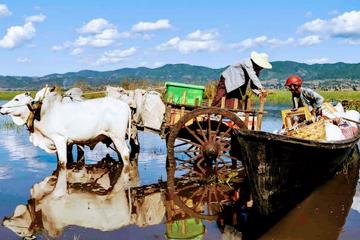 Inle Lake Nature Trek and Local Community Immersion 3 Days
About the author:
Brian Smith has traveled to more than 41 countries around the world. His favorite destination in the last 7 years has been Asia with 7 trips to China, including Tibet. He is a seasoned adventurer and is co founder of Adventurocity with his business partner Rick Green. Their motto is " Why take a trip when you can have an adventure". www.adventurocity.com Brian is a career professional photographer, with a Masters of Photographic Arts (PPOC).www.brianksmithphotography.com – Twitter: @fotocraze
All photos are by Brian K. Smith:
Captain of our boat at Palaung market
Fisherman on the lake at daybreak
Traveling through Nampan – a west side village on stilts
Making cigars
Padaung, Kayah – Long Neck Karen women
Ancient 13th and 14th century Stupa ruins