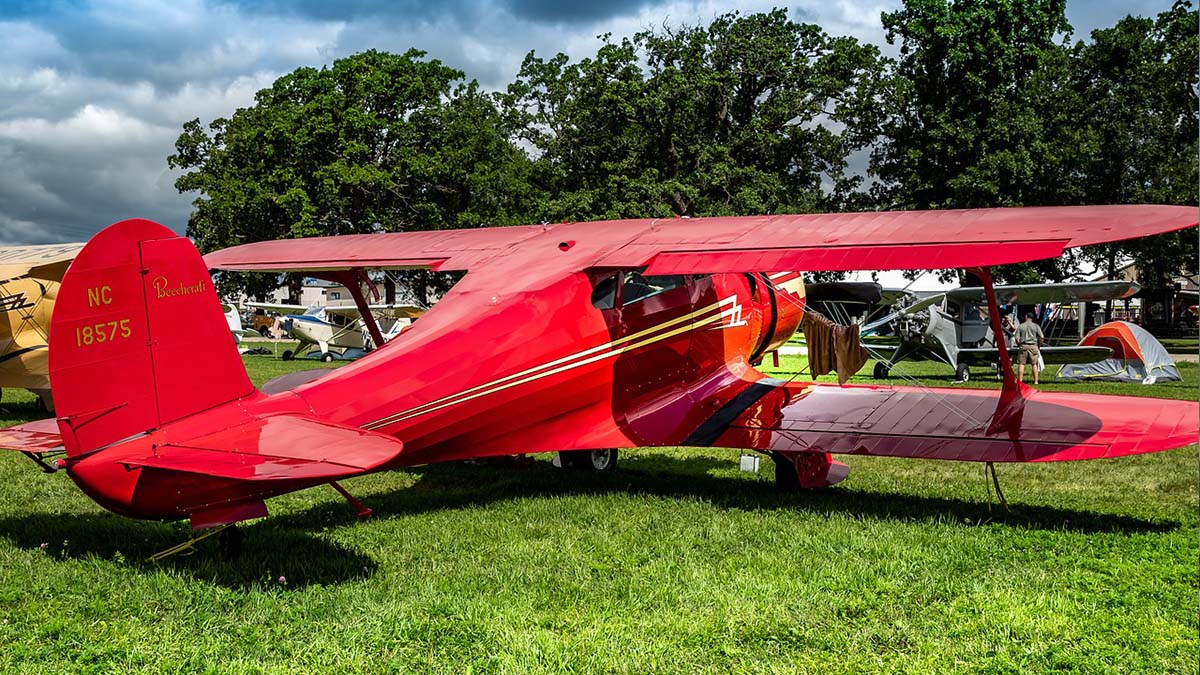 by Roy A. Barnes
In Louisville, Kentucky, I found some of the city's best gems using a variety of transport means, and in the process fulfilled one childhood wish. From flying in a classic biplane to riverboating on the Ohio River, my getting travel-intimate with this city was made all the more fun and adventurous:
The Skies Romantic Again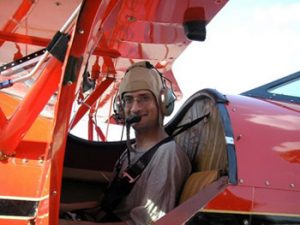 Commercial airline travel for most of us has become something to endure. But I had a flying experience that rekindled the romance of flying via Classic Biplane Tours. I flew over Louisville at 1500 feet above ground in a replica open cockpit 1935 WACO YMF, built in 1993 (with more technically advanced features for safety). It's also known as "Big Red". The top speed reached 90 M.P.H. I felt the wind in the back of my neck as I took in some incredible views and pictures of the Louisville area, including Churchill Downs (below), Louisville's skyline, and some Indiana farmlands in mostly clear and sunny skies, covering around 40 miles of flying. Even the airport we took off from goes back to glorious aviation days past – that being Louisville's first major airport, Bowman Field, which is now used mainly for smaller private planes.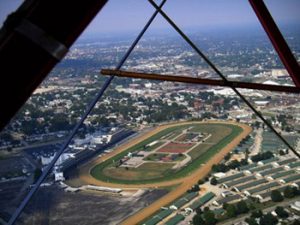 As I flew in the plane strapped up in a front seat harness for close to half an hour, I wore a helmet that was equipped to hear the control tower and my pilot Steve, who's had close to 40 years flying experience. He's a friendly man who answered all my questions about flight. Even folks who are in their 90s have enjoyed flying in a plane whose ride seemed more nerve-racking when Steve turned the plane right or left rather than during the straight cruising across the sky, since the turbulence wasn't that bad.
I was too chicken to take up Steve's offer of doing a Steep Lazy 8, which is his most "roller coaster-like" maneuver that he offers to passengers (no turning upside down is done). Passengers have the option of flying the plane themselves from the front seat with back up from Steve or his other two pilots that take people on the tours. "Big Red" can hold 72 gallons of fuel and consumes an average of 16 gallons of fuel per hour, so there's no danger of being without gas at the wrong time, given that the longest tour is basically an hour in length.
Several different tours are offered including sunset tours. One is as short as the 30 minute Barnstormer flying tour. The flight prices cover up to two people, with the second passenger experiencing the friendly skies for free. "Big Red's" flying season runs from mid-April through sometime in November, weather permitting, seven days a week.
Great Discoveries for 50 Cents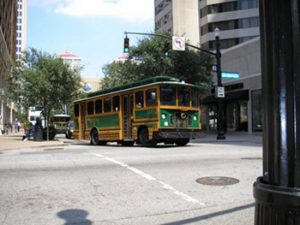 One of my favorite things to do when I'm visiting a place is to ride the main bus or subway routes of a public transport line because I get to see a large chunk of a city for a decent price. I might discover something surprising on the routes or just a few walking blocks off of them which the tour guides or books don't tell me about. Louisville's two downtown trolleys are part of the city public transit system called the TARC, usually costing 50 cents per ride.
The Main & Market Street Trolley generally runs in a long rectangle on the two eastbound and westbound streets, going by the Louisville Slugger Museum (www.sluggermuseum.com) and Louisville Slugger Field (where the minor league Louisville Bats play – www.batsbaseball.com), The Louisville Science Center, and The Kentucky Museum of Art & Craft. About two blocks north of this route is the Thomas Edison House (www.edisonhouse.org). Edison's time in Louisville included being a telegrapher for Western Union, and a number of his inventions are at the home, including many light bulbs, some phonographs and dictating machines.
The 4th Street Trolley runs from the edge of the Ohio River for many blocks south through the heart of downtown all the way to Spaulding University. It includes stops by the Theatre District in Louisville, including the Spanish Baroque-inspired Louisville Palace Theatre (www.louisvillepalace.com), which opened to performances a year before the stock market crash of 1929.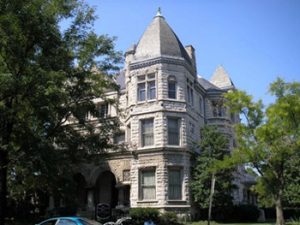 Two venues are accessible from this particular route which I found quite enchanting. First, my favorite novel of all time, The Great Gatsby, has some important elements of its story that took place in Louisville. It was in Louisville where Jay Gatsby courted Daisy Fay, the most desirable single woman in Louisville. Daisy would further break Gatsby's heart when she got married to Tom Buchanan. The Seelbach Hotel on 500 4th Street served as the accommodations and reception base for the wedding. Today, this venue is called the Seelbach Hilton (www.seelbachhilton.com)
I ventured inside after the doorman kindly opened the door for me despite the fact that I didn't look like the jet set. I wandered around the public areas as some old time jazz-style music emanated through the speakers. The lobby and 2nd floor sitting rooms are ornate in decoration. The sitting rooms contain antiquated books on the tables. It was in one of the sitting rooms that I pondered the fictional Daisy being in her guestroom the day before her grand sham of a wedding. She was drunk and crying in front of one of her bridesmaids, wishing to give her $350,000 grand string of pearls back (a gift from Tom) while clutching a letter written by Gatsby.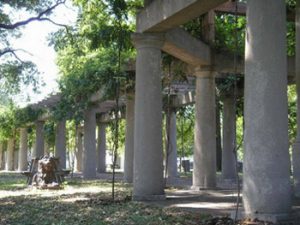 Just a few blocks south of the most southern point of the trolley route is the 1200 acre neighborhood known as Old Louisville (www.oldlouisvillechamber.com), a gateway to the largest collection of restored Victorian homes in the nation, created with many styles including Victorian Gothic and Queen Anne. Even while the crickets chirped incessantly during a humid summer morning and early afternoon, I felt a real peace here, admiring the variety of architecture in the grand homes, while being shielded by the tall magnolia and oak trees. Businesses like law firms and bed & breakfasts make their homes here, too. Thanks to a very friendly resident advocate for the neighborhood's history, I was directed to two such blocks (Belgravia Court and Floral Terrace). It's the greenery that separates the grand homes instead of cold hard pavement.
And the gem in this neighborhood just happens to be something inspired by the Olmsted Brothers (one brother, Frederick, designed Manhattan's Central Park) – this being Louisville's own Central Park, not as big as New York City's, but still full of trees and ambience. The park's centerpiece is a long colonnade with wisteria vines thriving on it. From the two visitor centers in the neighborhood (including one in Central Park), one can get some informative brochures and videos to help make Old Louisville come alive.
Childhood Dream Come True
As a child, I was constantly exposed to a song during Music Appreciation (to the point of wishing I was there) that went something like this in part:
Down the river
Oh, down the river
Oh, down the river we go
Down the river
Oh, down the river
Oh, down the O-hi-O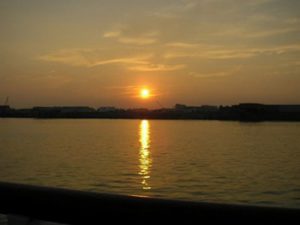 I've always had those zany lyrics in my head despite the fact that I was about as close to the Ohio River in Casper, Wyoming, as I was to the moon. I had never actually gone down the Ohio River until I boarded the Spirit of Jefferson riverboat during a muggy summer evening from the docks of Louisville for a dinner cruise. It was full of great-tasting food like turkey, roast beef, macaroni salad, mashed potatoes, and a really rich banana cream pie for dessert. On a humid night, it's a godsend when a breeze is blowing and you can find a seat on the top deck of a ship that's been in service since 1963, seeing action in New Orleans and St. Louis with different names (Mark Twain and Huck Finn) before getting its current name in 1996 as a result of a mayoral contest. After dinner, while people danced to the classic rock tunes of generations past, I sat and pondered the water, the residential and industrial landmarks, the beautiful sunset, and a beautifully-lit Louisville skyline, of which the city has been in existence since 1780. The two-hour cruise ended with an ensuing appearance of a cherry-colored moon!
The Spirit of Jefferson runs year round, offering a variety of cruises, including for special occasions and lunchtime. Its bigger steam-powered sister called The Belle of Louisville is a National Historic Landmark, but runs less often.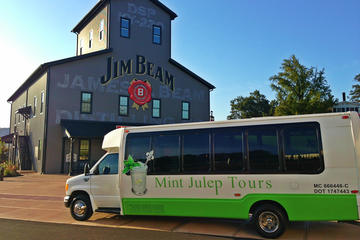 Kentucky Bourbon Distilleries Tour from Louisville
If You Go:
Classic Biplane Tours is at the Bowman Field Old Terminal Building: 2815 Taylorsville Rd., Louisville, Kentucky 40205. 502-836-5252.
Spirit of Jefferson / Belle of Louisville: 401 W. River Rd., Louisville, Kentucky 40202. 502-574-2992 or 866-832-0011.
Louisville Tourism Information: call 800-626-5646 or go to www.gotolouisville.com.
About the author:
Roy A. Barnes writes from southeastern Wyoming. During his lifetime, he's worked in the travel agent and airline industries, and has traveled on the North American, Asian, African, and European continents. Contact: travelwriteroy@yahoo.com
Photo credits:
First vintage biplane photo by Brent Connelly from Pixabay
All other photos are by Roy A. Barnes.