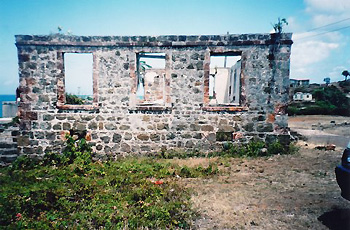 Melancholy and a Dirt-Wrapped Surprise in Antigua, West Indies
by Asja Major
I sit crouched in a dirt pit. The relentless heat of the Caribbean sun sears my scalp and sends sweat slithering down my spine. A feeling of pure elation surges through my veins. This would not be paradise for everyone, but for me, it was pure perfection.
I am one of about a dozen archaeology students who had chosen to spend a month up to their elbows in grave dirt in Antigua, assisting in the excavation of an 18th Century Naval Hospital Cemetery. We had arrived on the small West Indian island about a week before and spent the first few days learning about its history and preparing for the excavation. When we were finally deemed ready to dig, we wound our way up the steep road behind Nelson's Dockyard, the back of our vehicle loaded with shovels, rakes, buckets, tarps, and of course, small metal trowels.
When I saw the task ahead, my enthusiasm waned, if only for a moment. The cemetery, which was in operation between 1793 and 1822, was now devoid of headstones and was little more than a vacant lot entangled in an intimidating snarl of waist length grass, bushes, shrubs, and small trees.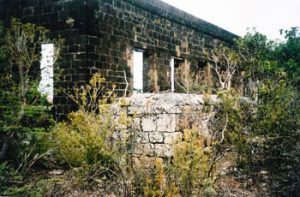 Our task that first day was to clear the mesh of vegetation from the ground, exposing bare landscape. As daunting as this was, I approached it with vigour, impatient to get to the "real" excavation. I was eager to learn more about the people who had lived and died in the area called Nelson's Dockyard, which had been established in 1784 when British naval commander, Horatio Nelson, sailed into English Harbour.
As I ripped, broke, and cut vegetation from the earth, I let my thoughts wander to the area's namesake. Who was this man who had been sent to Antigua, not to enjoy the beauty of the island or to relax amidst the glistening sand of any its 365 beaches, but to oversee the construction of British Naval structures in English Harbour? What was it like for him, I'd wondered, to see his comrades and others among his party succumb to the heat, rampant malnutrition, and disease in such numbers that the area became known as the 'grave of the Englishmen?' Did he mourn the losses or was he simply frustrated that they slowed the construction of the site, a crucial stopping point for ships needing refits and repairs? Answers to these questions were not something that would come from the soil, I decided, so I focused my attention back on the task at hand.
It didn't take our team long to clear the site and over the next few days, we were finally able to begin the excavation work. Each student was assigned a small area and instructed to peel back the soil, an accumulation of nearly two centuries worth of rotten and decayed vegetation that we were told topped a gravely foundation. When finally the gray surface peeked through, each of us was reminded to be especially vigilant in watching for signs of grave shafts.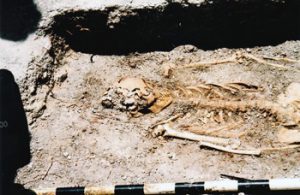 As an eager archaeologist-in-training on a first dig, patience is as elusive as the Holy Grail. But I had willed myself to be steady and moved slowly, patiently, skillfully, through the soil, peeling it back layer by excruciating layer, my eyes searching every inch of the small work area for indications that I stood atop a burial pit. Finally, from beneath the hard packed dirt where my team worked, a section of looser fill emerged. Could this be a grave shaft?
The mystery of what was just below made it all the more difficult to continue the slow search through the soil. The only thing that kept me from tearing impatiently at the dirt wrapping in search of an earth encrusted surprise was the fear that I would dig too deep, miss the grave markers altogether, and send my steel shovel plunging like a misguided sword into the fragile, bony chest of an unsuspecting victim.
My team worked layer by layer to remove the topsoil, sifting the backfill as we went to make sure we didn't miss any artifacts that might be scattered haphazardly throughout the grave fill. The first coffin nail we found had everyone gathered round like a group of diehard fans trying to get a glimpse of their favourite celebrity. By the time we'd discovered our twentieth, people were as unimpressed by the event as they would the sighting of a Canadian politician.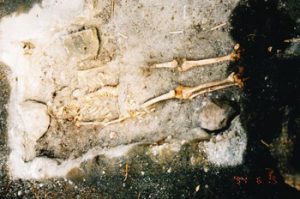 The dead had been buried in six sided wooden coffins and these had deteriorated over time, but had not disappeared altogether. Wooden splinters remained and made me think of the chalk outline around a TV murder victim. This image was not dispelled as I first glimpsed a bit of curved tea stained hardness that could only be a skull. We gently excised the dirt from around the face, brushing with the softest of strokes, like a mother caressing her newborn baby.
Suddenly I paused and thought in disbelief, "Here I am crouched in the middle of a dirt pit, the companion to a two hundred year old skeleton!" It was one of the most exciting experiences of my life; a tiny speck in time, but one that I knew would stay with me forever.
Although we uncovered three additional skeletons by the end of the month in Antigua, the sparkle of that first find was never quite replicated. And with every additional recovery, a touch of melancholy followed. I couldn't help but wonder, "Why did they die? How much did their families suffer with the loss?"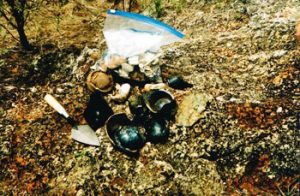 These thoughts were exemplified more after we uncovered our final grave – that of a small infant. Its tiny coffin had been invaded by the growth of a tree, the skeleton spread apart over time by roots that had snaked their way through the grave without regard for the tiny inhabitant.
Unfortunately for those of us who wanted an explanation for the death of these people, answers were not to come. While we spent the latter half of the Field School studying the skeletons, we could only assess for indicators of age, sex, and in some cases ancestry. There was no way to know how they died and especially not why.
But at the end of the four weeks, as I boarded the plane for the trip home, I was left knowing that we had done something good for the few we'd recovered. Over the years, the cemetery had been disturbed as a result of recent development in the area. The graves were being destroyed and the excavation was a way to carefully uncover the remaining skeletons so they could be re-interred at a protected site. There, we were told, they would rest undisturbed for ever more.
If You Go:
For More Information:
About the author:
Asja Major has a Bachelor of Arts from Simon Fraser University, Major in Criminology, Extended Minor in Archaeology and while she does not work in the field of Archaeology, she remains keenly interested. This is her first travel article, however, she writes regularly about fitness and beauty.
Photographs:
All photos are by Asja Major.