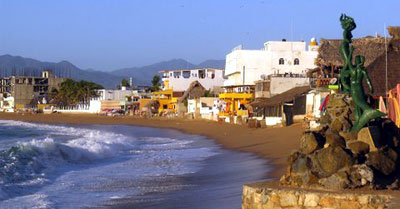 by Doug Matthews
I have recently taken a mistress, a bewitching, beguiling siren. She's quite a lady. Sometimes, I lie beside her and watch the measured breathing of her bosom. At others, I swim in the warmth of her naked wetness. She's beautiful, and I'm absolutely captivated.
My siren is a small part of the Pacific Ocean that roars eastward onto a long, curving arc of golden beach whose southern end is occupied by the quaint, west coast Mexican town of Barra de Navidad, about 20 minutes' drive north of the Manzanillo Airport.
There is no doubt that this siren rules the town and the 7000 or so souls who live here. In winter this number swells by several hundred more, mostly white-haired Canadian snowbirds, plus a few American eagles infiltrating the flock. We—my wife and I—are among this privileged group, all on extended stays to experience the sheer beauty of the siren and all that she represents. Most of us are here for at least a month, some for up to five months, escaping the snarly, growling old man of northern climes in favour of our sweet siren.
What is it about her that is so attractive? Well, for starters, she rules over a leisurely life. It's one whose pace is measured by the diurnal rhythms of nature: the pre-dawn calls of roosters and geckos; the silent footsteps of a surfer walking the sandy beach towards morning waves; the snoring of humans and dogs lolling in the afternoon shade of coconut palms and tiled roofs; the soft chugging of fish boats returning with their daily catch from the siren's endless bounty; and finally, the sustained applause of Margarita-sippers as the sun falls into her body at the end of each perfect day.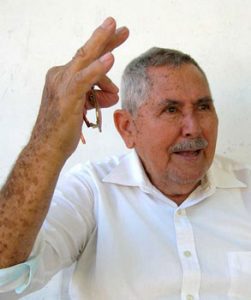 Occasionally, though, the siren vents her anger. She has done so twice in the recent past. In 1959, an unnamed hurricane howled through the sleepy town, demolishing palapas and flooding the streets. A quaint story is narrated to me by a survivor, Sr. Gabriel Uribe Ruiz, who was about 29 years old at the time. Apparently all the men of the village were hanging onto the roofs and beams of their palapas trying to prevent them from blowing away in the wind. At the same time, all the women, supposedly devoutly Catholic and who should have been praying for salvation from the tempest, instead were singing an irreverent Mexican song, "Let the Ugly Ones Die!" Luckily, these particular prayers were not answered and nobody died in Barra. However, there were 1500 killed in nearby Manzanillo.
In fact, Barra itself has come to be associated more with a second big hurricane. This time, the siren took a name: Lily. It was September 1, 1971, the same year that Sr. Ruiz married his first wife. As he describes his experiences, Sr. Ruiz gesticulates and makes the whooshing sounds of the storm.
I can almost picture the terrified inhabitants who have come to his small store to take shelter since it is one of the more strongly constructed buildings in town. Most of the other structures are still palapas, made of wooden posts and palm fronds. Lily berates the little town for most of the night, finally ceasing her fury early in the morning, around 5:00am. It's at this time that the town's women, entrusted to take care of the church, arrive to find it full of water. But there is another surprise. The arms of the large, plaster carving of Christ have fallen from the cross behind the altar, and hang limply by his sides. A little boy runs to the nearby town of St. Patricio de Melaque to tell the priest what has happened. The priest arrives and supposedly chastises the townsfolk for not covering Christ's statue to protect it. However, one "inspired" person utters the word miracle which, a few days later, brings a newspaper reporter from the city of Guadalajara, and the rumours begin. The women tell him how terrible the storm was, with waves of 50 meters, and how the storm ceased when Christ put his arms down. Five or six months later, a new priest asks what happened, as do succeeding priests. With each one, the story gets bigger and soon becomes a legend, the legend of "El Cristo del Ciclon." Some time later, the bishop comes and asks Sr. Ruiz to tell the story. By this time, it is so ingrained in local lore that he is called a liar and unbeliever. Today, Sr. Ruiz—in fact a very devout Catholic himself—laughs at the extent to which the truth has been stretched. But his story also brings out more of the real truth about Barra de Navidad: how genuinely friendly, honest, and supportive the people of Barra really are.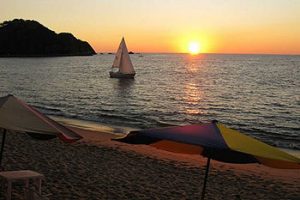 It takes a bit of a longer stay in this little chunk of paradise to even begin to get to know them. It's not a place to rush, not a place for a quickie vacation full of partying and tourist excursions. One must readjust to the rhythms of their life, and that becomes our first challenge, to get over our Canadian desire to be in constant mental and physical motion from one activity to the next. After a couple of weeks we begin to get the hang of it. The raucous horn of the gas truck comes shortly after sunrise. The light claxon of the water truck follows in late morning. The friendly calls of roaming fruit and juice vendors come in the afternoon. We learn to prepare for each as our needs dictate. An aural community it is indeed. But it's not our kind of aural. There are no sirens, virtually never any crying babies (although babies abound), seldom a voice raised in anger. Instead, greetings of "Hola" or "Buenas Dias" welcome passers-by from open stores, laughter echoes around the "jardin" or town square, and the latest gossip is passed excitedly between friends.
We decide we want to be part of the enchantment and take Spanish lessons. Another converted Canadian, Bonnie Gibson, is our instructor. Her Spanish is flawless, the result of having spent five months of every year in winter hibernation in Barra. As for us, it has been her refuge from the rain of Vancouver. She is also an accomplished singer and performs weekly at Sea Master, one of the town's many excellent restaurants. Bonnie takes us to the point where our fear of making fools of ourselves in a second language is overcome. We strike out boldly. Within a few days we have struggled our way into numerous halting conversations with vendors and other locals. We begin to feel their approachable friendliness even more. We meet some of the town's characters: Norma, the cake lady, who makes the most wonderful "tortas"—flans, moist "tres leches" cakes, cheesecakes—far too tempting on our nightly walk by her booth near the town's "boardwalk," the Malecon; Rosie, who runs a French coffee shop—although she is Mexican—and her husband, a local tourist policeman; the friendly congregation at Sunday masses; Arnold, one of the servers in the Sunset Bar where every sunset is cheered, who wants to visit BC; and of course, Sr. Uribe, the unofficial town historian. We gradually begin to feel more connected—and adjusted.
But in Mexico, there's always a surprise waiting.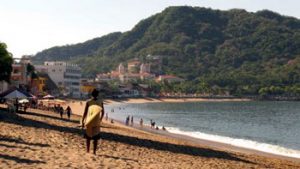 One day, the circus comes to town. It could have been a hundred years ago. It invades in multiple trailers. The big top is erected just over the wall from our condo and we watch it in anticipation. Part of that anticipation is a tinge of fear, knowing that at least four of the trailers carry full-grown Bengal tigers and jaguars, which children and adults alike can walk up to in their cages and, if stupid enough, thrust their fingers inside. Hmmm…so much for risk management and liability. We attend one of the performances. Not top draw entertainment but exciting enough that they get an almost capacity crowd of locals who lap it up, many of them becoming participants in the show. Then, as quickly as it came, it leaves, unfortunately tearing down all throughout one sleepless night of constant hammering and clanging.
On another evening as we take our regular after-dinner stroll along the waterfront and the beautiful Malecon, there is a sudden eruption of high-level fireworks directly in front of us. One of the pyrotechnic signs is alight with the words, "Buen viaje, Alicia." OK, it looks like Alicia is going on a trip. Well, it's a trip all right—her final send-off. Everyone stops and enjoys the show. Then we resume our stroll as if nothing had interfered.
And that really is what Barra de Navidad is all about. Approachable. Welcoming. Surprising. Beautiful. And it's all because of my siren mistress.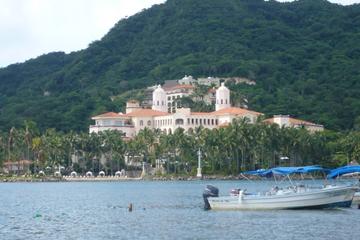 Barra de Navidad Tropical Tour from Manzanillo
If You Go:
An excellent web site with a great deal of information on Barra de Navidad and the surrounding area, known as the Costalegre, can be found at www.tomzap.com/barra.html
About the author:
Doug Matthews is a writer based in Vancouver, Canada, with previous careers as an aeronautical engineer and special event producer. His writing ranges from technical engineering papers to general interest pieces for newspapers and magazines. He has also published three books on special events and is working on a third dealing with ancient spectacle. Check out his blog about special events at www.specialeventguru.blogspot.com and more photos of Barra de Navidad at www.flickr.com/photos/showbizinbc. Contact: gear6@shaw.ca
Photo Credits:
All photographs with the exception of the one of Sr. Ruiz (courtesy of Bonnie Gibson) were taken by Doug Matthews.