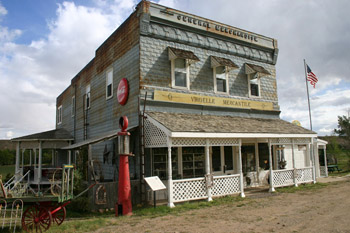 by Laurie Gough
"I don't tweet, twatter, twitter, facebook, have internet or email," were the first words I heard our river guide proclaim as we set off to canoe a section of the historic Missouri River in northern Montana.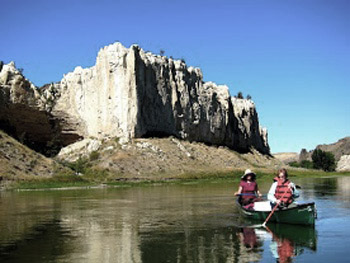 Rather than the tame goings-on of the last couple of centuries, it's the little-known facts about Lewis and Clark and their expedition through un-mapped Missouri River wilderness which guide Mike Nottingham loves to discuss. This mountain man, trapper, fisherman, and river guide for the Missouri River Canoe Company even teaches you how to pronounce Sacagawea's name correctly.
Here in Virgelle, Montana, river stories of the past are just some of the surprises that await you.
Imagine driving through miles of undulating golden prairie hills and coming across a revived homestead-era ghost town. Located in the Upper Missouri River Valley, the Virgelle Mercantile is unique. Not only is the majestic old mercantile building the headquarters for the Missouri River Canoe Company—outfitters who will kit you up for a float down the river—it's also a B&B and a homestead-era antique store. Most intriguing of all are the seven original homesteading cabins out back, all moved here from a 40-mile radius. These cabins aren't just for show—you can sleep in them. After a home-cooked dinner and lively discussion in the dining room with fellow guests, you can walk right outside into a 19th century starry night and sleep in a real homesteader's cabin.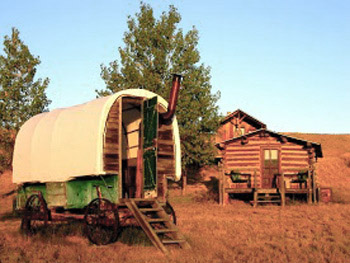 I went one step further. I chose the sheep wagon. How could I resist? It looked like one of the coolest places I would ever sleep. And it was. All night I heard coyotes howling in the distance as the light of the half moon glimmered through my canvas-topped covered wagon. I felt like Laura Ingalls.
The next morning the theme of authenticity continued floating down the river through the Upper Missouri River Breaks National Monument, which covers 375,000 acres of public land. As eagles soared above, I felt as if I we were paddling back through time, immersed in a remote and stark landscape of rolling yellow grasslands, piercing blue sky, and swaying cottonwoods along the riverbank, eventually taken over by white cliffs and immense sculpted hoodoos.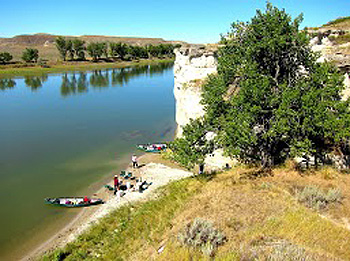 From our canoes, we didn't see another soul on the river or bank, not a house, not even a broken-down homesteader's shack. In fact, the Missouri Breaks landscape today, thanks to stewardship and land management, looks pretty much the way it would have looked to Lewis and Clark, even more so now than in the brief late-19th century steamboat days when trees were felled to fuel the boats. "The only difference now," said Nottingham, "are the occasional Russian olive trees along the banks, which are invasive." There's also the odd cow which comes down from one of the ranches for a drink. Back then, of course, it would have been buffalo.
I can almost imagine the buffalo here, vast phantom herds of them. During the time of the Lewis and Clark expedition and for several centuries before, this river, the rugged surrounding uplands, and land stretching as far north as Edmonton, was home to the Blackfoot Indians, whose survival depended on the buffalo. By the mid-1800s, 50 years after Lewis and Clark's expedition, they would be a decimated people, their prized buffalo hunted by the new settlers to near-extinction.
In Virgelle, Montana, ghosts of the American west seem to be everywhere, their stories longing to be heard.
If You Go:
♦ The Virgelle Mercantile is located 8 miles south of US-87, about 66 miles northeast of Great Falls, Montana. For more info, see the Virgelle Montana information website.
♦ The Upper Missouri River Breaks National Monument has, in addition to a 149-mile stretch of scenic river, excellent hiking, boating, fishing and birding.
About the author:
Lauded by Time magazine as "one of the new generation of intrepid female travel writers," Laurie Gough is author of Kiss The Sunset Pig: A Canadian's American Road Trip With Exotic Detours
, and Kite Strings of the Southern Cross: A Woman's Travel Odyssey, shortlisted for the Thomas Cook Travel Book Award, and silver medal winner of ForeWord Magazine's Travel Book of the Year. See: www.lauriegough.com and her blog: www.travelwritinglife.com
All photos are by Laurie Gough.