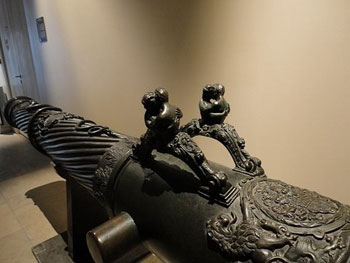 by Rosrin Wuithiran
When one thinks of Paris, the Notre Dame, the Eiffel Tower, and the Louvre come to mind. Of course, these are gorgeous, amazing locales that tourists should make the effort to visit. Within these popular locales and in other places are quirky and notable things to see and appreciate. Luckily, you don't have to travel to obscure areas of the city to find them.
St. Denis Statue
If you have a limited amount of time in Paris and must skip some attractions, don't pass up on Notre Dame. You'll have an opportunity to visit a peculiar statue along with a certain hotel (see below). On the left of Notre Dame's entrance, a row statues of saints stand above you. One is headless and holding his head in his arms. This is St. Denis, the Patron Saint of the possessed, frenzy, and rabies (along with being the Patron Saint of Paris). He was martyred in 250 A.D. and after his execution, was claimed to have carried his severed head for six miles preaching all the way.
The Hotel Dieu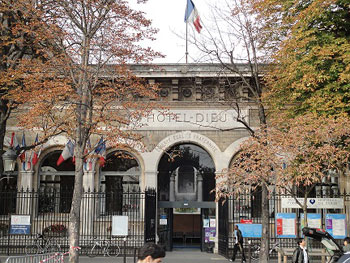 When we went to Notre Dame, I was delighted to find the Hotel Dieu next door. Why? This was one of the first hospitals built in Europe, in 622 AD. I assumed not many travelers knew it was a hospital and passed by thinking it was a hotel. (It says, "Hotel Dieu" at the entrance and is decorated with international flags.) The present building was not the one from 622 AD, as that original one was burned down in the 1700s. The one we see today was built in 1822. Why is it still called a hotel? In French, it translates to Hostel of God. The first European hospitals during the Middle Ages were managed by the clergy. Their purpose initially was not to treat the sick but to serve as lodging to travelers.
The folks who may have known it was a hospital may have perceived it as an ordinary hospital from the outside. So what makes the hospital so special besides its age? For a public hospital, it is absolutely gorgeous inside. Imagine being a patient and looking into the interior to marvel its architecture to cheer yourself up. Luckily, you do not have to be sick or fake an injury to enter the hospital. Just walk inside as a tourist and explain to the front lobby receptionist you want to go into the gardens behind her. (I pointed to my camera and then to the gardens, and she understood.) The gardens are more recent as they were created in the 1970s. Looking at its intricate design, I thought, am I really inside a hospital? Hanging on the walls surrounding the gardens are sketches and illustrations depicting historical events at the hospital, such as Napoleon III's visit. As the epitome of modern and history meeting together, we found a statue of an Avatar creature at the far end of the gardens. We presumed it was a gift to the hospital, and that they decided to let it reside in natural surroundings (as representative of the film's supported theme).
The National Army Museum/Napoleon's Tomb: Kissing Couples and Child Armor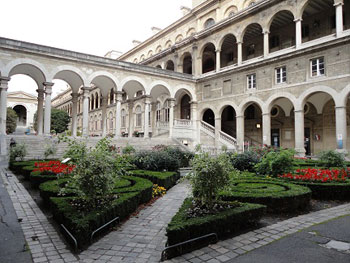 This military museum houses historical artifacts of armour, artillery, and various weapons through French history. Napoleon's Tomb is situated at one end where you have to leave the museum building to walk to the building's tomb. We were certainly not military experts nor were we that interested in the museum (as we had planned on just going to Napoleon's Tomb at the end of the tour), but a couple of amusing gems popped up here. We saw hundreds of knit armor and noticed some really small ones that would fit a child. Did children have to participate in the wars as well? Child labor laws did only appear recently in time! After passing by several cannons on our way to the tomb, we found a cannon with figures of two pairs of kissing couples [TOP PHOTO]. We could not find any history panels to explain its origin. Did the cannon makers have a sense of humor to make love and not war?
Musee de Rodin: A Room for the Mistress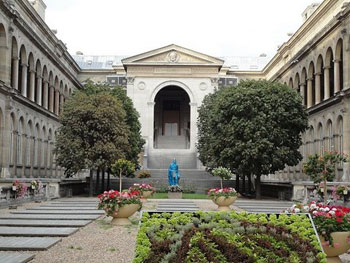 The Rodin Museum houses the famed sculptor's best works; he requested the government to establish a museum for his artwork. But what you might have known is that Rodin's mistress, sculptor Camille Claudel, also has a collection here. Rodin and Claudel had a fiery on-and-off relationship; she once accused him of stealing her sculpting ideas. After Rodin left her to return to Rose Beuret, his longtime companion and mother of his son, Claudel spiraled into mental illness, living in a mental institution the last years of her life. Rodin, perhaps having a soft heart and appreciating her talents, requested Claudel's works to be showcased in his museum.
The Hermaphrodite of the Louvre
Hundreds of passers-by probably have not noticed the resting Hermaphrodite statue situated near an exit at the Louvre. Why? If you had not known about the statue, you could have glanced at its curved backside and side cleavage, thought it was lovely, and walked out of the Greek statues exhibit without realizing the surprise. The statue's maleness is facing the wall in a corner. In our guided tour, we were rushed out so quickly that everyone just walked on by. Except myself of course, who made the effort to walk around the statue for the amusement.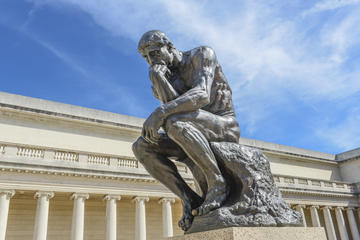 Private Tour: Les Invalides, Napoleon, and Musée Rodin Walking Tour
If You Go:
September is ideal, the weather is cooler, but you can still catch some sunnier days. Beware the walking distances; what looks close on a map is in reality several miles apart.
If you do a guided tour of the Louvre, be aware that they may just hit the highlights in a given number of hours. For us, it was only two hours. It has been said it takes a total of three days to see everything! While seeing the major works is delightful, you may have to go on your own pace without a tour for the other works. Or find a negotiable tour where you follow the guide but then go off on your own after the end of the guided tour. Also, utilize your time wisely; the Louvre is closed on Mondays as of autumn of 2011. The Hermaphrodite statue is at the end of the Greek room near the exit staircase (the Venus de Milo is at the opposite end of the room). Check out www.louvre.fr.
The Military Museum is next door to the Rodin Museum. If you exit from Napoleon's Tomb, go left on the street, Boulevard Des Invalides, and then turn right on Rue de Varenne to get to the entrance around the block. See www.invalides.org and www.musee-rodin.fr.
About the author:
Rosrin Wuithiran is a freelance writer from Texas. She has traveled to Thailand, London, Macau, Paris, and many U.S.cities. She has written pieces about San Jose and Phoenix for other travel magazines. Her writing portfolio is at www.roswriting.webs.com.
Photographs:
All photos are by Rosrin Wuithiran.