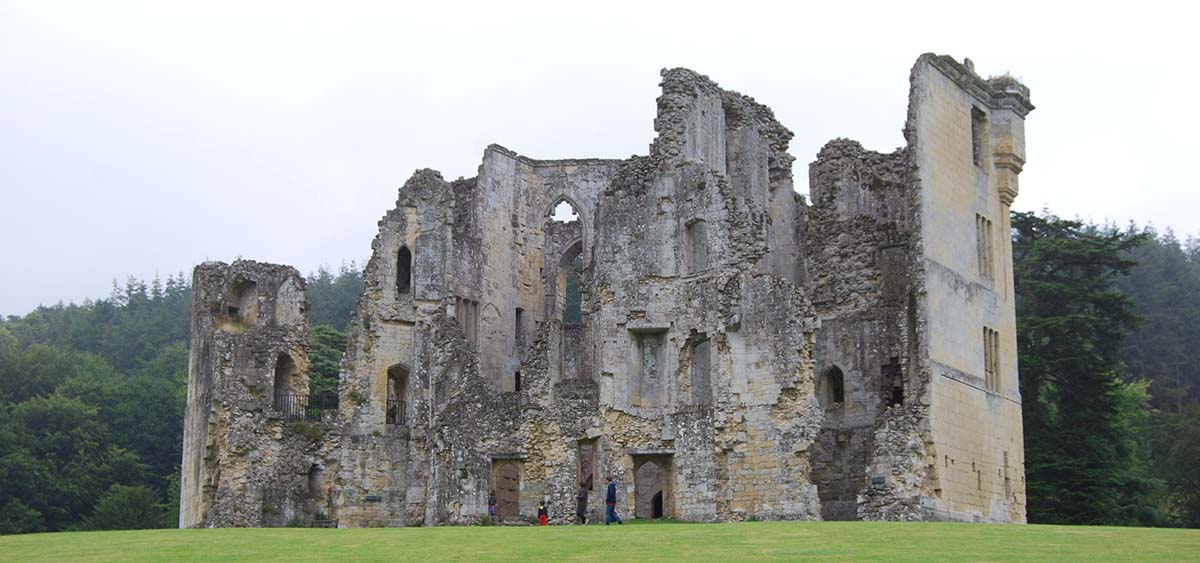 by Keith Kellett
You'll probably recognise Old Wardour Castle from the film Robin Hood: Prince of Thieves. According to the film, it's just outside Carcassonne, to which Robin journeyed by way of Hadrian's Wall. In actual fact, though, it's near Tisbury, in Wiltshire, and is only reached by way of a tortuous country road.
The castle was first built in the 1390s, when John, Lord Lovell bought a parcel of land, and received, from King Richard II a 'licence to crenellate' … that is, permission to build a castle.
The design was different, for, by this time, castles were not only defensive works, but visible demonstrations of the wealth and influence of their occupants … and Lord Lovell was wealthy and influential. His design was based on the hexagonal castles frequently seen on the Continent; indeed, it's the only castle of a hexagonal plan in England.
 Unfortunately for the Lovell family, they backed the wrong side in the Wars of the Roses, and the castle was forfeited to the Crown in 1461, and changed hands several times before being bought by Sir Thomas Arundell in 1544. Sir Thomas, a Roman Catholic, was accused of treason, and executed in 1552. The castle was once more confiscated, but was bought back by Sir Thomas' son, Sir Matthew Arundell, in 1570.
The castle remained in the hands of the Arundells, who were elevated to the peerage, until the Civil War. The family were still staunch Roman Catholics, so they were loyal to the Royalist cause. So, the castle was besieged by Parliamentarian forces, and, in the absence of Thomas, Lord Arundell, a garrison of only 25 men, led by Thomas'; wife, the formidable Lady Blanche Arundell, held out for six days against a besieging force of about 1300.
Eventually, Lady Blanche surrendered, and, shortly afterwards, Thomas died of wounds received at the Battle of Stratton. His son Henry, the 3rd Baron, decided he wanted his castle back, and laid siege to the place once more. The Royalists laid explosive charges underneath the castle, and it's believed that the defendants were on the point of surrender when told of the mere threat of these. What happened next isn't clear, but it's believed they were accidentally set off by the defenders, destroying the castle wall, and leading to the eventual surrender of the Parliamentarian forces.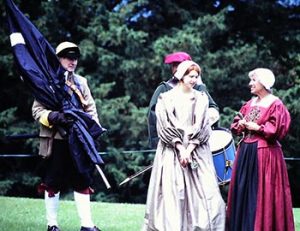 Some years ago, I went to a series of re-enactments of these two sieges by the 'Old Wardour Garrison', and managed to get some pictures. But, of course, the damage to the walls had already been done, over 350 years before. The castle was, however, partly rebuilt and made habitable, but, in 1776, the Arundells built New Wardour nearby. The fashion of the day was to have a 'folly' in your grounds, to add some drama and romance to the landscape. Some landowners would have a replica of a ruined castle built for them, but a 'real' old castle in your garden would definitely put you one-up on your neighbours! Here they would often hold outdoor balls, picnics and other celebrations.
You can still do that today; you can even get married there. Or, you can just wander around the grounds, and admire the architecture, and absorb the history of the place.
If You Go:
Old Wardour Castle is in the custodianship of English Heritage. It's open daily, betweenа10 a.m. and 6 p.m. It's located 3.5 miles SW of Tisbury, just off the A30 road. If you bring a car, parking is free, but there is very limited parking space.
Entry is £5 for an adult; concessions for senior citizens, children or families. English Heritage members free. Visitors from abroad can buy the Overseas Visitors Pass; see http://www.english-heritage.org.uk/visit/overseas-visitors for details.
If you don't have a car, your journey there will be only slightly less arduous than Robin Hood's.  You can take a bus from Salisbury to Tisbury (Service no. 26 to Shaftesbury) www.salisburyreds.co.uk or the train from Salisbury to Tisbury www.southwesttrains.co.uk
If you don't fancy a 3.5 mile walk to the castle, there are several taxi firms in Tisbury.
About the author:
Keith Kellett writes about, and photographs food and drink, beer, old cars, railways, beer, steam engines, historical re-enactments, bygones, beer, gardens, travel, beer and brewing, nature and the outdoors and beer. Sometimes, he gets published; sometimes, he even gets paid! He operates a blog travelrat.wordpress.com and is presently trying to get his head around video and podcasting. His work frequently appears on the Web, as well as in British and American magazines, and English language magazines in Japan, Greece, Germany and Egypt.
Photos by Keith Kellett