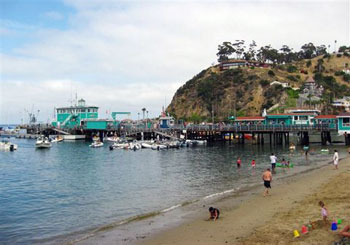 by Gregg LaLiberte
If you have ever wanted to visit an island off the coast of California, and Hawaii is just too far (and perhaps not in the budget), Santa Catalina Island is an ideal second choice.
Discovered in 1542 by Portuguese explorer Juan Rodgriguez Cabrillo, who named it San Salvador, it was renamed 60 years later by Spaniard Sebastian Vizcaino for Saint Catherine, and Santa Catalina it remains. It has been in private ownership several times in its history. Originally the home of the Tongva Indians, who lived off the abundant fish and seal reserves, it was occupied by a wide group of Europeans and private owners in the last several hundred years before being taken over by a succession of American entrepreneurs, all of whom had dreams of developing the island. None succeeded.
The most famous recent owner was William Wrigley, the chewing gum magnate, who bought a controlling share in the island in 1919. He brought the Chicago Cubs, the baseball team he owned, to Catalina for spring training every year from 1921 to 1951. The estate he built to overlook the sea and the harbor of Avalon is still owned by his family.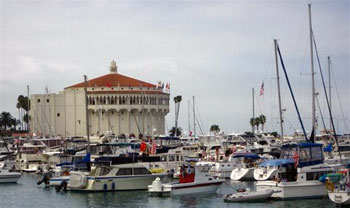 The island is now operated by the Santa Catalina Conservancy. The county of Los Angeles provides administration, including firefighters (who are barged over from the mainland when needed; the local force is voluntary), and police (which are hardly required, according to locals, because crime on the island is seldom a problem due to the lack of escape routes).
A very popular vacation spot in the summer months, Catalina is 22 miles off the coast and is accessible by three ferry systems operating from five Southern California towns: Long Beach, Dana Point, Marina del Rey, San Pedro and Newport Beach. For those in a rush to cut the travel time from 75 minutes to 20, a helicopter service leaves from Long Beach and San Pedro. If you do opt for the chopper ride, you will miss a very enjoyable trip on the ferry, which affords a great view of the Long Beach skyline as well as the Queen Mary – the ocean liner that was purchased from the British in 1967. Keep a lookout for whales and dolphins, which live in the area but don't stay around long for photo ops. I caught a glimpse of a school of dolphins, but by the time I got my camera pointed in the right direction all I ended up with was a photo of disturbed waves.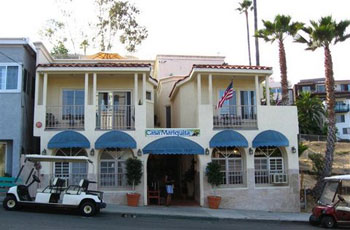 My wife and I, her sister and a friend, booked a package deal in Avalon which included a night's stay at the Casa Mariquita Hotel on Metropole Avenue and two ferry tickets from Long Beach. This saved us about $20 a couple over booking them separately. Note that when you're doing your online research to make sure the hotel has a deal with a ferry company leaving from a location convenient for you; they don't all. Long Beach is closest to Los Angeles.
Avalon, permanent population about 3,700, is the main town on the island and where most of the action is. There are taxis and golf carts to take you to your destination, but unless you're booked at one of the more exotic hotels at the far edge of town, you can walk. It took us perhaps a half-hour to get from the docks to our hotel – and that was with plenty of sightseeing along the way. We could have done it half that time without stopping.
A note on vehicular transportation: Full-size automobiles are strictly limited, so most of the locals use golf carts, although the majority seem to run on gasoline rather than electricity — which is a bit of a contradiction to California's reputation for green power.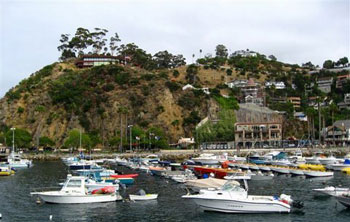 There is a good selection of hotels, as befits an island almost entirely geared to tourism. Our one-night stay at the Casa Mariquita was $175 and represented the lower to mid level what you might expect to pay. It was entirely satisfactory. There is no dining room, but walking to any of the many eateries down the street just adds to the experience.
Remember that Catalina Island is mainly a spring through fall destination. If you're brave enough to go in the winter you can find some attractive discounts. But check – not all hotels stay open.
There is the usual assortment of gift shops and restaurants on Pebbly Beach Road, the main drag which runs along the ocean front and separates the beach from the town proper. A number of side streets run up the mountainside, the first few blocks of which have stores and restaurants. Anything beyond that is housing for the locals who work in the area. (If you're thinking Avalon would be a great place to live, bear in mind that a two-bedroom cottage will cost you in the neighborhood of a half-million bucks.)
A wide assortment of tours are available. You can see the town of Avalon, the entire island, or go on a semi-submersible for a good look at what goes on under the sea. There are several tour operators. We took one of Avalon and the surrounding area that was well worth the $22 plus tax as we learned things that we never would have by ourselves, and brought us high above the town for spectacular views of the harbour. That price also included admission to the Museum, which saved us $5.00 each.
Our tour finished off at the Casino, built in 1929 by William Wrigley and is a splendid example of art deco architecture. By far the most recognizable landmark on the island, it is a ballroom, movie theatre and museum – but a casino only in the original sense of the Italian word: a meeting place. There isn't a slot machine to be found.
The museum was hosting an exhibit on Marilyn Monroe while we were there. The then Norma Jean spent the first year of her married life on Catalina Island while her husband, Jim Dougherty, was training for the Merchant Marine in 1943. Forensic detective work, largely based on her letters home, suggest that the newlyweds lived in an apartment on Metropole Avenue, but it can't be proven conclusively – another twist to the Marilyn legend.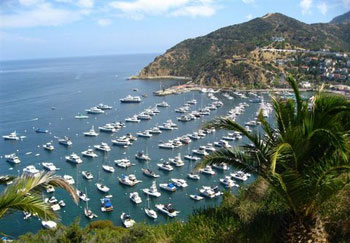 Past the Casino, past the Tuna Club (the oldest sport fishing club in North America, founded 1898), the path continues to wind along the rocky ocean shore to what might be called a "suburb" of Avalon, Descanso Beach, which seems to cater to a younger crowd than the main town with lots of swimming, snorkeling, and kayaking. There is a large restaurant (the Descanso Beach Club) and plenty of boutiques selling beach wear and souvenirs. The area is only open during the tourist season, from mid-April to mid-October.
The inland part of the island is mountainous, dry and very sparsely inhabited. A herd of 150 wild bison roam in certain parts of the interior, the result of being brought from the mainland for a Zane Grey western movie shoot in 1924. The logistics required to get them back to their original homes was deemed not worth the time or trouble, so they got to stay on Catalina. They seem to like it. Other wildlife, both native and introduced, includes deer, antelope, wild turkey and fox.
There is a series of zip lines totaling nearly 4,000 feet (1.2 km) outside of Avalon that connects one mountain peak to another and provides stunning views of the ocean. At least I am assuming so; neither I nor any member of our party felt adventurous enough to try. If you are, make a reservation. It costs $109.00, but there are discounts available.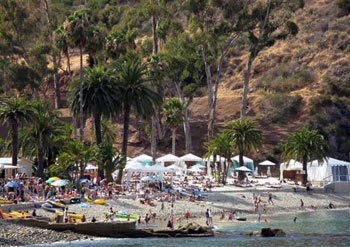 The weather in the summer is typical Southern California: Hot and sunny, low humidity, cool breezes. The locals advised us it "gets cool at night", but that meant a dip into the high teens Celsius (mid 60s Fahrenheit); what a northerner calls "refreshing".
The only other town on the island, Two Harbors, is on the far west end of the island and is home to 300 or so locals. This is where Natalie Wood died in a boating accident in 1981. (The case was recently re-opened by the Los Angeles coroner's office but re-dismissed for lack of new evidence.)
All in all, Catalina Island is a wonderful place to visit – for a weekend or longer, offering a wide variety of activities as well as a unique aspect of Southern California quite unlike any other.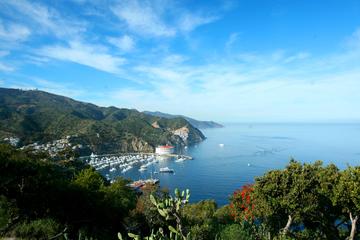 Catalina Island Day Trip from Anaheim or Los Angeles with Optional Upgrades
If You Go:
♦ Catalina Island Chamber of Commerce — www.catalinachamber.com
♦ Catalina Express ferry — www.catalinaexpress.com
♦ Catalina Island Museum — www.catalinamuseum.org
♦ The Tuna Club — www.tunaclub.com
♦ Casa Mariquita Hotel — www.casamariquitahotel.com
About the author:
Born and raised in Montreal, Gregg LaLiberte is a freelance writer and photographer now living in Pickering, Ontario with his wife Gracelyn. He has traveled throughout North America, Europe and the Caribbean and looks forward to seeing much more of the world in the days to come.
All photos are by Gregg LaLiberte.