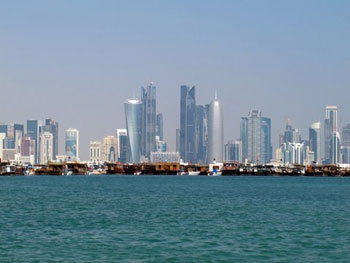 by Irene Butler
Since tales of Aladdin swept my imagination away on a magic carpet in grade school, my desire to journey through the Arabian Peninsula has not waned. Sixty years later I am to realize this dream. My husband Rick and I arrive in Qatar, the small country that jets into the Arabian Sea like a thumb off Saudi Arabia's border, to discover how this culture steeped in tradition has melded with modernity.
On our first day in the capital of Doha we jauntily begin a stroll on Al-Corniche, the eight kilometer, U-shaped avenue that hugs the shimmering turquoise Gulf waters and is dotted with date palms, flowering plants and amazing sculptures. After a few kilometres we know why we are almost alone on this promenade and the stream of vehicles on the roadway with windows rolled-up-tight against the broiling sun makes sense. Our walk is likened to a hike across the Sahara. We thirstily forge ahead to the gleaming towers of glass and steel around the bend, knowing they are not a mirage. Qatar has not escaped skyscraper building fury of the oil-rich countries. We welcome the stunning marble and glass architecture of the City Centre Doha Mall, and blissfully nestle in coffee shop armchairs with a litre of H2O and silky-smooth cappuccinos before heading back to our hotel…in an air-conditioned taxi.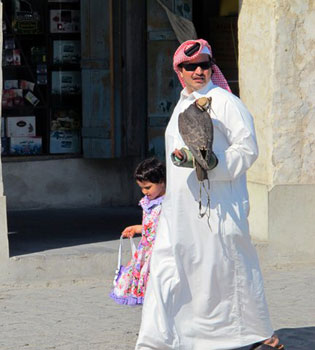 We find Souq Waqif (market) the perfect place to soak up tradition, with a bonus of both outdoor sections and those sheltered from Old Sol. Waqif has been around since the days when Bedouin nomads traded goats, sheep and wool for essential items. Restorations have not changed the maze of passageways with mud rendered walls and wood beamed ceilings. We meander past small shops piled high with spices, dates, figs, perfumes, pots, dishes, plastic everything, aquarium fishes, birds, puppies, and bunnies. A father passes with his small daughter clinging to his one hand, while in the other he carries his purchase – a falcon. The ancient art of Falconry dates back to at least the 7th century BC, and although Westerners find using these birds of prey for sport objectionable, it is prevalent in the Arab countries and the Bedu are the grand masters.
This market is frequented by those hooked on hookahs. Every restaurant and cafe is filled with customers puffing their choice of sheesha (flavoured tobacco) through bubbling water pipes. The air is opaque with the smoky bouquet of sweet apple, strawberry, rose and mint. Seeing Rick puzzle over a hookah apparatus, Hussein, a waiter at Café Tasse, invites us out back to where a dozen pipes are being made ready for patrons.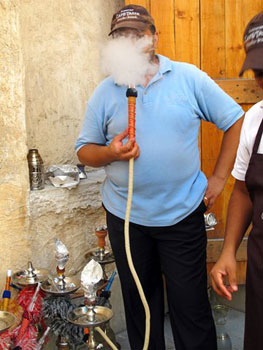 In a Sheesha 101 lesson Hussein demonstrates the basics. Billows of smoke rise into the air with each puff. Rick tries next. With my camera aimed, I wait…and wait for a billow…ahhh, at last, a pouf of smoke the size of a walnut. "Not as easy as it looks," claims Rick, as Hussein cheers, "Way to go!"
Upon checking our "must do" list for Qatar, seeing the desert landscapes and camel races are in the forefront. The dilemma – not even the tour offices have advance notice of when the camel races will be held. We are told to check the daily newspapers for race dates, or call the racing committee.
It is our new friend Jerri to the rescue! Jerri is one of the many expatriates who works in the country's oil industry. He graciously offers to drive us to the unique limestone formations known as "desert mushrooms" at Bir Zekreet, and lucky for us, the famed camel race track of Al-Shahaniya is on the way!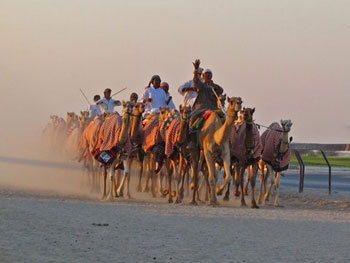 As we approach the track, my heart leaps at the sight of these ships of the desert everywhere; in compounds along the roadway, and strings of them crisscrossing the highway bringing traffic to a halt. We pull into the Al-Shahaniya complex and gleefully make our way to the track. Practicing jockeys and camels in bunches race by stirring up clouds of dust. Some of the jockeys bouncing along on an adult camel also hold the reins of a juvenile camel with no rider; no doubt a learning process for the gangly young'un.
Duly thrilled by this "sport of sheikhs", we barrel south again and make it to Bir Zekreet at sunset. The fading light casts an eerie glow over the weirdly spectacular "mushrooms", the result of winds that have whittled away the softer sedimentary rock leaving pillars below large intact tops – a geography lesson of desert formation.
We proceed still further south to the town of Dukhan, the location of a massive natural gas plant and huge compound for employees with every amenity – deluxe accommodations, shopping and restaurants. Qatar is the largest exporter of liquefied natural gas in the world. Along with crude oil and banking, the country has one of the fastest growing world economies, with an extremely high per capita income. The State of Qatar is ruled by the popular emir, Sheikh Hamad bin Khalifa al-Thani, whose family has been in power since the mid-18th century. In 2005 a cabinet and advisory council was voted in to assist in the running of Qatar, which is considered one of the most politically stable countries in the region.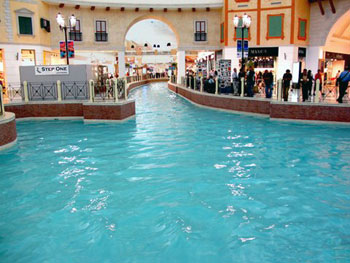 Back in Doha we see more evidence of the country's wealth in the stadiums of Sport City, built for the 2006 Asian Games, the largest ever held. At the nearby Villagio Mall Jerri says, "the extravagance must be seen to be believed". Shoppers take time for a gondola ride along the faux-Venetian canal running through the middle of the mall's ultra-wide corridors. A gigantic food court overlooks an ice rink where a hockey game is in progress; the skating finesse and puck-handling of the players aged 12 to 14 years is top-notch.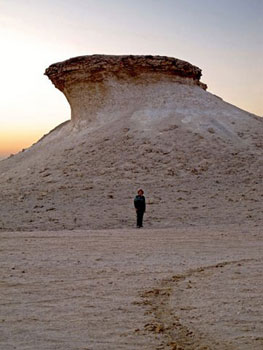 Being Friday, the first day of the Muslim weekend, the mall is wall-to-wall with congregations of family and friends. In the multi-cultural mix of a population of 900,000, 75% are expatriates from around the world employed in jobs ranging from janitors to CEOs. Qataris make up the remaining 25% and are distinguishable by their dress and apparent affluence. Rolex watches peek from the sleeves of men's impeccable white throbe (floor-length shirt-dress) as they twirl a set of prayer beads between thumb and forefinger, which may be made of pearls, jade, or gold nuggets. Their gutra (white head cloth) secured by black-tasselled head-rope called an agal looks dashing. Women's abeyyas (black robes) and hejabs (head scarves) are trimmed with gold, silver or gems; their fingers and wrists flash diamonds the size of marbles as they tote bags with purchases from top-fashion designers. Seeing a Lamborghini with gold wheel rims as we left the mall is the ultimate in excess.
Our exhilarating week in Qatar went by in a flash. I came away feeling a genie had granted my wish. The bazaar-like souqs and harsh desert terrain were everything I imagined in the Arabia of old, combined with the boom decade's dazzling skyscrapers and Disney-like malls, all warmly fused with traditional Bedouin hospitality are now fond memories.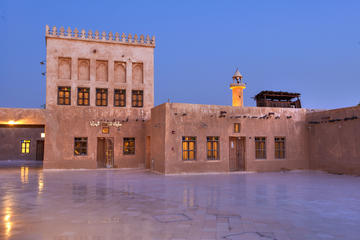 Full-day Private Qatar Desert Safari from Doha
If You Go:
Qatar – www.qatartourism.gov.qa
Visas –
Canadians can obtain a visa upon entry.
For requirements see: www.canadainternational.gc.ca/qatar/
Climate –
Summer (May to September) average day temp 35C (95F) but can surpass 50C (122F) high humidity and frequent dust storms.
Winter – pleasant temp during the day 26C (80F) with cooler evenings. Most of the 8cm (3in) of annual rainfall occurs during Dec and Jan.
Religion –
Most Qataris, like Saudi Arabians, adhere to the austere Wahhabi sect of Islam, with strict codes of conduct. Visiting women are not required to don traditional dress (as in Saudi Arabia) but men and women visitors should dress conservatively.
Air Travel to Qatar –
Best since it is difficult to get a transit visa to cross Saudi Arabia from other Arabian Peninsula countries.
www.qatarairways.com
ca.skyscanner.com
Budget hotel suggestion –
Fuda Hotel, Al Muthaf Street, Old Salata, Doha – 5 min walk to the waterfront (no direct website, but look for it on wholesale hotel sites).
About the author:
Travel writer and author, Irene Butler, along with her photographer husband Rick travel the world for 6 months of each year, and have immersed themselves in 85 countries to date. Their home base is Richmond, BC.
All photos are by Rick Butler.