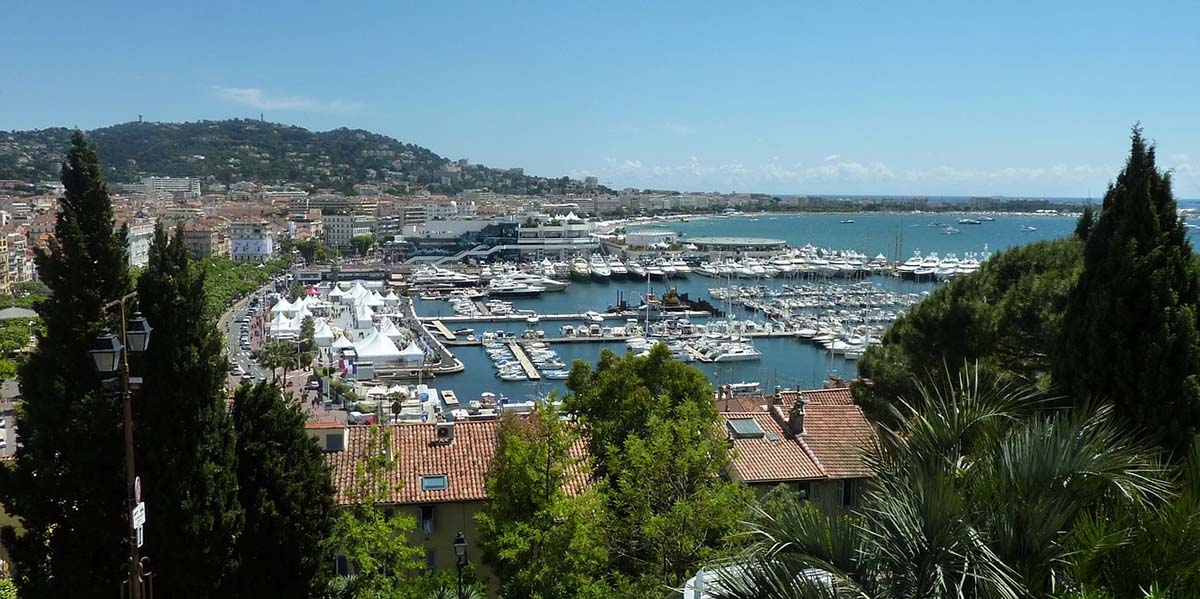 The Bus From Cannes To Grasse
by Glen Cowley
You never know when adventure will poke its nose into everyday life.
I wondered if Ferrari made buses as our sardine-packed mass of humanity rocked unsteadily within the belly of the beast that is the 600 bus. Snaking up from starry eyed Cannes to Grasse, of perfume fame, past the gourmet renowned medieval town of Mougins, the blue Mediterranean its constant backdrop, our bus was guided expertly amid hurried traffic and round curves by a driver skilled enough to dare the race roads of Monaco. For but one Euro you can fly the road and partake of the of these three unique towns, each of which have carved out its own contemporary identity while keeping one foot in the past. Or one foot on the gas for the 600.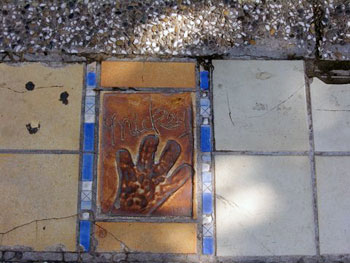 Cannes needs little introduction having achieved such film fame both Mickey Mouse and the Pink Panther themselves have left their hand prints in cement along its coastal promenade. Beach restaurants crowd the sands, taking possession of waterfront for their patrons and leaving but small tailings for the public. From the heights of its old castle can be seen the Cheshire Cat-smiling beach grinning out to sea. A sea filled with yachts to make a mariner drool and a beehive of business. Amid the watercraft run ferries to the nearby Lerin Islands, each isle staking its own claim to fame.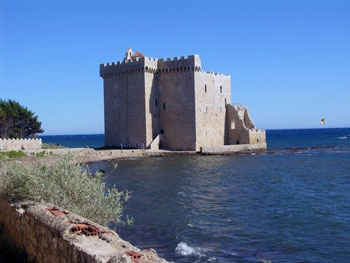 The largest, Ile Ste. Marguerite, holds the fortress, Fort Royal, and prison where the famed Man in the Iron Mask was held. Trails, museums and restaurants abound for the pleasure of tourists. We chose the smaller but no less interesting Ile St. Honorat where Cistercian monks have returned to a monastic life dating back to the 15th century. The church tower, rising high above waving palm trees, is readily visible from the coastal trail and overlooks the older remains of a fortified monastery jutting daringly into the very seas from which marauders came for plunder. The trail is dotted with chapels and legacies of war, though the contemporary peacefulness of the place makes turmoil seem so alien.
And there is the wine. These monks are into it big time. Strolling around the monastic store, of which much is dedicated to wine, I took notice of a bottle priced at only 7.60 Euros. It was a lonely bottle as I found prices climbing steadily until one going for 360 Euros emerged. And these were the ones on display!
Cannes becomes different, a regular sort of town, once you step away from its beach, promenade and hotel row. From the beach it is not far to the train station where the 600 bus begins its daunting climb into the pastoral hills.
Pulling steeply away from the station its sweeps and rolls keep any standees holding on like drunken sailors. Cannes falls away quickly.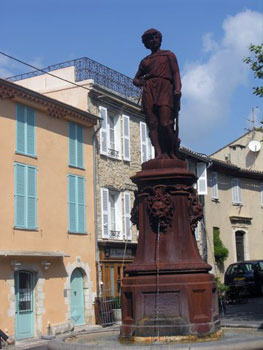 Mougins is, at first, unassuming until you learn the real medieval town is perched above the main road. It is a relatively short but steep climb to the jewel that draws tourists in their numbers. A less frequent bus travels the route if time and your patience permit. Most famed for its highly rated restaurants and the annual week-long Gourmet Festival it is equally appealing for its twisting narrow streets, plazas, galleries and studios. It appears as if the town has grown out of the hill itself as buildings rise and fall like protruding tree roots. The church bell chimed above us and echoed through the streets. Narrow lanes framed camera-ready shots. Life hums here.
The September festival is advertised heavily both locally and country wide. Everything from competitions to cooking classes with famed chefs and classes for everything associated with French cuisine. Talk about ambiance!
Daring the 600 bus further on its ever upward journey brings you to Grasse. Another Medieval town, atop its rise with a broad horizon wrapped about by the Mediterranean Sea, it abounds, even more than Mougins, with plazas, statues and, most impressively, fountains. If its restaurants are a bit more toned down and its galleries fewer it has its own unique claim to fame. It is perfume country.
Prestigious perfumeries are scattered about town and the surrounding fields are filled with the flora upon which the industry has relied since rising to prominence in the 18th century. Like Mougins it too has its festival, not surprisingly centred around perfume. The Fete du Jasmin at the beginning of August reflects the town's perfume interests and reputation. It is claimed Grasse produces fully two thirds of France's natural perfume aromas.
Tagging along with my wife and daughter I had little chance of avoiding perfumeries but more significantly the International Museum of Perfume. Even the limited range of my sniffer was awakened in this three level marvel which seemed to fit into the town like a piece from a jig saw. Everything you wanted to known about perfume is there. History, interactive aroma displays, a world of perfume containers from elegant to humorous and movies had us leaving more than two hours within its walls. When we emerged it was in another part of the town near a bronze statue of a parfumeur and a plaza with a spectacular view over the Mediterranean, incorporating Mougins and Cannes.
It was a good spot to reflect and rest tired feet. Within this view is enough to keep a visitor busied and interested for a weeks worth of touring. There remained grand churches with compelling histories, the waning days of the famed who walked these streets (Edith Piaf, Pablo Picasso), more museums, and simply exploring all the twists and turns of medieval towns.
A long line stretches between the these towns and their past as much as the twisting road and the rumbling 600 joins them in the present. Yet they all remain individual and dynamic; transforming over time and adapting as survival always requires.
And the 600? If you ever get there, enjoy the ride.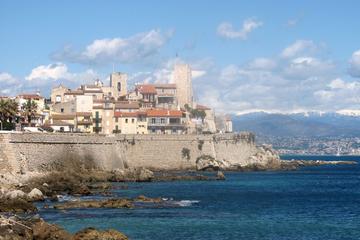 Full Day Private Guided Tour from Cannes
If You Go:
The 600 bus to Grasse departs half-hourly from the train station at Cannes which, itself, is only a short walk down to the beach. Medieval Mougins is a healthy, but worthwhile, 10 minute walk up from the 600 bus stop. The bus takes you right into old Grasse, a 40 minute trip from Cannes.
♦ www.bonjourlafrance.com – information on travel (train, car rental, bus and air) and accommodations.
♦ www.virtualtourist.com – gives reviews of experiences in varying locales.
♦ www.lonelyplanet.com – provides specific local information respecting travel, accommodations and meals.
About the author:
Since 1994 Glen Cowley has parlayed his interest in sports, travel and history into both books and articles. The author of two books on hockey and over fifty published article ( including sports, biographies and travel) he continues to explore perspectives in time and place wherever his travels take him. From the varied landscapes of British Columbia to Eastern Canada and the USA, the British Isles, Germany, Switzerland, the Netherlands, Greece and France he has found ample fodder for features.
Photo credits:
Cannes by Hermann Traub from Pixabay
All other photos are by Glen Cowley.