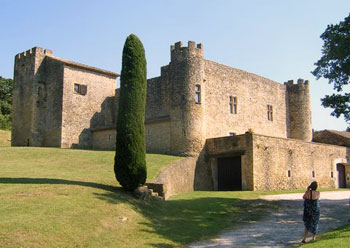 Southern France
by Chris and Rick Millikan
For many years, we dreamed of escaping to sun-drenched Provence and recently fulfill this fantasy. And our stay at Chateau de Boussargues proves the perfect 'base camp' for launching journeys back in time in southern France.
"The Romans first grew grapes here – and not long afterward, Christians built that little stone chapel in the woods," owner Olivier tells us. As we survey its surrounding estate vineyards he continues, "And in the 12th century, Templar Knights began replacing earlier fortifications with our present castle."
Crossing the bricked patio to a stone cottage, he points out aged trees, "Those Mulberry leaves fed silkworms once grown inside – and much later it became a shepherd's dwelling." Thick oak door unlocked, he shows us inside – an idyllic setting for history buffs like us.
As we wind through the Rhone Valley's iconic rolling green landscapes on a different day trip each day. Picturesque country roads carry us past countless vineyards, cypress hedged orchards, small farms and into several charming villages.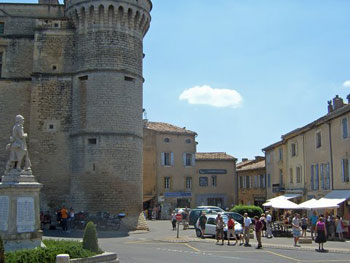 Medieval Fontaine-de-Vaucluse nestles among chalky cliffs to the east. After strolling to its renowned spring, the largest in France, we savor luscious crepes at an open-air bistro overlooking its emerald stream. From picture-perfect Gordes, a white stone village clustered atop a hilltop, we hike the rugged trail to enchanting Abbey of Sénanque, set among perfumed lavender fields and golden wheat that undulate in warm breezes. And inside walled Pernes-les-Fontaines, a self-guided walking map guides us to many of its forty treasured fountains.
Massive weathered ramparts still encircle Avignon. Passing through the main gate, we follow Rue de la Republic to feast on neoclassical architecture in Place du Horloge in the heart of old town. Then just along a narrow street in a huge nearby square we sight a golden Virgin Mary soaring above Cathedral Notre-Dame-des-Dom's elaborate angelic marble statuary. And next door, Europe's largest Gothic palace awaits us.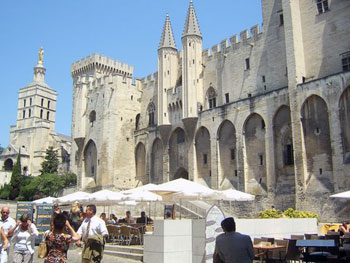 Entering the Palais des Papes through enormous portals, we meander through its arched courtyards and into halls with vaulted ceilings, huge treasury rooms and even the colossal kitchen tower. Exhibits and illustrated storyboards explain how in 1309, Pope Clement V escaped the turbulence of Rome to reside in Avignon. A subsequent pope bought Avignon from Queen Joanna I of Sicily for 80,000 gold gulden. And over a span of 68 years, this vast fortified religious fortress protected and pampered seven consecutive popes until the papacy officially returned to Rome.
A maze of now-bare rooms reflect clues to their sumptuous lifestyles: original ornate tiles floor the meditation alcove; lively frescoes of hunting scenes surround an early pope's bedchamber and compelling paintings of Christ's life remain in a small chapel. From dining hall windows, we visualize the lush, once-extensive vegetable gardens and exotic papal menagerie filling arched courtyards below. Sweeping views from the ramparts include Le Petit Palais, a restored archbishop's palace across the square featuring superb Renaissance Italian art.
Rising high above the palace, Rocher-de-Dom's rocky hilltop park offers us vibrant gardens, shady pathways and classic statuary. From those stone bluffs, we can gaze down at the once-raging Rhone River, today tamed by hydroelectric dams and sight St. Benezet Bridge aka Pont d'Avignon, the city's most celebrated monument.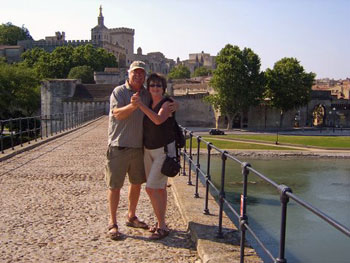 Delighting in cool breezes off the Rhone, we later approach this bridge. Humming the catchy children's song immortalizing St. Benezet's bridge, we zanily sing, "Sur le pont d'Avignon, l'on y danse, l'on y danse," over and over. Circling round and round, we dance our way across the remains of this fabled structure…to the amusement of others strolling there.
Originally 947 meters long, four meters wide with 22 wooden arches, this strategically placed bridge had attracted travelers and merchants from far and wide during the middle ages. Being the sole bridge between Lyon and the Mediterranean, both Avignon and the church prospered greatly from its heavy tolls and taxes on merchandise.
We pause at the two-story chapel precariously perched on the first of four surviving arches. Above, tiny 13th century Chapelle Saint Nicholas, devoted patron saint of Rhone bargemen; below, 12th century Chapelle Saint Benezet honouring the shepherd-saint inspired by holy voices to build 'le pont' at Avignon. According to legend, heavenly angels guided the young shepherd to Avignon. Though his proposal first provoked ridicule, he convinced wealthy supporters of the 'divine will' by lifting a huge boulder and heaving it down at the designated site. Sadly, Benezet never witnessed this miraculous project's completion in 1185.
Reaching the furthest span we survey Villeneuve-les-Avignon on the opposite riverbank, at one-time a glittering sister-city of cardinals. This charming medieval village boasts marvelous 14th century structures of its own…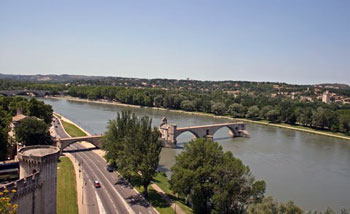 Along many others, we stream back along this angel-inspired bridge and imagine those alluring bygone days. We then thread our way down cobbled streets to other shaded plazas and discover venerable cathedrals displaying resplendent artistry including refurbished mansions serving as fine art museums. Lingering in open-air bistros over buttery croissants thick with local cheeses and pungent lattes, we contemplate the extravagances of Avignon's past glory days.
Also a World Heritage site, Arles was established as a major Roman port and also became home to impressionist artists. Following her winding, narrow streets marked with theme plaques of Antique, Medieval, Renaissance and Van Gogh routes, we discover her most prestigious monuments.
The Roman coliseum still crowns Arles' north hillside. From 90AD, 20,000 spectators sat on 34 rows of stone steps, wildly cheering chariot races…and later slaves, criminals and wild animals fighting for their lives on the wooden stage below. These days, citizens flock to this remarkable oval for summer bullfights, popular since1830.
Basking in the top tier's cooling breezes, we scan three of four towers fortifying the arena during the turbulent Middle Ages and across red-tiled rooftops sight the Roman theater, our next stop. Now an outdoor cinema and concert venue, this ancient theatre seated 10,000 patrons. Only two of many elaborately carved statues and marble columns adorning its stage remain, fondly nicknamed 'the two widows.'
A lone flautist fills nearby Place de la Republic with haunting melodies. Amid this busy square an Egyptian obelisk rises 15 meters from a fountain; the chateau-style 17th century town hall boasts a 1553 bell-tower. Most striking, Saint-Trophime Cathedral features an elaborate façade of sculpted biblical scenes, apostles, saints and two beatific angels crowning Saint-Trophime himself, the 2nd century bishop who brought Christianity to this region.
Resting on wooden pews inside, we immerse in the cool serenity. Sunlight streams through stained glass windows, splashing reds, yellows and blues onto the austere stone interior. A sweet, heavenly voice soon lures us into an adjacent courtyard outside. On a shaded stage among medieval carvings and marble columns, a young opera singer polishes stirring arias for her evening concert. Wistful notes circle these hallowed cloisters and follow us onward to Place du Forum.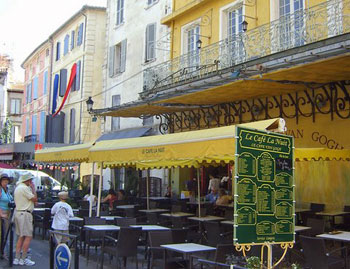 Mature plane trees shade the ancient forum, today bustling with shops, hotels and bistros, including Le Cafe la Nuit depicted by Van Gogh in Cafe Terrace at Night. The brilliant yellow walls, awnings and tablecloths recreate this acclaimed impressionist's luminous effect of shimmering evening lights. Sipping café-au-lait and munching flaky-fresh croissants there, we notice a chunk of the original Roman Forum in the façade of Nord-Pinus Hotel across the way. And just off the square, Hotel d'Arlatan incorporates thick walls from Emperor Constantine's extravagant royal residence.
Returning to our car on a quiet walkway along the Rhone, we pass the Thermae of Constantine, reminding us that the Emperor's palace had stretched far along the riverfront. His immense brick bathhouse barely hints at the opulence bathers then enjoyed.
Back at our magical lodgings, we do some lavish bathing of our own. Blissfully afloat in the castle's pool, we try to imagine what Constantine and those stern Templar Knights might think of today's luxurious world. Dining later under the stars with friends, we raise goblets filled with robust wines from the chateau's time-honored cellars and toast the wonders of Southern France.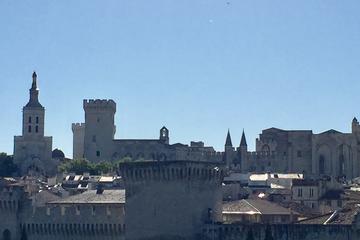 Avignon Private Tour : The Papal City
If You Go:
– For a good overview
– For car rentals
– For rail service possibilities
– For heritage villas, cottages or hotels
– For cheap flights to Paris
About the author:
much-traveled freelance writer/photographer team living near Vancouver, BC, Chris & Rick Millikan are former educators who now present the joys of travel as an inviting 'curriculum.' BC community newspapers regularly publish their travel stories…and occasionally In-flight Magazines, the Vancouver Sun and Province. Both are members in good standing of the British Columbia Association of Travel Writers (www.bctravelwriters.com). Chris is the Board's Vice President. Often reflecting zany, cultural and historic adventures, their accounts of off the beaten track adventures are featured regularly in Senior Living Magazine (www.seniorlivingmag.com) and Open Road Driver Magazine (www.openroaddriver.com) The 2009 Kalama Award acknowledges this team's array of stories reflecting the rich culture of Maui, Molokai and Lanai. As contributing writers for www.travelwriterstales.com their tales are syndicated in newspapers throughout BC.  Contact: Chris at chrsmillikan4@gmail.com & Rick at millikan@axion.net
All photographs by Rick & Chris Millikan.