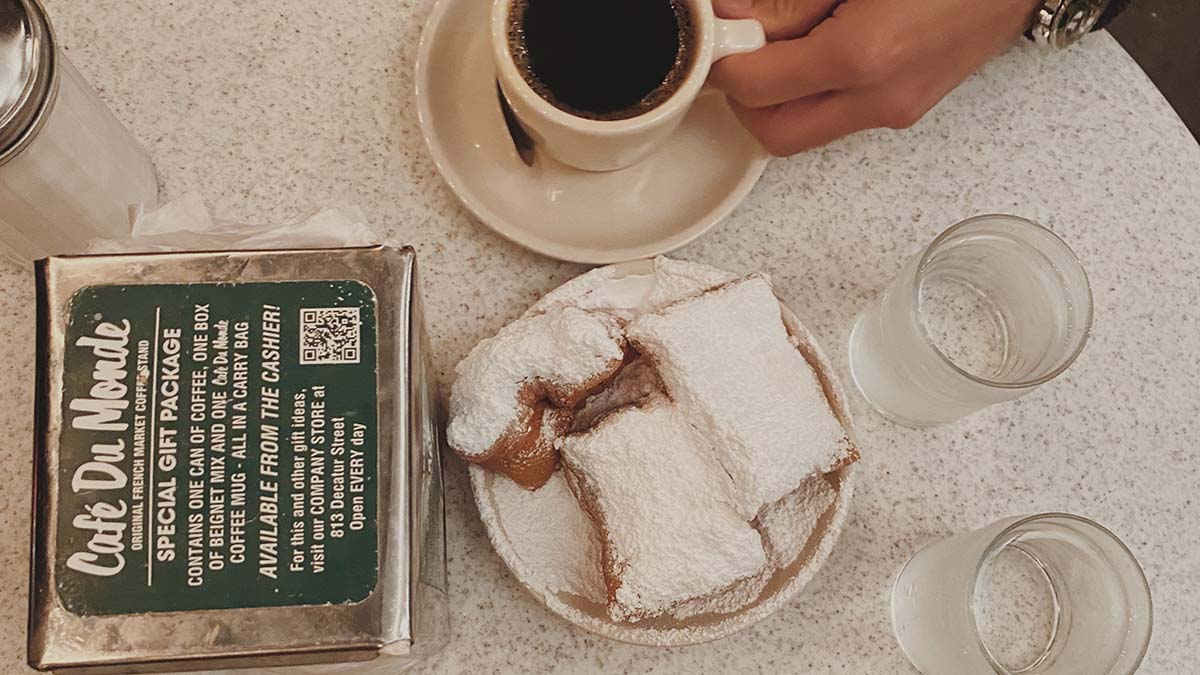 New Orleans at Mardi Gras
by Troy Herrick
Raucous New Orleans is alive and kicking all year round. However during Mardi Gras season, it is over-the-top. While Bourbon Street, jazz, voodoo, street musicians and good food are always available, the season has lengthy lulls when Mardi Gras-related activities are unavailable. How do you compensate for those down- times? You find that "extra adrenaline rush" by sampling everything that New Orleans has to offer over a single 24 hour period.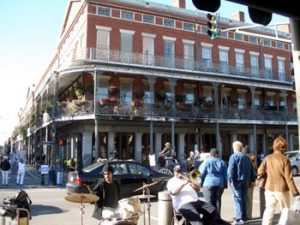 Begin your day at the Café du Monde with café au lait and beignets. Enjoy your mellow chicory-flavored coffee and French donuts at a table close to the curb so you can listen to the street jazz just outside the shop. Across the street, artists display their works on the cast iron fence with scenic Jackson Square as the backdrop.
Toss a dollar into the musicians' hat and leave for Blaine Kern's Mardi Gras World across the Mississippi River. When you arrive at the warehouse, don a Mardi Gras costume and leave the everyday world behind. No transformation is complete without a free trinket known as "a throw" however. Fortunately you receive one with your admission ticket. Throws are typically a string of beads or an aluminum coin. Your escape from reality includes another Mardi Gras tradition – King Cake and coffee. But be careful when biting into the cake because you may find a small plastic baby representing the infant Jesus.
Follow your guide through the surreal maze of fibreglass or paper maché floats and props. Approximately 520 one-of-a-kind floats are constructed on site each year as parade themes change. The Tall Tales and the Arabian Nights themes featured "Casey at the Bat" and "Ali Baba" respectively for example.
Return to the French Quarter where you can enjoy an early lunch featuring the traditional New Orleans sandwich known as the Muffuletta. This hearty sandwich, originating at the Central Grocery, is a round loaf of Italian bread stuffed full with olive salad and layers of capicola, salami, ham, Emmental and Provolone. Jackson Square provides a scenic setting for your lunch.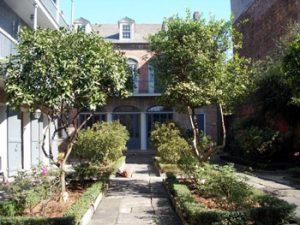 Pass your afternoon touring some of the more notable sites in the French Quarter. En route to your first stop, the Herman-Grima House, you are surrounded by two and three story houses. Each is adorned with elegantly laced cast iron balconies. Every one of these homes hides a quiet central courtyard, accessed through a carriage-way. Unfortunately most are off- limits to the public.
Visitors to the Herman-Grima house discover a courtyard garden filled with citrus trees and antique roses. This courtyard is bounded by the family residence, a stable and a functional outdoor kitchen.
Inside, the house is filled with period furnishings and accessories. The dining room features an original mahogany table laid out for dinner. Creole dinners typically lasted 4 hours and consisted of 15 courses of rich food.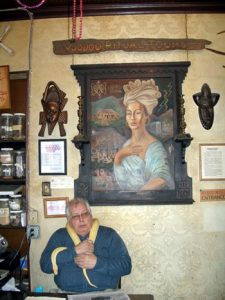 After your tour concludes, visit the nearby New Orleans Historic Voodoo Museum if you dare. Here you are greeted at the door by a portrait of Marie Laveau; the most famous and powerful voodoo priestess in New Orleans history. Marie single-handedly transformed voodoo into an integral part of early Creole culture. Voodoo arrived from Santo Domingo during the 1700s and is still practiced in New Orleans today.
The genuine voodoo paraphernalia creates an air of mystery. Displays include gris gris bags (bags blessed by a voodoo priest to grant wishes), voodoo dolls, skeletons, a live four-foot long yellow/brown snake and an altar loaded with offerings to the spirits.
A short walk from the voodoo museum, Madame John's Legacy is the only remaining French-style home in the Quarter. Two fires in 1788 and 1794 razed everything to the ground except this structure. When the Spanish governors rebuilt the Quarter, Spanish-style architecture was utilized rather than French.
Madame John's Legacy is characterized by a high double-pitched roof. Similar structures are common in Quebec and the French West Indies. The house derives its name from the book "Tite Poulette" by George W. Cable.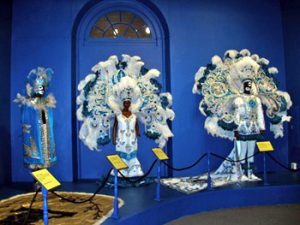 Two blocks away, the Presbytere houses the Mardi Gras Museum. This museum explores the origins of the parades, costumes and lavish society balls. The collection of Mardi Gras Indian costumes is particularly impressive. Traditionally, African Americans designed these "peacock-like" costumes over the preceding year. J. Jackson, a museum employee, lamented that "the tradition of making them is dying." Now people are buying these costumes rather than making them. Unfortunately, each costume is only worn twice before being discarded.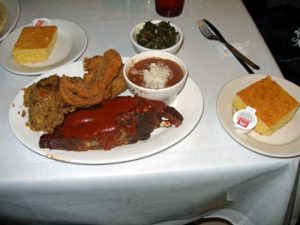 By this time, you have likely worked up quite an appetite after your walk. Now is your opportunity to taste some real down- home Cajun and Creole cuisine at the Praline Connection. This restaurant features "A Taste of Soul" Platter which gives you a nice sampling of filé gumbo, red beans and rice, jambalaya, greens, fried chicken, catfish strips and bread pudding. This meal easily satisfies two people.
After lingering over dinner, kick your evening up a notch with three hours of the city's best jazz at Preservation Hall. This dimly lit, eclectic hall has the look of a garage pre-1940. A number of worn jazz posters and pictures hang on the otherwise sparsely decorated walls, supervising the band in action. Before you request a song, check the price list on the wall. "The Saints" is the most expensive at $10. Needless to say, this joint is always filled to capacity.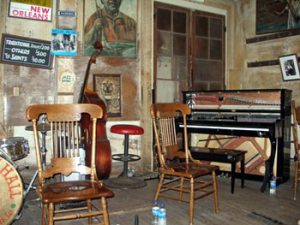 After the concert, drop in at Pat O'Brien's Bar next door for a Hurricane-to-go. This rum-based cherry drink has been a New Orleans favorite for over 60 years. Take your drink out to nearby Bourbon Street and feel the pulse of the French Quarter. You have not been to New Orleans until you have visited Bourbon Street. "Laissez Les Bon Temps Roulez" (let the good times roll) and jump into the fray.
Your evening heats up as you pass in front of the many Jazz, Blues, Rock and Cajun music halls. Greeters stand in the doorways beckoning you to enter. Step inside and check out the vibe. If the music is not to your liking, move on to the next. As you enter the street, remember to look up because someone may be tossing you "a beaded throw" from a balcony above. By the time you reach the far end of Bourbon Street, you could be wearing a dozen such necklaces.
While the party never stops on Bourbon Street, your 24- hour taste of New Orleans ends at dawn. Now all you have to do is drag yourself back to the hotel for some well-earned rest. Alternatively you can return to the Café du Monde but this time I would suggest that you order decaf.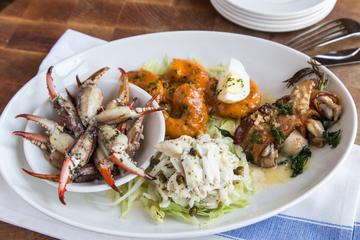 Taste of New Orleans Private Walking and Food Tour
If You Go:
Café du Monde, located at 800 Decatur St., has been open a New Orleans institution since 1862.
The Riverfront Street Car line runs right behind the Café du Monde from Esplanade Street to Canal Street. A one-day pass is $5.00.
Blaine Kern's Mardi Gras World – take the free ferry at the end of Canal Street across to Algiers. A free shuttle takes visitors back and forth from Mardi Gras World every 15 minute. Admission was $17.50 per person at the time of my visit. www.mardigrasworld.com
Central Grocery is located at 923 Decatur St.
Find a sightseeing map of the French Quarter at frenchquarter.com
Hermann-Grima House is located at 820 St. Louis St. – admission is $5. www.hgghh.org
The New Orleans Historic Voodoo Museum is at 724 Dumaine Street. Admission is $7.
Madame John's Legacy is located at 632 Dumaine St. Admission is free.
The Mardi Gras Museum in the Presbytere is at 751 Chartres St. just to the right of St. Louis Cathedral. Admission was $6 per person. There is a 10% discount with your AAA/CAA card.
The Praline Connection is found in the Faubourg Marigny subdivision just beyond the French Quarter at 542 Frenchmen St. www.pralineconnection.com. To get there from the French Quarter, board the Riverfront Street Car and travel to Esplanade Avenue. Walk up Frenchmen Street into the Faubourg Marigny neighbourhood.
Preservation Hall is found at 726 St. Peter Street in the French Quarter. Admission is $10 per person. Arrive early to line up for seating. www.pralineconnection.com
Pat O'Brien's Bar is located at 718 St. Peter Street.
About the author:
Troy Herrick, a freelance travel writer, has traveled extensively in North America, the Caribbean, Europe and parts of South America. His articles have appeared in Live Life Travel, International Living, Offbeat Travel and Travels Thru History Magazines. He also penned the travel planning e-book entitled "Turn Your Dream Vacation into Reality: A Game Plan for Seeing the World the Way You Want to See It" – based on his own travel experiences over the years. Plan your vacation at his "Budget Travel Store" www.thebudgettravelstore.com and his "PlanADreamTrip.com" www.plan-a-dream-trip.com sites.
Photo Credits:
Cafe du Monde by Chelsea Audibert on Unsplash
All other photographs are by Diane Gagnon, freelance photographer.