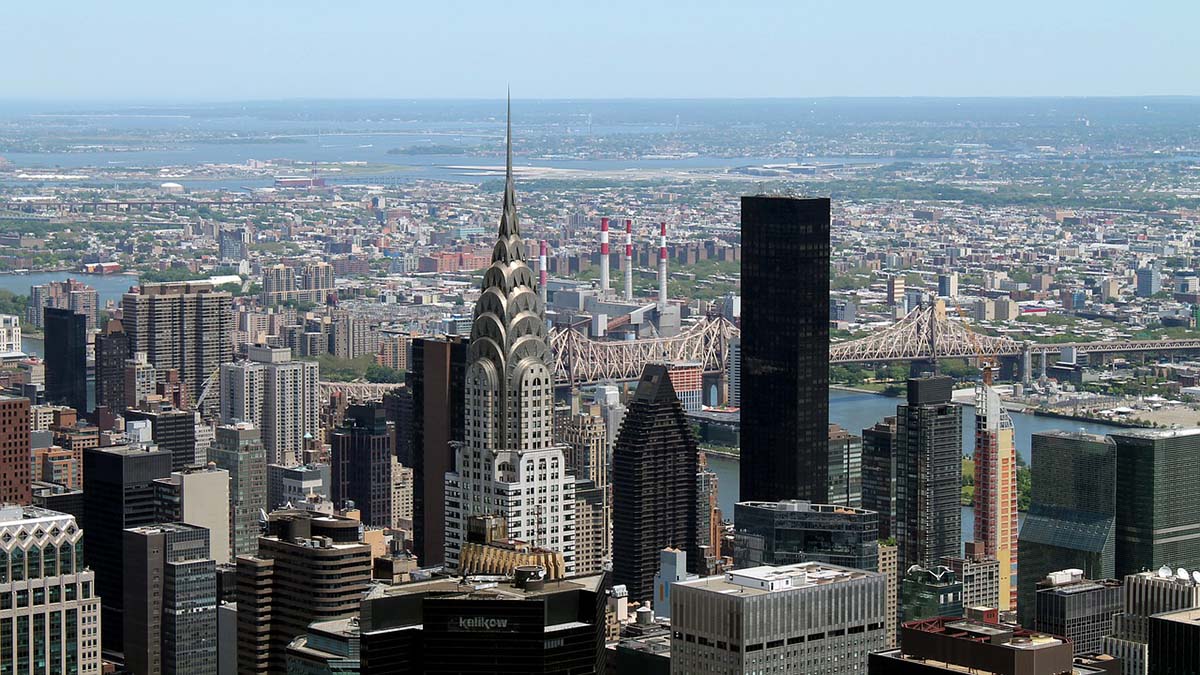 Making the most out a short stay in New York City
by W. Ruth Kozak
There's plenty to see in Manhattan, so when you only have a few days like my friend and I did, plan ahead exactly what your priorities are. Our main focus was to see a Broadway show, check out the museums, and take in a night of jazz at one of NYC's famous jazz clubs. In four days we did all this and much more. Having a hotel right in the mid-town core is a help. Our hotel, the Park Central, was located right across from Carnegie Hall, a short distance from Times Square.
There's almost a carnival atmosphere in Times Square, known as "The Crossroads of the World", where the ball drops every New Year's Eve. A misty rain was falling as we set off from the hotel but the weather didn't dampen our enthusiasm as we made our way through the crowds gawking at the sights.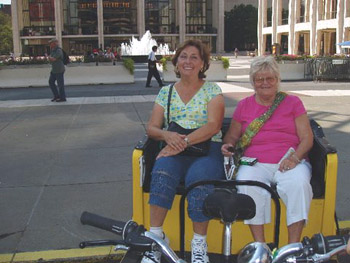 From the buzz of glitzy Times Square to the quiet shaded paths of Central Park, there are a thousand and more delights to be enjoyed in NYC and a lot of them are free. You can walk, ride the subway or even take a pedicab. Either way you'll be agog with the sights and sounds.
The architecture in Manhattan is amazing. From the shiny glass skyscrapers to the Gothic revival spires or St. Patrick's Cathedral, the Beaux Arts of Grand Central Station and the Art deco of the Chrysler Building, New York has an abundance of architectural treasures.
This wasn't my first visit to the Big Apple. Back in 1968, the eve of Woodstock, I stayed with a friend in the West Village and wandered about freely irregardless of my friend's warnings that I shouldn't do so. On my return in the mid '70's we drove around the city with car doors locked, and didn't dare venture into Central Park which was deemed too dangerous. This time things were different. I couldn't help but notice the changes said to have come about because of ex-mayor Giuliani's program to clean up the place, but also since the tragedy of 9/11. The famous NY aggressiveness seemed tempered, people were kinder and patiently gave directions when we got lost. Manhattan looked cleaner with an absence of ugly graffiti. And for a city known for it's homelessness, poverty and crime we only saw one old man spare-changing on the street and not once did we feel threatened, even when strolling through Central Park.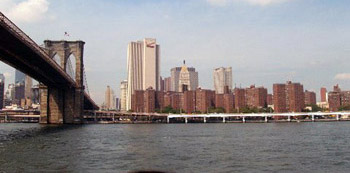 A visit to Greenwich Village was like a homecoming for me. The Village has always been a symbol of NYC's bohemian artistic, literary and theater history. Nowadays it has become more upscale with trendy boutiques and antique shops. We strolled the quiet tree-shaded streets, stopped for a pint of Guinness at the White Horse Tavern where Dylan Thomas met his demise, and peeked into Chumley's, once the hangout of writers such as John Steinbeck and F. Scott Fitzgerald. Then we took in a show at The Village Vanguard, a cozy basement venue made famous by jazz musicians such as John Coltrane.
You don't have to spend a fortune for meals in NY. There are plenty of delis and fast-foods as well as pleasant dining rooms with reasonably priced menus. We chose the Benash deli for breakfasts and noshed on bagels and cream cheese. One night we dined on lobster at the Oyster Bar, a full course meal with wine for only $30.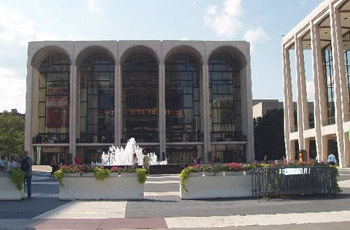 On a visit to the Museum of Modern Art (MoMA) we enjoyed the serenity of the sculpture garden, which displays bronze-cast work by Picasso, Henri Matisse and Henry Moore.
Located Uptown, the Guggenheim, is only a short subway trip away. Designed by Frank Lloyd Wright, it's famous for it's unique snail-like architecture as well its permanent collections which include Jackson Pollack and Picasso.
From there we strolled through Central Park enjoying the quiet, shaded paths. At the National History Museum we wandered through galleries of immense dinosaur skeletons and displays of exotic animals and were treated to an unexpected trip to the stars at the Hayden Planetarium.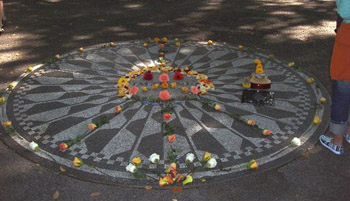 Back at Central Park a pedicab driver offered to tour us around the area for $50. He took us to Strawberry Fields (left), the John Lennon memorial and across the street to the Dakota Apartments (below), to show us the exact spot where Lennon was murdered. Yoko Ono still lives in the Dakota which has been the home to many famous actors and musicians such as Marilyn Munroe and Leonard Bernstein. It is said that Boris Karloff's ghost haunts the hallways.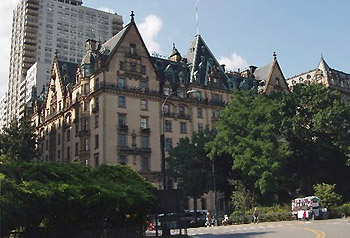 Riding a pedicab through NY's mid-town traffic is a thrill in itself. We stopped to view the Met and cycled past the Lincoln Center and Columbus Circle all the way to Times Square where were picked up tickets for that night's show.
There's no trouble obtaining reduced-price tickets for the Broadway shows if you're willing to stand in line. There's a variety of choices and prices. We chose "Mama Mia" because our pedicab driver recommended it and said we'd come out singing and dancing, and we did. Mama mia, what a day! After the show we treated ourselves to a slice of to-die-for cheesecake at Lindy's, famous for this specialty.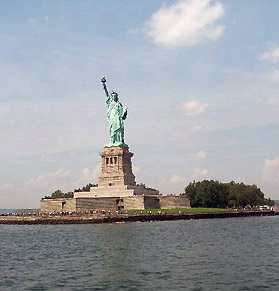 As our time was short, we took a Circle Line cruise around Manhattan Island, a pleasant three hour trip. The view from the water gives a magnificent perspective of the city skyline. The little boat chugs along the shore of the Upper Bay, past the Statue of Liberty and Ellis Island where immigrants used to land.
The cruise guide pointed out the exact location of where the World Trade Center once stood, now a wide void, a chilling reminder of the tragedy of 9/11. We sailed under all of Manhattan's famous bridges and past the shipyards and the splendid glass buildings of the U.N. When the cruise ends, if you're interested in U.S. sea/air history, the aircraft carrier USS Intrepid is docked alongside Pier 86 and is open as a museum.
It was our last day in in New York and we'd managed to see and do everything we had planned. It was only a little nibble of the big Apple, but enough of a taste that made us want to go back for more.
If You Go:
MIDTOWN
MoMA, The Museum of Modern Art: 11 W. 53rd St. www.moma.org
Circle Line Sightseeing Cruises: www.circleline.com Subway to Pier 83: A,C, or E to 42ns St.
DOWNTOWN
Greenwich Village: Take the A,C, or E train to 8th Ave. and 14th St. at the Village's north border. Head south to Bleeker Street and turn left along Bleeker for a good view of the neighbourhood.
Chumley's: 86 Bedford (between Bleeker St and Seventh Ave S) Ex-speakeasy, inexpensive beer and burgers.
White Horse Tavern: 567 Hudson St. at 11th St. Once a writer's bar where Dylan Thomas drank 7 shots of whiskey, stepped outside and died.
The Village Vanguard: 178thSt. near 11th St.
UPTOWN
American Museum of Natural History: Central Park W. at 79th St. Open daily. www.amnh.org.
The Guggenheim Museum: 1071 Fifth Ave. at 88th St. www.guggenheim.org
New York City Tours:
Sex and the City TV Show Hotspots
Best of the Metropolitan Museum – 2 Hour Tour
Top of The Rock Ticket and New York Sights Day Tour
About the author:
W. Ruth Kozak has been a historical fiction writer since her teens and a travel journalist for more than 15 years. She also instructs classes on travel writing, creative and novel writing and memoirs.
Her website is www.ruthkozak.com
Photo credits:
First New York skyline photo by RJA1988 from Pixabay
All other photos are by W. Ruth Kozak