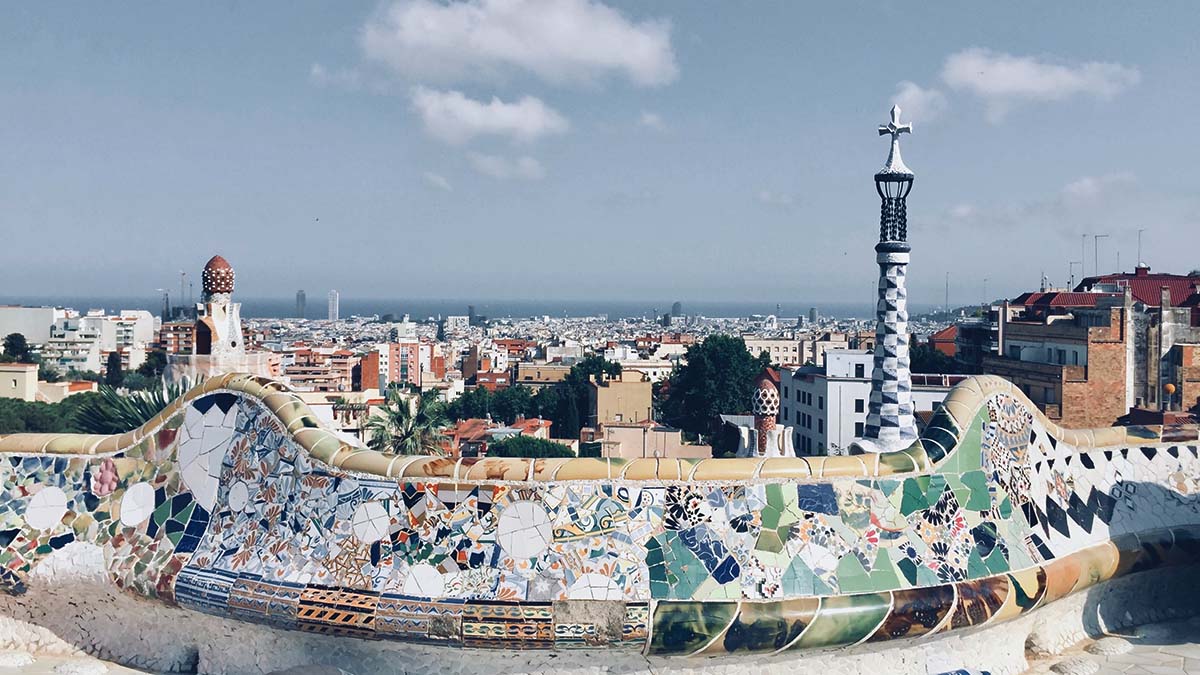 by Jessica Peter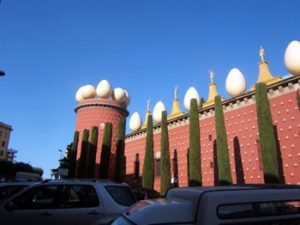 A house with a dragon's back. Lantern-lit trees with eerie faces. Turrets made of giant eggs. It may sound like a fairy tale kingdom, but it all actually exists in Catalonia. Catalonia, an autonomous area within Northwest Spain, suffered historical oppression of the Catalan culture and language. Perhaps because of this, its people have developed a contrary nature that may be what led to a heightened sense of whimsy and imagination. The seemingly unreal certainly abounds in the capital city of Barcelona and surrounding communities.
A taste of the surreal life of Barcelona starts on Las Ramblas, a broad, pedestrianized, palm tree-lined street that leads up from the harbour. Between tourists, locals, and pickpockets (watch your valuables!) are dozens of "living statues". Unlike shabby attempts in other tourist hot spots, these living statues are so impressive that you'd be hard-pressed to catch them move – until you put a coin in a hat and the show begins. The variety changes daily. During my rambling down Las Ramblas, I saw "statues" of everyone from Carmen Miranda to the Angel of Death to a robotic Michael Jackson.
The souvenir booths lining Las Ramblas give away to huts filled with squawks and chirps. Welcome to "The Rambla of the Little Birds," where you can choose a little bird or a small pet of your own. The bizarre shines through in the pet choices: my personal favourites were chipmunks, chicks – they may seem cute, but they turn into chickens – and one very angry chinchilla.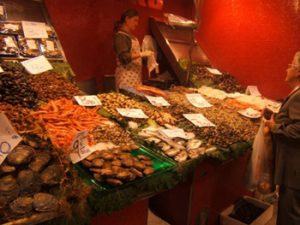 La Boqueria market is a sensory onslaught of colours, smells, excitement, and seafood just off Las Ramblas. Drop in for a snack: try fresh pressed exotic juices, savory bites from one of the renowned tapas bars within the market, or a glass of sangria. I chose a sangria at one of the bars and was told by the non-English speaking patron, "Fort, fort." Holding up two fingers, he tapped the glass, and made a spiral gesture beside his head with two fingers.
"Two make me crazy?" I muttered to myself. I sipped "Oh! It's strong!"
Watch your sangrias: they aren't the fruit juices mixed with a bit of wine I'm used to. This one tasted suspiciously like alcohol mixed with alcohol. Plus a lime slice. Certainly fort.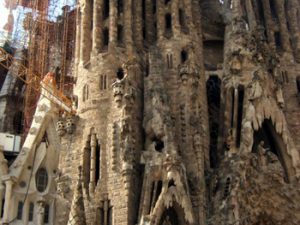 Antoni Gaudí is one of Barcelona's most visible figures, despite the fact that he's been dead for over eighty years. The Gaudí architecture that dots the city is generally referred to as 'modernist', but it's modernist to the extreme. La Sagrada Familia, the famous – and famously unfinished – cathedral is his greatest work. It appears to be made of melting pudding, and the distinctive spindly towers stand out.
Construction is publicly funded, so your entrance fee goes a long way. But don't expect to see much inside: it won't be completed until at least 2026. Gaudí's other great Barcelona works include Parc Güell with sea serpents and gingerbread-like houses, and the housing complexes Casa Milà and Casa Batlló. One complex has twining metal seaweed balconies and a roof of waves and strange protrusions. The other is decorated with bones and mosaics, and has a curved, scaly, dragon-esque roof. The modernista gift shop below Casa Milà has great items for fans of the unique or unusual.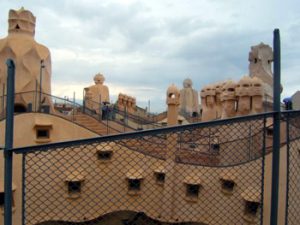 If you want surrealism to continue through the drinking hours, visit El Bosc de Les Fades ("The Forest of the Fairies"). It's in the old horror section of the wax museum on Las Ramblas, and some wax figures remain. The walkway to the bar goes through a creepy castle and an abandoned mine before it makes it to the forest. Trees with faces are hung with lanterns while toadstools serve as seating. Every so often there's an indoor, water-free thunderstorm that lights up the fairies' wood.
To truly see surreal Catalonia, the art can't be missed. Joan Miró's paintings with punchy colours and strange images are based on his fierce Catalan pride. Visit the paintings and other artistic works at the Fundació Joan Miró.
Despite rarely being categorized as "surrealism," nor as Catalan, the works of Pablo Picasso are often surreal in a literal sense. One of the best collections of his work can also be found in Barcelona, at the Museu Picasso.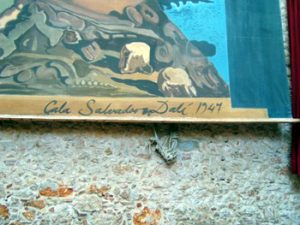 Undeniably, the most famous surrealist is Salvador Dalí. Though he loved to shock the upper-crust while living in Barcelona and Paris, he called Figueres home for the first and last years of his life. Do a Dalí dally northward (just an hour and a half by RENFE train) to get to the charming Catalan town which houses the Teatre-Museu Dalí. The old theatre is now a striking red building with giant egg turrets. Dalí's own crypt in the centre is surrounded by an odd circular route that tracks his works – follow the route or do not follow it; whichever surrealism dictates to you. There are paintings, sculptures, art installations (including the famous Mae West room), and even Dalí's bedroom set with his dramatic snake bed. A visit to the Dalí Jewel's exhibit next door is also worth the additional ticket price.
It may or may not be the culture of Catalonia that brings the dream world to life, but something there seems to be a source of inspiration for great dreamers. Their productions can be a source of great delight for the traveller.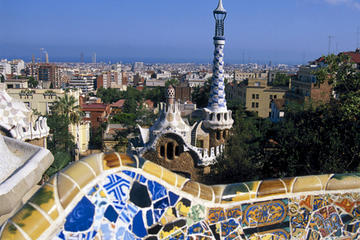 Skip the Line: Best of Barcelona Private Tour including Sagrada Familia
If You Go:
Useful Websites:
Catelonia: www.world66.com/europe/spain/catalonia
Barcelona: www.aboutbarcelona.com
Barcelona: www.barcelona-tourist-guide.com/museums-in-barcelona.html
Barcelona: www.bcn.es/english/ihome.htm
Antoni Gaudi: www.gaudiclub.com/ingles/I_VIDA/i_menu.html
Antoni Gaudi:www.red2000.com/spain/barcelona/gaudi/html
Joan Miro: www.e-fineart.com/biography/miro_bio.html
Joan Miro: www.guggenheimcollection.org/site/artist_bio_109.html
About the author:
Jessica Peter has deep-seated obsessions with writing, crafting, and travel. Some of her favorite travel experiences include watching busking bands, searching out street art, and sampling local food. On her "Bucket List" is travel, pretty much everywhere. Her Blog: jessdoesstuff.blogspot.com
Photo credits:
First Barcelona photo by Vitor Monteiro on Unsplash
All other photos are by Jessica Peter