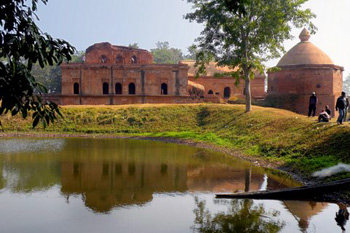 by Tom Koppel
What a separate world. Entering the sprawling ancient monastery barefoot through a roofed gatehouse, our group of four strolls past low buildings surrounded by bananas, beans and other crops. In a large prayer hall, altars depict Hindu deities, such as Garuda, a winged bearer of Vishnu. Monks chant and bow their heads to the ground. The smell of incense wafts from small lamps. Off to the side, on prayer mats, sit attentive boys who have lived here only a few years.
Later, an older monk, swathed in elegant white cotton, beckons us into his tiny apartment and offers us tasty rice cakes. The place is, well, decidedly monkish: simple and tidy with a plank bed platform, a barebones kitchen, and few personal belongings. Out back is a cow shed and a hand water pump. Devotees commit to a life of celibacy and dedication to prayer and frugal hard work, combined with joyous chanting and celebration. The youngest go to school outside the monastery. Others work on extensive farmlands or make marketable crafts. One monk sells us a beautiful fan woven from bamboo and grass.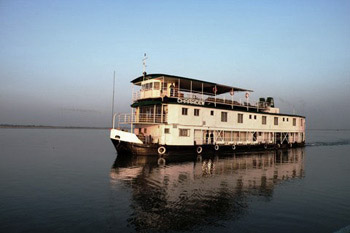 This monastery, founded in the 17th century, is among some 25 on Majuli Island, a long stretch of land in the broad Brahmaputra River in India's remote northeastern state of Assam. It is home to 350 monks of the Vaishnivite sect, known for its commitment to social equality and brotherhood among differing castes and tribes. Our visit is one of the memorable shore excursions that my wife Annie and I enjoy during a 10-day small-ship cruise along a mighty stream that discharges more water than the Mississippi.
Arriving by air at Dibrugarh, we are transferred by SUV to the deluxe 12-cabin Charaidew (www.wlcvacations.com). The ship's previous and subsequent cruises were heavily booked. But by a quirky alignment of the planets, we are joined by only one other passenger, Ayesha, a delightful and internationally travelled business woman from New Delhi. Accompanied by our guide Udit, this makes for intimate side trips where we do not have to feel intrusive. After five days, Ayesha's segment of the cruise ends, leaving Annie and me to ourselves, like billionaires, on a 38 metre yacht with a crew of 20. We savour fine Assamese cuisine, with somewhat milder spicing than most Indian food. There is local fish, duck and other fowl, even freshly caught river prawns as well as delicious flatbreads.
One of the subcontinent's least-visited regions, Assam has great ethnic and cultural diversity. Joined to the rest of India by a narrow neck of land, its majority population is racially and historically closely linked to Burma. Several minority tribes derive from migrations out of the Himalayas to the north. Assam was founded in the 13 th century when the Ahom kings arrived from the Burma-China border area. Adopting Hinduism, they successfully resisted the islamic Mughal invaders, who conquered so much of India. One side trip is to an ornate Ahom royal sports pavillion and the ruins of an enormous palace.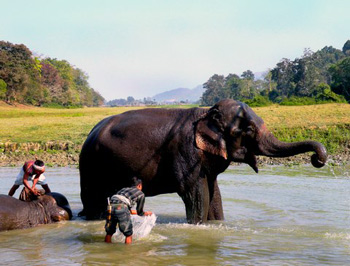 We settle into a leisurely shipboard pace, gliding smoothly downstream with the current between scoured low shores and barren sand islands, miles-long stretches of fine silt deposits that give the water a milky look. The geography often resembles a moonscape, made all the stranger and more alien by the mists and morning fogs of the winter season.
The flow of life along the river is mesmerizing. People fish from small wooden boats and live in clusters of huts that will be abandoned when the summer monsoon floods begin. At one of the sandbar islands, which exist only during winter, nomadic Moslem men come alongside to chat with the crew. They tend hundreds of water buffalo, which they force to swim out to the island for a few months when there is grass for grazing. They milk the buffalo daily and sell the milk to nearby villages.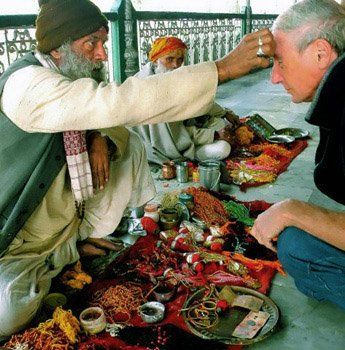 Others eke out a living by harvesting swamp grass for thatch or animal fodder. Or by working under contract to the government river authority, building and repairing long, low structures made of woven bamboo and affixed to pilings in the shallows. These divert the river's flow and create a deeper navigable channel. Like the seasonal fisherfolk, they live in crude, temporary encampments on the bleak sandbars.
Our daily shore trips reveal that Assam is relatively prosperous. It has oil and gas and an extremely fertile agricultural base that is enhanced by the annual flooding of the Brahmaputra. There are countless small home fish ponds, for personal consumption and for sale on the roadside. Udit's own family has a new one that produced 25 kg of fish in its first year, with larger future harvests expected. Many Assamese think no day is complete without eating fish, and gifts of fish are traditional when families arrange marriages. We see very few beggars.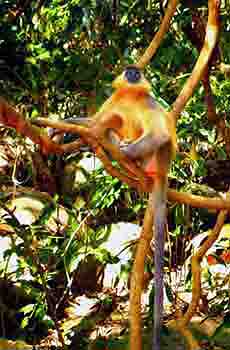 In the courtyard of a temple devoted to Shiva, I kneel to receive the blessings of a holy man, who puts the red spot on my forehead and ties a coloured string around one wrist. We follow as devotees enter the dimly lit inner sanctum with offerings of food, money or marigold flowers. They chant a mantra as a priest blesses them with splashes of holy water.
A short walk takes us into a village of the Mishing, a people of Tibetan-Bhutanese descent and the largest of Assam's tribal groups,. Although most now follow Hinduism, many Mishing also retain traditional animist religious beliefs, revering the sun as their mother and the moon as their father. Several dozen bamboo and thatch houses perch high atop stout posts. Underneath, the women have looms for weaving vibrant cotton cloth. It is a holiday. School is out, so a gaggle of friendly kids follows us everywhere. We can hear the village men laughing upstairs in a communal building, where they are drinking rice wine. Piglets root around. Chickens strut and peck. Young boys wield slingshots to chase away thieving monkeys. Villagers invite us to climb wooden ladders and enter their homes, which are unbelievably spartan. And yet, there are signs of affluence, such as a few well-maintained motorcycles. There is no electricity, but many have cell phones and little solar panels to charge them.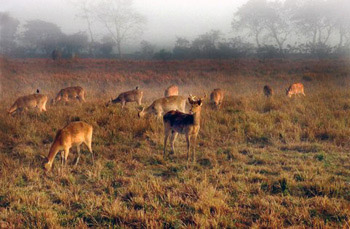 An economic mainstay is tea cultivation, Assam's most notable export. We see extensive plantations, row on row of the little shrubs, and enjoy lunch at a magnificent tea estate owned by the same family for more than a century. Another specialty is silk production and weaving. In the courtyard of a cottage-industry workshop, three women squat on the ground. One turns a crank, while the others, with dexterous fingers, coax filaments of naturally golden, and exceptionally rare, muga silk off silkworm cocoons that float in a pot of water. The resulting thread is then used by highly skilled weavers at hand-and-foot operated looms to create gorgeous fabrics with intricate patterns. Mahatma Gandhi once said that Assamese women "weave dreams in muga silk." The prices for shawls and tailored garments are embarrassingly modest.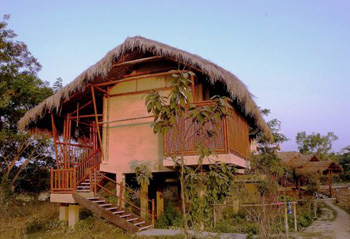 Two half-day excursions into rugged Kaziranga National Park offer some of the world's richest and most rewarding wildlife-viewing. We ride on the back of an elephant to get up close and personal with some of the park's 2000 huge one-horned rhinos, as well as water buffalo and swamp deer. We bounce along jungle trails in an open jeep to train our binoculars and cameras on ospreys, eagles and storks. Agile langur monkeys leap through vast banyan trees festooned with orchids, while mynah birds flit about.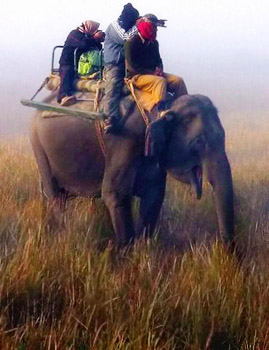 The river is so shallow that Charaidew runs aground repeatedly. A government navigation boat leads us through the sinuous and shifting main channel. On one grounding, however, we hit so hard that a rudder is damaged and will need to be removed and repaired in a shipyard. With apologies, our voyage must be cut short.
In compensation, we are offered two extra days in the Kaziranga park at a luxurious 12-cottage wildlife lodge owned by the same company that operates Charaidew. It is more than fair. The meals are excellent and the spacious cottages luxurious. We take additional safaris on elephant back and by jeep. Evenings, we return to the comfort of the lodge, on a small river where animals come down to drink right opposite our thatched abode.
The experiences are magical. A young water buffalo calf is nuzzled by its hulking mother. There are scratch marks on acacia trees, where Bengal tigers, seldom seen, have sharpened their claws. We hike through a rubber plantation and a village of the local Karbi tribe in a forest full of green parakeets. We explore the nearby farmlands of Bangladeshi immigrant rice growers. In early morning, we hear the call to prayer from their mosque.
After each safari, the elephant keepers bathe and brush their beasts in the river. The great pachyderms spray themselves and wallow in extravagant pleasure. An amazing sight to behold.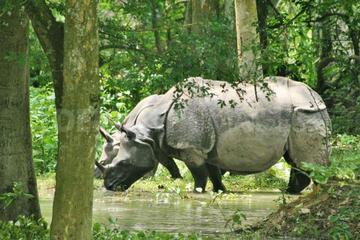 6-Day Tour of Exotic Northeast India: Mawsmai Caves, Double Decker Living Root Bridge and Kaziranga National Park
If You Go:
Charaidew cruises the Brahmaputra from October through April. Her sister ship Sukapha cruises the Ganges and Hugli rivers from July through April. The Diphlu River Lodge offers fine accommodations and guided wildlife-viewing in Kaziranga National Park. For details, see: www.wlcvacations.com
About the author:
Tom Koppel's latest book is Mystery Islands: Discovering the Ancient Pacific. It is available in Canada from Black Sheep Books, www.blacksheepbooks.ca, in the USA at Amazon.com
or directly from koppel@saltspring.com (signed and dedicated)
All photos are by Annie Palovcik.