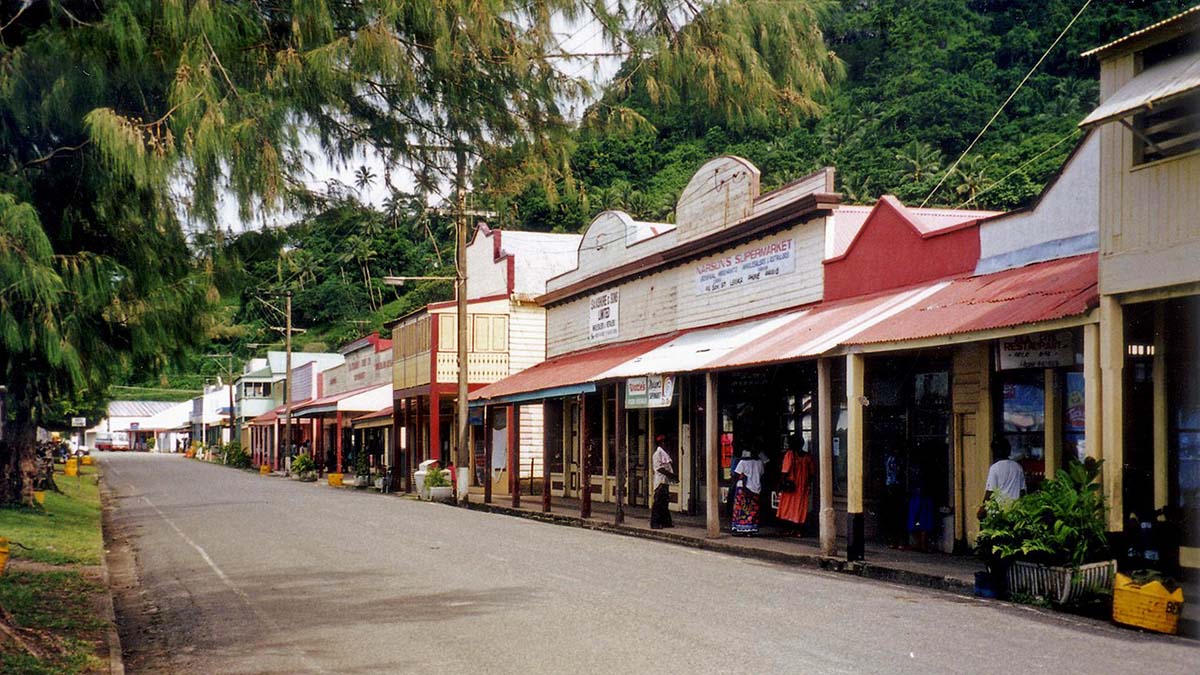 by Chris Millikan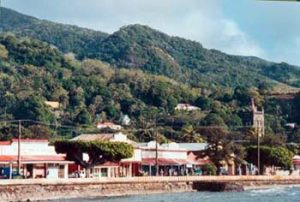 With her extraordinary past still harkening to the 1800s, Levuka snuggles on Ovalau Island's eastern side, just ten air-minutes off Fiji's mainland. Once the South Pacific's lawless 'black birding' center and popular with sailors, whalers and sandalwood traders, Levuka is easily Fiji's most picturesque town today. There, a former Lord Mayor guided my hubby and I through history in this little heritage town.
Entering the Royal Hotel snapped us into another era. Exotic blossoms cascaded from antique vases on little tables. Polished hardwood floors, grainy vintage photos, high ceilings, lazily whirling fans and a century-old billiard table conjured up bygone days. In the sunroom filled with comfy rattan furniture we met our guide, George.
"Swashbuckling privateer Bully Hayes used to stay here," George began. "And slave auctions took place over in front of the hotel. Sea captains liked the rooms facing the harbour, not for the spectacular views, but to keep an eye on their ships," he grinned. I visualized Rudyard Kipling or Robert Louis Stevenson boarding here during their own South Seas escapades.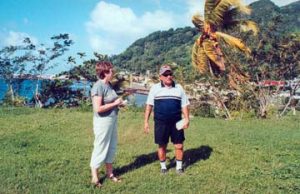 At the seafront, his tale continued. "Cakobau left his fortress island, landing about here. The chief declared himself Fiji's King and built his first village nearby at Nasau Park." Sighting a stark white war memorial atop Niukaube Hill, George pointed, "Later Cakobau's courts and parliament covered that entire hill overlooking the wild north end of town."
Getting a facelift for its centennial celebrations, the stone Church of the Holy Redeemer stood open. Above the immense island-carved mahogany altar inside, intricate stained glass windows memorialized the earliest residents. We chatted with exuberant young school children dressed in pink and white uniforms peeking curiously around heavy wooden doors.
Farther on at Levuka Fijian Village, George recalled, "Way before Cakobau, this was home to the first chief to befriend early settlers. Tui Levuka developed a wide reputation for generous hospitality, prevailing to this day in the islands." We delighted in one sailor's story. "In 1828, David Whippy was dispatched ashore to investigate the cured sea cucumber supplies popular in Asian markets…but nobody ever came back for him. Stranded, Whippy married a local wife and developed a shipyard that survived until the 1990's."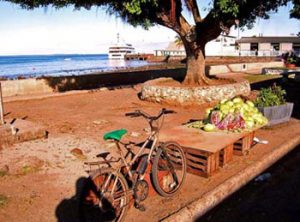 Next to a trickling creek, we entered a humble Methodist Church (1869) where Cakabau had worshipped. "Abandoning warlord ways and cannibal practices, he adopted Christianity about 1864," George reported. "Until then, Methodist missions in the islands were fairly unsuccessful."
In an adjacent cemetery, we gazed at a few old settler headstones. "J.B. Williams was an American agent in Fiji," George stated. "When his luxury home burned down during July 4th celebrations in 1849, he accused Fijians of theft, claiming compensation from Cakabau… a debt that haunted the King for many years. Embarrassed, he eventually ceded Fiji to Queen Victoria, making Levuka our first capital."
Oldest in Fiji, timeworn Navoka Methodist Church remains near the 199 steps leading up Mission Hill. Nestling along the hillside, beautifully preserved colonial homes enjoy turquoise sea-views.
A block away, we passed sun-bleached government offices, courthouse and weather beaten police station. Beside a winding creek, Levuka Public School provided Fiji's first formal education, schooling the elite for a shilling a week, six pence for additional children. Not so long ago, George taught there himself.
Across a nearby bridge, we stopped in at Fiji's oldest social club. You can still talk about old times over a cold drink, even if you're not a member at the Ovalau Club. Originally celebrating Queen Victoria's silver jubilee, Town Hall has housed council offices ever since. Burned down during a coup attempt in 2000, the Masonic Lodge a stone skeleton next door.
Coral-stone Marist Convent School sprawled dazzling white against a backdrop of emerald mountains. Once a girl's boarding school, these days it provides co-ed day classes. Across the lane, an unexpectedly dramatic stone tower fronts the painted wooden Sacred Heart Catholic Church (1858). Its French clock, one of 12 worldwide, still gongs village time every hour. The town's only neon sign, an unexpected green cross beckons to ships at sea.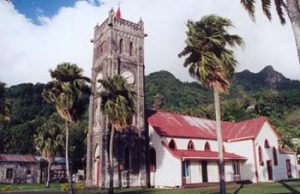 Our walk ended at Morris Hedstrom trading store. Built by local families in 1868, it now encloses the community center, library and museum. In the museum, artifacts explaining local culture fascinated us: marvelous seashells, a remarkable sitar, period photos, elaborately carved war clubs, decorated cannibal forks and whale-tooth hair ornaments worn by chiefs.
Here we found a clever machine that once punched pearly buttons from shells. Vintage printing presses first published the still thriving Fiji Times in Levuka, chronicling turmoil, unrest, and violence, "every shed a grog shop." Robert Philip wrote in 1872: "Roguery and scheming at every hand… and no government to enforce laws or clean up the brawling settlement." Colonial rule soon subdued the lawless town after Fiji ceded to Queen Victoria in 1874, commemorated nowadays by three stones at the Cession Site on the edge of town. There in 1970, Charles the Prince of Wales granted Fijian independence.
George bid us adieu outside immense copra warehouses from the 1930's. A small drinking fountain there marks the first 'airmail' service at Pigeon Post. "In those days, carrier pigeons took only 30 minutes to Suva. Then, the mail seemed much more reliable!" Chuckling, he shuffled off. Shaded by spreading trees alive with raucous bird choruses, we ambled back along the 100 year old seawall built by Royal Engineers.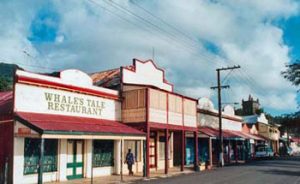 Wearing beautiful floral sulus and carrying string bags stuffed with local vegetables, women merrily called out, "Bula! Bula!" Colourful shop fronts lined the quiet main street, the painted weatherboard and coral-rock buildings evoking frontier tales. It was easy to imagine early shops, boarding houses and the 52 bawdy saloons once sprawling along Beach Street and up adjoining lanes.
With no fast food, no glitz, no glamour, this sleepy frontier town definitely moves at a slower pace. Fanned by gentle trade winds, we sipped fresh mango juice on the old-time verandah back at the hotel. Exuberant magpies heralded another dazzling sunset. Though Levuka's wild days have long gone, her alluring past lives on.
If You Go:
Blue Lagoon Cruises – Boutique island hopping journeys exploring Fiji's turquoise lagoons and palm fringed white beaches.
Fiji Tours Now Available:
Authethic Fijian Day Cruise – Best day you will have in Fiji – Guaranteed
Ultimate Snorkel with Sharks Encounter in Fiji
Scenic Helicopter Flight Over the Fiji Islands
About the author:
A much-traveled freelance writer/photographer living near Vancouver BC, Chris Millikan is a former teacher and elementary school administrator now presenting the joys of travel as an inviting 'curriculum.' Many B.C. community newspapers regularly publish her stories. In-flight Magazines, the Vancouver Sun and Province occasionally feature her articles. As Vice President of the BC Association of Travel Writers, she supports her colleagues' aspirations. Traveling off the beaten track with writer/photographer partner and hubby Rick, their accounts in several publications reflect zany, cultural and historic adventures. The 2009 Kalama Award acknowledges this team's array of stories reflecting the rich culture of Maui, Molokai and Lanai. Contact her at: millikan@ axion.net
Photo credits:
First Beach Street Levuka photo by Merbabu (Merbabu) / CC BY-SA
All other photos are by Chris Millikan.