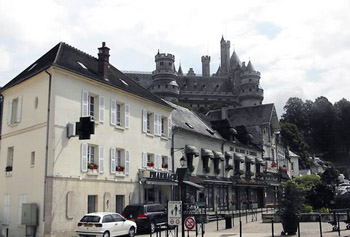 Valois, France
by Pamela Cranshaw
"Wow. Look at that!" My husband's awe-struck voice cut short my catnap.
I opened my eyes. We were driving in the old province of Valois, France. Ahead was a shimmering castle with pot-bellied turrets that crowned a lush meandering coppice. Pierrefonds castle fringes the 35,800-acre forest of Compiègne, where deer and wild boar romp beneath budding canopies of oak, elm and beach trees. With such rich pickings is it any wonder that these springy-floored footpaths, roads and hills rising to hundreds of feet, were once the favorite hunting ground of emperors and kings?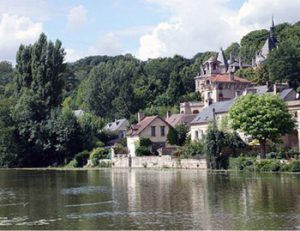 The Disney doppelganger was lost on our ten-year-old. Carly was awe-struck by the yellow, white and blue pedalos and swan-shaped boats that bobbed on the silvery stretch of water that had been formed by the river Bernes.
As we drove down an avenue of deftly woven beech trees, past pristine façades with striking blue shutters- I wondered how the town of Pierrefonds, famed for its thermal sulphurous waters looked in 1832. At that time, the castle, twice destroyed by kings, had provided a seductive wedding setting for Leopold, first King of the Belgians to Louis Philippe's daughter Louise. Interestingly, their daughter was named after Leopold's first wife. And if Princess Charlotte Augusta of Wales had lived, she would have been crowned Queen of England in 1830.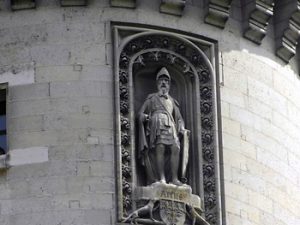 In 1848, the fortress was declared a national monument. Luckily for castle buffs like us, a decade later, Napoleon III, acting on advice from Prosper Mérimée (inspector of the Monuments Historiques) decided to breathe life into the stronghold. This prompted French realist Jean-Baptiste-Camille Corot to rework his 1830s painting, The Ruins of the Château of Pierrefonds. Corot, believed to be the most forged of all painters, repainted his masterpiece in a softer, misty-edged style hoping Napoleon would purchase the picture. But instead of becoming part of Pierrefonds objets d'art, it commands a much wider viewing – in the Cincinnati Art Museum.
In an air heady with blossom we parked in the castle's foothold. Weaving past street café's and a sweet-smelling patisserie, we turned into the street named after the famous French writer and self-taught architect, Viollet-le-Duc. Eugène-Emmanuel Viollet-le-Duc was noted for designing and supervising the restorations of Notre Dame Paris, the walled city of Carcassonne, the church of Vézelay, and captivating the cathedrals of Lâon.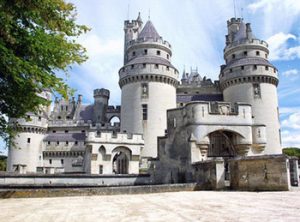 In the castle gardens, a little train jam-packed with eager tourists tooted merrily. As birds fluttered from ancient oaks, we ambled over to the steep stone parapets. The beautiful view here knocked the socks off the famous dramatist and historical novelist Alexandre Dumas and is mentioned in several of his works. Exterior scenes of the priest's residence and Bastille prison for the movie, Man in the Iron Mask, were shot at Pierrefonds.
As I crossed the wooden drawbridge, beneath the statue of St George slaying the dragon, I remembered reading that in its heyday this site employed 300 men. Construction began in 1858, but was abandoned after 26 years without the interior ever being completed. At the cost of five million gold francs, (4 million was siphoned from the civil list) is it any wonder that critics called it "romantic madness?" But it compelled the besotted King of Prussia to restore Haut-Koenigsbourg. And Louis of Bavaria dreamed of Neuschwanstein after visiting the white stone castle.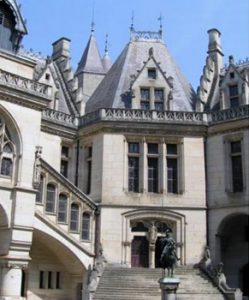 In the little ticket office, the English language guide books are a godsend because tours were for those more fluent in French. And the free navigation pamphlet was as futile as the cannonballs lodged firmly in its walls. Yet they are a reminder of Pierrefonds brutal past. For here, on the site of the original château which Nivelon de Pierrefonds built, King Charles VI younger brother Louis, nurtured a dream. Far from just a simple desire, the Duke of Orleans planned several imposing strongholds 10 kms apart, including La Ferté-Milon, a stunning hilltop castle that was never completed. These strategically placed strongholds formed a vast military area menacing Paris. So peeved were his family, that his assassination in Paris in 1407 was on the orders of his cousin, Jean Sans Peur.
Louie's battle-clad effigy sculptured by the leading animal sculptor, Emmanuel Frémiet, overlooks the cobbled courtyard. The golden Joan of Arc outside Place des Pyramides in Paris, and Mont-Saint-Michel's crowning glory, the archangel topped spire, are among Frémiet's extraordinary and often amusing sculptures. Saint Michel's dragon-slaying double fronts this castle's chapel, and in the chapel's portal is a statue of the great castle builder, Viollet-le-Duc.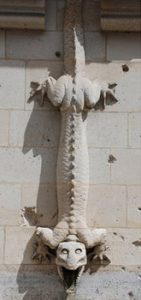 We were debating his Pilgrim to Saint James of Compostella's garb, when the French guide shepherded his flock of tourists over to the courtyard well. Plans inside the well show that the castle forms an irregular quadrangle, guarded by eight defensive towers, one in each corner, plus additional ones in each centre wall. Each tower bears the name of a legendry hero or courageous knight. Powerful politician and war hero, Julius Caesar, stands guard at the gatehouse.
My husband picked up the camera and focused on the fifteen foot salamander-shaped guttering, before we crossed the sunlit courtyard to venture into the unfinished guest wing. We barely noticed the seashell fossils in a stair tread because the bulky, black, stair-topping beast sent your stress levels zipping through the belfry. Cain's winged lion, cupid on Amiens Cathedral, gargoyles of Notre-Dame-De-Paris, the weather vane lion on Arras belfry, were among the magnificent lead and copper objects on display. The huge, chess-like pieces, presented to Pierrefonds in 1994 by Gabriel Monduit, were not copies. They were in fact, "genuine replicas," created at the same time as the originals by the leading lead-casting firm of Monduit.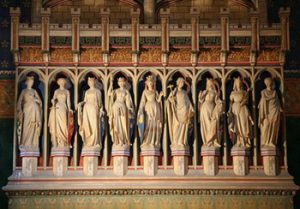 Much of castles' appeal lies in the imperial residence. Most of the furniture Viollet-le-Duc designed was never meant to be. There is however, a large elaborately carved bench in the reception room. In the study there's a large, wide draw desk that once belonged to Viollet-le-Duc. I imaged him, thinking of ways to improve the Emperor's short comings, like the flushing water closet concealed behind the study's plush paneling .
Ambling around the wood scented rooms, my daughter Carly admired the 14th-century knights on the fabulous hand-painted frieze. The Hungarian oak panels and plaster figurines that impressed my husband most. For me, it was sculptures of Empress Eugene and her ladies that dominated the twin hearths in the Salle des Preuses that clocked my vote. We didn't get round to the crypt, but it's a chillingly good reason to re-visit France.
If You Go:
Château de Pierrefonds is 80 kilometers north-east of Paris.
National Monuments of France website – Chateau de Pierrefonds
Open from 9:30 am to 6:00 pm October to March.
From 02 May – 4 September: daily 10.00 – 18.00 hrs
05 September – 30 April: daily 10.00 – 13.00 & 14.00 – 17.30hrs (closed Monday)
Also closed January 1, May 1 and December 25.
Last access: 45 minutes before closing
Admission: Adults:  €6.50 / Children:  €4.50 (children under 18 go free) / Group:  €5.30
Reims and Champagne-Tasting Day Trip from Paris
Guided Visit of Palais du Tau, Reims Cathedral & Champagne Tasting in a Vinyard
About the author:
Pamela Cranshaw lives with her husband and children just a stone's throw from Thomas Telford's legendary landmark, The Pontcysyllte Aqueduct. She writes short stories, poetry, tarot features and travelling tales. Pamela is also a member of the global group of women writers, The Wild Geese.
Photo credits:
All photos are by Pamela Cranshaw.