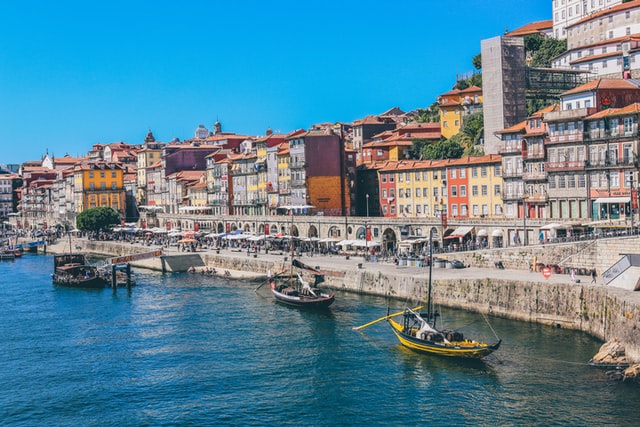 Although it still hasn't reached the level of glory some other European countries have, Portugal is still far from undiscovered. The beauty of Lisbon and its surroundings attracts rivers of tourists each year, which is understandable considering how this is a truly unique corner of the world. But what does the country of Fado and football offer to those who are willing to dive in a bit deeper? As I've discovered on numerous occasions – plenty. Each time I returned to Portugal, I did it because I felt I hadn't seen it all the last time. And I was right – every visit led me to sights and experiences that were entirely new and endlessly stunning. What made my adventures even more special was the fact that none of these places were particularly touristy. If this is a quality you, too, appreciate, come along on my journey off the beaten path in Portugal.
Nazare – tradition and surfboards
Right in the middle of Portugal's Atlantic coast, you'll find the traditional fishing village of Nazare – home to some of the biggest waves I've ever seen. Although I came here to try my luck with a surfboard, I discovered and experienced so much more. If you look beyond the long sandy beach (which is hard since it's breathtaking), you'll see that this little town has managed to preserve its colorful history.
Aside from surfing and the usual beach activities, you can enjoy some of the most beautiful views of the coast from Sitio. Once the beauty tires you out, make sure to recharge with some fresh seafood at one of Nazare's charming restaurants.
While this isn't the country's most hidden gem, it certainly is one of those places that will leave you with a sudden urge to transfer your whole life to Portugal. And if you do – you probably won't regret it!
Comporta – an escape from city noise
They say that following the locals is the best way to go off the beaten path in Portugal. And that's exactly what I did when I found myself in Comporta.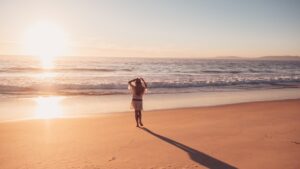 Only an hour away from Lisbon, this local-favorite holiday destination was just what I was looking for. The tranquility of the place, along with pine trees, white beaches, and good food, are just a few things that left a mark on my soul.
To make your trip to Comporta even more serene, make sure to stay in one of the unique cabins or villas. This way, you will elevate your escape from the concrete jungle to the next level!
Berlengas islands – wild beauty
Even further away from tourist crowds, a 45-minute ferry ride from Peniche, you'll find the Berlengas Islands – a perfect opportunity for an exciting day trip! This windy and seemingly inhospitable place is home to a wide array of different bird species and marine life, which is why it carries the title of a nature reserve.
Since Mother Nature is particularly harsh in this area, with mighty storms not being uncommon, the islands are also famous for numerous shipwrecks. Although I typically prefer to explore independently, going on one of the tours is a good idea as you'll get to see the cliff formations and fortress, go bird watching, snorkeling, and more.
Sao Miguel Island – a playground for active vacationers
If you're a landscape enthusiast like me, you will undoubtedly be wowed by the volcanic island of Sao Miguel. But be prepared to do much more than just observe – the island is a true mecca for those who love active vacations. Hiking, biking, kayaking, paddleboarding, sailing, and fishing are just a few things you can try out if you need a bit of excitement during your stay. If, however, you want something more relaxing, you can go dolphin and whale watching or explore the mineral springs and geysers. There truly is something for everyone here, and boredom is out of the question. The best thing about the island is the fact that it's still relatively undiscovered. But remember – you didn't hear it from me!
Obidos – charming and quirky
Whenever I satisfy my need for nature in Portugal, I like to remind myself I'm in Europe by visiting tiny villages brimming with history. During one of those instances, while I was browsing the web in search of less-known places, I stumbled upon a charming medieval town of Obidos. The pictures I saw on Google were enough to instantly persuade me to arrange a trip to this historic village.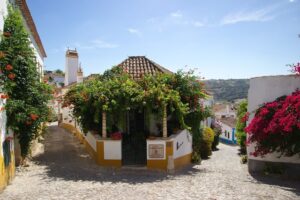 Obidos's cobble-stone streets, fragrant bakeries, traditional homes, and small shops made my visit feel like a fairy tale. But what makes this town unique is its connection to literature. You'll see books being sold in some unexpected places, like the post office, a church, and other spots you'll have to discover yourself.
If you go
If you're not a big fan of crowds, make sure to visit Portugal off-season. The weather here is never too cold, so you'll be able to enjoy your trip more comfortably and at a lower price.
Eat where the locals do – this is how you know a place is actually good. Also, ditch your diet while here. Portugal is famous for fantastic seafood and delectable desserts that you must try.
Don't use public transportation without paying. The fines are simply not worth it.
Whether you want to visit the most famous attractions or go off the beaten path in Portugal, don't forget to pack comfortable footwear. The endless beauty of this country will have you walking all day long!
About the author:
Pauline Sharp is an aspiring travel journalist who spends most of her time on the road. Although there is no destination she would refuse, she is most intrigued by Europe and its secrets. While traveling, she typically doesn't like to take the easy way out, as she believes this is how the most extraordinary stories are born.