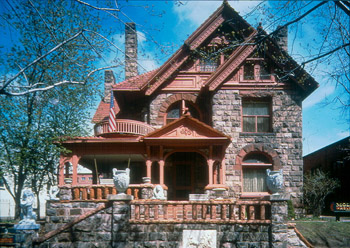 by Connie Pearson 
I thought I had her figured out. After all, I saw the movie Titanic and the musical The Unsinkable Molly Brown. But this remarkable woman was so much more. Margaret (Molly) Brown died at the age of 65 – the exact age that I am now – but she made such a big splash in her ocean of influence that surviving the sinking of the Titanic was only a small piece of her powerful life story.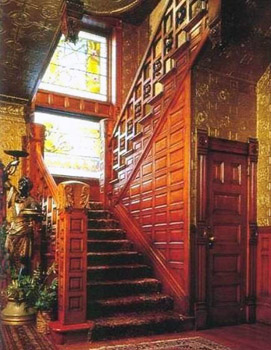 During a recent conference in Denver, my fellow attendees and I were given a 3-hour time period and told to "go out and explore Denver." I chose to take a taxi from my downtown hotel and visit the Molly Brown House Museum. Dubbed "The House of Lions" because of the imposing lion statues the Browns purchased for the front of the house, it is located at 1340 Pennsylvania Street. Very few of the furnishings and artifacts are original to the time Molly Brown lived there, but careful study of photos made in 1910, have helped Historic Denver, Inc. with their extensive restoration efforts. Visitors have an authentic experience.
During the guided tour, it would have been entertaining enough if I had just learned of traits and tendencies that I have in common with Molly Brown. For instance, we're both considered feisty, and, like her, I play the piano, love to entertain, and work in my church. Green is even our favorite color. She was born in Missouri. I was born in Alabama. Both states are in the Southeastern Conference for college football. Does that make us both Southerners? She once said of herself, "I'm a glutton for knowledge." What a great way to describe curiosity and a desire to keep learning. Qualities I hold dear.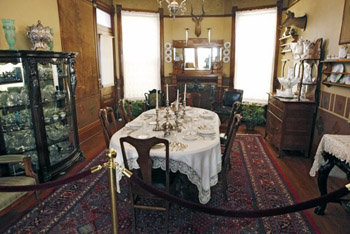 The trivial threads holding us together end at that point. Molly's life story, as shared by the docent, unfolded as an amazing inspiration and picture of the power of what one determined woman can accomplish.
Even though she and her husband, James J. Brown, were millionaires because of a discovery of gold in Leadville, CO, her thoughts were on exposing unfair labor practices she saw in those mines and working in soup kitchens and charity efforts. She worked closely with Denver judge Ben Lindsey in the creation of a national juvenile court system.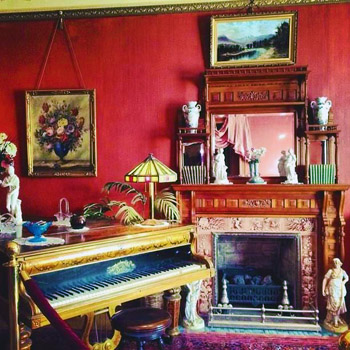 In 1901, she attempted to win a seat in the state senate, in spite of a popular saying of the day (one that was strongly supported by her husband): "A woman's name should appear in the newspaper only 3 times: at her birth, when she gets married, and at her death." The pressure must have been tremendous, because she withdrew from the race before Election Day. It was no surprise to learn that she was active in the women's suffrage movement.
Molly Brown was practically thrown into lifeboat #6 as the Titanic was sinking. Immediately after the Carpathia picked up all of the survivors they could find, Molly started helping fellow survivors, some of whom had lost everything. She raised $10,000 from Carpathia passengers before the ship reached New York. A couple of years later, she was helping in relief efforts during World War I.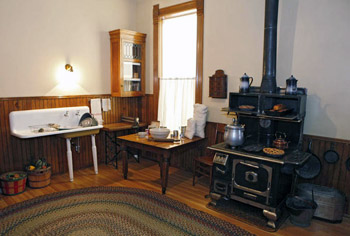 You will see colorful stained glass windows, ornately-carved woodwork, and anaglypta wall coverings. You will learn that this house had indoor plumbing, electricity, central heat and a telephone long before other homes had these conveniences. But, most of all, you will leave wanting to know more about Margaret Tobin Brown and her indomitable – yes, unsinkable – compassion for others and zeal for life.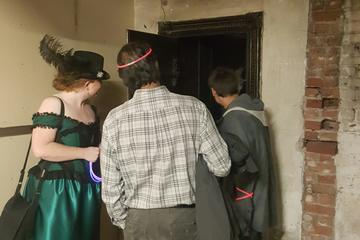 Haunted Denver Evening Pub Tour
If You Go:
Molly Brown House Museum website
Upcoming Events:
Skeletons in the Wardrobe Tea
Saturday, October 31st 11:00 am, 2:00 pm – $24.00 / $18.00 children (6-12)
It's no secret, Victorians loved Halloween and so do we! The holiday looked a little different back then, though. Do you know what costumes were popular or what games were played? How did the Victorians decorate their homes? Learn the history of Halloween and show off your own ghostly get-up at our spookiest tea of the year! Suitable for ages 8 and up.
A gift shop is behind the house where you can purchase postcards, books and videos, as well as vintage clothing, accessories, toys and games.
About the author:
Connie Pearson is a native Alabamian, wife of 44 years, mother of 3, grandmother of 12. A retired elementary music teacher/former missionary/now budding weight-lifter, travel writer and blogger. www.theregoesconnie.com
Photos are used by permission, courtesy of the Molly Brown House Museum:
House Exterior
Front Hall
Dining Room
Front Parlor
Kitchen