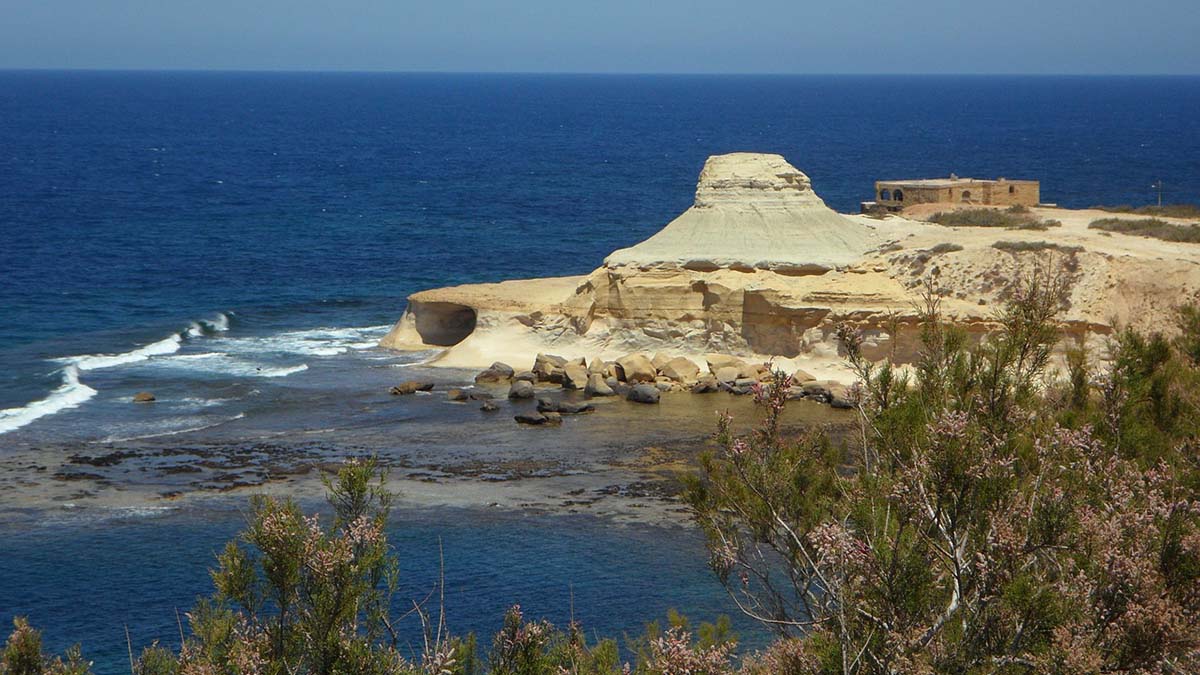 Gozo, Malta
by Tanja Cilia
"The Red Bay" Il-Bajja l-Hamra is the colloquial name for Ramla Bay, situated between beneath Xaghra and Nadur, in Gozo, Malta, the archipelago in the middle of the Mediterranean Sea.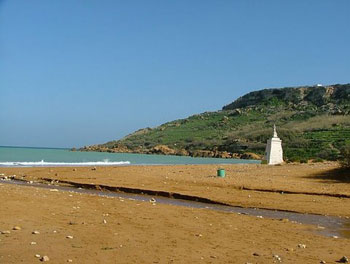 If all the red-hued sand were cleared away from the beach, the remains of Roman Baths would come to light; as it is, the historical connection is wrought through Calypso's Cave, in the cliff-face facing the bay on its western side.
Homer's second epic poem, the Odyssey, recounts the sagas of Ulysses. In the fifth book, he tells of how the Greek hero came to Ogygia and spent seven years with the nymph Calypso.
Having fought for ten years in the siege of Troy, Ulysses wanted to return home to Ithaca, where his wife Penelope, his son Telamon and his father Laertes were waiting for him. But in similar circumstances to those that were to befall the Apostle Paul many years later, Ulysses ship floundered in one of the notorious stormy gales of the Mediterranean.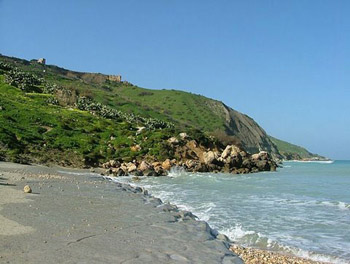 The vessel was struck by a thunderbolt that killed his crew. For nine weary days, he steered his battered craft towards the speck on the horizon. When he landed, he reveled in the surroundings – the balmy air was scented with cypress; delicious fruits grew upon trees the likes of which he had never seen before; four streams of cool water converged into a fountain that gurgled to fill the air with its melodies.
He thought the island was uninhabited – until he caught sight of several nubile dancers clothes in diaphanous gowns, dancing around a fire, over which hung a big pot bubbling with an exotic brew of herbs and spices.
The main attraction of this Arcadia had to be even more fascinating – and so, indeed, she was. Out of a cave, the entrance of which was partly curtained off with vines bearing luscious grapes, sauntered the most beautiful vision. It is said that the Nereid Calypso had aquamarine eyes and tresses that fell to the ground.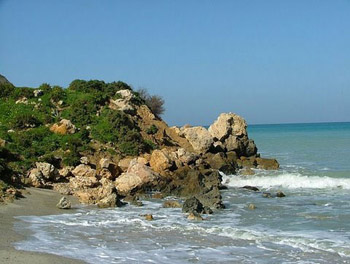 She clapped her hands perfunctorily, and her attendants understood that they were to bring food, drink, and fresh clothes for the traveler. Meanwhile, she led him to a golden throne and told him that she was Calypso, queen of Ogygia, and that she wanted him to live with her for evermore; this would give him eternal youth and immortality, and he would never want for anything. He insisted that once he was rested, he wanted to return home – but she would not hear of it. In any case – his ship was matchwood.
Ulysses was in this love-hate relationship for seven years. He was torn between wanting to enjoy the worldly delights Calypso offered, and homesickness. Each day he prayed to his patron goddess Athena, to intercede with Zeus on his behalf.
The love of his life, Penelope, as we know, was busy warding off those wooing her by knitting a garment during the day, and unraveling the stitches at night, claiming she would select a suitor when she was finished with it.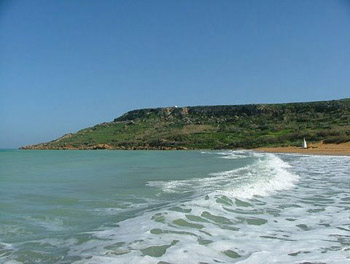 Zeus eventually decided to heed the prayers of Ulysses. He sent Hermes with an order to Calypso to release him. No one disobeys Zeus, and so Calypso helped him gather wood to build a raft, which she then loaded with provisions for the trip as well as gifts for his family. She summoned Aeolus, biding him to fill the sails and take him home safely.
Homer does not say whether Odysseus and Calypso had any children. Some tales, written after the Odyssey, tell us that Calypso had a son called Latinus – however, some say that Circe was the mother of Latinus. Other accounts say that Calypso had two sons by Ulysses – Nausithous and Nausinous.
(See: www.en.wikipedia.org)
Some versions of this story say that when Ulysses set sail, Calypso died of grief.
Calypso's Goodbye
by Tanja Cilia
Ulysses, I loved you; I love you forever.
I offered you immortality
At the risk of losing mine

My dream was to make Ogygia
The jewel in the crown
Of Malta

I tempted you with wild thyme honey,
Capers, olives, grilled lampuki, and
Fresh sea-urchins,
Culled from the clear blue
Mediterranean.

But your heart was elsewhere.

Goodbye, Ulysses.

My dolphins swam with you
My nymphs sang to you and
You heard them –
But you were listening to her voice,
Which drowned them out.

I made this Island a perfect haven
But you yearned for her still.

My Hyades and Limonads and Petrads
Catered to your every whim.
But you wanted more.
You still craved her.

Penelope – I hate the sound of the name.
Absent, and yet she held the strings to your
Soul, your mind, your heart, your body.
Telamon will know his father again.

Goodbye, Ulysses.
My cypress groves will echo your voice for ever.
My Arcadia will echo no more with your steps
Ithaca will welcome her Hero once more.

I knew it would be so
When I heard the swish
Of Hermes's wings
Bearing Zeus's message.

Seven years passed by in a flash before my mind.
And then, conceding defeat,
I asked Aeolus
To summon Boreas, Eurus, Notus and Zephyrus
To take turns
And speed you on your way.

The red sand of my bay will remain in your mind
Forever.
The touch of your hands is imprinted in my soul.
You will tell of Xaghra and Nadur for the rest of your days.
And I will pine for you until eternity ends.
If You Go:
There are no direct flights to Gozo from abroad; there are frequent ferry trips from Malta, which make it easy to include Gozo in a day-trip, without the need for an overnight stay.
Gozo is so tiny, you hardly have to hire a car to get around. The public transport service – comprising both new and rickety "trucks", as their owners call them – will take you anywhere. Catch the route bus No. 42 from Victoria to Ramla (via Nadur).
Access to the bay proper is both through the aforementioned Nadur, and also Xaghra. Be prepared for stunning sea views.
Take note of the remains of a wall of stones also built by the Romans in the sea – used to force invaders into the water. This may be made out easily from Calypso's Cave.
Ramla l-Hamra is home to endangered flora and fauna; please do not step on or pick any of them, if you possibly can, and only go for low-impact recreational activity (swimming, walking, picnics), and not high-impact ones (beach football or barbecues).
This bay is relatively free of light pollution, making it the ideal setting for astronomical observations, especially during the clement summer nights.
Get more information about travel to Gozo and the other islands in the Republic of Malta at the Visit Malta website.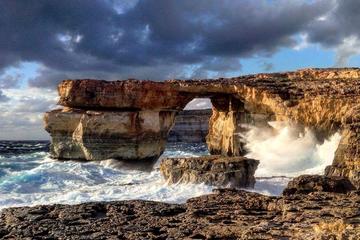 Gozo and Comino Blue Lagoon Cruise Excursion
About the author:
Tanja Cilia is an Allied Newspapers (Malta) columnist, blogger, and features writer. She also freelances for online and print media in Maltese and English. She lives in Malta with her husband and three children. Contact her at tanjacilia@hotmail.com
Photo credits:
Top photo of Gozo by M W from Pixabay
All other photos are by David Paul Cilia.