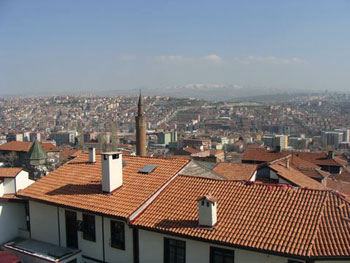 Turkey
by Paola Fornari
'What to do in Ankara if you come from Istanbul.' That was one of the first presentations offered by the participants at the Turkish Ministry of Foreign Affairs where I was giving some training courses recently. Apparently Ankara is such a dump that the only ways people from Istanbul can survive are a) hit the shops, b) hit the bars, c) hit the station and get a train to Istanbul every weekend.
I was in Ankara for three weeks, and I wasn't interested in shops or bars. And Istanbul was not practical: I had two short weekends ahead of me, during which I had to do a lot of preparation work. I was in Ankara, and I love being in new places. The city must have something to offer, and I would find it.
During the first week, I became familiar with taxi route between the hotel and the Ministry: busy wide boulevards flanked by huge buildings, and pedestrian bridges. I occasionally ventured out in the evening, and learnt my first few words of Turkish: 'hello', the two sorts of 'goodbye' (one for leaving and one for staying), 'please', 'thank you', 'orange juice', 'entrance', 'exit', 'water', 'what's your name' and 'car wash' (well, Oto Kuaför is simply too memorable, even if not particularly useful).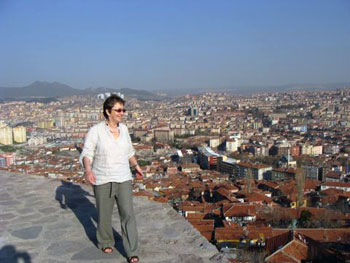 At the weekend, I decided I would see two of the three highlights recommended in my Lonely Planet Guide, saving the third till the following weekend. I wandered up to the Citadel, the oldest part of the city, the walls of which date back to the 7th century. The narrow winding streets were packed with carpet stalls and little restaurants. Women chatted by the side of the road, crocheting handbags. A family, gathered on a few steps outside a crumbling house, invited me to join them for chai. Seeing their shoes all lined up neatly to one side, I took off mine, and we smiled and giggled at each other and sipped tea for a while.
Later, from the castle walls, I enjoyed the superb view over Ankara and the snow-capped mountains beyond. The sunset was stunning.
On Sunday morning I went to the Museum of Anatolian Civilizations. It won the 'Best European Museum of the Year' award over ten years ago, and is still superb, displaying archaeological artifacts from the Stone Age through the Assyrians, Hittites, Phrygians and Lydians. And my guide spoke reasonable English.
That afternoon I went off to a hammam – a Turkish bath – in a fancy area of town, recommended by one of my trainees, and then had a manicure next door. A wonderfully relaxing way to end my weekend, and I added a few more less-than-useful words to my list: 'soap', and 'pearly pink'.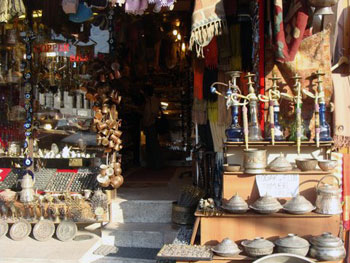 The second weekend, I visited the Citadel and the Museum of Anatolian Civilisations again: this time the only guide I could find that I would be able to understand spoke a mixture of Italian and Spanish.
And then I walked to the site I had been saving: Anit Kabir, Ataturk's mausoleum. Ataturk (1881 – 1938) was an army officer who led the Turkish national movement after the fall of the Ottoman Empire, and defeated the allied forces, thus preventing partition. He was the founder of the Republic of Turkey and transformed the vestiges of the Empire into the modern, secular state Turkey is today. The beautifully kept monumental structure is packed with visitors paying their respects to the great man, and you really sense the hold he had over his adoring people.
By this stage I had added 'yes',' no', 'minute', 'left', 'right', 'lovely', 'big', 'small' and 'stop' to my list of Turkish words.
At the end of my three weeks' work, I had an extra Saturday to fill before my flight home. I wandered off to a wonderful four-storey book and music shop with a café on top and bought some traditional music, and the number one bestseller called 'Last Train to Istanbul', which turned out to be a fascinating but badly translated novel set in wartime Turkey. On the way back to the hotel I bought some Turkish Delight. My bargaining skills had certainly developed over the past three weeks: I would always know to bargain in markets, but here it worked even in highly respectable shops.
So what does one do on one's third weekend in Ankara?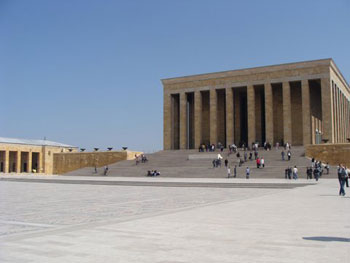 It just had to be a genuine ancient hammam. The Lonely Planet recommended Sengül Merkez Hamami. At the entrance to a quiet alleyway, below the hammam sign, two women sat on the ground sipping tea. A child played nearby.
I approached. Three women jammed the space between the double doors. I squeezed past, into shabby high-domed room bordered on two levels by cabins. Women milled around, some in long dresses and headscarves, others in very little. Around a large table several women sipped chai and chatted. One sorted a large pile of underwear into neat piles.
'Hammam?' I asked. An enormous smiling woman wearing black underwear came over and led me by the hand to a cabin, and gave me a wrap and a pair of enormous clogs.
'Epilasion?' she asked. I hesitated. She lifted my arm and peered into my armpit.
'Epilasion,' she stated firmly.
It was an amazing experience, with women coming to chat, watch, compare results, giggling as I yelled the two most important words in the Turkish language, 'stop' and 'no', while my hammam lady plied, kneaded and moulded her lump of glutinous chewing-gum wax all over me.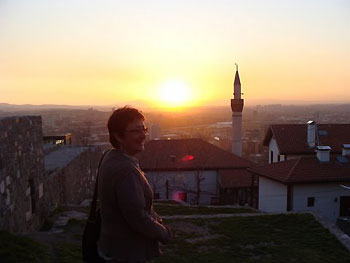 After that, I was ready to be pampered. I understood that the even larger lady whose job it was to scrub me was the sister of the epilasion one. I lay on the marble slab. And very quietly, she began to sing, the volume gradually increasing, until her haunting, deep, sad song filled the steamy air and brought tears to my eyes – no, not tears – floods. I look up at her closed eyes, her furrowed brow, her look of concentration as she drew the cheap, hand-crocheted, garish flannel up and down my arms, her blubbery stomach filling the space between us. 'Benli benli, benli benli,' she sang, as I imagined a story of lost love, war, pain, death, disaster… Then a young woman beside me – yes, someone spoke a few words of English here – said 'Hello!'
'Please tell me what the song is about,' I said.
'It's a traditional song. It says it's difficult to live with someone who is ugly.'
How banal, I thought, rather embarrassed about my emotional display.
'Ugly inside,' she added, as the hammam lady sang, and I burst into tears again. Lovely. A perfect end to my three weeks.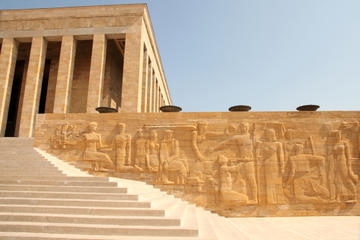 Private Tour: Ankara Sightseeing
If You Go:
Where to stay: I stayed at the Ankara Plaza Hotel, which was comfortable and friendly. See www.tripadvisor.com
Things to do:
• Museum of Anatolian Civilisations, anadolu Medeniyetleri Muzesi, daily 8:30 am – 5:15 pm, entrance 10 Turkish lira.
• Ataturk's Mausoleum, Gazi Mustafa Kemal Bulvari (Mon 1:30 – 5:00 pm, Tues – Sat 9:00 am – 5:00 pm, free) • Sengül Merkez Hamami,Ulus,, 6:00 am – 8:00 pm daily, recently restored, see sengulhamami.com/icerik-93.html.
About the author:
Paola Fornari was born on an island in Lake Victoria, and was brought up in Tanzania. She has lived in almost a dozen countries over three continents, speaks five and a half languages, and describes herself as an "expatriate sine patria". Wherever she goes, she makes it her business to get involved in local activities, explore, and learn the language, thus making each new destination a real home. At present she is living in Bangladesh.
All photos are by Paola Fornari.