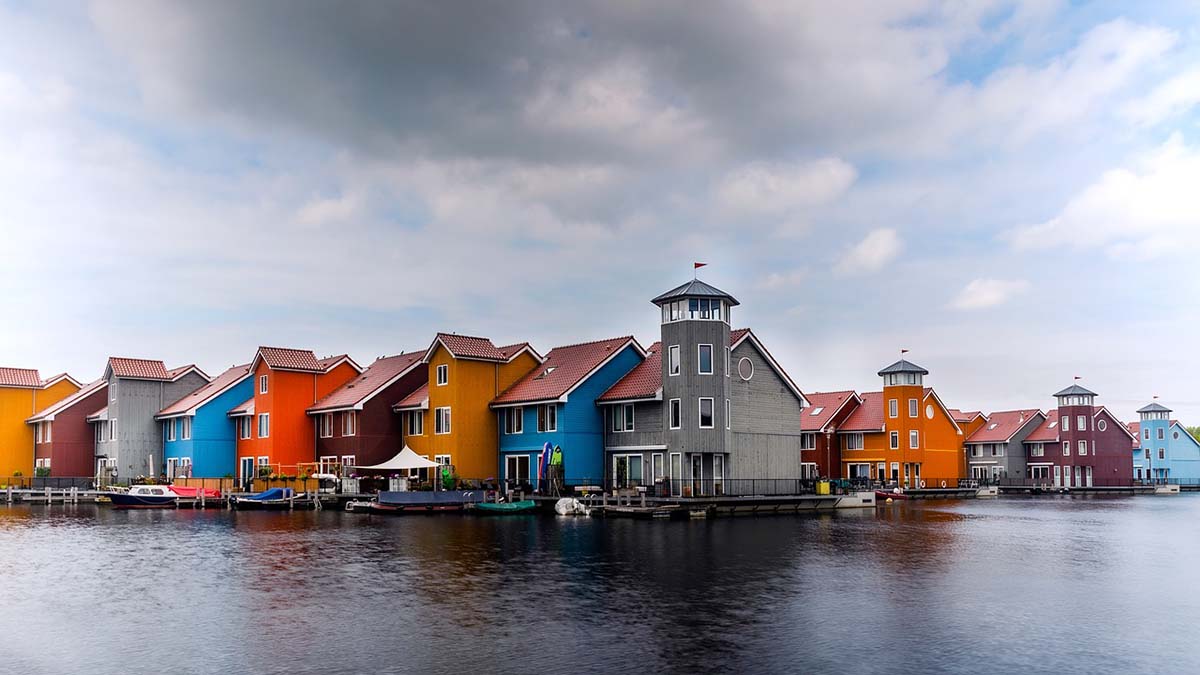 Historic Haunts in Holland
by Giuseppe Raudino
It's Sunday morning and Groningen is still sleeping. The Martini tower stands out in front of an empty square. The spire, with its 318 feet, is the highest point of the most northern city of the Netherlands.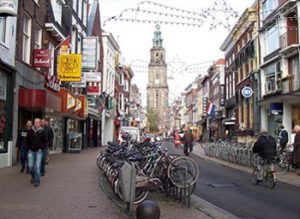 A huge number of bikes are locked everywhere, the streets are quite deserted and the shops closed. Only a few hours ago the atmosphere was completely different: pubs and discos were crowded with people, streets were full of boys and girls walking across the town or getting something to eat at one of the ambulant food sellers. The fact is that Groningen's nightlife is remarkably affected by the great number of university students (40,000), which represent one fourth of the total population.
Tulips, wind mills, bicycles and wooden clogs are the many objects that remind us the image of Holland. And the list could be longer or even endless, because this little country in the North of Europe is strongly characterized by a singular culture that leads its inhabitants to uncommon opinions and attitudes which never stops to surprise the world. In Groningen, as in the rest of the Netherlands, prostitutes are allowed to work in appropriate places (Red Light Districts) and to wait for their clients in a sort of showcases, where they are displayed wearing sexy lingerie only. Dutch pedestrians are used to it, but tourists still have some difficulties believing their eyes. 'Soft drugs' such as marijuana or hashish are tolerated and sold in relevant shops, where it is possible to smoke a joint without infringing any law. Euthanasia is legal. And for homosexual couples, not only is marriage possible, but they may also adopt children. Despite this freedom, however, there is a minor occurrence of deviant behavior and the Dutch society is pretty balanced.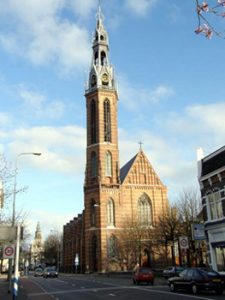 Visiting Groningen is probably the best way to be acquainted with its culture, because the other famous cities like Amsterdam or Rotterdam are too big and show many multicultural aspects which might mislead the tourists. On the contrary, Groningen offers an authentic Dutch environment, with several genuine places that are waiting to be discovered.
Groningen is easily reachable by train. It's only two hours far from Schiphol, the international airport of Amsterdam, and linked by plenty of direct trains. Taxis and buses are efficient, but the old town (the hotel you booked is probably there) is just five minutes by foot from the station. The first impression when you arrive in Groningen is order and stillness. It's hard to see a piece of paper on the pavement: everything is clean, neat, tidy.
In front of the train station there is the Groninger Museum, a modern structure designed by the Italian architect Alessandro Mendini. Dutch people are crazy for innovative design and modern arts. When it comes to restoring an old building, they are not feared by the idea of mixing traditional and modern stuff. For this reason, Dutch architectural solutions are often controversial or even shocking but, without a doubt, courageous. The Mendini museum was built in 1994 and since then it has hosted many interesting exhibitions. Moreover, there is a café and an Italian restaurant which entertains its customers with soft live music and classical piano pieces every Friday and Saturday evening.
Before you arrive to the main door of the museum, you pass a little bridge that crosses a channel called Diepenring. That channel surrounds the historic center of Groningen: once you have stepped inside the area enclosed by the Diepenring you are in the heart of the old town.
Although the city was severely damaged by repeated bombardments during the Second World War, some treasures have survived. Besides the Martini tower, which was completed ten years before Columbus discovered America, the Goudkantoor (literally: Gold Office) is an impressive monument that is worth a visit. Built in 1635, during the so-called Golden Dutch Age, a period of floridness when the Netherlands were one of the most powerful nations in the globe, the Goudkantoor served as a tax office. It is so beautiful that it was saved by the military forces in 1945, after a heavy battle between Canadian and German troops took place for the liberation of the city and left a lot of other buildings destroyed or burned out.
Close to the Goudkantoor, there is a visible sign of the Dutch inclination towards architectural assortment, that seeks a surprising balance between ancient and modern. It must be said that there are also cases of emulation. For instance, the Cathedral of St. Joseph is a perfect example of Neogothic. The church was built in 1885, but it strongly resembles a Dominican church in Zutphen, a city 100 miles far from Groningen, built in 1306.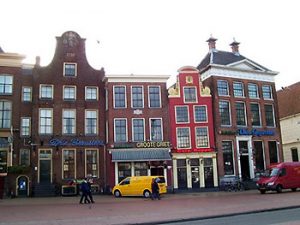 If you decide to go for a walk after dinner you will notice how alive and moving the night life is in Groningen. There are no exceptions: from Monday to Sunday the young inhabitants of this city seem to amuse themselves, having the time of their life any single moment they put the nose out of the door. Step into De Drie Gezusters (The Three Sisters), the biggest pub of Europe. It is located at the Grote Markt, the main square of Groningen, near the Martini tower and the city hall. De Drie Gezusters and is composed of four connected buildings with five entries. Inside you'll find some twenty bars where the best Dutch beers are poured, and several dance floors, each one with its own type of music, which range from folk-traditional to techno, from pop music to Latin American. The total capacity of the pub is 3750 people. By the way, De Drie Gezusters is not only a pub: during the morning and the afternoon it's a restaurant and a fine place where to drink a coffee while listening to music.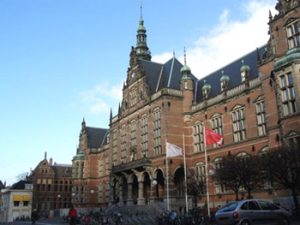 If you really like live music, however, the right place for you is definitively Vera, an alternative space with a challenging stage, where many international artists have played before they became famous and acclaimed all over the world, such as U2, Simple Minds, Nirvana and Pearl Jam, just to give some examples. Another good place for music lovers is De Spieghel (The Mirror), a jazz café that offers a cozy environment and high quality live music.
Eating in the Netherlands is fun. Despite the national dishes that are based on potatoes, meat, vegetables and similar ingredients, thanks to the Dutch multicultural society, Groningen is full of exotic restaurants. Everywhere it is possible to taste a wide range of foreign kitchens, from Arabian to Indonesian, from Italian to Mexican, from Japanese to African. All Dutch beers are excellent, but if you want to taste a traditional Dutch liquor, try Jenever, which is also known as "Holland gin."
After having enjoyed drinking and food, feel free to have a walk in the Noorder Plantsoen, an amazing park with old trees and ponds, where the inhabitants of Groningen love to spend their time during the sunny days. If you wish to spend a day in the surroundings of the town, the sand islands in the north of Groningen are probably the best destination. The sea is nearby: just catch Bus 163 to Lauwersoog and from there go further by ferry-boat, which takes approximately 45 minutes. Once landed, it is possible to rent a bike and discover every part of the island.
If you liked the North Sea, its landscape and the huge beaches, perhaps you'd like to learn more about the naval tradition of this area. In a city like Groningen, with a great experience of navigation, it's quite normal to find a museum like the Northern Maritime Museum where you to find out more information about ancient ships and maritime life.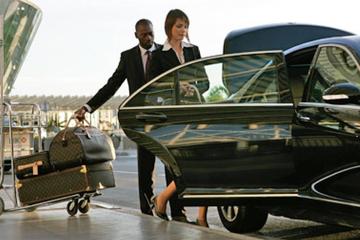 Low Cost Private Transfer From Eelde Airport to Groningen City – One Way
If You Go:
Schiphol International Airport
Dutch railway – information about departure times and ticket prices
Passenger ferry to Schiermonnikoog island
Groningen Tourist information
Groninger Museum – Official website of Mendini
Northern Maritime Museum Groningen
Vera
De Drie Gezusters
Goudkantoor: Waagplein 1 – tel. (+31) (050) 5891888
Groninger Museumcafé & Italiaans Restaurant: Museumeiland 1 – tel. (+31) (050) 3666544
Vera: Oosterstraat 44 – tel: (+31) (050) 313 46 81
De Spieghel: Peperstraat 11 – tel. (+31) (050) 5280588
Northern Maritime Museum: Brugstraat 24/26 – tel. (+31) (050) 3122202
About the author:
Giuseppe Raudino, is a former acting professor "Theory and Method of Mass Media," and a freelance writer based in the Netherlands. He holds a master degree in Communication Sciences from the University of Siena (Italy). Besides traveling, he loves music and sports: he practices karate and plays the trumpet.
Photo credits:
First Gronigen, Netherlands image by Zachtleven fotografie from Pixabay
All other photos are by Giuseppe Raudino.