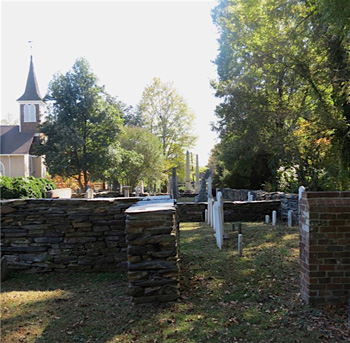 by Connie Pearson 
Do you hear them? As you stroll the streets and wander the cemeteries of Hillsborough, North Carolina, do you hear the echoes of the past? The clip-clop of horse-drawn carriages. The restless whisperings turning to impassioned cries of revolutionaries wanting freedom from England's tyranny. The speeches of the brave men willing to sign that defiant Declaration. The proud boots marching off to war. The mothers and sweethearts shouting for joy when their soldier comes home or sobbing over the news of a fallen rebel.
Hillsborough's 250 years of history can be your primary reason for visiting, but you will extend your stay or return another day because of the delicious food you'll eat, the delightful people you'll meet, and the fresh knowledge you'll acquire.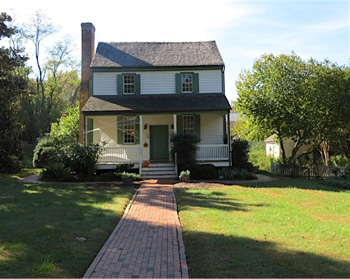 Driving into town, the first logical stop is the Dickson House at 150 E. King Street, which has Civil War significance and now serves as the Orange County Visitor Center. Park your car and see a 7-minute video giving an overview of Hillsborough's history. Arrange for a guided tour, ask for information about restaurants, shopping, and town events, or purchase a walking tour booklet for $4.00. Make note of the public restrooms available on the grounds. The walking tour will take you past 46 well-documented structures, and 5 more are within a short drive. Most of the homes and offices are privately owned, but guided tours are available for Ayr Mount, Burwell School, and the gardens of Montrose.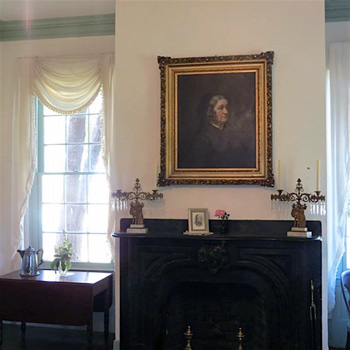 During a tour of The Burwell School Historic Site, you will hear many stories about the Burwell family, particularly wife and mother Anna Burwell. She was the very accomplished and well-educated wife of Robert, minister of Hillsborough Presbyterian Church. She did such an impressive job of educating her own 12 children, she drew the attention of a local doctor who asked her to teach his daughter as well. Anna Burwell saw that as an opportunity to supplement her husband's meager salary. From that small beginning, she went on to oversee the educations of more than 200 young women from 1837-1857.
The course of study designed by Mrs. Burwell included religion, philosophy, penmanship, grammar, geography, geometry, chemistry, and astronomy. According to the school's history, "Students ate plain food, exercised twice daily, made their own beds and helped wash the dishes. Daily prayers, regular letter-writing to home, and occasional trips into the village filled spare moments." Many success stories can be traced to this early female academy.
A fascinating side story from those school years has ultimately drawn greater attention. A household slave girl named Elizabeth Hobbs Keckly worked strenuously for Mrs. Burwell. Although "Lizzie" had a harsh life, she eventually bought her freedom and became an accomplished dressmaker with such famous clients as Mrs. Robert E. Lee and Mrs. Abraham Lincoln. Mrs. Lincoln invited Lizzie to live in the White House and be her personal dresser. In that role she also became Mrs. Lincoln's confidante, much of which is chronicled in Keckly's book Behind the Scenes: Or, Thirty Years a Slave, and Four Years in the White House
.
Continue the walking tour and you will be able to wander through several fascinating cemeteries. Old Town Cemetery is adjacent to Hillsborough Presbyterian Church on 102 West Tryon Street. John Knox Witherspoon was the only clergyman to sign the Declaration of Independence. He is buried in Princeton Cemetery, but his grandson is buried in Hillsborough, as well as William Hooper, another signer and prominent North Carolinian. The cemetery itself dates back to 1757.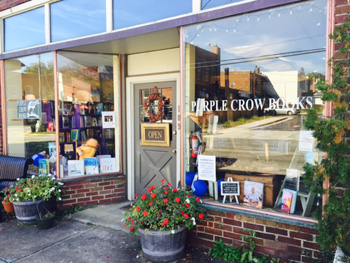 You will probably work up an appetite with all of that walking. If so, Saratoga Grill at 108 S. Churton Street, is a delicious choice. New England clam chowder, Honey Almond Salmon, and scones are specialties. Blackened scallops, salads with house-made dressings, peppered swordfish, or the broiled seafood platter are other savory options. Every dish bursts with flavor. Doors open at 11:30 a.m. Arrive about that time. It will be completely full by 12:30.
Purple Crow Books at 108 West King Street is a favorite shop right around the corner from Saratoga Grill. Owner Sharon Wheeler was thrilled when 4 best-selling, prize-winning authors attended the Grand Opening of her store – Frances Mayes, Michael Malone, Lee Smith and Hal Crowther. All of them actually LIVE in Hillsborough!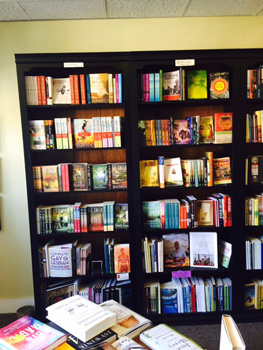 Frances Mayes, author of Under the Tuscan Sun, recently described Hillsborough this way: "After only two years, Hillsborough seems like the home I never left. When my family and I decided to move to North Carolina after decades in San Francisco, we kept hearing from friends in this area, 'You must move to Hillsborough — that's where all the writers and artists live.' Being writers ourselves, we were magnetized by the idea of a town where creativity thrives, and, having grown up in a small town in Georgia, I wanted to return to a place with an intense sense of community. By great good luck, I found both, and more."
Purple Crow Books is relatively small in size but specializes in two areas that lure customers. Sharon stocks two full bookcases with works of local authors and most of the copies have been autographed. And, because of her background as an elementary school guidance counselor, she has a delightful children's section. It makes a wonderful stop during a day in Hillsborough, and you might even run into someone famous dropping by to bring Sharon a fresh copy of a new book.
There is so much more to learn, see and eat in Hillsborough. You'll be welcomed warmly and leave genuinely impressed.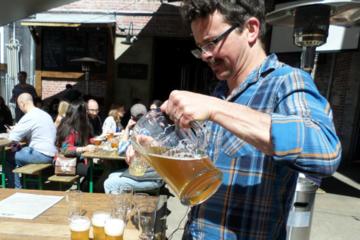 3-Hour Small Group Downtown Asheville Brewery Walking Tour
If You Go:
Hillsborough is located off of I40/85 between Durham and Greensboro.
For dining:
♦ Saratoga Grill
♦ LaPlace for Cajun food
For shopping:
♦ Purple Crow Books
For history:
♦ Burwell School
♦ Town Website
For lodging:
♦ Holiday Inn Express
♦ Microtel
♦ The Inn at Teardrops B&B
About the author:
Connie Pearson is a native Alabamian, wife of 44 years, mother of 3, grandmother of 12. A retired elementary music teacher/former missionary/now budding weight-lifter, travel writer and blogger. www.theregoesconnie.com
All photos by Connie Pearson:
Old Town Cemetery
Dickson House
Burwell School with Mrs. Burwell's portrait
Saratoga Grill salmon
Purple Crow Books storefront
Purple Crow Books, shelves of Hillsborough authors