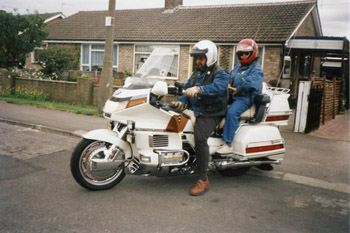 South Downs, England
by Darlene Foster
Our delightful visit to England included Yorkshire and North Wales. Viewing the countryside with its stone hedges and ancient castles was made even more enjoyable as we hurtled down narrow roads on a motorcycle.
We had one thing left to do before flying back to Canada; deliver the motorbike to its new owner in London. We traveled down from York, stopped for lunch at a pub in Cambridge overlooking the Thames and watched the rowers practice. As we rode towards London, I was puzzled when we didn't turn off the M1 taking us into Guildford, but turned east. Soon I recognized signs for Alton, Strawberry Hill, Steventon and Chawton. We were on our way to visit my hero, Jane Austen! My dear husband had planned this as a surprise for me.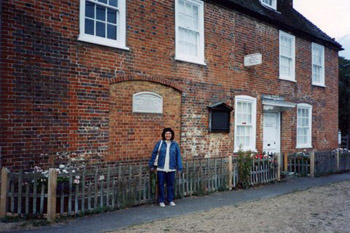 As my knight in shining armour parked the pearl white Honda Goldwing in front of Chawton Cottage, he said, "Take your time. I'm going for a tea." He pointed at Cassandra's Tea Shop across the road.
I couldn't believe I was actually there. Chawton Cottage, a charming 17th century, three story red-brick house, was Jane Austen's home for the last eight years of her life. I entered the front door thinking about how many times dear Jane had crossed that threshold. When I mentioned I had come all the way from Canada, and I was a member of the Jane Austen Society of North America, the kindly receptionist waved the entry fee.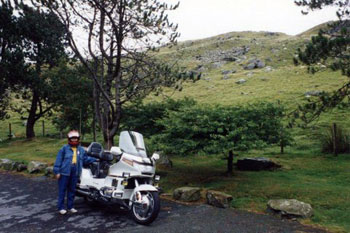 There I stood in Jane's house, a gift from her brother which she shared with her mother and her sister Cassandra; the place she wrote most of her work. I entered the parlour and gingerly touched the little round table she wrote on. Prickles ran up and down my arms. I had seen some of her original writing at the British Museum a few years earlier, but this seemed more real. I imagined Jane slipping her writing under a book whenever someone entered. Although she often shared her writing with her family, she only did so when she was ready.
The house, very much as it was when Jane lived there at the start of the 19th century, displays family paintings on the walls. The pianoforte Jane played her music on when no one was around, adorns one corner of the drawing room.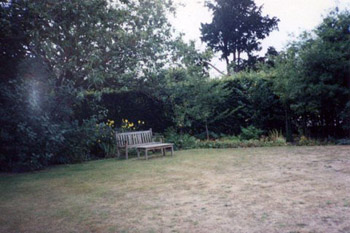 I climbed the stairs to Jane's bedroom. The first thing I noticed was the patchwork quilt, made with her sister and mother, hanging on one wall. Each floral, diamond patch stitched meticulously into place surrounding a large basket of cheerful flowers in the centre, reminded me of the hours of labour that would have gone into this undertaking. The bed she slept on, covered in crisp white linen, sits peacefully in a corner. On another wall hangs a topaz cross, a gift from one of her beloved brothers and most probably the inspiration for the topaz cross given to Fanny Price by her brother in the novel, Mansfield Park. A window overlooks the garden. Jane spent many happy hours in this room. When she grew ill, she entertained her visitors here.
Other rooms upstairs house Regency period costumes, carefully preserved and displayed. I enjoyed viewing the muslin, floor length dresses with Empire waists and soft loose skirts in pale pinks, periwinkle blues and lilacs, such as Jane would have worn. At least she did not have to deal with the constraints of a tightly laced corset. Memorabilia of her two Royal Navy brothers, Frank and Charles, can be found in adjoining rooms.
I felt Jane's presence everywhere in the house, but nowhere near as much as in the lovely garden surrounding Chawton Cottage. I could sense Jane taking a turn around the garden, delighting in the many varieties of herbs and flowers, and resting on the rustic garden bench. Even her old donkey cart, which carried her around when she was too ill to walk, lives on in the bakehouse.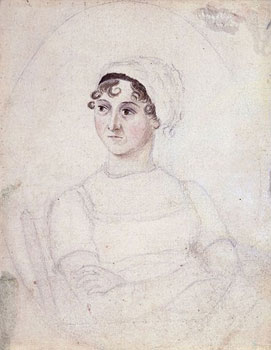 Back in the cottage I chatted with the host and perused the comprehensive selection of Jane Austen books. Of course I could not resist purchasing a few (not that I needed to read anything else about J.A.) I also chose a few souvenirs and postcards before I bid Jane, the house and her memories goodbye. I walked across the street to Cassandra's Tea Shop to meet my husband, who had downed three cups of tea, ate two pieces of lemon loaf and washed the bike while waiting for me. He asked how my visit was.
"Jane was most happy I visited her and approved of my arrival on a motorcycle."
It was a sweet view – sweet to the eye and the mind. English verdure, English culture, English comfort, seen under a sun bright, without being oppressive.
– from 'Emma', Jane Austen's novel written at Chawton Cottage and published in 1815
If You Go:
By vehicle:
To get to Chawton Cottage from London take M25 Junction 10 onto A3 towards Guildford, Follow A3 along Guildford bypass and onto A31. Follow A31 past Farnham and Alton, and at Chawton roundabout (A31/A32), Jane Austen's House is signposted.
By public transit:
Trains from London (Waterloo), run hourly to Alton.
By bus: connection (Route X64) from Alton Railway Station to Alton Butts then a 12 minute walk down Winchester Road into Chawton village.
Admission Charges: Adults £7.50, Senior Citizens / Students £6.00, Children (6-16 years) £2.00, Under 6 free
More information:
Jane Austen Social Appreciation
Chawton (Jane Austin's house) on Wikipedia
About the author:
Darlene Foster is a writer of children's travel/adventure books, short stories and travel articles. Brought up on a ranch near Medicine Hat, Alberta, she dreamed of traveling the world, meeting interesting people and writing stories. She has made it her mission to discover the uniqueness of places and write about them. www.darlenefoster.ca
All photos are by Darlene Foster.