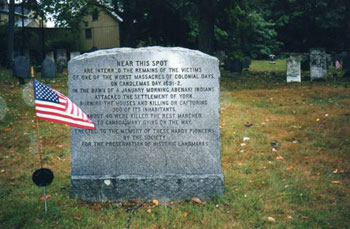 by Glen Cowley
A forever army assails these shores in relentless waves.
The long sliver of Atlantic coastline from the New Hampshire border to Portland, Maine encompasses a diversity of images; the refined and manicured, the tacky funlands, the rocky outcrops and historic villages.
Shortly after crossing into Maine from Portsmouth, New Hampshire we came to "The Yorks" – a collection of three small, very different, towns; York, York Beach and York Harbor. There is more than the attraction of coastline in these time-locked communities whose stories reach back to the earliest settlements of Europeans in New England and their struggles in a new land. In Old York seven historic museum buildings, including the old jail and Jefferd's Tavern, vividly recall those times, yet none are so poignant as a walk through the shady cemetery where the mass grave of citizens murdered by raiding Indians during the French-English wars weathers in the elements. Another site, marked by a heavy stone slab over the grave of a beloved wife, is debated as being done with the intention of keeping a witch from rising or simply a barrier to rooting animals.
We slipped past the regal homes of coastal York Harbor and came to York Beach. The contrast is extreme. Though its years of settlement are no less than its neighbours York Beach has become a tacky summer time fun place with restaurants, arcades, inexpensive gift stores, Funorama Bowling Time, tattoo parlors and more. The long waves of the Atlantic roll steadily ashore but the summer season isover and both beaches and town are less frequented by visitors. Here we have our first sampling of a "lobster roll", a variation on the hot dog with lobster replacing the wiener. Not bad.
Hugging the shoreline we wound through a residential area to arrive at a small headland park watching over a stony island topped with a lighthouse. Nubble Hill lighthouse seems out of place so close to land; its features of rock set amid a boiling sea would seem more in place far out on a solitary shore rather than here so close to everyday life. Yet the feature is prominent enough to find its way on to canvas, prints and photos in gift shops along the coast.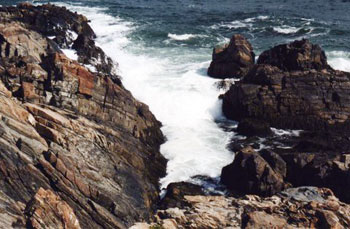 In Ogunquit the attraction of the Maine coastline with its powerful, relentless sea is no better advertised. The long marshy estuary of the Ogunquit River is a tended conservation area playing home to the restoration of endangered wildlife while at the same time a secluded and quiet finger of tranquility hidden behind the long sand bar facing the pounding Atlantic.
That long sandy beach stretched into mists serenaded by the constant roar of the ocean which ran aground in folding wave after folding wave. The boundless expanse of water and sand ate up the large numbers of people out to do their thing; strolling, playing with dogs running in and out of the water or setting flocks of shore birds a flight, surfing, fishing waist high in the waves, picnicking or just sitting and watching the waves roll in and out. A thin string of beach houses, often topped with viewing balconies, is home to both the seasonal visitor and those who have sunk their roots down permanently by the sea.
By contrast the "Marginal Way" lying to the south presented the rocky waved-pounded sea coast so often associated with the eastern seaboard. Here waves licked over rocks and into pebbly beaches all a safe distance below the well used pathway leading from the beach to the fishing village of Perkins Cove; its borders pressed by hotels and homes vying for views of a mesmerizing ocean. An idyllic wedding atop a broad rocky point of land with white wave caps racing against the rocks below drew crowds and a little caution.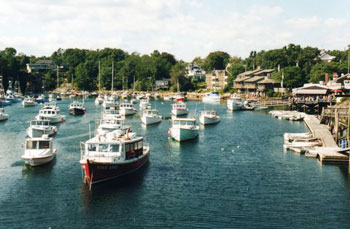 Perkins Cove housed all the trappings of a tourism centre, its protected harbor filled with a broad assortment of sea craft from sailing vessels to fishing boats. At the end of the sheltering peninsula a village of restaurants and gift shops wound along a narrow street. A salt water taffy shop tempted us, and more than a few others, with bin after bin of differing flavours .
We stopped for a bite at a gift shop/restaurant and were entertained with an unobstructed view of the rocky seashore with white surf smacking the coastline and sending showers skyward. Even during the "cusp" season of September/October we were joined by many others but not so much as to rob the place of its appeal. For those wanting to forego foot transport there are handy, colourful, shuttle buses running the length and breadth of Ogunquit,connecting the town centre to sand beaches, Marginal Way, Perkins Cove and numerous hotels and motels.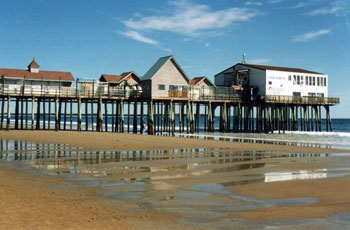 The commercial centre of Ogunquit, stretched in large part along Shore Road and Main Street, suggests a community taking pride in itself and its environment. Gardens, well kept homes, sea views and a lighted downtown evening atmosphere complimented the well cared for beach, estuary and Marginal Way. Ogunquit is much more than a summer holiday land or Kodak moment.
After reading Stephen King's "The Talisman" I wanted to see Old Orchard Beach to confirm the image I had. The place did not disappoint right down to its old fun pier running high above the sand at low tide and poking its nose into the Atlantic. Originally built in 1898 the rough looking pier's boardwalk was closed for the season and we had to content ourselves with views from afar. Even at that the place was brim full of bright and loud advertisements for lobster rolls, tattoos, arcades, massage parlors and eateries. The long sandy shoreline was strung rows of motels and hotels overlooking a mostly empty stretch of beach. A large amusement park languished behind a high wire fence, its seasonal fervor at an end. A fun place in marked contrast to the tranquility of Ogunquit.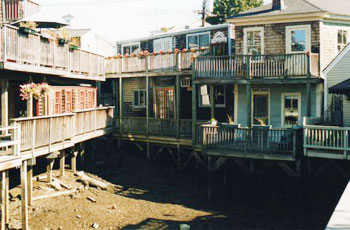 No trip to Maine would be complete without a visit to Kennebunkport and a drive by of the Bush's summer home where we joined others snapping pictures of the home of two US presidents. Even without a peak at the primary attraction there were lots of other spots to visit along the winding seacoast or in the small town of Kennbunkport where the tides leave exposed naked pier pylons supporting an array of buildings like some fishing village of old.
The winding coastal highway was filled with panoramic viewpoints, numerous little villages and historic sites. One such place was Cape Porpoise, easily missed if one was too busy getting places, with its little park at the end of a peninsula and a plaque telling the story of a battle between the locals and a British warship. The imagination was fired looking out to a rocky island with the long grey swells of the Atlantic behind.
In its varied faces and seasons, tinted by the ever changing moods of the Atlantic, Maine's scenic and dynamic coastline defies commonality.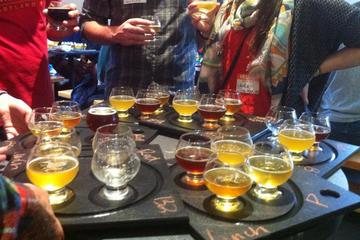 Portland Maine Brewery and Winery Tour
If You Go:
www.visitmaine.com
www.visitmaine.com/attractions
About the author:
Since 1994 Glen Cowley has parlayed his interest in sports, travel and history into both books and articles. The author of two books on hockey and over fifty published article (including sports, biographies and travel) he continues to explore perspectives in time and place wherever his travels take him. From the varied landscapes of British Columbia to Eastern Canada and the USA, the British Isles, Germany, Switzerland, the Netherlands, Greece and France he has found ample fodder for features. See Glen Cowley's website at: www.windandice.shawwebspace.ca
All photos are by Glen Cowley:
1. Cemetery in Old York
2. Perkins Cove
3. Ogunquit
4. Orchard Beach
5. Kennebunkport