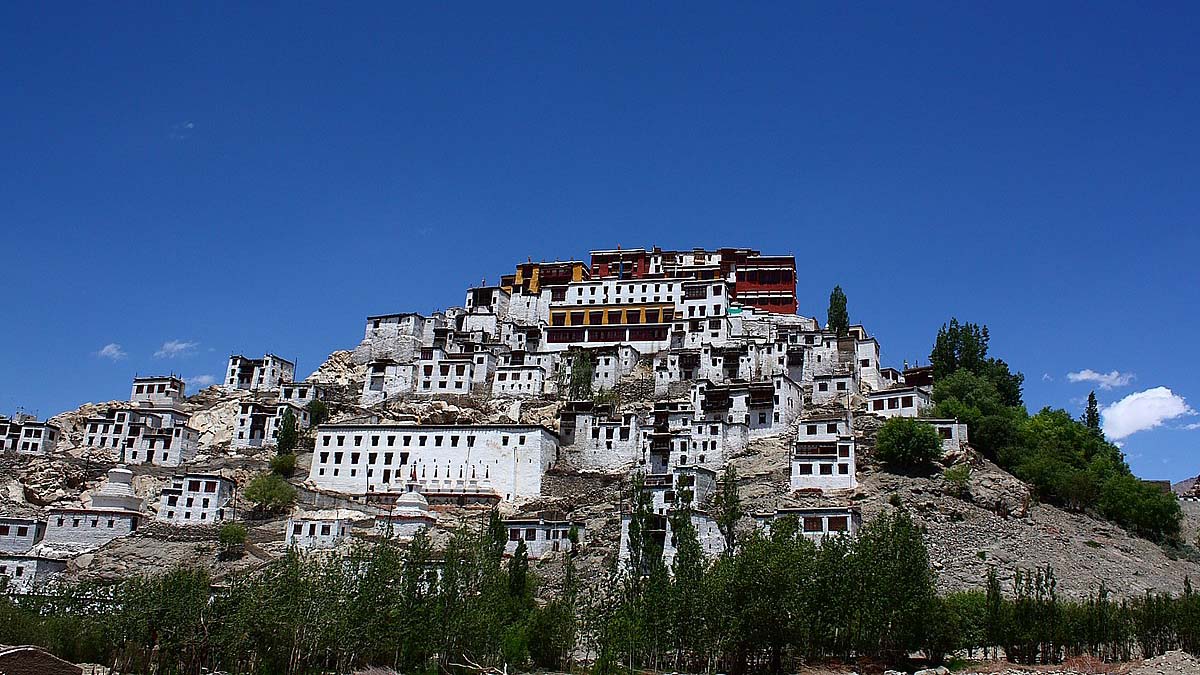 by Kemmy Lam
Serene Leh
As far as the eye can see, the entire region seemed to be just acre after acre of uninhabited desert. The beige-brown sands occasionally twinkle as the sand crystals reflect the light of the unforgiving sun. As our jeep drove on through the Ladakh district of India in the Western Himalayas, under the watchful eye of this bright afternoon sun, mud houses seemed to emerge from the desert. Then we see ahead the magnificent Thikse monastery which swells to its dazzling proportions, leaving us in awe as we looks up at the monastery from the town at the bottom of the hill.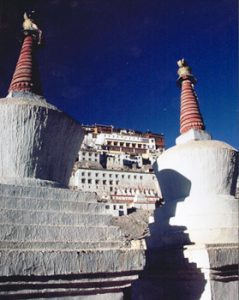 Thikse monastery is an architectural phenomenon of white with uniformly aligned windows and topped off with a layer of rich earthy red. Its location on a hill, overseeing the dry terrain below and looking up to the majestic Himalayan mountains above the already high altitude of the region, provides one with a breathtaking panorama that is not to be forgotten too easily.
As we climb up to the monastery, also known as a gompa in Tibetan, we come upon a row of white pagoda-like structures called chortens standing proudly in front of the gompa, as if protecting it or providing an introductory glimpse of the architecture that was still to come. Climbing further leads us to the tiny cubical cabins of the monks which were built next to the gompa. The monastery temple looms before us grander than ever with its twelve floors and ladder-like stairs leading up and down the many levels and rooms within it. The most impressive room was the library. Although not big, it makes up for this with the numerous shelves of ancient Buddhist scriptures and texts wrapped in cloth packed meticulously according to their topics.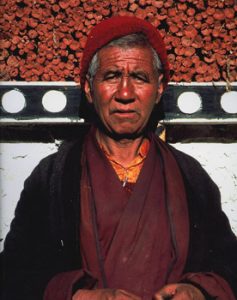 Walking out from the library onto a huge terrace, we notice a monk standing in a corner. His leathery face is a dark reddish brown from the daily beating of the blistering desert sun. Many deep wrinkles crease his forehead and line his thoughtful and reflective eyes. He wear the maroon-coloured robes of a Tibetan Buddhist monk with a bright yellow shirt inside. On his head, is a woolen cap, of the same shade of maroon as his robes. Although we did not share a common language, we smiled and said, "Tashi Deleg" which meant "Hello" in Tibetan.
Vibrant Old Dehli
The following week, we fly to Delhi, a huge contrast to the serene and peaceful surroundings in the regions of Jammu and Kashmir. As far as the eye can see, old Delhi is covered by throng after throng of people meandering around the many dark and mysterious alleys that twist and turn as a complicated labyrinth would. In the early mornings, this crowd can still be seen, although covered by a layer of "mist" that has descended on the capital mingling with the exhaust fumes that spill out of the trucks and auto rickshaws. This is the part of Delhi where the vibrant bazaar is located.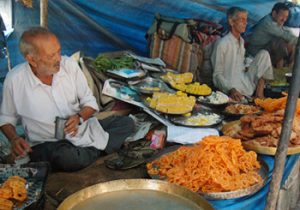 We stroll the main thoroughfare where makeshift stands sell fruit and vegetables alongside shops that carry odds and ends of kitchen utensils. Further into the market, butchers and street barbers have their stalls. There are also many guest houses and restaurants housed within the old and long-unpainted buildings, catering to the needs of the backpacking crowd.
The Old Delhi train station is reminiscent of the colonial days when it was the only major train station in Delhi. Men balance luggage on their heads vying with women carrying babies, all trying to get onto the efficient trains that come and go punctually from the station. A family of six wait patiently for their train to arrive make camp by a pillar outside the station. They have food, mattresses and a multitude of bags and personal belongings wrapped in large pieces of cloth.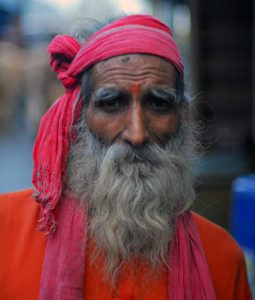 As we walk the streets of Old Delhi we come across a holy man – a saddhu – posing with some tourists. His age can not be determined; his jet-black hair peppered with streaks of white and his eyes twinkling like those of a much younger man. He is dressed in an incandescent orange robe and had a red dot painted on his forehead. He carries a walking stick of bamboo in one hand and a tin can with a handle in the other. I remember the Buddhist monk we met at the Thiske monastery and smile. "Namaste" I say, which means "Hello" in Hindi.
There are many contrasts in India yet from north to south, the traveler is always welcome.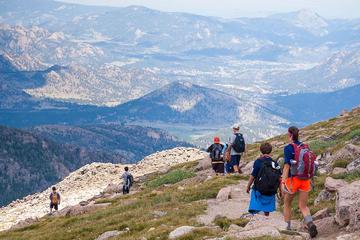 Amazing Ladakh
If You Go:
General Information:
Ladakh Travel Guide
Delhi Travel Guide
How to get There:
Buses run directly to Leh from either Manali or Srinagar, however the road is only open from June to mid October due to snow fall. Daily flights to Leh are run by Indian, Jet Airways and Kingfisher Red from Delhi, Srinagar, Jammu and elsewhere. These are, however, subject to inclement weather and may be cancelled at any time. Altitude sickness is also a worry given the altitude.
When To Go:
Leh can be very crowded during the summer months, and if you prefer to have the place to yourself to enjoy the pristine landscape without the bustling crowd, winter is an excellent time to visit the Ladakhi region.
Things To See:
The main tourist sites relate to Tibetan Buddhism, and to the stunning landscape. Ladakh is not only home to some of the most beautiful and serene monasteries you'll ever see, but it also a land of rich natural beauty – and it's this natural beauty that hits you so hard, because it's a barren beauty. Many travelers find themselves at loss to understand how something so barren can yet be so beautiful. Must-see sites include "Moon-land-view" (the area around Lamayuru) on the Leh-Kargil highway. Many places in Ladakh need an inner line permit which is available for free in DC's office in Ladakh. A travel agent can also arrange the permit for Rs 100 per person within an hour on any working day.
Places to Eat:
There many restaurants in Leh itself, but on venturing out, it is important to bring along some supplies from Leh.
About the author:
Kemmy Lam, an avid backpacker, bought her first SLR in anticipation of her nine-month-long world trip in 1998. She traveled overland from Singapore to Germany, stopping along the way for many excursions. The photographs and journal from this journey inspired Kemmy to seriously consider improving her photographic and writing skills so as to capture the beauty that fills our world both pictorially and in her write-ups. Kemmy has since lived in four countries, visited the seven continents, and is currently back in Singapore. She has recently taken time off work to write, photograph and of course, travel.
Photo Credits:
First Thiske Monastery photo by Aksveer / CC BY-SA
All other photographs were taken by Kemmy Lam except the one of the saddhu which was taken by Aubrey Groves.