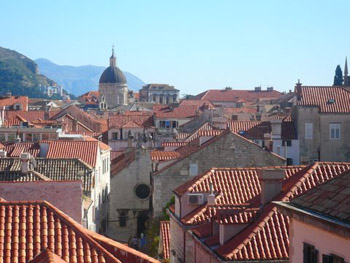 by Wynne Crombie
My husband and I had one goal in mind when we visited Croatia: to stroll Dubrovnik's magnificent walls. But first, we had to immerse ourselves into the atmosphere of that ancient city that had come into existence between AD 598 and 615.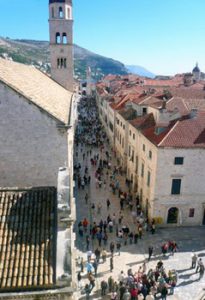 Our hotel, the Stari Grad, fit the bill. Its eight rooms had been fashioned out of a millennium-old mansion. It was one of only two hotels located in the Old Town; the new modern ones are all outside the walls.
We found the centuries old moat to still be intact; its water replaced with plantings. The medieval Pile Gate was our entryway to the Old Town and the Stradun Promenade, the Old Town's main street. The locals call it the "marble street," but in fact it is paved in stone that has been polished smooth by centuries of people walking over it.
Everything within the Old Town walls is a pedestrian-only area. Espirit, Hilfiger and Beneton compete for space with seventeen-hundred-year old buildings.
We turned left at the second alleyway off the, Promenade, and entered a six-foot wide passageway. An endless steep flight of stairs lay ahead. Any numbers of houses, or businesses were squeezed in along both sides of the lane. Window boxes, balconies and open shutters almost touched each other across the narrow walkway.
Luckily, the word HOTEL was immediately on our right and we literally stepped into history. Each landing (we saw them all as there wasn't an elevator) had a sitting area of antique furniture. Only the bathrooms were 21st century.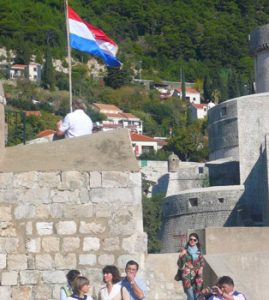 Now, ensconced firmly in antiquity, we were ready to explore the almost two mile long set of Dubrovniks' walls.
We sought out the Pile Gate again, where we climbed up about twelve stone steps weathered by centuries of humanity, to the ticket booth. These aren't steps in the usual sense. These are w-i-d-e stones requiring sometimes two steps per stone. Take your time.
A short distance ahead, we reached the circular bastion, the Bokar Fort Below, the ocean crashed against boulders where a few hardy swimmers were navigating the surf. In the distance a modern-day cruise ship was anchored alongside a Spanish galleon.
Pigeons scurried around our feet and an occasional dog crossed our path. We enjoyed checking out the cannons and ramparts on the Adriatic side of the wall. A few feet away, on the other side of the wall, we had a great view of modern-day residents in their backyards going about their daily business. Citrus trees, bougainvillea and an occasional wash line – it was all there. The residents compensate for this intrusion by their creative marketing of homemade embroidered linens, paintings, and jewelry.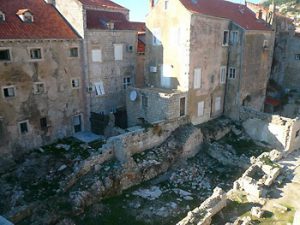 A troop of Germans tourists stopped and we took each others' pictures. A woman from Oregon, now married to a Croatian, was delighted to be able to discuss American politics in her own language. When she first moved here, the dollar brought eight kunas, now she said, it was five.
We paused often to just lean against a wall or peek into a cannon. With their sheer height (the highest point is 82 feet) and bulk, these huge defensive towers, saved Dubrovnik from Ottoman invaders in the 16th century and protected its citizens from Serb bombardment in the late 20th century.
Just when we were feeling like one with Dubrovnik's Middle Ages, a woman holding a ping pong paddle high in the air, rounded the corner. She was tailed by a group of fifteen Americans with name badges, cameras and cell phones.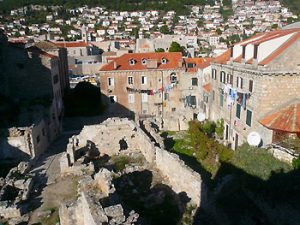 At the Fort of St. John, we turned inward, beginning the second half. We left the walls and returned to ground level as we walked around the Ploce Gate where the 16th century Revelin Fort stands guard. The interior side affords a good look at signs of the recent war.
Taking a boat ride also offers excellent close-up views of the walls and several of the towers and bastions. The high road to the south offers particularly good views though there are very few stopping places.
On our last day, we wandered outside the Old Town and across the moat to an outdoor pizza trattoria. As if on cue, the local high school band was playing. With their bright red jackets and navy pants, they were reminiscent of any stateside half-time show.
For $8, we had the most marvelous mushroom and dried tomato pizza for two. We munched happily into the mozzarella and contemplated our restaurant for our last evening in Dubrovnik.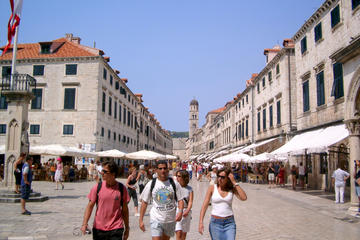 Dubrovnik Private Guided Tour of the Old Town
If You Go:
Hotel: Stari Grad, (Od Sigurate 4), Old Town, rates about $170/double. Breakfast included.
Restaurants: Proto (Siroka 1) Tel. 020/323-234 They take pride in using old family recipes and local ingredients. Check out the upstairs terrace. And, sample the local taste for strolling with an ice cream cone (about $1.75) many locations.
Language: English is widely spoken.
Getting There: There is no direct flight from the States to Dubrovnik. Air Croatia flies from many European cities to Dubrovnik.
The Wall: Admission to the walls is $8. With a ticket, you can choose to return to the walls later as long as it is on the same day that the ticket was purchased. In the summer months, the walls are open from 9 am to 7:30 pm, but only from 10 to 3 in the winter.
For More Information: UNESCO Old City of Dubrovnik
About the author:
Wynne and her husband, Kent, met in 1960s Berlin. They have never tired of traveling. She has a master's degree in adult education and teaches ESL at Harper College near Chicago.
All photos are by Wynne Crombie.